Keeping your handguns safe when you are not using them should be a huge pet peeve for just about any gun enthusiast. Following good gun safety rules should always be the main concern for any gun owner.
But sometimes it just doesn't require much effort or maybe you simply don't need a huge gun safe with tons of bells, whistles, and overly complex locking mechanisms. At the same time though, if you are practicing good handgun safety, you need to secure it somewhere. And this is where a pistol box just may come in handy.
They aren't quite what you would call a gun "safe" or "vault", but they typically do give you enough quality and strength to keep your handguns protected from a thief, small child, or anyone else who may want to get their hands on your weapon.
One of our favorite pistol boxes, by far, is the Fort Knox PB1. And today, we will be sharing a few of our thoughts on this rugged pistol box and why we think you should really consider making it your new "go to" as a home storage option for your home or office.
Get Great Guns and Ammo Deals!
---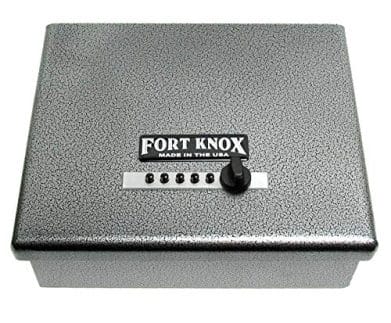 The Fort Knox PB1 is a pistol box that is built like a tank, and it aims to be the toughest handgun safe on the block, and it means business.
The unibody of the safe is built from solid 10 gauge steel and is further protected by a gigantic 3/16″ tamper-resistant wraparound door. You'd be lucky to even be able to put a dent in this thing with your hardest swing from a sledgehammer.
Now, when we are talking about such a thick door, we are talking about quite a bit of weight as well.
The folks over at Fort Knox have already thought about that and have taken measures to make sure the weight doesn't pose too much of a problem for you, the user. The PB1 features a gas strut that makes it extremely easy to lift the door and it even holds itself open to give you quick, easy access.
The locking mechanism that the PB1 pistol box uses is the trusted Simplex push-button mechanical lock. This lock has a total of 1,081 possible combinations, making it nearly impenetrable by perpetrators. With the correct combination, this pushbutton and knob system makes it easy to get open in a hurry and it opens fairly quickly as well.
The interior is lined on both top and bottom with a soft, yet sturdy foam that is styled after the tried and true egg crate design. In the event that you accidentally drop or shake your safe, this padding will keep your firearm from taking any scratches or other damage. The foam provides a nice snug fit for any pistol you keep inside.
Speaking of the gear you can fit into this gun safe, you should be able to easily pack in a regular size handgun and some extra clips. Or, if you are anything like me, you probably would like to fit your two compact .9mm pistols in there, right? Well, with the PB1 you can, and may even have a little wiggle room left over to work with.
If you don't plan to move your gun safe around too much you can easily secure it to any stable surface thanks to the four pre-drilled holes on the underside of the safe. Many people seem to like to mount this safe inside their car as a concealed carry option and it works perfectly for this, so long as you make sure to account for enough space to comfortably open the lid.
The overall look and feel of the PB1 is extremely sleek and gives you a real sense of strength thanks in part to its uni-body design and antique silver powder coat finish.
Features and Specifications
This pistol box is made from solid 10 gauge steel and features a unibody design
The hinges are welded to keep them concealed
Interior is lined with egg crate style foam padding
Gas struts are featured on the safe door to assist with easy opening
There are four pre-drilled holes on the bottom of the safe that allow it to be bolted down securely
It weighs 22lbs when it is empty
External dimensions are 12.5″ x 10.2″ x 4.5″
Internal dimensions are 3″ x 10.5″ x 9″
The Fort Knox PB1 comes with a lifetime warranty
Pros:
Heavy-duty steel uni-body construction makes this safe almost impossible to break into with brute force
Locking mechanism is trusted and reliable
Welded hinges are a huge plus
Spacious enough to fit a pair of compact .9mm pistols or a full size 1911 with a 6-inch barrel
Cons:
Gas strut system can make it a bit noisy to open in situations where you are trying not to alert an assailant
Not waterproof or fireproof
---
Why Should You Choose The Fort Knox PB1 Pistol Box?
There is a very good reason why we love this pistol box. Well, there are actually about 3 good reasons we love the Fort Knox PB1 gun safe and think that you will too.
Uni-Body Design
Let's start with how this safe is designed. The uni-body design the PB1 uses will provide you with the utmost level of protection you can expect to get from a handgun safe.

If you are unfamiliar with this design, it's a pretty a straightforward concept. The whole safe is made from one solid piece of steel which makes the body of the safe seamless. The lack of seams on this type of safe does one main thing for you.
The design of the PB1 makes your safe basically impossible to break into by eliminating the possibility simply cracking open a seam with a prybar, or busting it open easily with a hammer.
Thick Door

The door to this safe is simply phenomenal. We are talking about a massive 3/16″ thick tamper-resistant wraparound door. Tamper resistant means that it is going to hold up to a drill or a prybar.
Honestly, this is one of the toughest pistol box lids we have encountered in the past few years and have been eagerly waiting for something that even matches it.
Simplex Pushbutton Lock
The Simplex pushbutton lock mechanism can accept a total 1,081 possible combinations. Let me ask you something. How long do you think it would take a thief to figure out your code and break into your safe? Even if they were to try and brute force their way in, guessing at number after number, it would take them more than 20 minutes to figure it out.
And yes, it will let you keep guessing until you get it. This can be a double-edged sword, so we recommend only keeping this pistol box somewhere that you know no one will easily be able to gain access to.
The buttons are smooth, easy to program, and is a tried and true system.
---
Final Thoughts
There are many great options for small pistol safes out on the market to choose from, but we believe the Fort Knox PB1 gun safe to be one of the best around. Not only does it look nice, it is one heck of a beast in terms of protecting your guns, can be easily mounted or bolted down, and is basically impenetrable.
At the end of the day, however, it is up to you to determine exactly what you need from your next gun safe. If there is a gun safe that you prefer over the Fort Knox PB1, we would love to hear about it. Just leave us a comment and let's talk about it.
Related Reads: