Do you own a rifle, shotgun, or handgun and desperately need a case to store it? Not sure what the best case is? In this article we'll be going over a variety of cases for multiple gun types.
When looking into buying a case, there are a few things to consider.
First, what is the case being used for? Are you hunting, storing, traveling? Different situations will produce different needs for an individual, and will thus determine whether you need a hard or soft case.
An important factor to most cases is that you want to make sure it is lined on the inside. This is an important piece of protection for your firearm.
Second, you want to make sure the material is sturdy, durable, and reliable. Flimsy soft cases that, while empty, bend when leaned against something aren't the safest.
Whether you prefer soft or hard cases, there is something to fit your needs and price range. Let's take a look at some top choices, and hopefully, we can help you determine what will be the best fit for you.
---
Pistol Cases
Get Deals on Guns and Tactical Gear
Join 70,000 Readers For Our Weekly Discounts
If you're looking to carry your handgun in a case rather than holstered, you have two options: soft or hard case. As mentioned above, what works best for you will depend on when and where you plan to use your case.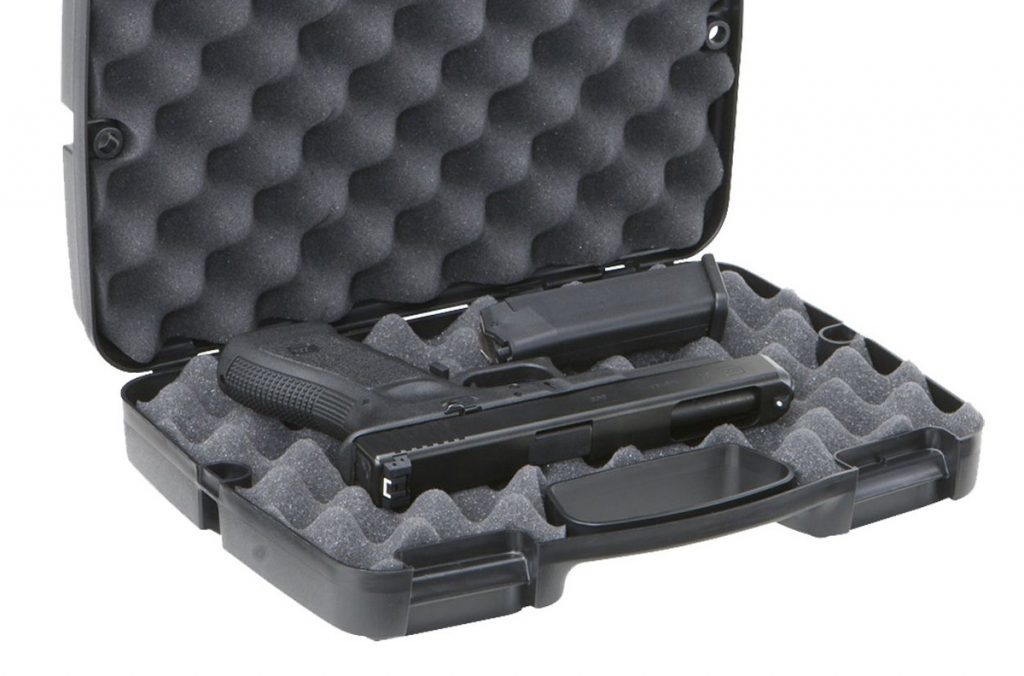 When traveling, especially flying, a hard case is going to be the best option for you most likely. As a safety precaution, it is mandatory that your (unloaded) firearm is in a locked hard case when flying, and can only go through as checked luggage. It is not allowed on the plane itself.
You don't have a firearm yet? Check out our handgun/pistol for beginners guide to know which handguns are recommended for beginner shooters
If you aren't flying or traveling, then we recommend soft cases. They protect and carry your firearm, and usually they are more affordable than a hard case.
Pistol Soft Cases
These are great for carrying from one place to another, such as the range. They are generally simple and plain and do not attract attention to them, and come in a variety of styles from bags and cases to slings.
The first product up is what is known as a Pistol Rug. It is a piece that unzips all the way to lay flat and create a shooting rest. There is a medium one as well as a large one.
Our favorite two Pistol Rug cases are these ones (about the same, but slightly different depending on the size of your pistol):
Uncle Mike's Medium Pistol Rug (fits 3-4″ barrel revolvers, 4-5″ barrel pistols)
Uncle Mike's Large Pistol Rug (fits up to 6-7 1/2″ revolvers)
Next we have an Attaché style. This case is complete with a side pocket, handles, and the ability to carry two handguns in their own compartments.
For an Attache pistol case, we recommend the Allen Double Attache Case for Handguns.
Pistol Hard Cases
When you first purchase a pistol, it usually comes with its own hard case. These, however, are generally on the less-durable side of the spectrum, and they almost always have bold, loud logos smacked on the front.
While some might be okay with this, I personally prefer my case to be discreet and clean as much as I prefer it to be reliable.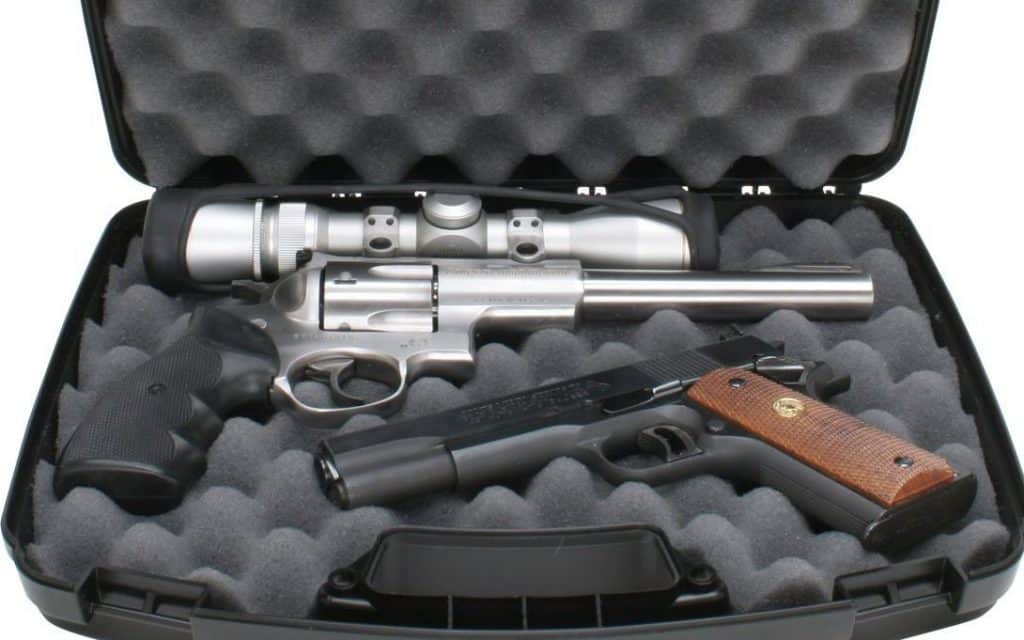 For a subtle and affordable case, this MTM is a perfect choice. While it is made of cheaper material, it will hold, transport, and provide some protection for your firearm. Ultimately it's a fantastic choice that fits into anyone's budget. Here you kind find the best price on the MTM case: MTM Single Handgun Case (fits up to 6-inch Revolver)
There is also the MTM Double that allows you to carry up to two "8.5 revolvers at once, which you can check out here: MTM 2 Pistol Handgun Case (Fits up to 8.5-Inch Revolver).
Next we are going to talk about the Pelican Pick N' Pluck. This hard case is a quality choice on the slightly higher end side of things. There are three different sized listed below, and we do recommend you consider going a size higher than what you think you might need.
The reason for this is so that you have more room than less. No complaints about being able to fit a few extra mags in there, right? The really neat thing about these cases is the customizable foam inside. You are able to form your own slots and things for your gun, ammo, clips, etc. You control the interior.
Plus, they're pretty water resistant and made of good materials. Here are the top choices for the Pelican bags (again, same style but vary based on the size of your pistol):
---
Long Gun Rifle Cases
Here we will also focus on a variety of both soft and hard cases, but now we are shifting into long gun style.
You want to know more about rifles and calibers that they use? Read our comprehensive rifle caliber guide.
The thing with long guns is that, if you are using them for sport and hunting, a hard case might be inconvenient. Soft cases are simple to manage on the go and can usually be stored away easily.
However, there are those who prefer a hard case, and thus we will share our favorites for those as well.
Rifle Soft Cases
There are a couple of different ways to consider cases. First, you have the traditional, simple case that is pretty standard. Then you have the concealment cases for a more discreet approach.
We'll list the standardized cases first.
The above case is a simple but reliable design. It's also built to fit a scope, but be sure to compare measurements before buying.
This one is great for carrying a rifle with a scope, as well as extra magazines along the side. It also comes in a few colors if you prefer something other than the traditional black.
As usual, be sure to compare measurements.
Above we have a favorite because it includes a shooting mat for your visit to the range. This case is capable of carrying two long guns, comes with the mat, and makes carrying easy and comfortable. The color and pattern choices are great too, if you prefer something more personal.
Now moving on to the specialty concealment cases. These are made for discreet toting, and come in a variety of styles.
A guitar case will allow you to carry up to two long guns and avoid detection. It also makes for comfortable and easy carry.
While these can be on the smaller side, they work great for shorter guns and make it easy to carry. Be sure to compare measurements before purchasing.
This might be one of the best of the concealment choices. While you still want to compare measurements, they are usually longer and will avoid almost any suspicion since it is expected to see something long and rigid inside.
Rifle Hard Cases
Same as the pistols, your newly purchased rifle most likely came with a cheap hard case. While these are do work for simple transportation of your long gun, you might be looking for something a bit nicer if you have expensive gear and attachments to protect as well.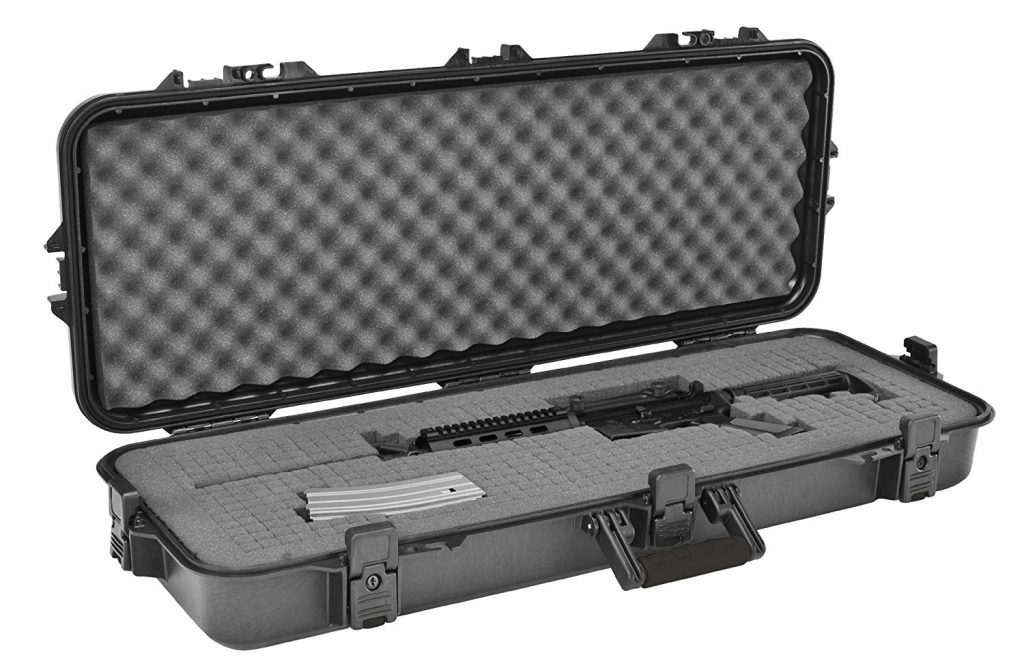 For a simple and inexpensive design, this case works with your rifle and a scope.
For a more high quality option, Plano's Gun Guard is a great choice. It comes in two different sizes so take a look at each to compare to your rifle.
For more Pelican cases, we have two options. The first is great for shorter long guns like the collapsible stock AR's, while the second choice is for more traditional style long gun rifles.
If you have a rifle and need a scope, make sure to read this guide to help you choose the right scope for your rifle.
These larger Pelican cases are not Pick N' Pluck foam, like the smaller ones. This means you will have to cut out the designs by outlining or another method. It's still worth it to me, regardless of the extra step.
---
Conclusion
As you can see, there are a variety of soft and hard cases for both pistol and long gun. Whether you are traveling, flying, or just going to the range there is a case for you.
These cases also work best for protecting both your firearm and expensive attachments like scopes, unlike most average cases that are included in your firearm purchase.
We hope you've found something you like on this list or that we at least inspired you toward the perfect case.
Related Reads: