If you're a woman and you carry a concealed weapon, you've probably heard a lot about why you shouldn't carry your handgun in your handbag. Unfortunately, it's all too common to accidentally grab a handgun instead of a hairbrush or cellphone. Therefore, a concealed carry purse is the perfect solution to prevent an accident.
Today's market is booming with bags catered toward woman and their practical needs. A concealed carry purse features an easily accessed hidden compartment, so a firearm is securely isolated and concealed from view. If you prefer to be cautious and protect yourself at the same time, it's wise to take the proactive approach.
Get Deals on Guns and Tactical Gear
Join 70,000 Readers For Our Weekly Discounts
---
Concealed Carry Tips
Concealed carry laws can vary from state to state. Furthermore, a conceal carry permit will allow you to carry a handgun at a designated place on your body. Therefore, if you decide to invest in a concealed carry purse or handbag, you're guaranteed to access your weapon quickly. So, what's makes a concealed carry purse different?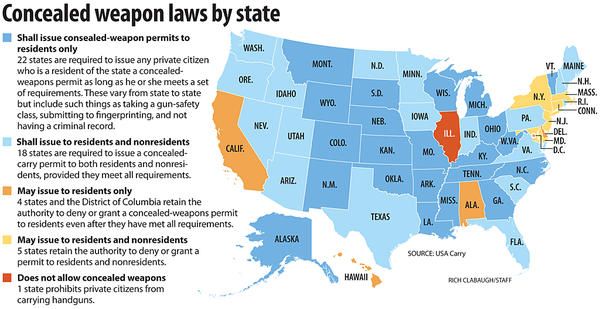 For one thing, the unique feature about a concealed carry purse is the separate pocket that prevents your firearm from being exposed when you open up the main compartment. Ordinary purses can present a danger for the concealed carry holder because they don't provide a specific pocket to store a firearm.
Even if a gun is secured in a holster, there are no mounting points to guarantee that a gun is ready for a quick draw. In addition, there's also the possibility that an unsecured gun in the main body of a regular purse could be accessible to a child or an unauthorized user.
---
How to Choose the Best CCP
Before you decide to purchase a concealed carry purse, take time to decide your own personal preferences for comfort and style. Before you invest in a bag, try one on. It's to your advantage to feel comfortable and relaxed while carrying a concealment bag.
When you at ease, you tend to appear self-confident which will furthermore protect you from harmful offenders. Fortunately, there are options for a durable and reliable concealed carry purse.
In this review, we will spotlight some terrific and concealed carry purses. The ones we've chosen are designed to give women a safe and easy way to carry their defensive guns.
---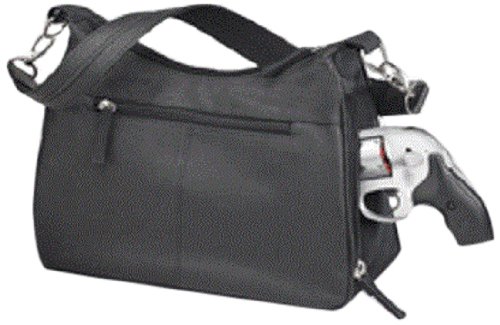 GunTotenMamas offer affordable, high-quality concealed carry purse options. They are designed for women who want an an easy, secure and safe way to carry a defensive handgun. Their concealed carry purses feature a wide variety of handbags in different styles and finishes to fit the fashion tastes of women.
Gun Tote'n Mamas carefully design each concealed carry purse with complete functionality in mind. This basic style bag offered by GTM is a bag that is very functional as both a purse and concealed carry bag.
In addition, this concealed carry purse will accommodate small framed or medium framed handguns. And not to worry — when you need to quickly remove a gun, the zippered side pocket access won't let you down.
Apart from its performance, this concealed carry handbag is also stylish. Constructed of beautiful uncoated full grain leather, this bag only gets better over time. Available in a beige/brown color this bag is also spacious inside and has several different types of interior compartments.
Although the gun compartment doesn't lock, it does offer an adjustable holster and a slash resistant shoulder strap with wire reinforcement. The Gun Tote'n Mamas Concealed Carry Purse is a great choice for any woman who wants to be prepared and look good doing it.
Features
Hobo style handbag
Slash resistant, wire reinforced, removable shoulder strap
Uncoated full grain leather
Includes holster
Complete bag size: 13″ wide x 8.5″ tall x 4.25″ deep
Check latest price on Amazon
---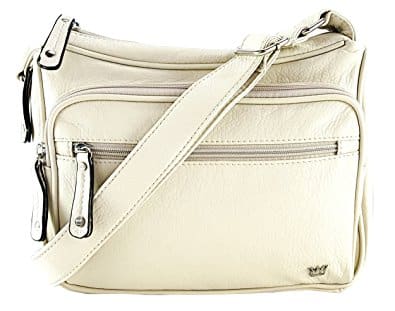 The Purse King Magnum is a concealed carry handbag that's lightweight. It's an over-the-shoulder bag designed for quick access to your handgun. Available in a wide variety of colors, this concealed carry purse is made of beautiful, stain-resistant vegan leather.
The gun pouch inside this bag is designed to hold small to medium sized handguns. It also features a zippered pouch that's positioned to easily retrieve your weapon. However, there's no lock or Velcro holster on this bag's design.
Weighing less than one pound, this concealed carry purse measures 11 x 10 x 3 inches and is a perfect fit for your handgun, smartphone, and more. This bag offers many accessories such as a zip pocket inside (inner pouch) and a back pocket. In addition, you can keep your weapon in the side zip pocket for easy access.
The Purse King Magnum Concealed Carry Handbag can be carried any way you prefer — across your body or on your shoulder. This one is very affordable and an all-around great choice!
Features
American designed vegan leather
Incredibly soft and durable
Wide strap, nylon lined, minus velcro
Front organizer zippered pocket with 8 credit card slots and cell phone/accessories  pouch
Rear zippered pocket and pouch with magnetic button clasp
Dimensions: 11″ L x 10″ H x 3″ D
Check the latest price on Amazon
---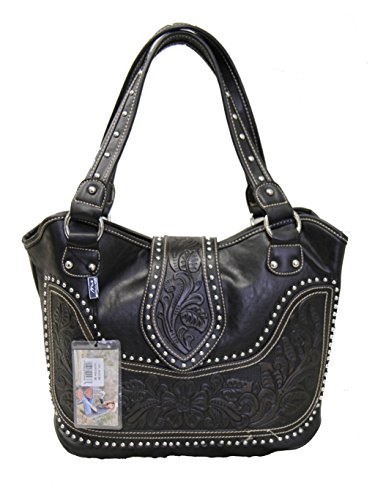 The Concealed Carry Handbag by Montana West is made of supple leather and lots of zippers, pockets, and closures. Besides being a great looking bag, this concealed carry purse features an artistic touch of beautiful silver studs. It's designed to easily fit most handguns and it offers an easy access zippered back pocket for your handgun for split-second use.
Offering multiple inner compartments, this concealed carry purse also has a zipper closure and two open pockets on either side. The Montana West Ladies Concealed Gun Handbag also boasts a decorative center flap that closes magnetically for easy access to the inside of the purse.
And lastly, the added bottom feet help this concealed bag stay upright when you set it down. The Montana West Handbag is perfect for any occasion.
Features
Top zipper closure offers center flap with magnetic snap closure
One open pocket and a pocket with zipper closure on back to carry a concealed handgun
Three inner compartments with a zipper enclosure for the middle one, two open pockets on one side, one pocket with zipper on the other side
Double flat handles with 11 ½ inch drop
Comes in 8 different colors
Check the latest price on Amazon
---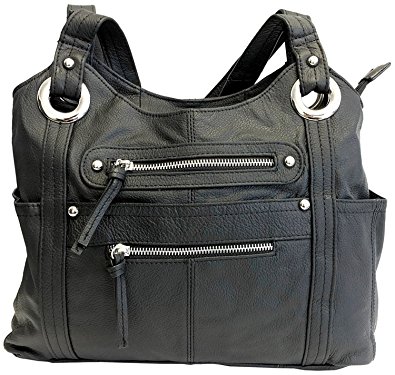 This Concealment Purse, designed by Roma Leathers offers top-quality leather with unique stitching and multiple zippers. The dedicated concealed carry pocket makes it easy to access a weapon from a side zippered compartment. In addition, this concealed carry purse will hold small to medium sized handguns.
A great perk about this gun bag is that it can be used equally by both left and right-handed users. Although it's slightly heavy at two pounds, this superb leather locking gun bag also comes with a removable and adjustable holster.
With a gun compartment on the right and lockable zippers, it's also lined with Velcro for accurate gun positioning. There's plenty of room for your cell phone and other valuables. The Leather Locking Concealment Purse is a gorgeous leather bag for your weapon concealment needs!
Features
Comes with two straps for multiple ways to wear
Quality zippers and durable hardware
Velcro positioning holster included
Multiple compartments and pockets
Four keys provided by the manufacturer in case you lose one (or two)
Check the latest price on Amazon
---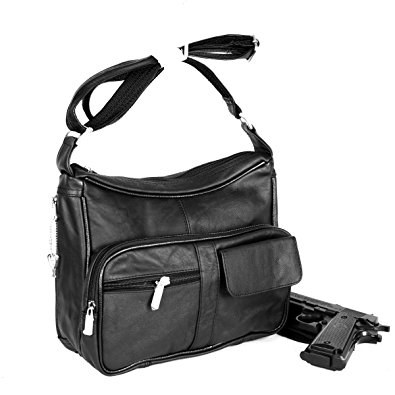 The Goson Concealed Carry Bag is another great addition to our list. This leather locking concealed carry purse is neither too big nor too small. It's a well-rounded solution for all of your necessities.
The super stylish concealed carry purse by Goson is constructed of high-quality leather and multiple pockets and is perfect for everyday use. The front of the bag features a snap closure and plenty of spots for your ID and credit cards.
The Goson Concealed Carry Purse also offers a zippered pocket directly above it for keys and small personal items — and your cell phone has its own Velcro compartment on the side.
The backside of this bag hides your pistol and the weapon pocket itself should easily hold and protect a medium sized automatic handgun. Finally, this concealed carry bag is available in wine, grey and dark brown.
Features
Right-handed and left-handed access to weapon compartment
Dedicated locking concealed carry compartment with universal holster
Zipper opening: 6 inches to conceal most full-sized automatic handguns
Slash-resistant shoulder strap adjusts from under-arm carry of 14 inches to a cross-body carry of approximately 26 inches
Spacious enough for lots of valuables
One year warranty for complete coverage
Check the latest price on Amazon
---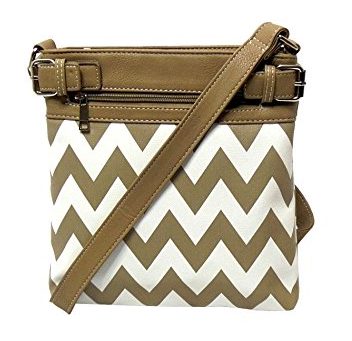 The Crossbody Faux Leather Gun Concealment Bag by Fashion Helpers is a functional crossbody purse which features fun chevron stripes with a shoulder strap that's adjustable up to and over 22 inches long. Designed to be versatile, it's just the right size.
This bag is the ultimate in concealed carry purses … you'll look great, fashionable and no one will know that you're armed. It's made with soft faux leather and offers a zippered gun pocket on its backside.
Such features are essential for easy access to your cell phone or small items, and a pocket for a concealed carry, small handgun. In addition, the concealed pocket of this bag is generous in size.
The spacious inside of this handgun purse also features a front zippered pocket. This purse is also trimmed in a matching color complete with a buckle and a strap. This unique looking Chevron concealed carry handbag works best for carrying small to medium sized handguns and has a really cool design. You won't be disappointed!
Features
Chevron zig zag crossbody bag
Constructed of supple, structured faux leather
Everyday, medium-sized purse
Measures: 11 inches by 10 inches
Features a concealed carry zip pocket
Multiple pockets
Available for a limited time only
Check the latest price on Amazon
---
Final Thoughts
If you're a woman who likes to carry added security in her purse or bag, then by all means do it properly and safely. The first step would be to get a concealed carry permit and then invest in a handbag that's made specifically to handle a gun.
Hopefully, you'll never be in a situation where you need to use a handgun to protect yourself. But if you do, you certainly don't need to be rummaging through your purse for your weapon.
This review was written to help you make a smart and uninformed decision when purchasing a concealed carry purse. In fact, any of the above concealed carry bags are terrific. So, what's our top pick?
Overall, the Purse King Magnum Concealed Carry Handbag has the most unassuming, classic look in a concealed purse. It resembles an everyday handbag and no one should suspect it contains a weapon. This affordable option comes in a wide variety of colors and offers lots of room for whatever you may need.
Related Reads: