By now, you surely know that carrying the right gun makes all the difference in the world. The perfect firearm is strong and sturdy, while at the same time easy to conceal to not induce panic in your environment. Furthermore, choosing the right gun for you and your personal defense needs must also be budget-friendly.
There is a manifold of appropriate concealed carry guns that both handle well and are inconspicuous underneath clothing, to not draw attention towards yourself in everyday life. Among the criteria that you always need to take into account are capacity, handling, and shape, which is why this list contains a wide variety of compact guns, in no particular order, so everybody can consider something that suits their preferences.
The point of this list to emphasize the clear pros and cons of ten well manufactured guns that will give the wearer an edge in a dangerous situation. Among these firearms there is a considerable selection of handguns with an equally wide selection of features, each with their own distinct strengths that gun enthusiasts will surely pick up on and appreciate.
Get Deals on Guns and Tactical Gear
Join 70,000 Readers For Our Weekly Discounts
---
The Smith and Wesson Model 27, specifically the version chambered in .357, is the best .357 revolver on the market. Period.
The bonus that it can be concealed makes it a prime choice for everyday carry. The replaceable, customizable grips allow you to make this gun feel and handle more to your taste.
Its blue steel finish makes it a heavy-duty and durable firearm, while the 4-inch barrel allows it to be seamlessly concealed and carried without drawing too much attention. This makes the 27 a reliable choice for any dedicated gun enthusiast in any situation you might be confronted with.
The Model 27 has a classic look and, as with any Smith and Wesson gun, has a lifetime service warranty with the company, as long as it doesn't change hands. The overall ability of the firearm makes it by far the best .357 revolver available today. It weighs 37.6 ounces, which is just under 2 and a half pounds.
It is also available in .38 special +P, but why trade the power on a carry gun that handles so well? The added weight of the steel is enough to reduce recoil, even though the barrel length is not considered long at all. If size and weight aren't an issue to you, you'd be hard pressed to find a revolver that operates quite as well as the Smith and Wesson Model 27.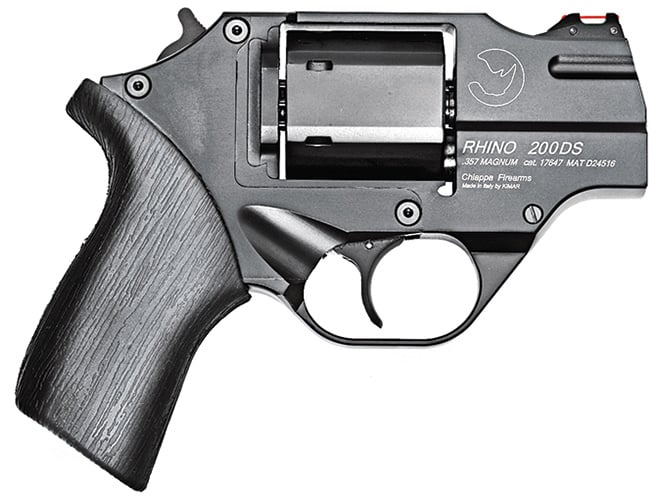 The Rhino, and other revolvers that fire from the bottom of the cylinder, are lately growing in popularity. It offers less recoil, holds 6 rounds, and, in the case of the 200DS, is chambered in .357 Magnum. It is a Double/ Single Action revolver, allowing versatility in firing methods, and performs smoothly, despite its "chunky" appearance.
It is surprisingly compact, light, due to its aluminum frame, and is shaped to fit seamlessly against your waist, making it ideal to carry concealed. As you surely know, Chiappa makes strong, reliable firearms in this style, and they come in many sizes which gives you some valuable options to consider. However, when it comes to a gun that is most suited for being carried concealed on a daily basis, the 200DS is the optimal model.
The Chiappa Rhino 200DS weighs 1 and a half pound with the bonus of light-weight rubber grips. The gun's added length is 6 and a half inches. It has a 2-inch barrel, making it similar to other snub-nose revolvers, but the recoil is significantly decreased, despite the barrel length, because of how low it fires from.
It's a comfortable gun with only one slight downside; usually bottom-firing revolvers can jettison tiny particle from the side that can cause serious hand injury. But slight occasional discomfort is not a reason to disregard all the inherent strengths the Chiappa Rhino 200DS has to offer.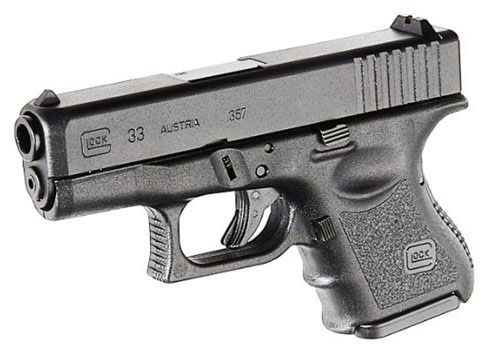 This little gun is a perfect combo for many people who want something they can take anywhere, while still sticking to a brand or style they prefer. The Glock 33 is a compact Glock that operates the same as any other Glock semi-auto would, only it has a short handle and small frame. It's still a bit "chunky", as most Glocks are, but this gun can fit in your pockets.
It also holds 9 rounds, plus 1, which is surprising, considering how short the handle actually is when you hold this firearm. This is where the double-stack style of Glock really comes in handy. Similarly, small models of Glock 26 and Glock 27 are about the same size, but don't shoot the .357 Sig that the Glock 33 is chambered in, making it the superior choice of the "baby Glocks".
The Glock 33 weighs only 1 and a quarter pound, roughly the weight of a small shoe. The barrel length is slightly under 3 and a half inches, allowing it's smooth, synthetic surface to be quickly drawn without worry of snagging on clothes. As you're most probably already familiar with Glocks, your passion for these bad boys will surely be enhanced by the Glock 33.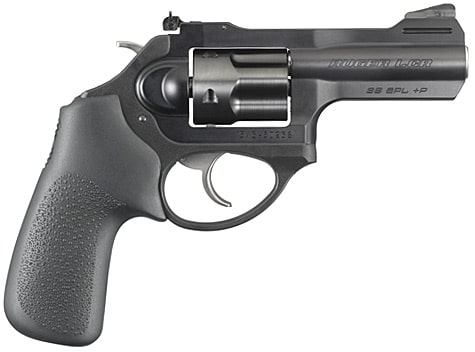 The Ruger LCRx is 5 round revolvers chambered in .38 special. The biggest con, as you can probably guess, is its capacity. But if you are comfortable having only 5 rounds, these are great guns to carry. The synthetic handle makes it comfortable to hold, while the recoil is curiously low for such a small gun at that caliber.
It's super compact, contours well at your waist, and is among one of the easiest to use. Just put in the rounds, pull back the hammer, and pull the trigger; nothing fancy about this gun, it just gets the job done. As a bonus, they are durable and will likely last you a long time, even if you carry it around all day every day.
The barrel length of the Ruger LCRx is a minuscule 1.87″. The grooved revolver and synthetic grip allows this light gun to weigh in at only 13 and a half ounces. For perspective, that's just slightly above three quarters of a pound. It weighs less than a pound, and yet it is a fully functional and durable gun.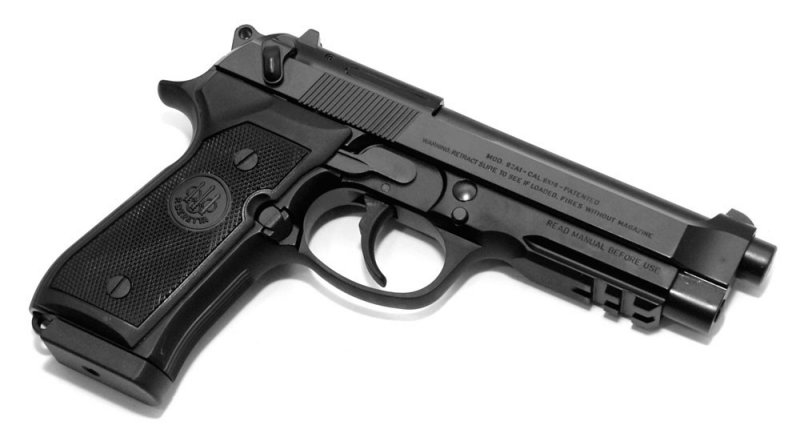 This gun is strong, durable, and it looks great as well. Furthermore, it offers just the right amount of smoothness and comfort in handling that only a Beretta could. On top of that, it has very little recoil for a 9mm, which makes it fast and easy to shoot if the need arises. The M9A3 holds 10 rounds, plus 1, giving you a huge advantage even in the most dangerous situations. It has a slide mounted safety, making it simple to drop the slide with one hand.
The M9A3 is a bit on the heavy side for a concealed carry gun, but it absolutely gets the job done. If you don't mind the extra bulk, this Beretta is a great, well-rounded semi-auto firearm that just about anybody can use. The greatest advantage is how it is by far the most accurate out-of-the-box of concealed carry guns.
The Beretta M9A3 weighs 33.3 ounces, or just slightly above 2 pounds. Not bad, all things considered. The barrel length is just under 5 inches, while the height of the gun is not even a mere 5 and a half inches. It's essentially the same as a fully functional, full sized semi-auto, only not quite as big.
This gun, chambered in .357 Sig, is another mostly synthetic semi-auto handgun. The Sig Sauer P239 is lightweight, easy to handle, and holds 7 rounds, plus 1. What it lacks in capacity, for a semi-auto, it makes up for in power and its surprising simplicity in firing and operating. Its straightforward design is what makes it so popular for everyday carry. In addition, it is also accurate, out of the box, with the built-in sights.
The Sig P239 weighs only 25 ounces, which is roughly 1 and a half pounds. The overall length is 6.6″ and it has a height of 5.2″. The biggest cons are that it is a big heavy and bulky while also having a relatively small carrying capacity, for semi-auto. It should be reiterated, however, that this gun is straightforward and reliable, which is why you might love owning this bad boy.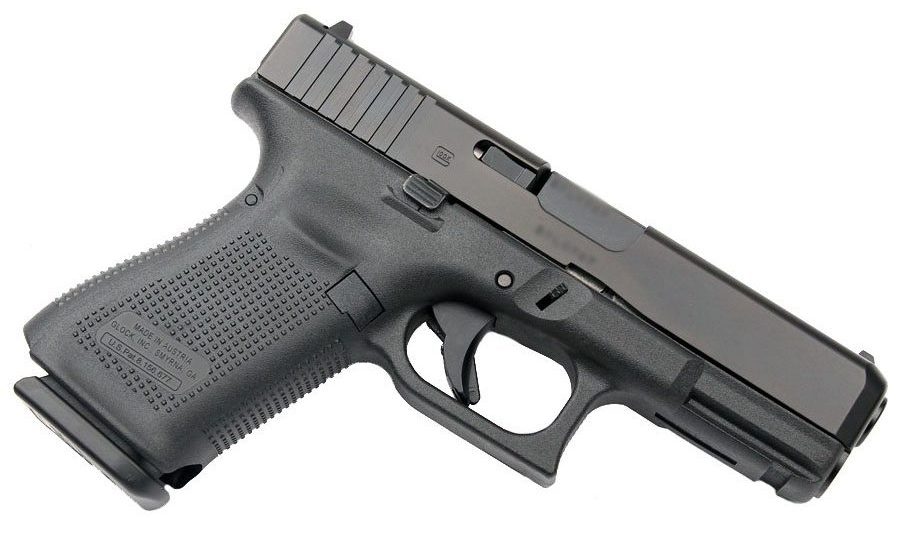 Glocks are among the most popular semi-auto guns for concealed carry, even the medium sized models, such as the Glock 19. Despite not being quite as small as the Glock 33, it holds 15 rounds, plus 1, giving it a large advantage in terms of capacity. You wouldn't have to worry about being under-equipped with ammo in any life-threatening situation.
Not to mention, the size difference is hardly noticeable when you consider the light, durable synthetic materials that make up most of the firearms. It may not be the prettiest of guns, but is that really a matter when it comes to defending yourself or your loved ones?
Glocks are just light-weight guns. That is a major selling point on these firearms, along with the great reputation they have among the shooting community. The Glock 19's synthetic design allows it to only weigh a mere 20.99 ounces, to be accurate.
That is essentially 1 and a third pound. 15 rounds, plus 1, in such a gun is rare. It really isn't a wonder at all why the Glock 19 is one of the most popular handguns in the United States, not only for concealed carry, but regarding all handguns.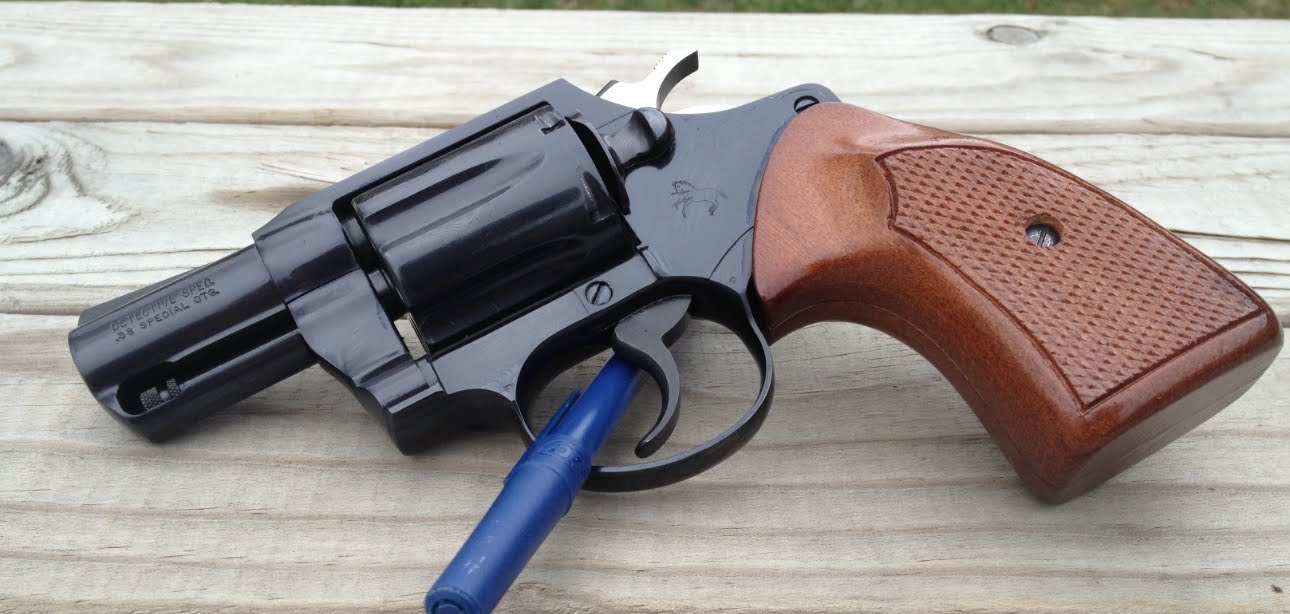 The Colt Detective Special is the iconic pocket gun, and for a good reason. This style firearm is often associated with the classic 1950s detective, along with the trench coat and fedora. As with most revolvers, they are reliable to shoot and easy to use.
The Detective Special holds 6 shots and is available in several .38 calibers, although there is also a .32 version for those who may prefer the somewhat obscure caliber. The prime advantage is undoubtedly how easily is can be concealed and carried all day in a comfortable manner. This gun was carried by off-duty cops and is essentially what inspired the advancement of compact concealed weapons.
The Colt Detective Special is almost entirely metal, spare the thin, replaceable handles, which means it weighs a bit more than any synthetic guns. The term synthetic, as you surely know, refers to the gun's stock. It weighs a pound and a third, and has a 2-inch barrel, but the added heft offsets the recoil. Any higher caliber than .38, and it might not handle as well, but in its current state it is simple to control.
This 1911 style gun is chambered in 9mm and has that iconic slanted but straight grip of most 1911 type firearms. It hosts a manual safety and holds 9 rounds, plus 1. Reportedly, the 1911-style gun is one of the most accurate firearms available on the market, simple to use, and its ready to fire as soon as you get it out of its box. The expert in you might wonder about  the 1911's jamming issue, but you'll be happy to know that that is not the case for this EMP 9mm.
Its thin profile allows ease of carry and it even has accurate sights, which can be rare in compact firearms. As a 1911, you can probably expect that the big metal frame is going to add a bit of weight. The Springfield Armory EMP 9mm is 27 ounces, which is slightly less than 1 and three-quarter pounds.
It does boast a compact 3-inch barrel, which makes it optimal for concealed carry. If you are a 1911 fan, and you are comfortable with using such a firearm, this might be a great choice for you. Furthermore, the 9mm is considered to be one of the best defensive rounds, fact attested widespreadness.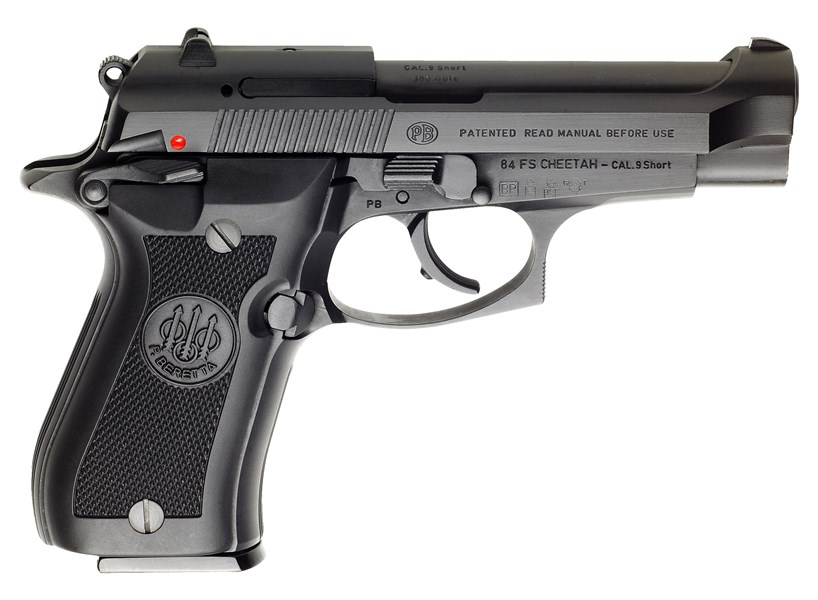 Chambered in .380, this semi-auto gun has the iconic Beretta look, while being small enough to carry concealed. As an added bonus, you can even decide to order it in single stack or double stack, depending on how slender you want the body of the firearm.
If you don't mind the extra width at your side, a double stack model allows you 13 rounds, plus 1, rather than the conventional 8 in the single stack model. It handles similar to the Beretta 92FS, although this .380 caliber is notably less powerful than 9mm. It will still, no doubt, stop most threats coming your way.
As you already know by now, the weight of these guns is going to depend on several factors. These Beretta Cheetahs have been made for quite some time, with the style and design varying by year and model. If you get a double stack, it will certainly weigh more than a single stack version, regardless of year or further design features.
To get an idea, though, these guns weigh, on the low end, 20 ounces, and, on the higher end, 41 ounces. The 41-ounce Cheetah is a full-sized target gun, and wouldn't be considered as a compact gun or for self-defense in most cases. The high end of compact versions is 24 ounces. With an expected 1 and a quarter to 1 and a half pounds, these guns all feel the same.
---
Conclusion
The process of choosing concealed carry guns is never simple. Accuracy, handling, grip, size, shape, contour, capacity, and even the caliber of rounds it holds are all criteria that greatly differ and, often, are determined by personal preference.
In some cases, recoil isn't even determined entirely by the round, but by the weight and shape of the firearm. These are all things that you have to consider. Sometimes you may even have to sacrifice some preferences depending on your budget or ability to carry in certain areas.
When choosing your preferred concealed carry gun, don't forget that most armed confrontations occur at close proximity. A revolver is often all you need. If you are more comfortable with a higher carrying capacity, to be better prepared for the worst, semi-autos are often the answer, but even they have their drawbacks with speed and reliability should it ever snag or jam.
All the guns on the aforementioned top ten list are equally good picks. What sets them apart besides a few technical differences is how your personal preference in firearms syncs with each of these models. Any seasoned gun enthusiast has their own checklist on what a good gun makes, so keep yours in mind and choose accordingly.
There are all sorts of overlaps between these firearm types as well, and there really isn't any "one size fits all" gun out there. Try them out, see what works best. Taking your time in choosing the right gun for you is important because, as you know, a good gun can offer you a lifetime of protection.
Related Reads: