There's so much to consider before you choose the best concealed carry revolver. Some gun owners opt for design or creativity over best quality, while others go directly for the best price tag. While semi-automatic pistols are usually the go-to weapon of choice when it comes to self-defense guns, concealed carry revolvers are still at the top of their game.
The revolver is not only a classic design offered in superb self-defense calibers, it's also user-friendly in operation. And it's super dependable in times you need it the most. Today's well-thought out and constructed options are made to deliver — and hang nicely on your gun belt at the same time.
Get Deals on Guns and Tactical Gear
Join 70,000 Readers For Our Weekly Discounts
---
Background: Revolver
The revolver is the original defensive firearm, and its remarkable features make it an outstanding option for defensive shooting. If you choose a revolver as your concealed weapon of choice, you'll soon learn that there are many advantages to owning one. Besides being simple to operate, they're very reliable, are ambidextrous, and work even when they get dirty.
The revolver is a firearm that holds its ammunition in a cylinder containing multiple chambers that automatically rotate as the user fires the shots. When it comes to personal protection, small concealable revolvers have always been a popular choice.
We did some research and found out how, historically, they came to be so well loved. Again, it comes down to the simple design, loading/unloading, and ease of operation.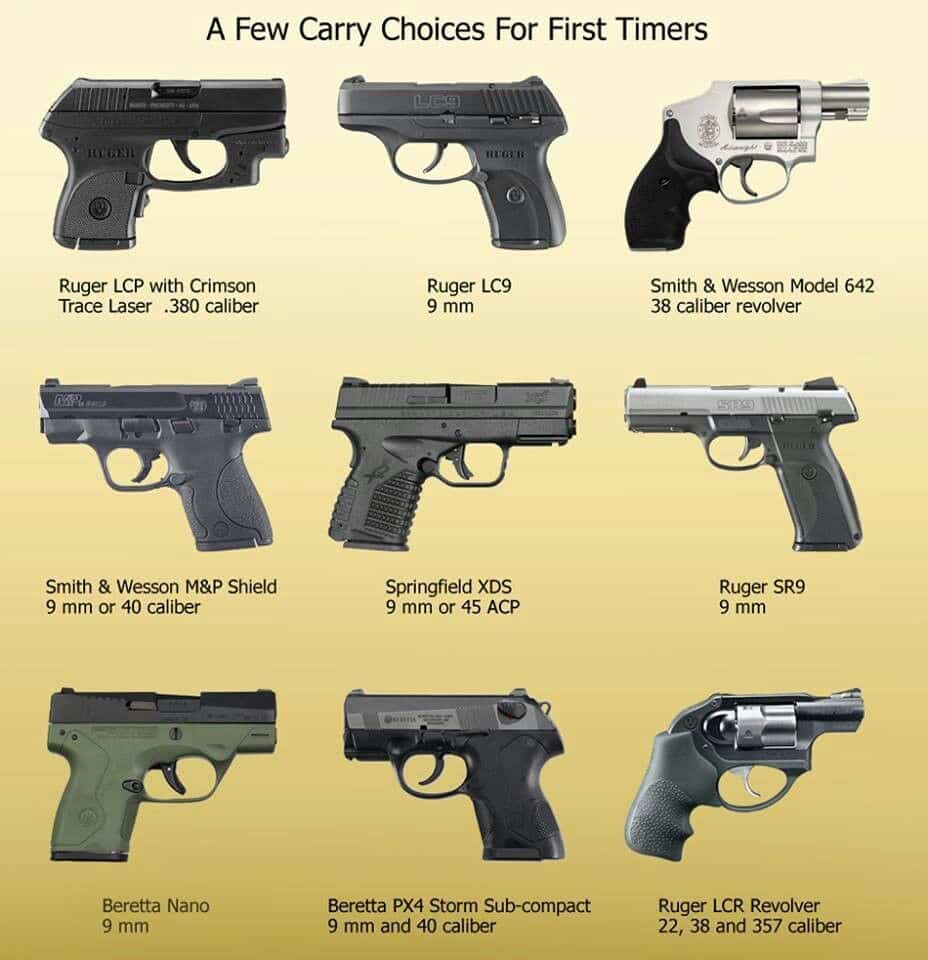 The modern version of the revolver was invented by the American industrialist Samuel Colt in 1836, and another similar design was introduced by the designer Elisha Collier — two decades before him. Fast forward to the 1950s, and small frame revolvers, chambered in .38 Special, were what the majority used — most likely because of their reliability in a powerful package.
But, the shooters who trusted revolvers over other other styles of self defense handguns, is a viewpoint still held by many gun owners today. With that being said, we here at Gun News Daily have compiled a list of the best concealed carry revolvers on the market today …
---
1. Charter Arms Bulldog DAO .44 Special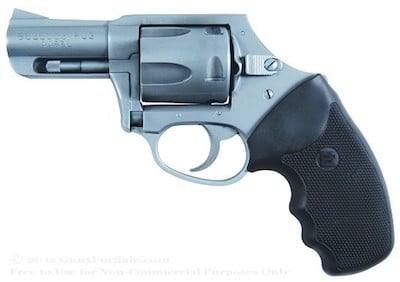 In 1973, a former Ruger employee named Doug McClenahan designed the Charter Arms Bulldog for his new company, Charter Arms. The Bulldog was designed with a one-piece frame for a stronger and more reliable firearm, plus it was chambered for the .44 Special round. As a result, the power of the .38 Special was doubled.
Charter Arm's Bulldog DAO is known for its rugged reliability and stopping power, plus its a versatile concealed carry revolover ideally used for home protection. With a barrel length of 2.5 inches, this .44 Special is one of the larger revolvers to qualify for concealed carry. In addition, this revolver is really powerful —  but it also has the size and functionality for practical concealed carry.
If you've been searching for a safe, reliable revolver that's powerful enough for serious home protection, at a concealed carry size, Charter's Bulldog is the one for you. The five-round revolver weighs 21 ounces and comes complete with generous grips and finger indentations.
Features
Perfect for concealed carry and home defense
Huge selection in a wide range of models
Finish/Frame: Stainless Steel
Grip: Full
Barrel length: 2.5 inches
Capacity: 5-shot
Caliber: .44 Special
Hammer: DAO
Weight: 21 ounces
Check best price online!
---
2. Ruger SP101 Spurless .357 Magnum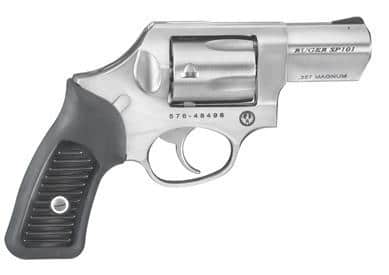 Sturm, Ruger and Company, Inc. is one of the nation's leading manufacturers of rugged and reliable firearms for the commercial sporting market. The Ruger company has several rugged options that make great concealed carry revolvers. But few match creativeness of the SP101 Spurless .357 Magnum.
The SP101 supplies you with five rounds of .357 Magnum (.38 Special) in a convenient package. This particular handgun weighs a mere 25 ounces and tends to be heavier than concealed carry pieces, but it's still good for a single-piece, stainless-steel frame revolver.
Not to worry, the added weight definitely follows through when the gun is fired — it tames the magnum's recoil as well as with the revolver's rubberized grip. In addition, the Ruger SP101 includes a spurless hammer (also available with a spur) and rounds absolutely every snag point, including the front sight.
Its 2.25-inch barrel and 7.20-inch overall length makes the double-action quite easy to conceal. But, of course as with any gun that zeroes in on concealability, there are some payoffs.
Regarding the Ruger SP101, the barrel length will not allow the .357 Magnum to fully get to its full ballistic potential. But in any event, the Ruger SP101 Spurless .357 Magnum is still a top ten favorite and will not let you down!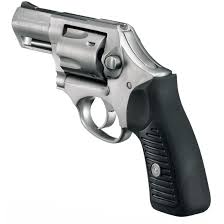 Features
Double action with a 5-round capacity
Made of stainless steel with a 2.25-inch barrel
Triple-locking cylinder is secured to the frame at 3 points
Cushioned rubber grip with a synthetic insert — has no exposed metal in the backstrap
Transfer bar safety mechanism
Spurless hammer
Grip frame accommodates a variety of grips (sold separately)
Metal finish: Satin Stainless Steel
Front sight: Ramp
Rear sight: Integral
Barrel length: 2.25 inches
Product weight: 25 ounces
Check best price online!
---
3. Kimber K6s Compact Revolver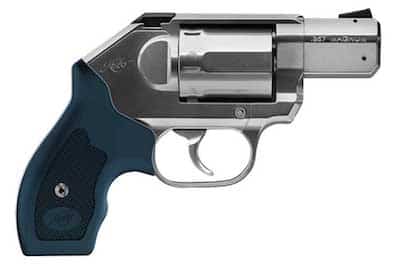 Kimber America's K6s is a compact revolver that's perfect for concealed carry and home defense. The K6s features a small frame, two-inch barrel and 1.39 inch diameter cylinder that's machined from the best quality stainless steel. This unique construction supplies the K6s with superior integrity, strength, and resistance to the elements.
Kimber is generally known for its precise and highly functional 1911 pistols. However, recently the company has begun to make a name for itself as a revolver smith. This is due to the well-conceived and perfectly designed K6s — a gun that seems to encompass every sought after feature when one is considering concealed carry revolvers.
Additionally, Kimber K6s offers other attributes. These include a smooth match-grade trigger for fantastic accuracy, and excellent ergonomics and grip design for a shooter-friendly experience. You can experience all of this in a stainless steel construction weighing in at 23 ounces.
And, because the Kimber K6s weighs in at 23 ounces and is outfitted with a 1.39-inch diameter cylinder, it's the lightest of all six-round .357 Magnums available today. The Kimber K6s is compact, lightweight, and is ideal for everyday carry.
Features
Durable stainless steel frames
Ergonomic grips provide positive control
Non stacking, match-grade, double-action triggers
Caliber: .357 Magnum
Height: 4.46 inches
Weight: 23 ounces
Length: 6.62 inches
Cylinder Capacity: 6 rounds
Action: Double
Frame Material: Stainless Steel
Frame Finish: Brushed Stainless
Barrel Length: 2 inches
Sight Radius: 4.1 inches
Grips: Crimson Trace Master Series Lasergrips
Trigger: Non-Stacking Factory Setting 9.5 – 10.5 pounds
Check best price online!
---
4. Ruger LCR in .38 Special +P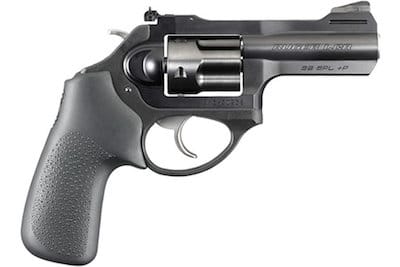 The Ruger LCR in .38 Special is a lightweight compact revolver. The definitive five-round handgun is extremely cutting edge when it comes to material use. Ruger has not only turned to aircraft-grade aluminum for the gun's frame, they've also used polymers for its fire control housing.
Combined with a highly fluted stainless-steel cylinder, the LCR is among the lightest guns available today — weighing in at just 13.5 ounces. In addition to the light weight, Ruger's friction reducing cam system makes the LCR among the easiest double actions to shoot accurately.
Ruger's revolver is highly modifiable and it boasts an easily replaceable pinned ramp front sight and grips. In addition, this revolver is available in five calibers and is a really wise choice for concealed carry. The .38 Special +P is extremely manageable, and with its 1.87-inch barrel, it sure packs a wallop!
Features
Light, compact and easy to conceal Revolver
Double action with a 5-round capacity
Frame made from aerospace-grade aluminum
High-strength, stainless-steel cylinder with a PVD finish and extensive fluting
Product length: 6.5 inches
Barrel length: 1.87 inches
Product weight: 13.5 ounces
Caliber: .38 Special
Action: Double
Enclosed hammer
Fire-control housing
+P rated for use with most factory ammo
Check best price online!
---
5. Smith & Wesson Model 642 +P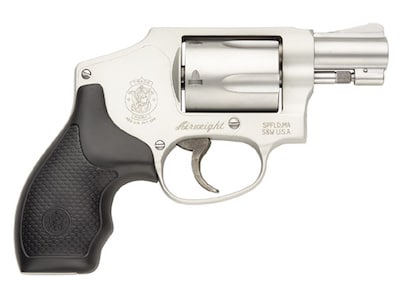 For many gun owners, the Smith & Wesson J-Frame is usually the go-to in concealed carry revolvers. Small J-frame revolvers, like the Smith & Wesson 642, are lightweight and simple to use. This double-action only .38 Special (+P rated) is one of the easiest revolvers to carry and is among the lightest options available on the market today.
Additionally, the S&W Model 642 is a modification of the Model 42 Centennial Airweight. It features an enclosed hammer on an aluminum alloy frame with a stainless steel five-round capacity cylinder. Weighing less than a pound (14.4 ounces), the Model 642 is due in part largely to its aluminum-alloy frame.
And — with a shrouded hammer, there's no uncomfortable feeling of the revolver digging into your side when you need it most. In addition, the Smith and Wesson 642 features a 1.8-inch barreled snubby that might take some practice to become fully accomplished. But not to worry, the .38 Special is a very forgiving and user-friendly round to shoot.
You're  definitely in good hands with this one!
Features
Ideal for concealed carry and home defense
Double action
Five round capacity
Compact, aluminum-alloy frame
Matte finish, stainless-steel 1.875-inch barrel and cylinder
Synthetic grip
Fixed rear sight and integral front sight
Fully enclosed, snag-free hammer
Rated +P for continuous use
Backed by Smith and Wesson lifetime product warranty
Check best price online!
---
6. Charter 2000 Undercoverette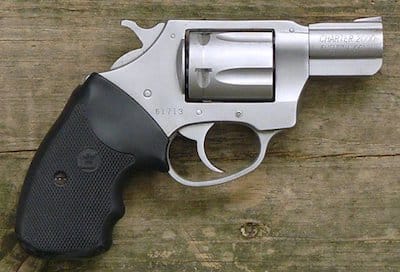 In 1964 New England a young gun designer named Douglas McClennahan founded Charter Arms. This designer had previously worked for Colt, High Standard, and Sturm Ruger,and enthusiastically wanted to produce a high-quality, reliable handgun that was also highly affordable.
The Charter 2000 Undercoverette offers many quality features that have made Charter's classic a concealed-carry favorite. It offers a short 2-inch barrel and soft rubber, full-size grips that make this 5-shot, .32 H&R Magnum a comfortable, yet reliable shooter with the power you'd get without the recoil of larger calibers.
Available in both stainless steel and aluminum, the Charter 2000 Undercoverette utilizes the powerful .32 H&R Magnum cartridge which is sometimes compared to the .32-20. Although its .32 bullet is smaller than the .38, its higher velocities make the H&R Magnum cartridge stand out. In addition, the Undercoverette is more portable with superior precision.
Recommended for gun enthusiasts who are recoil-sensitive, the Undercoverette offers a double-action trigger which is simply average and really isn't a match for the Colt or Smith & Wesson. Not to be discouraged, the Charter 2000 Undercoverette is still a lightweight, reliable handgun that comes with an attractive price tag. If you're on a budget, this one is all you need!
Features
Type: Revolver
Action: Single/Double
Caliber: 38 Special
Barrel Length: 2 inches
Capacity: 5
Hammer Style: Exposed
Grips: Black Rubber
Sights: Fixed
Weight: 12 ounces
Frame Description: Aluminum Alloy
Frame Size: Compact
Cylinder Finish: Stainless
Barrel Finish: Stainless
Check best price online!
---
7. Colt Detective Special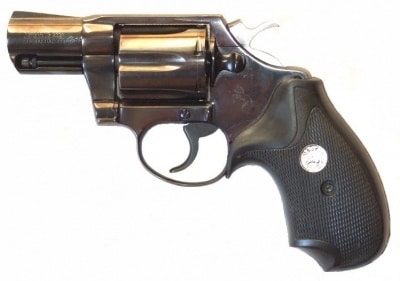 On this list of the best concealed carry revolvers, we give you an honorable mention of sorts: The Colt Detective Special. This classic revolver is a short-barreled revolver made of carbon steel framed double-action.
It is popularly known as "snub nose", "snubbies" or "belly guns." The "Detective Special" was a tribute to police detectives dressed as civilians and was considered a prototype of the first short-barreled revolvers.
The Detective Special was meant for higher-powered cartridges such as the .38 Special and was an American DA/SA revolver first produced in 1927 as a shortened version of the Police Positive Special handgun. To cut to the chase, the Colt Detective Special was designed for ease of carry and concealment.
This six-shot snub nose revolver has been a popular backup gun for law enforcement since it was introduced back in 1927. In addition, the Detective Special underwent a number of changes throughout the years. The First Series was produced from 1927 to 1947 and used a shorter ejection rod, a checkered hammer spur, and wood grips.
The Second Series ran from 1947 to 1972 and included a long ejection rod, a smooth cylinder latch and a serrated trigger spur. Six countries worldwide plus the United States, used the Detective Special for law-enforcement duties. And although it was discontinued in 1995, the Colt Detective Special is still considered by many to be one of the finest snubbies ever created!
---
Final Words
The above reviewed concealed carry guns, although small in size, are packed with tons of power to protect yourself and your family. And if you're still on the fence with your decision, always keep in mind to secure your weapon in a safe location within your body. This will avoid any accidental self-inflicted injury.
Lastly, a holster is a wise investment for your revolver, as it will definitely go a long way if you decide to pack a concealed carry gun. If you're not that keen on a holster, there's always one for your ankle. Good luck and be safe!
Related Reads: