With the recent increases in terrorist attacks and random violent attacks throughout the world, more and more people are turning to concealed carry. The last 10 years we've seen an explosion in the sale of concealed weapons. One of the best concealed weapons out there is the 380 pistol. The reason is simple – it's extremely small and versatile.  To help you guys, we've built out this list of some of the best 380 carry pistols with the help of our readers and our staff writers.
The 380 Pistol – "Pocket Rocket"
The .380 is known as a "pocket rocket" due to the amount of power this semi automatic carries. Sales of 380 guns have grown and more people are looking for the best 380 gun models out there.
Our list doesn't mean that other .380s aren't great.
Yet I've seen many 380 gun models that consistently have issues, or fail to iterate on quality.
I've also been seeing a lot of debate amongst gun owners regarding 9mm versus .380 ACP.  Our take on this is that modern tech is allowing smaller cartridges to pack a lot more "bang" and expansion than previously expected.
Tech and design advances have allowed for smaller and lighter ammo to become not only cheaper but provide one of the best options for self defense scenarios.
We realize that this post might turn into a heated debate for those pistol lovers out there, so let's take a look at some fact from fiction.
---
.380 Pistol Fact vs Fiction
Not Enough Power for EDC
A lot of people believe that guns using a .380 ACP are generally for newbies as the 9mm short has some of the smallest recoil of all pistols. The idea is that smaller guns are what new shooters should use, not heavier pistols.
This, unfortunately, isn't exactly true.
When we talk about recoil we need to realize it isn't just about the cartridge size. Take a look at the image below to see what I mean.
See the .380?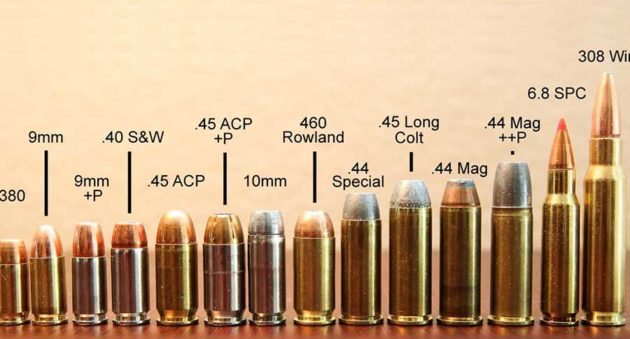 It's one of the smallest cartridges in the picture. While size definitely dictates how much damage a bullet will do and the level of recoil, there are still other factors that come into play.
Gun's vary in build and size. The internal components and mechanics are also a factor.  A gun chambered using a .380 ACP are pretty small, meaning that they're pretty light.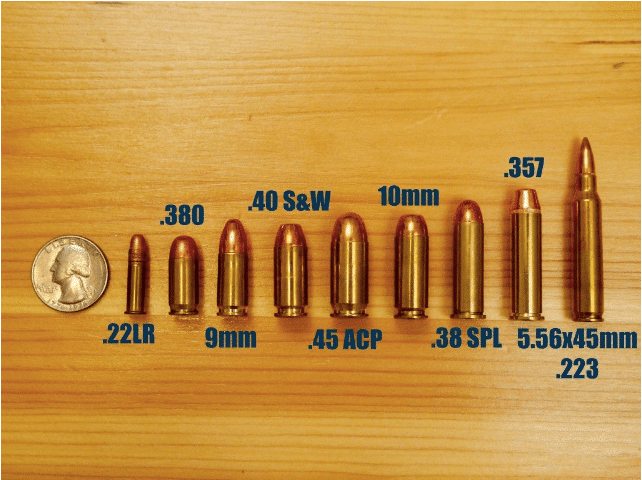 If you read our bullets and caliber guide you'll remember that lighter guns actually don't help with recoil. The heavier the gun the less recoil (generally speaking).
I think it's better for newer shooters to use a heavier pistol when just starting out.
Heavier Gun = less recoil.
Less gun recoil = better control.
---
Design of the Gun and Recoil
The build of the gun also plays a huge role in controlling recoil. Generally speaking if you grip higher up on the gun you'll get better control over recoil.
Holding your higher up allows you to transfer recoil down your arm more effectively.
Your pistol grips are also extremely important. The better constructed the grip the less recoil you'll experience.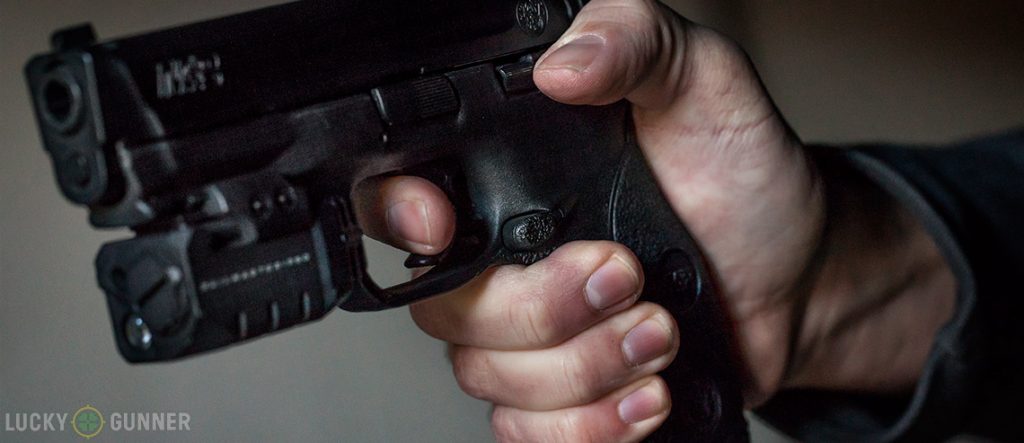 Smaller grips equal way less control which again feeds back into my theory about smaller guns being not the best choice for new guys or gals.
Either way these are some of the things that I think people should be aware of when going to purchase a new .380.
The best test of any pistol is to take it to the range and see how it performs and how you feel the recoil is.
Remember, everyone is different so it's vital to pick a firearm you are comfortable with.
Mechanics and Power of the 380 Pistol
Every cartridge is made differently. When it comes to self defense a lot of people think that getting the biggest round possible is the best idea. The problem with big rounds is they need big guns and big guns are heavy which utterly defeats the purpose of concealed carry.
That being said, I will admit the .380 is less powerful than some of its more fiercesome brothers and sister.
But that being said. Self defense should be about defending oneself effectively not blowing off an assailant's limbs.
While the .380 is slightly smaller than a .38 special cartridge it's almost as powerful.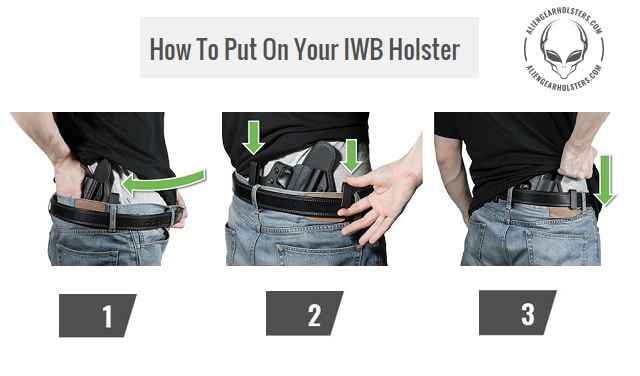 This is due to an overall faster velocity. The advantage of the .380 is in concealability and functionality. Carrying it around is incredibly easy and that's why it's one of the top choices for concealed urban carry.
---
Things I Love About the 380 Pistol
Here they are in no particular order:
Extremely easy to conceal
Bring it anywhere
Cheaper than some of its counterparts
Easy to find bullets
Lots of customization available
How to Shoot the 380 Gun Effectively
Since the .380 is smaller you'll be able to pull of shots a lot faster than a larger pistol. This is an advantage and also a disadvantage.
If you aren't used to shooting rapidly I'd suggest aiming for the center mass for maximum chance of impact.
So for self defense aim directly for the chest and try to shoot in smaller 2 shot bursts to avoid excessive recoil. I'd recommend hollow point ammo for your .380. Please make sure to check if your state/county allows purchase of hollow point.
The advantage of hollow point is that expands rapidly causing much more damage.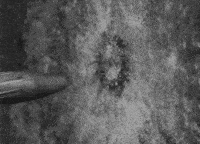 The most important thing with any pistol is to practice.
Spending time at the range getting used to the feel of your gun is vital to using it properly in a self defense situation.
A .380 pistol is a tool, and like any tool you'll need to not only break it in, but also get a solid feel for your sidearm.
One of the biggest rookie mistakes is never using your gun and just "saving" it in case of a self defense situation, the problem with this approach is that when the time comes and panic sets in you'll have no idea how to use it effectively.
Remember, practice makes perfect – especially for shooting.
---
What is the Best 380 Pistol for Pocket Carry, EDC and Self Defense?
Get Deals on Guns and Tactical Gear
Join 70,000 Readers For Our Weekly Discounts
Sig Sauer P238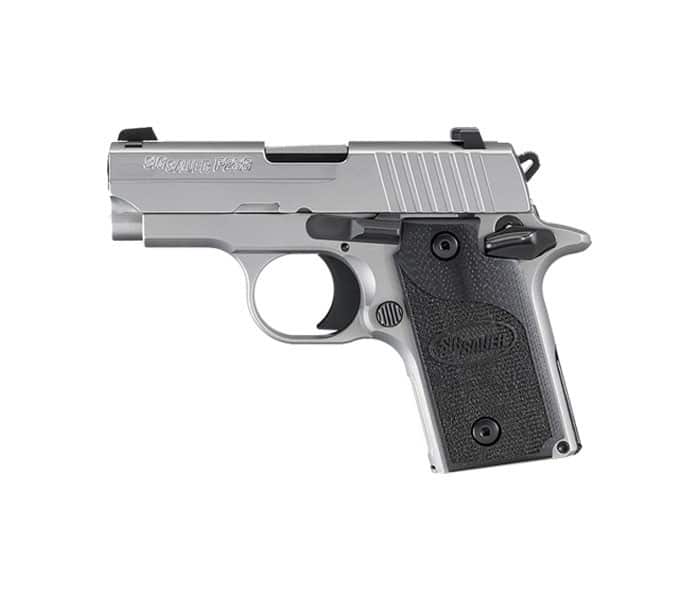 This guy is tiny. Tiny enough to fit almost anywhere.
The Sig P238 is famous for being one of the smallest and more reliable concealed pistols.
It's also a little pricey, which I think you're paying for the brand and quality.
When you look at the Sig, you can immediately tell that it looks almost like a 1911 pistol. Functionality wise its internal components are extremely reliable.
Years of manufacturing have made this pistol free of every conceivable issue, and it delivers crisp performance with every shot.
The Sig is build using high quality metal so it has a bit of weight to it that helps with recoil issues.
2. Glock 42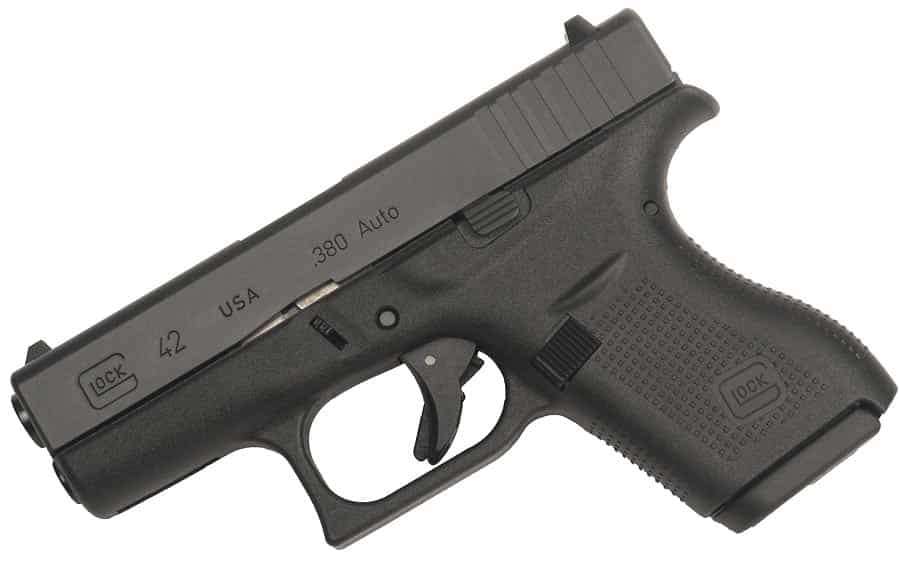 Glock makes some extremely well crafted pistols that seemingly last forever.
I own one of these and I love it. The Glock 42 is one of the new additions to the Glock family. It functions just as well as its bigger brothers and sisters.
Great for close range encounter at distances of 4 to 12 feet.
The 42's barrel length is around 3 ¼ inches with a weight of about 14 ounces, making it fit easily in any number of compact holsters.
Definitely cheaper than the Sig and much lighter due to its polymer frame.
3. Ruger LCP 380

The LCP is one of the cheapest .380s on the market. It delivers some reliable firepower for the price.
Build on a polymer frame, it weighs in at only 9.7 ounces. Barrel length is 2 ¾ inches with a 6 round capacity.
This is one of those guns that basically never has a malfunction (at least not in my lifetime). It works well and is extremely reliable. Great for concealed carry.
The trigger is slightly heavier and longer. The LCP is build to be drawn extremely quickly with a smooth finish on all the edges to be designed for urban carry.
4. Kahr CW 380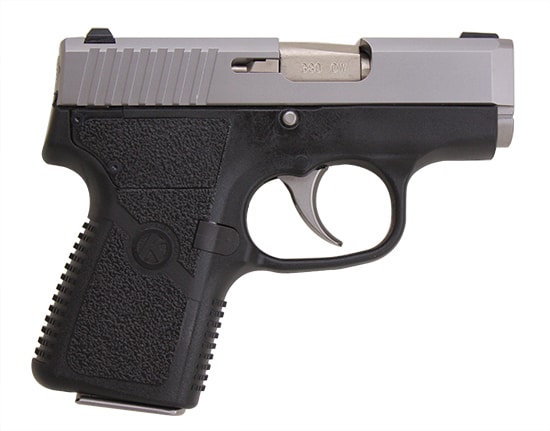 The Kahr CW 380 is definitely the smallest of the small.
Built using a polymer frame it utilizes an extremely light blend of composite materials to weigh in at a ultra low 10 ounces. Barrel is roughly 2 ½ inches.
I really like the trigger mechanism on the CW 380.  It's build for quick draw and it's smooth surfaces avoid any friction or snags when taking it out.
This is a great option for new shooters or as a present for someone who likes concealed carry.
5. Smith & Wesson Bodyguard .380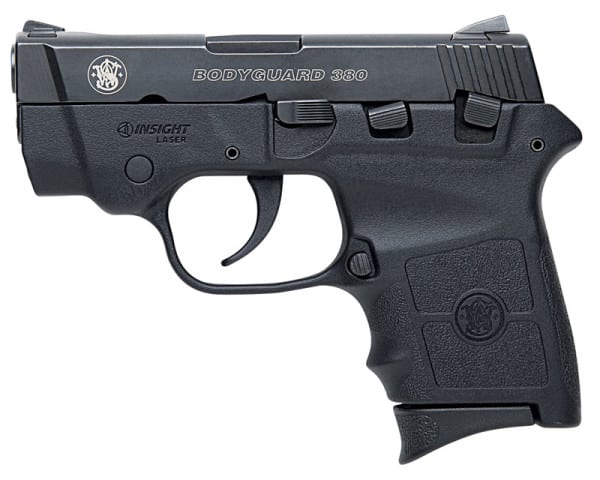 The Bodyguard is slightly heavier than the CW 380 at roughly thirteen ounces.  It's a smaller polymer frame gun.
It holds 6 cartridges in the mag with one sitting in the chamber.
My only issue with this gun is the trigger, which seems to a bit whacky and doesn't seem to fire correctly all the time.
It's a good choice for the price, but I'd definitely go with some of the other top picks.
---
Our Final Thoughts
So to summarize everything we've discussed, the .380 is a great choice for concealed carry. It's small, portable and offers an incredibly fast draw and fire time.
You won't get the serious stopping power you would with something like a 357 Magnum, but you'll get a great self defense weapon that allows you to fire multiple quick shots.
If any of you have a .380, please drop a comment below and let us know your favorite one.
Related Reads: