Any handgun enthusiast will tell you that a good holster is every bit as important to the handgun experience as the handgun itself. You want your gun to be properly secure as well as easily accessible.
There are a variety of attractive holsters on the market, most of them generic (the universal remotes of gun holsters if you will) and some of them specifically designed for particular handgun models.
Luckily for those who own 1911-type handguns, there are holsters tailored to their weight and size. This should come as no surprise since 1911s are extremely popular among competitive shooters.
But picking the right holster can still be difficult. You want to know that you're getting the most out of your sidearm and you want to know that your gun is safe and protected. The last thing any shooter wants is for his handgun to fall out of its holster.
You don't want something that's too loose nor something that's overly tight. Both extremes will compromise the integrity of your handgun due to lousy retention. Ideally, a holster should be made from durable, quality material that stands the test of time.
Today, I'll share with you my top 10 picks for the best 1911 holster. Most of them are concealable holsters, but we'll talk more about that later. For now, let's get into it.
Alien Gear IWB Cloak Tuck 3.0>
Blackhawk SERPA Concealment Holster>
Blackhawk SERPA CQC Sportster>
Blade-Tech 1911 Full Size Phantom IWB Holster>
Fobus > Standard Holster RH Paddle C21>
Galco Combat Master Belt Holster for 1911 5" Colt>
Galco Jackass Rig Shoulder System>
Galco > Waistband IWB Holster>
Outbags USA > OB-04SC Nylon OWB Outside Pants Carry Holster w/ Mag Pouch>
Ultimate Belly Band Holster for Conceal Carry>
SAFEST NEWSLETTER - WE WILL NEVER SELL YOUR EMAIL
GET GREAT

GUN AND AMMO

DEALS!
SENT ONCE A WEEK - NO SPAM - NO SELLING YOUR EMAIL
---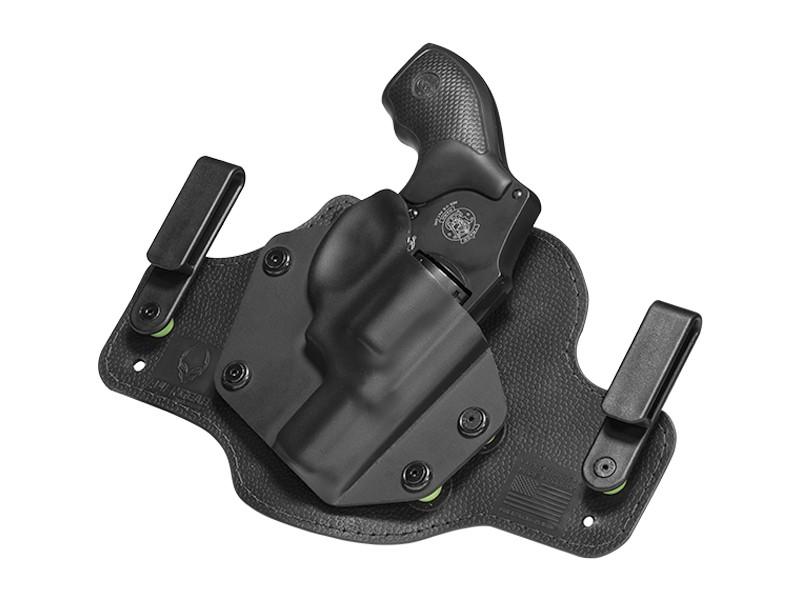 Inside the waistband is usually the way to go for concealed carry purposes. I always prefer IWB holsters to OWB (Outside the Waistband) holsters because I don't like to give myself up to potential adversaries.
After a hunting buddy of mine had his Colt snatched and stolen straight out of his hip holster, I swore I'd forsaken OWBs altogether. And while you will find an OWB on this list, by and large, the IWB is a better and safer option.
The Cloak Tuck 3.0 from Alien Gear is number one with a bullet in my opinion. An upgrade on their already excellent line of IWBs, this one is super-comfortable thanks to the hybrid material that utilizes kydex.
I love this one because it rests against your body more comfortably than others on the market. You'll never get any irritation or annoying rubbing action going on.
The Cloak Tuck has a passive retention system, a belt loop attachment system and comes with a convenient warranty. It's also incredibly high quality for its price point.
The AG Cloak Tuck is one of the best – if not the best – all-around mid-range holsters. If you're looking for a holster that looks, feels and works like a high end holster, but without the high end price, this is it.
---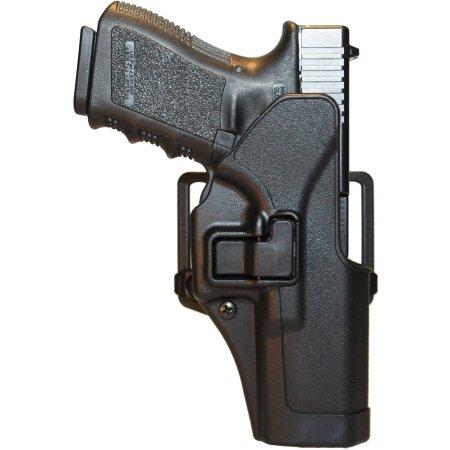 Blackhawk is a company that represents the true heart of the American Dream. Their story is one of the underdog who made good. In 1990, then-Navy Seal Mike Noell who operated out of a garage and, in no time at all, the company had risen to the top of the ranks in terms of leading global suppliers of law enforcement and military gear.
Their SERPA CQC Concealment Holster have a slick matte finish and provide users a smooth draw. It features their patented SERPA Auto Lock release which prevents an assailant or mugger from getting the upper hand before you can draw down on them.
The material is composed of premium leather and vinyl, making it both comfortable and functional. The best part is, it's got excess room to accommodate a longslide.
---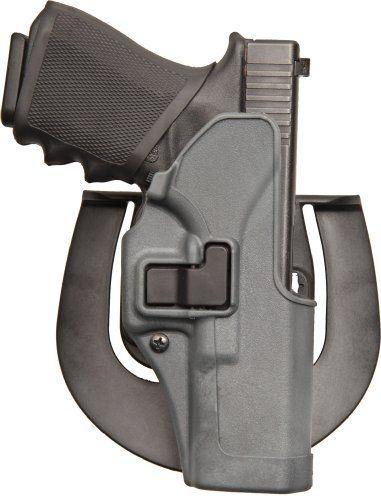 Affordably priced at $29.99, the Sportster is easy to re-holster thanks to Blackhawk's patented system which engages the trigger guard when you holster your handgun, securing it until you release.
It comes with an IWB paddle, an extra belt loop attachment and a smooth polymer body. The only drawback to this one is the lack of a snap or built-in strap. Aside from that, this one is top notch.
---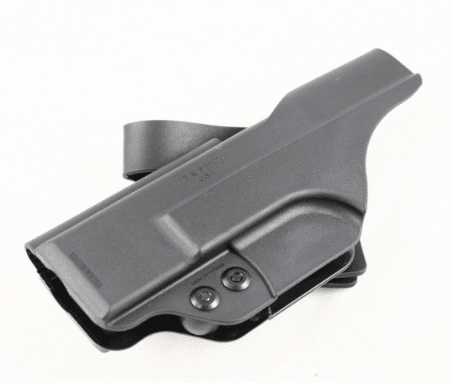 Blade-Tech's Phantom easily accommodates a 5" barrel. It features a full length sweat guard that protects the user against direct bodily contact with the firearm once it's been fired and re-holstered.
This kydex-based holster is contoured to reduce hot spots and features a positive lock trigger guard. The loops fit nearly all belt widths. At an average sale price of $25.49, it really can't be beat by most decent 1911 holsters available.
---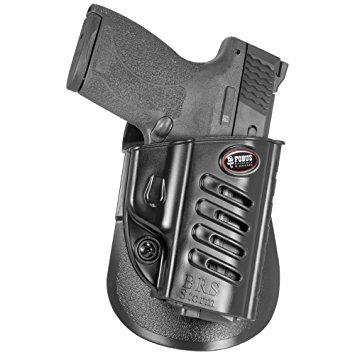 When I said the Phantom couldn't be beat, bear in mind that I said, "most." The Fobus Standard Holster is available for just $16.49 online.
Although this holster won't be any good for left-handed shooters, righties will love the paddle hand, clean finish and comfy carry. It's perfect for full weight weapons and just looks awesome. The only downside is the snap which takes some force to open. When loaded with a full magazine, you can run into some trouble trying to unholster with some customers complaining that they ended up ripping the entire holster out of their pants in the process.
---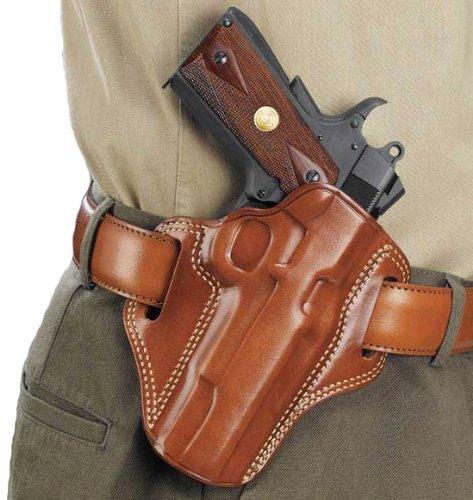 This five-inch Colt belt holster is one of the pricier options on my list at $62.14, but you'll know that you are paying for durability and longevity. Made from premium steerhide, this all-leather handgun pouch offers full slide coverage and a traditional pancake design.
It's popular among law enforcement officers and military personnel alike, and it's clear to see why. One look at it and you can tell it's a bold, brilliant holster that won't let you down.
---
Don't let the name fool you, this one's not for morons. Picking one up is actually a pretty smart move. This steerhide holster and magazine carrier wouldn't look out of place on John McClane in his heyday.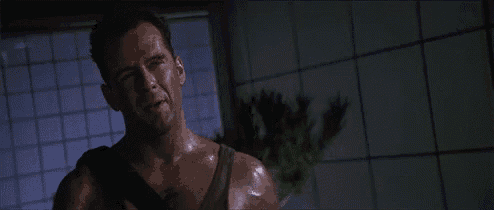 It's got a dual-snap system that keeps it secure and a harness with a swiveling backplate . It's also designed to allow for a range of useful accessories.
Lightweight at 1.6 lbs, the rig shoulder system is an excellent alternative to hip holsters and the like. At a sale price of $129.49, the Jackass is fairly expensive, but you get an ammo carrier which many models do not feature. All things considered, I'd say this is my second favorite holster on this list.
---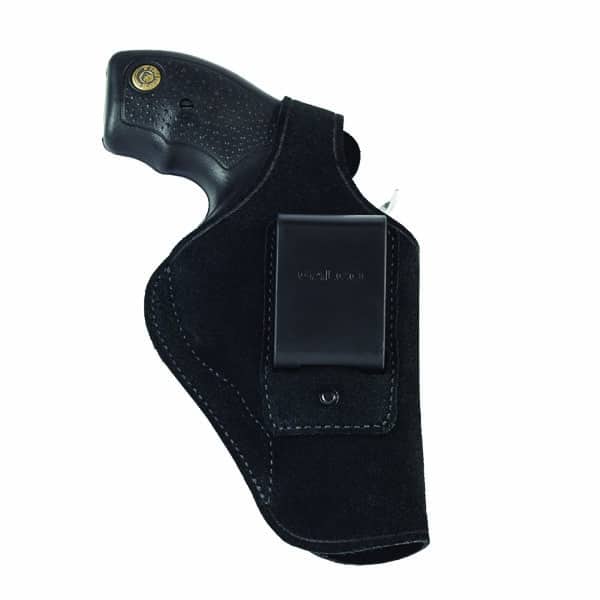 It's understandable why Galco International's name would pop up so many times here. They are currently on the cutting edge when it comes to conceal carry holsters. This IWB holster is no exception.
At $29.99, it won't break the bank and it's got all or, at least, most of the features of more costly holsters. With strongside, crossdraw or appendix carry, this premium steerhide IWB offers a rugged design along with a quick and easy draw.
The reinforced thumb-break retention strap is but one of the attractive qualities this one possesses. If I had to say an unkind word about it at all, it would just be the fact that it doesn't have the fit of other Galco models. There's a 1/2-inch gap between the retention strap and the butt of your gun.
Complaints aside, though, it's certainly worth it for the savings. A nice value for its light weight and Galco brand security.
---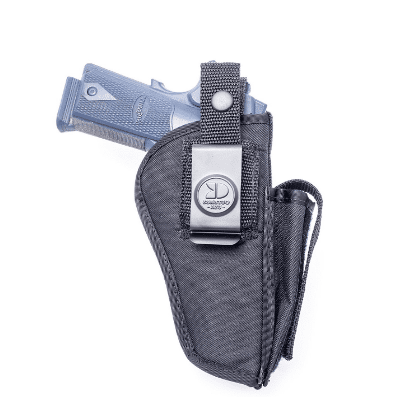 For all you animal lovers out there, this OWB holster is a safe, non-leather open carry solution. It's handcrafted from 600 Denier nylon material and is comes fully loaded with a UTG Dual Pistol Mag Pouch, a Velcro close, steel belt clip and a heavy duty web belt.
If you're gonna go the OWB route, this one is a reliable option that is available for righties and lefties alike. The only real problem I have with this one—which goes back to why IWBs are a better choice—is the webbed spine which is advertised as making sure that your holster remains open for easier holstering.
That kind of access is not something I personally would look for in a secure holster, but for those who are in the market for something they can bring to a range or out in their backyard for some casual target shooting, this might be a good fit. It's also cheap as dirt at just $16.99.
---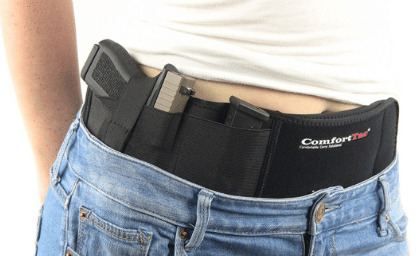 The belly band has become a hot topic in recent years. It's risen to the top of the heap in terms of alternative gun holsters, joining the ranks of the ankle holster and the bra holster among female shooters. But this one's not just for the ladies.
The dudes will dig this holster too as wearing it under your clothes makes your midriff the perfect hiding place when you want to pack some heat but don't want any old person knowing that you're carrying.
It's made from surgical grade elastic, accommodating shooters of all weight classes, and it can fit a range of different calibers revolvers and pistols. You can even wear it however you find most comfortable, whether it's IWB, OWB, across the body or on the small of your back.
There's a spare compartment for an extra magazine or other accessories. The $59.99 tag is a good mid-range price for the features this one's got.
---
Conclusion
Now that we've explored each of these holsters in detail, I trust that you'll be able to select the holster that suits your needs. When shopping around, remember to always take retention, clothing and material into consideration.
Good luck with your holster and happy hunting.
Related Reads: