What is the best conceal carry holster? This isn't a question to be taken lightly. After you decide to carry concealed and purchase the handgun that fits your lifestyle, choosing the right holster is a very important decision.
There are many types of holsters on the market, today. Some are good and some aren't. There's an old saying, "you get what you pay for," and that is something to keep in mind while shopping for holsters. You want a good deal but you also want something to be safe, durable and last a long time.
My favorite concealed carry holster is the CYA Supply Company IWB Holster.
This holster is designed for IWB concealed carry. CYA Supply Company is a member of the NRA Business Alliance and they have a no question asked return policy. They stand behind their product. I like that in a company.
It is made from boltaron thermoplastic, which is similar to kydex. CYA Supply Company has taken the major wear and friction points out of this holster. It has an adjustable cant and is comfortable.
Get Deals on Guns and Tactical Gear
Join 70,000 Readers For Our Weekly Discounts
---
Things To Consider
Why is it so important to have a good holster? What are the things a good holster is supposed to do? A good holster:
Protects and holds the firearm secure
Prevents discharge
Prevents gun grab
Provides quick and easy access
Conceals well
Safety
Our first thought when shopping for a holster is safety. We don't want to cause harm to ourselves or anyone around us. I'm sure you have heard the four gun safety rules. It's always a good reminder to hear them again.
Treat every gun like it's loaded
Don't point your gun at anything you're not willing to destroy
Keep your finger off the trigger until you have made the decision to fire
Know your target and what's beyond it
These are all important gun safety rules, but when it comes to holsters, number 3 is what we will focus on. You want your finger off the trigger as you draw, and you don't want anything to get caught up in the trigger as your gun is holstered. Clothing, a part of the holster, or any number of things can cause an accidental discharge.
The bottom line is, you should always make sure your gun is clear of objects, including your finger, while it is holstered, being drawn, and while re-holstering.
---
What Makes a Good CCW Holster?
As we talked about earlier, not all holsters are good holsters. Some styles are not good for concealed carry and some are just unsafe.
I've listed some important features that you want to look for in a concealed carry holster:
Covers the trigger
Made from durable material
Good retention
Conceals good
You can get a good grip on the gun
Protects the gun
Covers The Trigger
Some holster do not cover the trigger all the way, or it is covered with a cheap material. A quality holster will cover the trigger guard all the way. This is the most important factor for preventing an accidental discharge.
Material
You want your holster to be made from a sturdy material. Leather and kydex (a hard, molded plastic) are the two sturdiest materials.
Some holsters are hybrid and are made from a kydex pocket for the gun and a leather backing that goes up against your body.
Good Retention
Your holster needs to keep your firearm in place. This is what retention is. You should be able to place your firearm in the holster and turn it upside down, without the gun falling out.
If it falls out, you need to adjust the retention. Most quality kydex holsters will have adjustable retention. Usually it is through a screw that can be loosened and tightened.
Conceals Good
Unless you are open carrying, you will want to make sure your gun is concealed well. IWB are the most concealable holsters. There are different positions to carry your IWB holster, but appendix carry is a favorite way for a lot of people.
Body type needs to be a consideration here. My body type may not be the same as your so you may find something comfortable and it wouldn't work on me.
Other ways to conceal carry are OWB, shoulder holster, ankle holster and pocket carry.
Good Grip
This is a very important point. If your holster doesn't allow you to get a good, full grip on your gun, then it's not the holster you should be using.
You will waste a lot of time, fiddling around with your gun to get a good grip, after you draw. This waste of time can mean the difference between life and death. Don't chance it.
Protects The Gun
Your holster is meant to protect you gun. Retention is part of that, so it doesn't fall out. Concealability is part of that, so someone doesn't try to grab it. You should consider harder material holsters may leave wear marks on your gun. Softer material, like leather may allow moisture to get to your gun so you should wipe it down each day to prevent rust.
---
Types Of Concealed Carry Holsters
There are different types of concealed carry holsters. There will probably be a pretty good sampling of these in our top picks.
IWB
OWB
Ankle holsters
Shoulder holsters
Pocket holsters
Belly bands
Off body (which we won't get into in this article)
---
Best Overall Concealed Carry Holsters
Let's get on with our top picks in concealed carry holsters.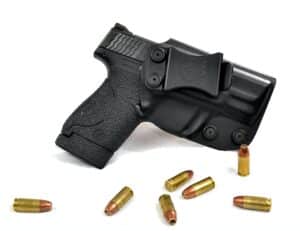 This is a top of the line holster for a great price. This holster has a smooth draw, easy re-holstering, is made of durable material, and has adjustable retention.
Features
Adjustable cant
Made from boltaron
Made in the USA
Less friction
Satisfaction guarantee
Made in USA
Pros
High quality
Belt clip is sturdy and wide
Slim
Conceals well
Lightweight
Cons
Drawing may move the holster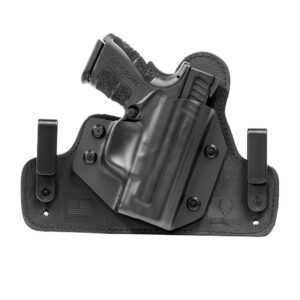 This holster has won awards. It's an IWB holster made with a neoprene backing for comfort. The retention shell is custom made for the make and model of your gun, and includes an adjustable retention so you can choose the right draw. No break in time needed. Perfect right out of the box.
Features
Made in America
Adjustable ride height, cant and retention
No maintenance
No break in time needed
Lifetime warranty
30 day "trial" period
Waterproof neoprene back pad
Pros
Affordable
Conceals for a skinny person
Comfortable
Doesn't move around
Good retention
Sweat shield works good
Cons
Hard to get on belt
Clips could be made stronger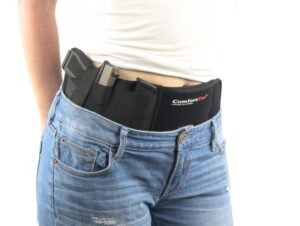 This belly band holster is made from neoprene instead of elastic. Neoprene is softer against your skin and stronger to hold the gun. Belly bands can be used under wardrobe choices that do not work for a belt holster. Sweat pants, shorts, yoga pants, etc.
Features
One size fits most
Versatile
Spare mag pocket
Optional use retention strap
Pros
Works good for small females
Comfortable
High quality
Affordable
No printing
Holds gun in place
Works with skinny jeans
Cons
Mag pouch squeezes the magazines out while bending
No trigger guard besides the pocket
Tendency to ride up
Difficulty re-holstering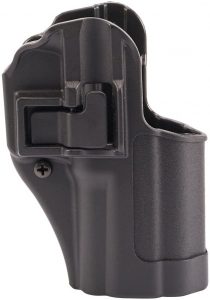 This holster features a unique speed cut design allowing for smooth drawing and easy re-holstering. The patented SERPA auto lock system delivers security for your handgun and is automatically positioned to facilitate the correct drawing motion.
Features
SERPA auto lock release system
Reinforces full grip
Audible click with re-holstering
Belt loop and paddle platforms included
Pros
Holds gun in place
Fits great
Durable
Cons
Belt clip option is hard to get on and off
Bulky
Clothes can get caught while re-holstering
---
Final Thoughts
Choosing a holster is a decision based on many personal factors. As you can see, there are many choices out there. Finding the right one will make you want to carry every day. If you're not comfortable it will be easier to not carry.
Our Pick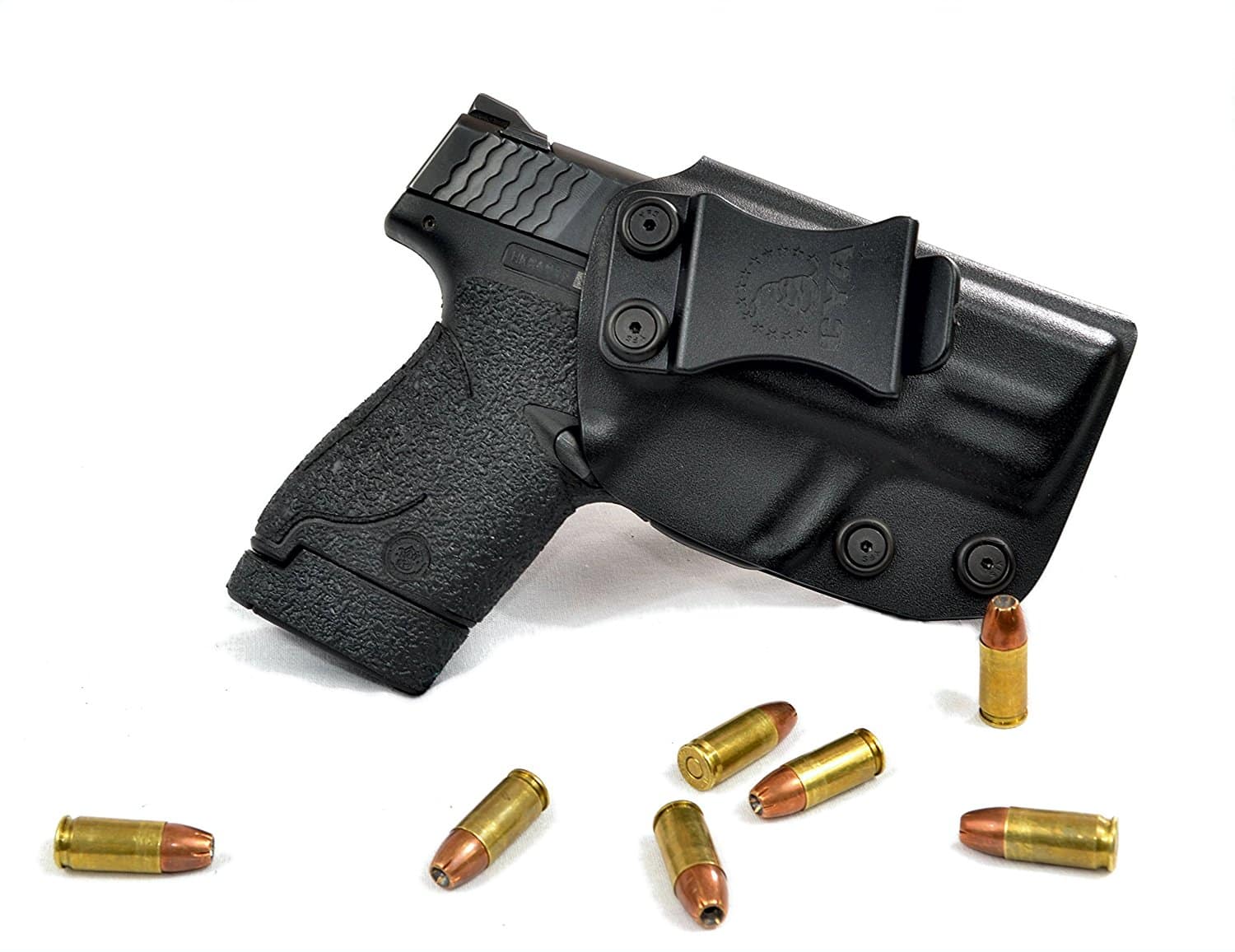 I think the CYA Supply Company IWB Holster might work out really great. It's a high quality holster at a good price. It is durable, comfortable and lightweight, and will conceal well.
Even thinner people, who have a hard time finding a concealed carry holster that doesn't print, will be able to use this holster. I really don't have negative thoughts about this holster.
Related Reads: