Appendix carry holsters have seen a gradual upward trend for concealed carry choices however, some people dread them for accidental misfire inside their pants. If the idea of appendix carry makes you nervous, you don't have to get one.
But statistically, you're not more likely to experience an accidental misfire with an appendix carry than with any other kind of holster.
If you are searching for a comfortable, versatile, adjustable and ambidextrous appendix holster, the BlackHawk Appendix Reversible Carry might be your best bet. It comes with two belt clips and a passive retention detent with an adjustment screw and comprises of a soft yet durable molded polymer material for maximum comfort.
Apart from being adaptable to both left and right-handed users, the BlackHawk also includes two cant and ride adjustment belt clips for 1.5" and 1.75" belts.
Get Deals on Guns and Tactical Gear
Join 70,000 Readers For Our Weekly Discounts
---
What makes this holster's strongest selling point is the flexibility that BlackHawk offers to users looking to test out its A.R.C. From the holster's soft and durable polymer to the different forms in which it may be arranged, the BlackHawk A.R.C makes an extremely flexible rig at several different levels.
Introduced in 2015's NRA Annual Meetings & Exhibits, this BlackHawk holster has, since then, captured a lot of market and has become a very good seller for any gun shop. However, before you lay down your hard-earned-dollars, read through the overview and evaluation of the BlackHawk A.R.C.
BlackHawk ARC: Overview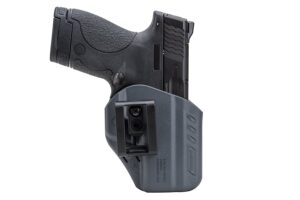 The BlackHawk is an IWB holster designed for appendix carry, especially suitable for the 1 o'clock position. The ARC is made up of a molded polymer which makes the holster soft, very comfortable to put on, and comparatively less rigid than molded plastic materials like kydex.
Even though polymers tend to be very durable, most often than not, they aren't as comfortable as one would want them to be. However, BlackHawk ensures that its holster's soft leather coating doesn't irritate the user or leave any visible marks on the gun.
It does not collapse under the weight of one's body and belt pressing together. This makes re-holstering your firearm with one hand easy.
The BlackHawk A.R.C comes in an urban grey color and has a cut body so that the rig properly holds the gun. The tension screw allows you to adjust retention according to your preferences meanwhile, the clips designed to adjust for different belt widths can be switched between easily using a Phillips head screw.
You can adjust the cant by loosening and rotating the belt clip and attaching it to either side of the holster, making it ambidextrous. Furthermore, ride height is also adjustable for a couple of positions depending on which screw hole on the clip is used.
Primary Features:
Ambidextrous right or left-handed carry
for cross draw or standard
1.5″ or 1.75″ adjustable belt size
red dot optics
high- or low-ride
any of a number of different cants.
In contrast to some polymer holsters manufactured by large companies, the A.R.C is made in the U.S. and even though the company employs U.S residents, BlackHawk still makes this competitive and high-quality holster available at a very feasible price.
This, perhaps, is the greatest advantage of getting the A.R.C. Currently, BlackHawk makes AIWB holsters for the following pistols:
Performance
A reasonably priced holster with seemingly limitless adaptability manufactured in the U.S. does indeed seem great, but the real question is, does it perform? With a myriad of guns, yes, this holster does perform.
When it comes to Glocks, Smith and Wesson, you can confidently remark that the holster keeps these guns held firmly into place unless drawn. The A.R.C's passive retention detent along with an adjustment screw ensures that the firearm is tightly anchored inside the holster.
Given that this holster is specifically designed for Glock 43 which is one of the most popular concealed carry pistols in the world today, the A.R.C is known for its diversity and usefulness for law enforcement officers.
Pros
Rides at perfect height, allowing a full firm grip on the firearms. Great retention and adjustment works really well; you really can set it where you want it. We all know that most "adjustable" retention systems are either all or none.
Slim and sleek, contours around the muzzle, clip attachment point is ergonomically cut down and moved in towards the holster to allow you leg room to move up and down as you sit or bend. No hot spots at all.
The holster firmly secures the gun and the belt clip is sturdier than it looks. The A.R.C keeps the gun close to the body in a way that leaves no print therefore, it's remarkable for concealment.
You have to really tighten the screw that holds the clip so that the cant doesn't change once you have the holster worn on. Once the screw is tight enough, it works flawlessly in holding your gun in place without movement.
A.R.C's ambidextrous feature makes it awesome for both left and right-handed use. The 4 o'clock position works best with right hand orientation and 6 o'clock for left hand. Best for everyday use.
Cons
Does not fit the Shield 45.
The clip may feel a bit flimsy and difficult to attach. You might also find it uncomfortable and not entirely secure carrying the firearm at the 3 to 5 o'clock position with confidence.
The clip could be made a bit stronger and might break if you're abusing it. Since it's made up of a plastic polymer (not kydex), it needs to have a thi
The material on this is not kydex but a plastic polymer and because of that, it needs to have a very thick wall to keep it from breaking or snapping. This amount of thickness makes any appendix carry uncomfortable to wear for long periods of times.
It's not perfectly comfortable to have the sharp angles of the firearm grip and rear slide poking you, especially if you have a bulky physique.
The material on this is not kydex but a plastic polymer and because of that, it needs to have a very thick wall to keep it from breaking or snapping. This is just too thick to comfortably carry appendix for long periods of times.
---
Other Great Appendix Carry Holsters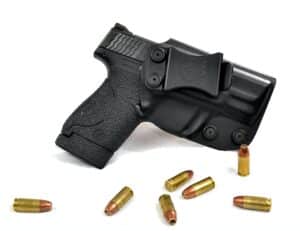 This holster fits the M&P Shield 9mm or 40 cal and does not fit the M&P 9 or 40, M&P 9c, and 40c. Designed to be an IWB concealed carry, this holster combines materials, design to suit the end user without compromising quality.
One unique feature about this product is that it does not have major wear and friction points. Most kydex holsters are simply molded into the shape of the desired gun, including its slide, release and safety.
With the recession of this area and incorporating the Boltaron thermoplastic (a similar plastic to kydex), this holster ensures smoother re-holstering and draw, also reducing the amount of holster wear on the gun.
Boltaron not only very durable but also abrasion and chemical resistant. It beats kydex in terms of impact resistance, design, and high heat situations.
adjustable screws to set retention to your own liking.
Nice solid click when you place the gun in the holster, it's very secure.
Large channel for sights leave plenty of room even with Trijicon HD night sights.
Covers magazine release. Belt clip is nice and wide so no issues with the holster moving.
Forewarning to buyers, loosen the hex screws at the bottom before holstering the gun for the first time. Sometimes they come too tight which may cause a scuff on your gun while forcefully removing the holster.
According to one review, the section of the actual holster where the screws pass through to hold the clip on completely broke off while removing the holster. The broken piece remains attached to the clip. It seems the area of the holster should have been made a little thicker or at least a metal plate for reinforcement attached.
Cover garment catches on the clip
Cant is not adjustable hence not effective in terms of appendix carry
Clip attaches from the top so this is not tuck able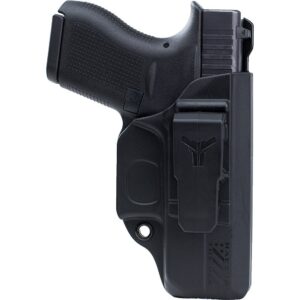 The Klipt IWB holster is a good call for concealed carry. It's ultra-thin body makes it comfortable to wear and have an extremely low profile. Even in you're in minimal attire, it is unlikely that this holster leaves a print on the clothes.
The holster secures the gun firmly with an audible click. Also, the Blade-Tech clip allows for swiftly removing the belt whenever necessary. All belts up to 1.75" are compatible with this holster.
Ultra-thin signature makes it very comfortable and extremely low profile.
Firearm can be carried undetectable without leaving any printing even in minimal attire
Firearm locks securely into the holster with the signature Blade-Tech click.
It can be carried on the weak side in IWB cross draw fashion or as a straight drop IWB holster on the strong side hip.
Fits all belts up to 1 3/4″
You need to be mindful of how it sits when you're in a car, upright in a chair, relaxing, etc. For bulky fellows, it may feel like the slide is stabbing you and if you are overweight, you won't be able to keep it on for long periods of time.
No retention adjustment and may not cover the mag release.
Klipt Ambidextrous Appendix holster may be better for users who require an adjustable cant and belt clip height.
The belt clip is somewhat bulky and on wearing tighter clothing, the holster does not conceal very well.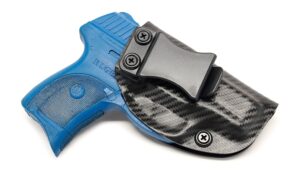 This holster is made up from .08 kydex sufficiently thick but very lightweight. It weighs only 3 oz. It comprises of a full sweat-shield which ensures your firearm remains dry and a fully covered trigger to keep re-holstering safe for the user.
Not only is the retention pressure easily adjustable to your own liking but the Posi-Click Audible Retention Lock system lets you know when your weapon has been properly holstered.
As for the cant, it is modifiable between zero to 15 degrees according to your liking. This allows the holster to be carried in not only the appendix, but also side, hip and back carry positions.
Fits: GLOCK G19 – G23 – G32
Type: IWB – Inside The Waistband – Easily Adjustable Retention Pressure & Carry
Angle (Cant) 0-15 Degrees
Thickness: .08″ KYDEX – Weight: 2.5 oz. – Belt Clip: 1.5″
'Posi-Click' Audible Retention Lock System – Integrated Full Sweat Shield
Made from Start to Finish in the USA – Lifetime Warranty
Belt loop is a bit wide but works great for concealment carry specific pants belt. Also, the clip often swivels to adjust the can't but when you lock it in place it's stays very firm.
May have to smooth down the sharp tang which covers the slide near the top and is likely to rub against skin.
This holster is considered reflective of exemplary American craftsmanship which combines durability with comfort and effective functionality. If you are searching for a leather holster that exactly suits your needs, the Defender might be a good option for you.
It comprises of bull hide leather, very comfortable and good for concealed carry. This form-fitting holster is further underpinned by Relentless Tactical's Lifetime warranty.
It guarantees good protection by securing the firearm well and ensures easy access when needed most. If you are wary of holsters that are flimsy and not dependable, the Defender might gain your confidence.
Handmade by American craftsmen from genuine bullhide leather.
Designed for maximum performance and optimal comfort. Form-fitting, dependable, effective concealment, reliable access and sturdy.
Lifetime warranty minimizes your risk if afterwards you think you have made the wrong choice.
Fits most Glock / XD style firearms including: Glock 17, 19, 21, 23, 26, S&W M&P, S&W Shield, Sig P239 & All Similar Guns
The holster comes with a bracelet, some stickers and a note from the makers that offers some general information about the holster and how to use it.
Carries too deep. Some reviews claim that it may be hard to get a full grip on  draw.
Its thickness given two layers of leather make the holster revealing depending on the size of your firearm and what kind of clothes you have on.
---
Conclusion
All in all, the BlackHawk Appendix Reversible Carry may best be suited for you if you own a Glock or a Smith & Wesson and are looking for a good concealed carry option. Moreover, its adjustability in cant and retention makes the A.R.C far superior than its competitors.
Our Pick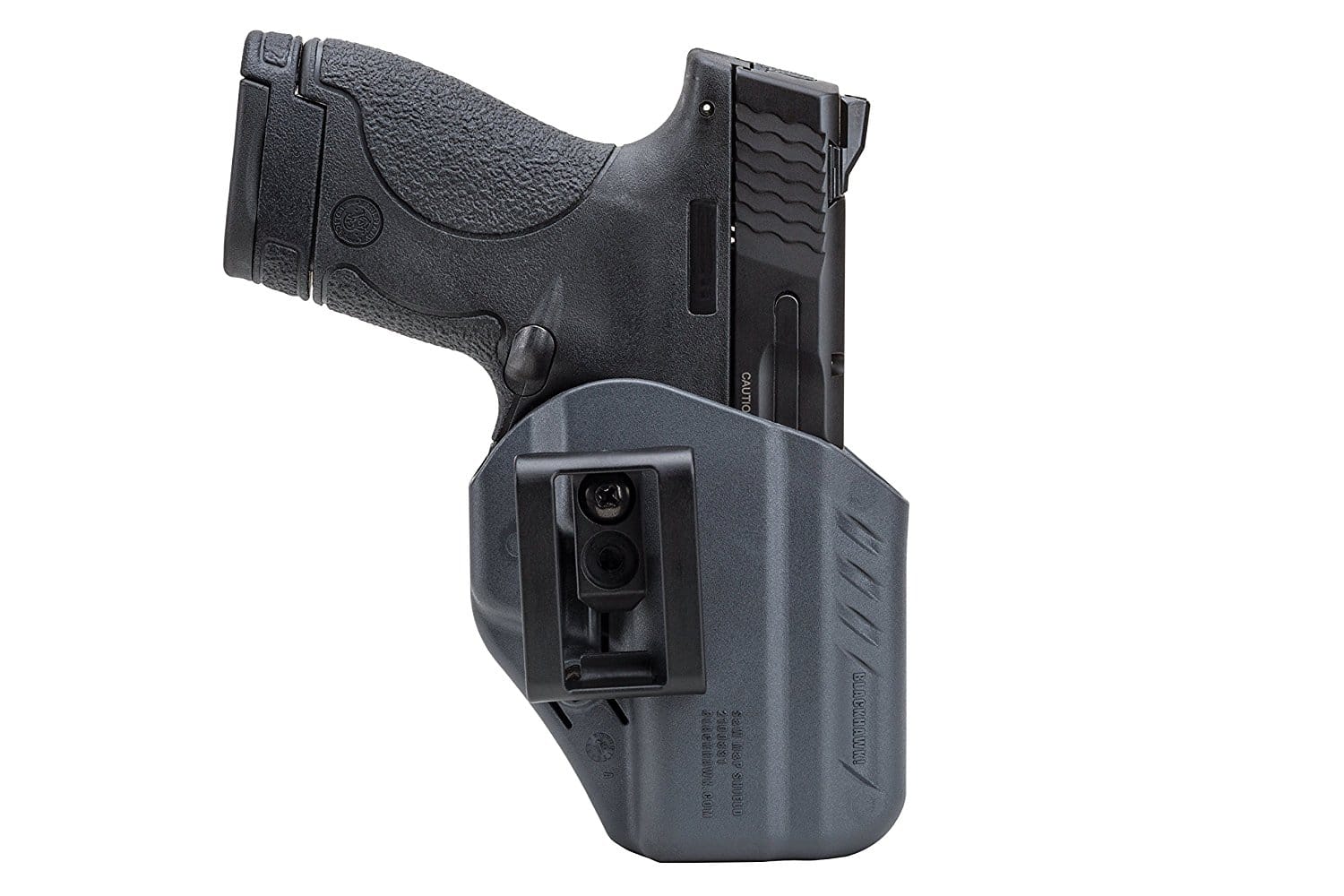 With uncompromised quality, grip, ease of access, user-friendliness and customizability, the A.R.C may be an ideal choice of an appendix carry holster for you.
There may be other options which offer similar functionalities as that of the A.R.C but firstly, BlackHawk's brand name holds respect in the gun industry and secondly, given the holster's price and what it offers, I personally don't think there is competition left after the A.R.C.
If you'd like explore other types of holsters for your pistol, check out our holster reviews page, where we review holsters for nearly every style of carry.
Related Reads: