As important as it is to buy the right gun that suits your needs, equally important is the holster you'll carry it in. Every pistol needs a holster, it's a match made in heaven.
A holster protects the firearm from frequent wear and tear or an accidental discharge. Most handguns fit well with in a variety of kydex-made holsters, but which ones top the list?
This article will help you choose the kydex appendix holster suited perfectly to your needs.
Rather than give you a laundry list of different holster options, let's start with our favorite. If you're looking for a comfortable, reliable and affordably priced kydex appendix holster, then the Tulster Glock IWB Profile Holster is going to be your best option.
After months wearing it, we started to forget we were wearing kydex holster at all.
User-friendliness is one of the most important characteristics of a good appendix holster. However, let's take a closer look at the Glock IWB Profile Holster and why it's our top pick.
Get Deals on Guns and Tactical Gear
Join 70,000 Readers For Our Weekly Discounts
---
The Tulster Glock 43 IWB Profile Holster's sleek minimal material design and matte edge finish makes it an ultra-concealable and super comfortable appendix carry holster.
Not only is it comfortable, but its in-built positive retention, adjustable retention screw and low drag make sure the firearm is properly secured when holstered.
On the other hand, the holster comes with only one belt clip size.
Main features:
Undercut trigger guard.
Minimal material
Full sweat shield
Works with Quick Clip or Softloop Kit.
Adjustable retention.
Adjustable cant: 0-15 degrees
Rounded and buffed edges.
Accesories included with purchase:
1.5″ Quick Clip
1/8″ EPDM Spacer/Washer
VC-3 Threadmate – 1ml packet
1/4″ Truss Screws
Slotted Post
Smoothed out edges. No snagging, jabbing or pinching. Comfortable even without undershirt.
Very concealable and a perfect choice for everyday carry.
Very minimalistic with no extra Kydex anywhere, except only where necessary.
Fits the Glock 43 like a glove, similar to other concealment holsters for the G43. Neither too tight nor too loose.
The belt clip is absolutely ingenious! Clips onto the belt with ease and is very secure. Un-clipping is easy, fast to do with one hand without unfastening the belt.
Holster does not cover the mag release button, which enables one-handed mag reloads while the gun is still holstered.
Drawing and reholstering is very smooth.
When re-holstering, there is an audible positive click so you know the gun is fully holstered and secure.
When re-holstering there is hardly any 'drag' until the gun gets to the retention point, which helps reduce wear to the holster and gun.
The gun doesn't fall out of the holster when held upside down and shook. Great retention.
Made with tough Kydex and is very lightweight. Tulster offers many different colors and styles on Tulster's website.
Totally comfortable when sitting for long periods of time, driving in the car, or wearing all day.
Adjustable cant (angle that the gun is carried) from 0-15 degrees
Trigger is completely covered, so there is no chance of an accidental misfire while the gun is holstered.
Very comfortable at the 12:30-1:00 appendix positions
Has a full sweat guard to help prevent pinching while re-holstering and also so the slide doesn't jab you.
This holster is available for both right and left handed users.
Cons
A little spendy, but totally worth it for an appendix holster that is extremely comfortable, high quality and not a hassle to carry around.
Make sure you have a belt that will fit the belt clip. The holster belt clip is meant for a 1 1/2″ belt, and you can get spacers for the belt clip which will make it fit a thicker belt.
Tips for Ladies
Wearing higher-waisted jeans really helps concealing the firearm and makes wearing the holster more comfortable, pairing well with nearly any self-defense handguns. For this Low-rise would still work with this holster, but it wouldn't be as comfortable while sitting or driving.
This holster is easily concealable with a regular t-shirt and jeans, allowing you to have on clothes that otherwise wouldn't work with a larger kydex holster.
---
Alternatives: 4 Other Great Kydex Appendix Holsters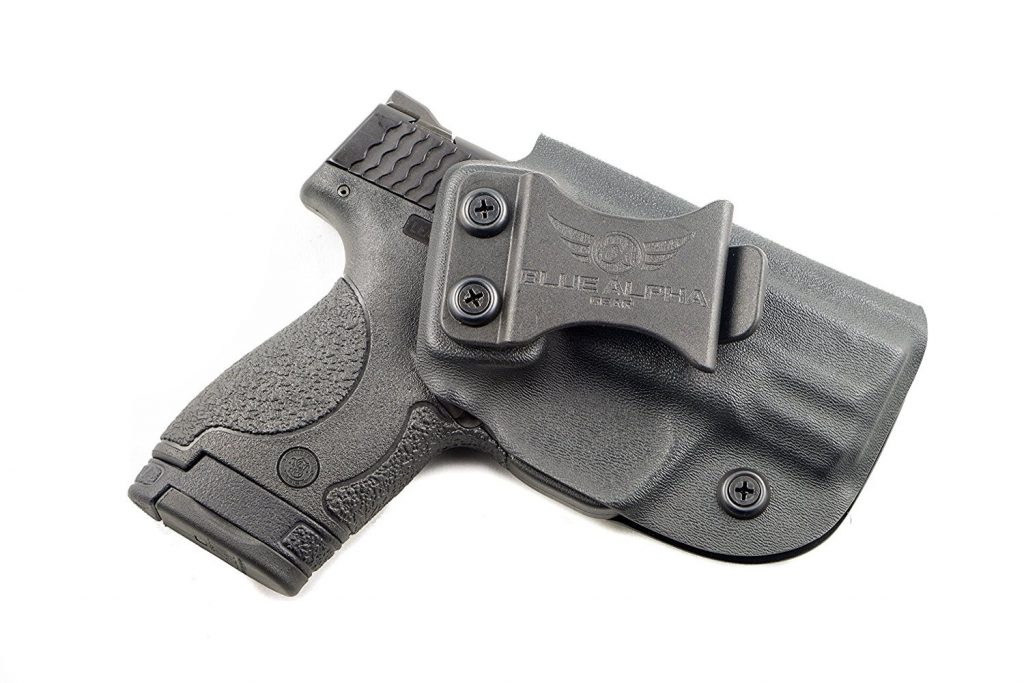 The Blue Alpha Delta IWB Kydex Holster is a good alternative that excels at concealing the firearm with its Winglet device which tucks the gun close the body.
With adjustable retention, the user can set a suitable level of snugness on draw and reholstering. Compatible with extended slide releases, threaded barrels, and tall suppressor sights, the Delta comprises of 0.08 kydex thickness.
Its design consists of screws protruding into the holster and metal threaded inserts for the belt, which hinders draw and mildly scratches the end part of your gun's slide. However, this effect is deterred by the kydex material, which is a nice design feature by Blue Alpha.
What else is great about this holster? 
Designed for appendix carry
Winglet device aids in concealment and reduces grip "printing"
Adjustable retention
Compatible with threaded barrels, tall suppressor sights, and extended slide releases
Handmade in USA with Lifetime Warranty
A concealable, comfortable and affordable alternative to the Glock 43 IWP is the Fierce Defender "Winter Warrior" Holster.
Despite its relatively lower price, the holster's quality is quite remarkable and the adjustability ensures that it is perfectly tailored to the user's firearm and will last for years to come.
On the down side, the size of the kydex here doesn't allow for accommodating screws and therefore makes it touch to add a mag attachment.
That aside, here are some of the advantages of the "Winter Warrior" XDS Holster:
Thick .08 Kydex material that is strong, durable, and molded specifically for your weapon
Fully covers trigger and back side of gun, providing safety and protection from sweat
Adjustable Retention so you can get the perfect fit
Great for appendix, hip, side, and back carry
Adjustable Cant – 0 & 15 Degrees
All screws are bolstered by a rubber washer to make sizes adjustable, along with the firearm's retention.
The clip is designed to be more compatible only with a 1.75″ belt.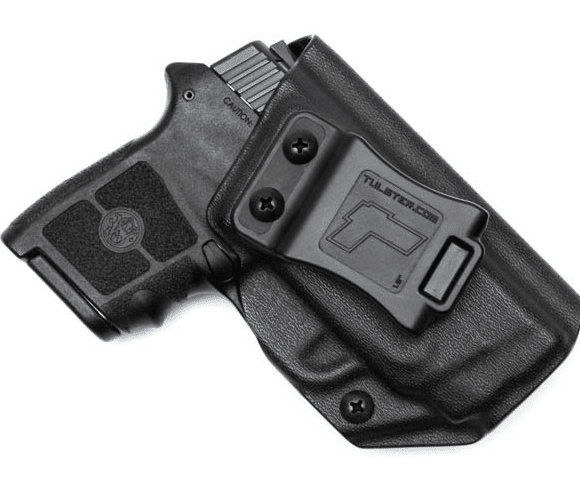 Another good alternative that fits your gun perfectly, has a small profile with minimal printing, stays snug to the body and clips securely to the belt, is the M&P Bodyguard .380 Holster.
Even though it may be considered a little spendy, but that extra cost is simply a result of its fine craftsmanship by Tulster. It comes with a glue that locks the retention screws incase you do not prefer tightening them on a daily basis.
This gives the user a soft click on reholstering. The firearm fits nicely into the holster, making it easy to access the gun. This feature becomes very handy in quick draw situations.
Minimal to zero "drag" until retention point keeping "holster wear" down to a minimum.
Comes with a 1.5″ Quick Clip that makes it extremely fast and easy to put on and take off your weapon.
Adjustable cant (angle) from 0-15 degrees. Forward hole is oblong to allow for you to choose any angle between 0-15 degrees.
Adjustable positive retention point. When gun is fully holstered you get a audible and noticeable "click"
Holster has a full sweat shield to aid in re-holstering by giving you and indexing point and to keep clothing out of the opening.
This Vedder LightTuck IWB Holster is a handcrafted beauty that perfectly fits your gun model.
In fact, the fit is so precise that each time you holster the gun, there will be an audible clicking noise which ensures that the firearm is secured in place.
Every LightTuck holster comprises of three adaptable ride height settings: user's preferred adjustable retention; reverse cant angle which settles well with 3-5 o'clock carry and crossdraw.
Vedder LightTuck's sleek design makes the holster very convenient to put on and off as many times as necessary without hassle. Its precision in design also ensures that retention remains consistent throughout.
Adjustable Ride Height, Cant Angle, and Retention, allows you to carry comfortably and confidently
Formed exactly to your gun model with .08" Kydex for the ultimate strength and no unnecessary bulk
Sleek holster body and clip makes your gun virtually disappear under your clothes and on your belt
Custom channels fit standard sights and indicators; sweat shield keeps slide clean and sweat-free
Handcrafted in the USA and backed by a 30 day money back guarantee and lifetime warranty
Rock Solid Spring Steel Clip that is tuckable, yet adds the minimal amount of bulk and leaves virtually no print along your beltline for the most discrete carry option compared to bulky plastic clips. Available in two sizes to fit standard belts up to 1.5″ or larger gun belts up to 1.75″.
Full sweat shield minimizes the amount of contact your gun has with your body, keeping your slide clean and sweat-free!
All holsters are available for both right and left hand draw.
---
Conclusion
To conclude the discussion on which kydex appendix holster tops the list, the Tulster Profile Holster may be the best buy if you are looking for concealment and comfort combined.
Our Pick
The best Kydex Appendix holster.
Tulster Profile - Glock IWB Holster
With almost no drag (until retention), the Tulster Glock IWB holster endures little to no "holster wear". Included with the holster is a quick clip, making it easy to quickly attach the holster on your belt. Probably the best feature of this holster is its adjustable cant, ranging between 0 and 15 degrees above center. With its durability, comfort, and a slew of other accessories, the Tulster Glock IWB Profile Holster secures the spot as our favorite all-Kydex appendix holster.
Check Price
However, it cannot be made a general rule of thumb given how personal preferences and body size vary from individual to individual. As far as the brand, product quality and customer service is concerned, Tulster can be considered among the most competent brands.
Some users have reported Tulster offering them a 30-day money back guarantee. If you are currently unsatisfied with the performance of your holster, Tulster's Profile Holster may be the way to go to pacify your preferences.
Related Reads: