Probably no semi-automatic pistol creates such a stir among handgun shooters than Glocks.
There are usually two sides of the argument: people who love Glocks, and people who hate them. Glocks are frequently carried by law enforcement, military personnel, and those who want a self-defense handgun.
Glock enthusiasts want to do whatever they can to make their firearm even more accurate. Adding aftermarket sights is easy, and increases the accuracy of the handgun.
But there are so many sights available for the Glock, so how do you determine which one is the best for you?
We're going to give you a low-down of the best sights for your Glock. So, grab a seat and get ready to choose a new sight! We'll take you through the pros and cons of each product and explain how they work with your Glock.
---
What are the Top-Rated Sights for Glocks?
SAFEST NEWSLETTER - WE WILL NEVER SELL YOUR EMAIL
GET GREAT

GUN AND AMMO

DEALS!
SENT ONCE A WEEK - NO SPAM - NO SELLING YOUR EMAIL
| Name | Glock Models Fit | What We Like | Price | Where To Buy |
| --- | --- | --- | --- | --- |
| Truglo Bright-Site TFO | 17/17L, 19, 22 thru 24, 26, 27, 33, 34, 35, 38, and 39 | High Quality and Durability | $ | |
| Trijicon HD GL101O Night Sight | 17, 17L, 19, 22 thru 28, 23, 31 thru 35, and 37 thru 39 | Quick Target Acquisition w/ 12-year Warranty from Trijicon | $$ | |
| Big Dot Tritium Sight by XS Sight Systems | 17,19, 22, 23, 24, 26, 27, and 31 thru 36 | Same level of confidence in any light conditions | $ | |
| TruGlo Tritium Handgun Sight | Standard holsters and .45 Auto, 10mm, 9mm, .40, .357 Magnum | Snag-resistant and ideal for average firearm users | $ | |
| Meprolight Glock Fixed Set TD | 26 and 27 | Excellent sight and mostly used for military and law enforcement applications. | $ | |
| Snake Eyes Sight T1372 | Fits all Glocks, except the brand-new 42 | All purpose sight for all light conditions | $ | |
TruGlo Bright-Site TFO–this sight will fit Glock models 17/17L, 19, 22 through 24, 26, 27, 33, 34, 35, 38, and 39.
Trijicon HD GL101O Night Sight–will fit Glock models 17, 17L, 19, 22 through 28, 23, 31 through 35, and 37 through 39.
Big Dot Tritium Sight–fits Glock 17,19,22, 23, 24, 26, 27, and 31 through 36.
TruGlo Tritium Handgun Sight–fits standard holsters and .45 auto, 10mm, 9mm, .40, .357 magnum.
Meprolight Glock Fixed Set TD– this sight will only fit Glock models 26 and 27.
Snake Eyes Sights for Glocks T1372–this unique sight fits all Glocks except the brand-new 42.
Of course, these are just some of the top-rated sights for Glocks; there are many, many more on the market.
---
Choosing the Right Sight
Aftermarket sights offer a variety of benefits and the right sight for you will depends upon your needs. When these accessories were first produced, they were expensive and difficult to install on your own. Today, the choices have expanded and sights are easier to work with.
Many sights are now 'universal' to fit a range of handgun models. Some of today's available options are:
Low-profile sights which are flatter to the Glock, making holstering and drawing easy and snag-free, a concern for those carrying concealed.
Colored sights that increase their visibility in lower light conditions.
Solid black sights, a possible option for those who don't like or can't see the green sights well.
Sights with inserts for things like lamps, fiber optics, and laminates. These would be ideal for people who have trouble seeing certain colors, because you can choose the inserts that work best for you.
These options allow for certain advantages and your choice will depend on how you carry and use your Glock.
---
What to Consider in Pistol Sights
Profile of the front sight
Width of the front sight
Type of rear sight
Height of the sight's side
Plain black coloring
Tritium
Older-style brass sight bead
Inserts made of fiber optics
Let's talk about each of these points in greater detail.
Profile of Front Sight
Most front sights in profile are a standard semi-ramp style. The blade faces away from the shooter so this design will reduce snag when the firearm is holstered. They will be plain or serrated; serrated faces can reduce light glare.
Width of Front Sight
Sight widths are variable and this can determine the shot's accuracy. When the sight is wide, the less accurate it is, especially for shots over a greater distance.
But, in self-defense situations, the average distance to the target is close enough this won't matter. Most shooters prefer a width of 0.125 inches. This allows for speed and accuracy and is usually what comes stock on many handguns.
Type of Rear Sights
Factory default for all rear sights is the standard two-dot sight. The dots can be either painted on or made of tritium, allowing you to better focus on the front sight. When both sights are properly aligned, it provides an accurate shot.
Many firearms come with a dovetail rear sight, which looks like a fan when viewed from the side. To replace a dovetail rear sight, you'll need to match the notch in your firearm to the proper dovetail.
Height of Sight Calculations
You'll want to adjust the heights of the sights to line up with your desired target area.
Plain Black Coloring
This is excellent for target practice, but doesn't offer much for the defensive shooter, who may have to use their firearm in variable light conditions.
Tritium
Tritium is a radioactive isotope of hydrogen and is a substance that glows on its own without the use of batteries or the need to be "charged" by ambient lighting or sunlight.
The addition of tritium is becoming a common thing and provides an excellent way to quickly and accurately align any shots. They can also work in daylight conditions. But, one of the downfalls to the tritium sights is that they should be replaced once every 10 years or so.
Older-Style Brass Sight Bead
Though these are slowly fading out, they were once the standard and can often still be found on shotguns. The bead reflects the sunlight to allow for more accurate shots.
Inserts Made of Fiber Optics
These are the best sights for daytime shooting. The sight with fiber optics included won't wash out even in the brightest conditions.
It utilizes a single red dot that's easy to see no matter what the lighting is. What works in the daytime may not work so well in the dark. But, some sights are now combining fiber optics with tritium for an all-around sight.
Shooting at moving targets with variations in the background, such as in potential self-defense situations, requires variability in the sights you choose, so a combination sight might be the best for this use.
---
Breaking Down the Best Glock Sights
Now let's discuss each of the top-rated Glock sights, so you can learn about their pros and cons.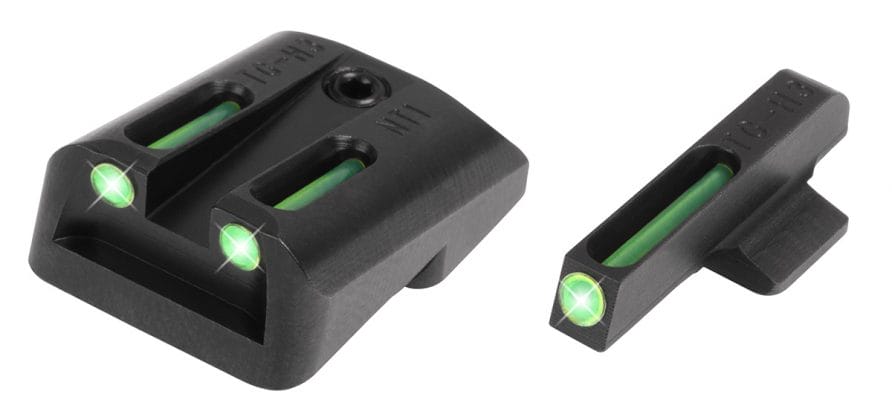 This sight by Truglo utilizes a patented TFO technology. This is a combination of Tritium and Fiber-Optic materials to give you the best of both options in a single sight set. It's an inexpensive sight that's also available for other popular pistols, like Kahr, Ruger, Sig, and 1911-style pistols.
The bright green dots on all three of these sights makes them easy to see regardless of the current lighting conditions. The body of the sights are made of high-quality, CNC machined steel, so you know it will be durable and long-lasting.
Truglo also offers a warranty on their products, though this varies by product. Their FAQ's point out that warranty information can range up to lifetime, and the specific warranty can be found in the product packaging.
You might be wondering why the two types of material in one sight? The Tritium can maintain visibility in low- or no-light conditions, while the fiber-optics make the front sight easier to see.
Really, there's no cons to this sight set. It will work great for many applications.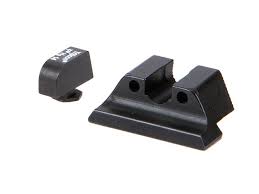 This sight set is for Glocks alone and Trijicon is a well-known manufacturer in the shooting world. It's made of an aluminum polymer mixture for strength and endurance, increasing the lifespan of the sight. This is intended for use in the darkest of conditions.
It comes with a front sight made from a glow-in-the-dark paint that makes it easy to see in low light conditions. The rear sight is less obvious, designed to reduce glare and make it easier to aim at your target.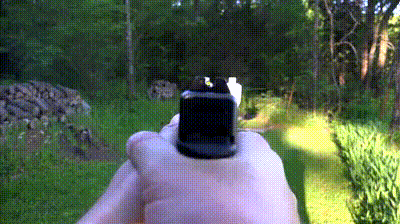 The sight also comes with a tritium-phosphor accessory that makes it easy to see anything even in the darkest of lighting conditions. Overall, it's a decent 3-dot green aiming system. It comes with a 12-year warranty from Trijicon.
On the other hand, some shooters, like those who are red-green colorblind, have a hard time with green sights. For those who can't see the green sights well, a white dot sight might be a better option.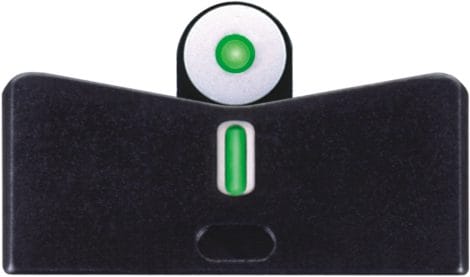 This is another sight suitable for most common Glocks and it's reasonably priced. It includes an Express Sight Set for enhanced usability.
The sight set is a tritium element front and rear sight, which glows on its own without needing light to charge. This makes it easy for you to get on target quickly under any lighting conditions. This is a sight that will meet or exceed the average user's expectations.
You can use the Big Dot sight in bright daylight or darkness with the same level of confidence.
It's an excellent choice for all self-defense or general carry usage. The rear sight is low profile to reduce snagging when your Glock is in a holster.
TruGlo is a trusted name in handgun sights. Their Tritium sight is high-quality, affordable, and easy to use. It fits most models of Glocks (along with several other handguns).
The Tritium sight has a low profile, making it snag-resistant when holstered. It's designed from high-quality, machined steel. The sight has green front and rear lights, using tritium to provide lighting in low- or no-light conditions. Tritium holds an advantage because it doesn't require light to charge the glow.
This sight can be ideal for the average firearm user who carries for self- or home-defense.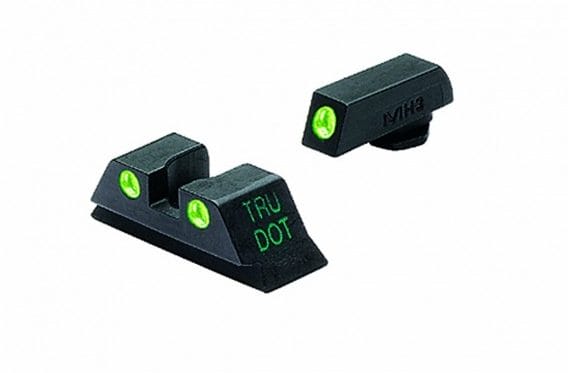 Another excellent sight for Glocks, this brand is even used in military and law enforcement applications. It's designed for use in low- or no-light conditions.
Meprolight says their sights have dots 20% brighter than the competition, and that it's second-to-none for use at night. All dots are green and perform under the worst lighting conditions.
But again, some shooters just can't use the green sights.
This is a unique front a rear sight from Snake Eyes. I really like the look of the Snake Eyes.
The front sight is made of circular optical Lexan pipes that glow bright orange, making them easy to view either in daylight or darkness. It's an all purpose sight for both low- and no-light conditions.
It's recommended you take this sight to a professional gunsmith for installation, to ensure safe and proper mounting to your firearm. This isn't something you would trust to do yourself unless you have a lot of gunsmithing experience.
But, this sight might stand a bit tall, so if you carry your Glock in a holster, this one might snag, slowing down your draw time. It's a toss up whether the added benefit of the Snake Eyes ring overrides the height of the sight.
---
Installing the Sights on Your Glock
The first step in making any modifications to a firearm is, of course, safety.
Make sure the handgun is unloaded by taking out the magazine and clearing the chamber. Maybe you think this is common sense, but it's a vital habit to learn, every time you handle a firearm.
Most of the time, your Glock will require little in the way of maintenance. But, adding a higher-quality sight enhances the function of your pistol. Looking at installing a sight may seem intimidating, but it's quite easy with proper instruction.
You'll want to gather a few tools before you begin the process.
A set of needle-nose pliers
A mounted vice or c-clamp
Sandpaper
Alcohol (not to drink!)
Hammer
Pencil
Ruler
A plastic punch
Loctite
---
Steps to Installing a Sight
#1 – Mark the middle
First, you'll want to mark the middle of the sight. This is where your pencil comes in handy. Mark the middle of the pistol's frame and the sight. Doing so enables you to insert the sight with the correct orientation on the first try.
#2 – Remove existing sights
Next, remove the existing sights. Your Glock probably came with a standard plain black sight. You'll need to take this off before installing your aftermarket sights. For the most part, the Glock sight tool will be necessary to remove the screw.
Place the Glock in your vice (lightly to avoid damaging the frame, and you can also add a scrap of cloth or paper towel to prevent marring the finish) and tap the old sight with the hammer to remove it.
#3 – Clean your Glock
Then, you'll want to clean the pistol. Rubbing alcohol can remove oil or crud left over from your stock sights. This will offer a good, clean base for installing your new sight.
You'll want to add a tiny drop of Loctite to the frame before installing the front sight. That done, you can line up the sight with the mark you made on your frame and screw it in place. The Loctite will help to keep the sight firmly in place.
#4 – Check the back sight
Check the back sight to see if it is loose or maybe it slides with a bit of pressure. If it doesn't, you need to run the sandpaper along the bottom edge five or six times. Keep checking until the sight slides in place snugly.
#5 – Remove the old sight
Finally, you'll want to remove the old sight and clean the area with your alcohol. Again, this will remove any ick left after your old sight is removed. Add a teensy drop of Loctite to the contact, and insert the sight.
You'll need to leave your handgun alone for about 24 hours. Make sure you double-check it for any drips of Loctite or alcohol that might have gotten on the firearm or on the slide.
---
How To Use a Sight to Improve Shooting Accuracy
Most people add an aftermarket sight to increase their accuracy while shooting under a variety of conditions.
It will take a little time to grow accustomed to your new sights, so some target practice should always be a part of changing a sight.
With the best sights, you'll get more accurate shots in a wider range of lighting conditions.
Benefits of an Aftermarket Sight
Using an enhanced sight set on your Glock will earn you:
Improved accuracy
Better shot range
Clean shooting at night
Glare-free shooting during daytime firing
Excellent shooting in either mobile or stationary targeting
A sight works to extend your weapon, increasing your target visibility in different conditions. With practice, you'll be able to compensate for environmental factors such as changes in height or wind's variable speed, making each shot more accurate.
One of the ways instructors recommend for practice in shooting is bench shooting.
Benchrest Shooting
This is an excellent way for beginners to learn, because it removes variables such as body position, allowing you to focus instead only on sighting the weapon.
The Figure Eight Drill
Start about 6 yards from your target. Align your weapon 6 to 8 inches to the left or right of bullseye. Practice bringing your gun to the target and depressing the trigger.
---
Final Thoughts
Glocks are firearms that people either love or hate. If your favorite pistol is a Glock, you might consider adding custom sights to improve the gun's accuracy.
You can choose from highly specialized sights that give you an increased advantage in a variety of situations.
After reading this article, you should have a better awareness of the types of aftermarket sights available for your Glock.
Even if you choose a sight not mentioned here, you can rest easy knowing you made an informed decision.