If you're a target shooter and you have trouble sighting in your pistol at the range, this is the review for you. Chances are you may need to add a red dot sight to your weapon — or upgrade your current rifle. You will be amazed at what quality red dot sights can do for the shooting accuracy of your pistol or handgun.
Some of the best red dot sights for pistols can make your handgun just as accurate as any rifle. In today's tactical market, the rise of red dot sights on pistols has been a rapid one. But from the beginning, it began with the hunting market, or decline of, and then meandered into competitive shooting.
Remember, when you are using a red dot sight while shooting your pistol, first and foremost you need to be relaxed. There are several red dot characteristics that combine to enhance your shooting experience and accuracy. But regardless of your preference, a red dot sight requires some important characteristics. Take a look at the following features before you invest in a red dot sight …
---
Red Dot Pistol Sight Specifics
Reticle Size
The reticle size is an absolute for comfort. Some people prefer it larger, while others like one as tiny as possible. However, a quality red dot sight will allow you to adjust the reticle size to your personal preference.
Reticle Shape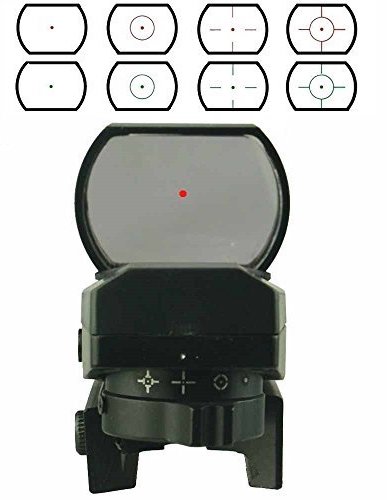 Reticle shape is another thing that is of personal preference as far as reticles are concerned on red dot sight. Some like a simple crosshair and others like a crosshair and circle. Having the ability to choose different reticle shapes is a nice option with any red dot sight.
Reticle Color
Red dot sights can at times be difficult to see. For example, if you are shooting against a red background in fall during sunset you might not be able to see the red dot reticle very well. But if you switch to a green reticle, you may have a nice option for a sight.
Reticle Brightness
Under certain conditions, such as bright or low, your red dot reticle may be tough to see. Here's a tip: Look for the option of adjusting the reticle brightness when purchasing the red dot sight for your handgun.
Mounting
Before you purchase a red dot reticle, make sure it's mounting compatible with the type of rail system you have on your weapon.
Adjustability
Red dot sights should be sighted in for complete accuracy most of the time. Unfavorable weather conditions will play a role when you are shooting and you need to be able to adjust for such instances. Therefore, the best red dot sights will have adjustment knobs for windage and elevation. Adjustment knobs will greatly improve your pistol accuracy during rain, snow or sleet.
Durability
The rule of thumb is to look for a red dot sight that is waterproof, fog proof and made of corrosion resistant materials such as machined aluminum or rigid polymer plastics.
Now that we've gone over some logistics, take a look at some of our top red dot sights for your pistol …
---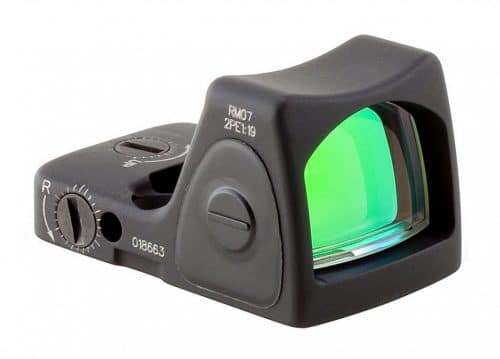 The Trijicon RMR is one of the original and most reputable pistol red dot sights. Besides being durable, it's extremely well built. Initially designed as a backup optic for assault rifles, sniper rifles, and even machine guns, this red dot sight was favorable for submachine guns as well.
The Trijicon RMR fiber optic can absorb light from the sun or any white light source to power the reticle. When the sun sets and it's completely dark, the Tritium takes over.
The RMR is by far one of the best-built optics on the market. It's super tough and built to withstand wind, water, sand, the abuse of war. The Trijicon RMR has set the current standard for handgun red dots, and it can be used with a variety of different stock pistol mounts.
Be sure to give this one a try — it's one of the best pistol reflex sights available today.
Features
Automatic brightness mode plus controls for eight adjustable settings
Battery life up to 2 years of regular use
Uses 1 CR2032 lithium battery
Forged 7075-T6 aluminum housing
User-friendly push buttons
Ingenious patented housing shape
True-color multi-coated lens
Adjustable windage and elevation
Check latest price on Amazon
---
The SVBONY Red Green Dot Sight is a fantastic red dot sight that will superbly enhance your accuracy with any pistol you mount it on. This model includes pretty much any feature you could think of in a red dot sight.
It's a snap to sight thanks to its high amount of adjustability. In addition, it can be mounted on a Picatinny or Weaver rail system as well. The reticle is available in four different shapes and two different colors — plus it can be adjusted for brightness.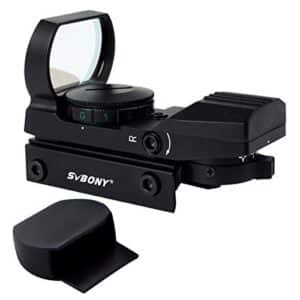 The SVBONY Red Green Dot Sight is constructed of a solid metal sight, and it's also waterproof and shockproof. Complete with a generous (unlimited) eye relief, it also comes with a full lifetime warranty.
Features
Accommodates 20-22mm standard weaver mount with easy sight remounting
Four different reticles with red and green dot sight supplies unlimited eye relief
One CR2032 battery included
Multi coated lens to enhance light permeability, reduce eye fatigue and reflection
Fine adjustments on the MOA precision adjustment
Perfect for rapid shooting of moving targets
Lifetime warranty
Check latest price on Amazon
---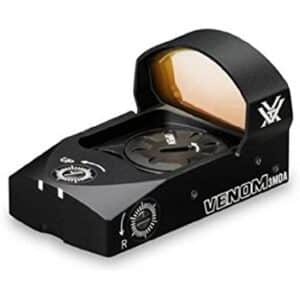 With a name like Vortex Optics, you know that this gun sight model will not disappoint. This all black model with an amber lens helps the shooter gather light for a brighter look at your target.
Additionally, the red dot reticle shines bright under any light conditions thanks to 10 different brightness settings.
The Vortex Venom is also fully adjustable at one MOA for both windage and elevation, it has a three MOA reticle — and it's perfect for a handgun. In addition, the Venom has a wider lens which will give the shooter a wider field of view than most handgun optics.
The Vortex Venom also features a top-loading battery compartment, plus this optic is capable of lasting 550 hours at the lowest setting and has a 14 hour auto shut off. Although the Vortex Venom is Vortex's entry into the pistol optic market, you wouldn't know it. It's very light at 1.6 ounces, is a very well made optic and is also backed by the company's warranty.
Features
The Venom Red Dot Sight-3 MOA promotes rapid target acquisition
High quality, fully multi-coated lenses offer a clean, wide field of view
Choose between 10 brightness levels
Also includes an auto-brightness mode that uses a light sensor to control dot intensity
1 MOA windage and elevation adjustments for easy sighting
Great fit for your rifle or shotgun
Check latest price on Amazon
---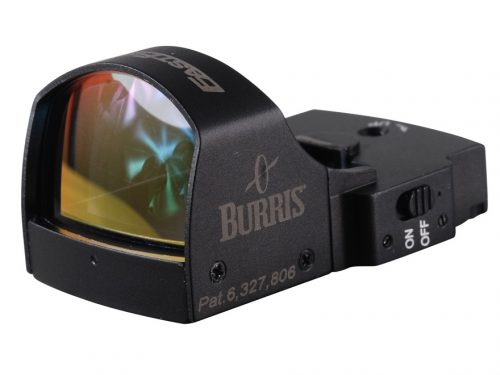 The Burris Fastfire is an excellent option for today's competition shooter. The Fastfire is a top quality made optic, and it's perfect for a handgun. It's super light, very strong, and most of all — simple to use. The Fastfire is also affordable, which makes it attractive for rookie shooters looking to experiment with a red dot on their pistol.
Designed to cut down on time from holster to target and from target to target, the Fastfire uses a 3 MOA red dot. It's used wisely because it's large enough to easily catch the eye, but small enough to see targets at a far away distance.
The Burris Fastfire also offers quick access to the battery. Because, many times when the battery is not on the top of the sight you need to remove the sight to change the battery. With three levels of brightness to boot, the Burris Fastfire Red Dot is another great option for your pistol.
Features
Constructed of the highest quality materials
Tested for quality and reliability
3 MOA dot reticle
Tool-less windage and elevation adjustments
Top of sight battery access
Power button offers three levels of brightness with an automatic brightness setting
Low battery warning indicator
Check latest price on Amazon
---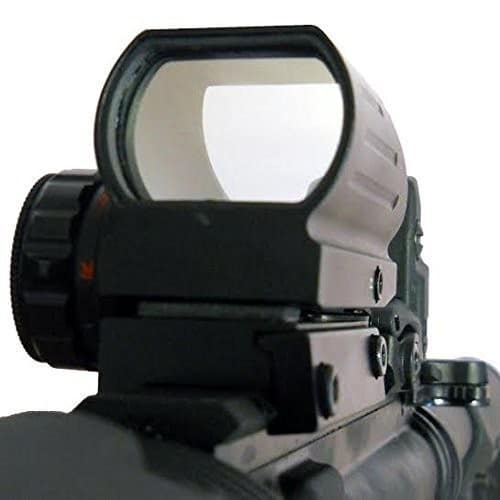 The RioRand Red and Green Dot Sight is yet another model that is extremely well-built and features pinpoint accuracy.  It features a sleek tubeless design which proves to be very low profile. In fact, many of today's shooters rave about it.
The RioRand sight mounts easily to any Picatinny rail as the base is creatively built right into it. However, there are detailed adjustment settings for windage and elevation that must be done using the included Allen wrench.
This well-made product features seven reticle light levels and also allows you to choose from four different reticle shapes. Offering unlimited eye relief, the RioRand is also a very affordable option in red dot sights.
Features
Four separate reticles for unlimited eye relief
Seven brightness settings
Tubeless open reflex design
Built-in Picatinny mount base for easy sight mounting
Perfect choice for rapid-firing and moving targets
Comes with a cleaning cloth, CR2032 battery, and mounting tool
Check latest price on Amazon
---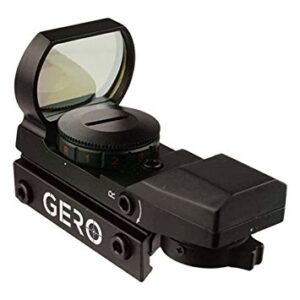 The GERO Tactical Green and Red Dot Sight is a remarkable product that boast great eye relief and comes at an affordable price. With four different reticle (offered in green or red dot) shapes, it also has several different brightness settings to choose from too.
Many pistol users have commended this quality of this red dot sight low profile setup. Featuring excellent eye relief when sighting targets, it can also be mounted on a Picatinny or Weaver rail system quite easily.
Built tough and rugged, this sight is shockproof, waterproof and did we mention inexpensive? The Gero Tactical Green and Red Dot Sight is also comes with a one-year warranty. Simply great overall!
Features
Heavy duty to withstand big hits by paintballs traveling around 280 – 300 feet per second
Great eye relief and clear sight
Multiple reticle and brightness settings
Inexpensive
User-friendly
Constructed of the highest quality materials
Lightweight, water-resistant, and shockproof features
Check latest price on Amazon
---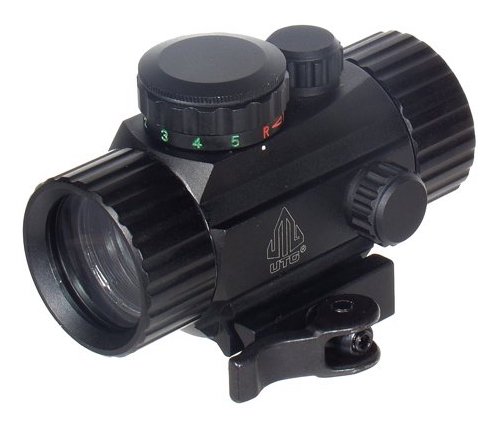 The UTG ITA offers the choice between green or red dot reticles. It's an exceptional sight which can also adjust to one of 5 different light levels. In addition, it's fully adjustable to 4 MOA for windage and elevation, plus its non-reflective lens coatings help you to see a clear view each time you use it.
The UTG ITA sight also offers you unlimited eye relief. It also boasts a high profile mounting that enables the manufacturers to build it from durable and tight-sealing tubular construction. Lastly, this red/green dot sight comes with a two-year warranty. If you're looking for a pistol sight with multiple brightness settings, this is an optimal choice indeed.
Features
Versatile red/green dot sight for wide range of pistols, shotguns, and rifles
Available with integral quick detach mounting deck and flip-open lens caps
Crisp and vivid red/green 4MOA target dot and 65MOA circle reticle
Five brightness settings for many environmental backgrounds
Instant aiming and locking on target with wide field of view, plus unlimited eye relief
Non-reflection emerald coatings
Check latest price on Amazon
---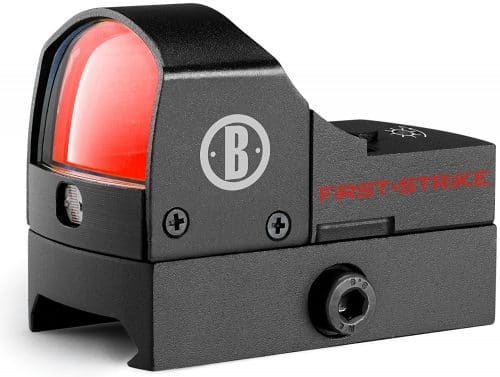 Bushnell is a trusted name in the optics industry and their First Strike is one of the most affordable options for a pistol red dot sight. It's extremely well-made and is perfect for the shooter who doesn't want to break the bank.
In addition, the First Strike is ideal for use with a small caliber handgun. If you suffer from poor eyesight, not to worry — this optic will not let you down! The First Strike comes with a variety of different mounting options and risers so it's ready when you are. Affordable, waterproof, shockproof, and fog proof, the Bushnell First Strike is also user-friendly.
The lenses are coated for superior light transmission and optic protection and the system automatically adjusts to the light as needed. This is great — it allows shooters to easily transition from an open field to a closed cover.
However, it does require a Picatinny rail to mount, so make sure you understand before you purchase. Additionally, the Bushnell First Strike has a long battery life and automatically turns on and off when the protective cover is in place.
As we said before, this red dot sight is super affordable — great for the shooter on a budget.
Features
100 percent waterproof/fog proof/shockproof construction
5 MOA red dot reticle
Lightweight, compact design
Conserves battery life by automatically adjusting to available light conditions
Multi-coated optics for superior light transmission
Check latest price on Amazon
---
Final Thoughts
If you didn't know before reading this, handgun red dots are really easy to use. In fact, they are actually easier to use than iron sights. And in addition, both experienced and new shooters who use these sight are often capable of hitting targets further and faster.
We feel confident that there's not a red dot sight on this quality red dot sight list that will not greatly improve the accuracy of the handgun you choose to mount it on. But, if we had to choose a favorite, it would be the Vortex Venom Red Dot Top Load 3 MOA Dot Sight. It's unbelievably good.
From its 10 light level settings to its one MOA windage and elevation settings, to its unique auto brightness feature, the Vortex is pure quality. It's very lightweight and constructed from durable machined aluminum housing that's sure not to let you down.
Add the fact that it comes with a lifetime warranty and you're set. The Vortex is definitely a sight worth looking into — it's a crowd pleaser!