In an article I wrote a few months ago, we looked at the pros and cons of the Trijicon MRO, a rugged, reliable and dependable red dot sight system that has all the bells and whistles but can be a real tough sell — simply because it costs too much.
Today, we're going to take a look at one of the more budget-friendly red dot sight options currently on the market that's sure to delight the tacticool cheapskate in all of us firearms enthusiasts: the Vortex SPARC II.
An American-owned and family owned and operated business from south central Wisconsin, Vortex Optics was started by owners Dan and Margie Hamilton as a small sporting goods retail store in the mid 1980s. For over a decade and a half the retail store business kept growing and growing until 2002, which is when their optics business was formally established.
The company boasts of 200 American team members and is one of the more well-known brands in the tactical and birding/observation market. They have a ton of different rifle scopes, red dot sights, range finders, binoculars, spotting scopes and other optics available. Their SPARC line of optics are among their entry-level red dot sights.
SPARC is a fancy abbreviation which stands for "Speed Point Aiming for Rapid Combat". As far as labels, it sounds a little too redundant, unoriginal, cheesy even. But I don't care too much about semantics. What's important to me is a product's value proposition, and when it comes to value, the SPARC II really shines.
But before we get into value, let's get all the technical details out of the way as fast as possible, shall we?
Get Deals on Guns and Tactical Gear
Join 70,000 Readers For Our Weekly Discounts
---
| | |
| --- | --- |
| Magnification | 1x |
| Objective Lens Diameter | 22mm |
| Eye Relief | Unlimited Eye Relief |
| Adjustment Graduation | 1 MOA |
| Travel per Rotation | 45 MOA |
| Max Elevation Adjustment | 90 MOA |
| Max Windage Adjustment | 90 MOA |
| Parallax Setting | Parallax Free |
| Length | 3.1 inches |
| Width (at widest points) | ~2 inches |
| Weight | 5.9 ounces |
The SPARC II is an upgraded version of the original SPARC red dot sight, itself another good bang-for-buck option — which was great but didn't quite meet the standards of Vortex Optics. They decided to develop the next generation SPARC optic based on customer feedback.
Dimensions
The SPARC II weighs in at around 5.9 ounces without any of the mounts attached. Attaching the tall mount, it weighs around 7.125 ounces.
The overall length of the housing from rear to front lens is 3.75 inches, the height from the bottom to the top of the housing measures exactly 1.1 inches and the width from the widest points measures around 2 inches.
Housing
The lens on the SPARC II are tightly fitted in a tough housing machined from a single piece of solid aircraft-grade aluminum, which is what makes it rugged and very durable. It's been shown to survive multiple drop tests by several owners without breaks or cracks on the housing.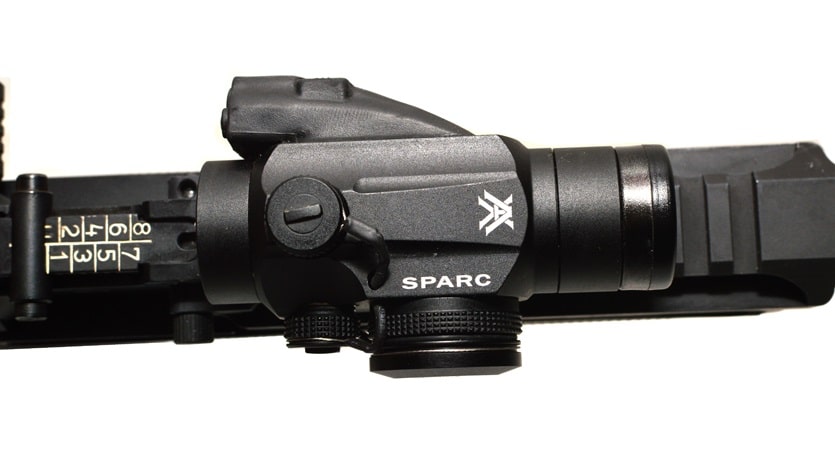 The housing has an anodized matte black finish, which looks very nice especially when considering that it's just a budget-oriented red dot sight.
What's Included
Out of the box, the SPARC II comes with two mounts, a spacer, a hex key and a torques wrench, lots of screws for different mount heights, two flip-up caps that are easily removable (and also fits the SPARC I), a cleaning cloth and one free CR2032 3-volt battery.
The shorter 18-millimeter mount can be used for mounting the SPARC II to a shotgun or even a drilled and tapped revolver with a rail system, while the taller 37-millimeter mount can be used for mounting the SPARC II to any flat-top AR-15 giving absolute co-witness.
The included spacer measures 3 millimeters tall and can be used to raise the 18-millimeter mount to 21 millimeters. It can also raise the 37-millimeter mount to 40 millimeters if the user desires a lower 1/3 co-witness on any flat-top AR-15. To see how co-witnessing works in a nutshell, feel free to reference a portion of the Trijicon MRO article I mentioned earlier.
The included mounts are great, both are compatible with picatinny or weaver type rail systems, but should the user require quick-detach mounts, the SPARC II is compatible with the Aimpoint T1 and any other aftermarket mounts similar to the T1.
Controls and adjustments
The elevation adjustment turret sits on top of the housing while the windage adjustment turret is on the right side, just next to the battery compartment. All protective caps for the adjustment turrets and the battery are tethered to the SPARC II's main housing so the user doesn't have to worry about losing any of them.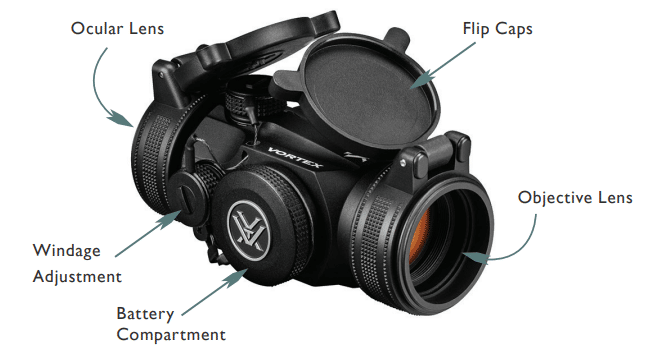 Both turrets' openings are O-ring sealed making them dust-proof and water-proof.
There are a total of 90 MOA of adjustments both for windage and elevation. The adjustment graduation is 1 MOA per click. The caps have a little bar on top that can be used to turn the turrets in a pinch, but it would be easier to just turn the turrets using the rim of a spent shell or a quarter. Still, it's there if the user will ever need it.
The red dot digital control buttons of the SPARC II are housed in a thick rubber housing on the right side. These are two rear-facing buttons each with arrow, one pointing up and the other pointing down. Both buttons' openings are also O-ring sealed.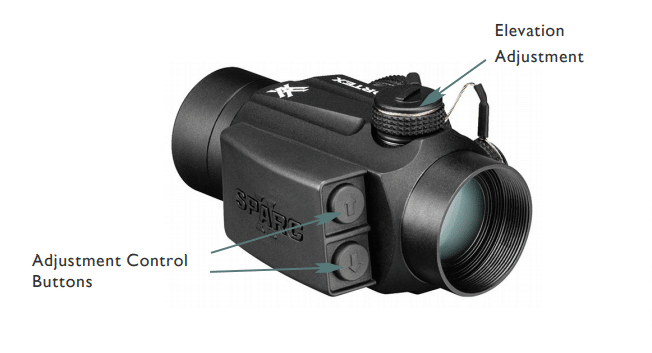 The button with the arrow pointing up increases the brightness intensity level of the red dot and also serves as the on/off switch, while the one with the arrow pointing down decreases the brightness intensity level. The daylight-bright red dot is very easy to see in the lens, it's a small 2 MOA red dot.
There are a total of 10 levels of brightness intensity on the daylight-bright red dot. When turning on, it returns to the last brightness intensity level used. Another notable thing about the red dot is it returns to zero by simply dismounting and re-installing the SPARC II.
Objective and Ocular Lenses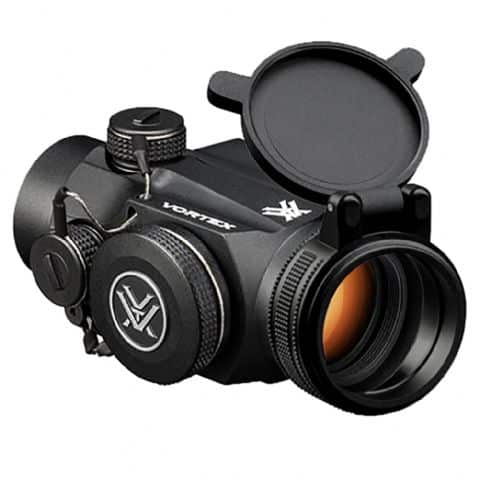 The SPARC II's objective and ocular lenses both measure 22 millimeters in diameter with a 1x magnification. All internal and external surfaces of these lenses are multicoated. They're de-gased with nitrogen gas to keep out all the oxygen in the environment. This makes the SPARC II fog-proof and water-proof and gives superb clarity and brightness to the lens.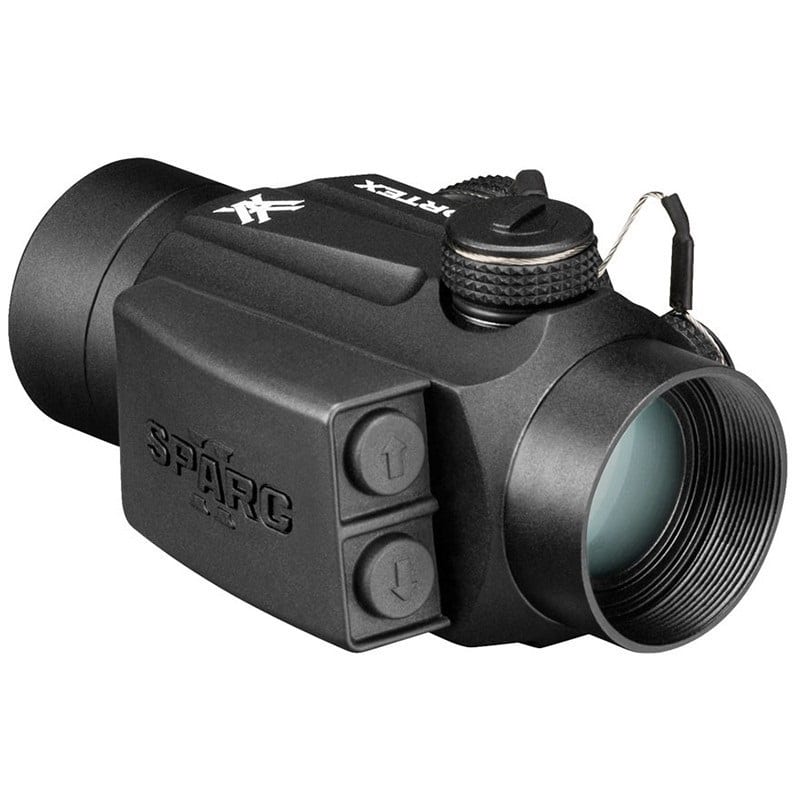 The objective lens has an unlimited eye relief (in the manual, Vortex Optics recommends mounting the SPARC II with at least a 4-inch long eye relief) and is also parallax-free, which means no matter which angle you look from behind the sights, the red dot will always be at the point of impact (within reason of course).
A thing to note about the 1x magnification. The original SPARC I red dot had a 2x magnifier which screws directly to the scope, but the eye relief wasn't great and field of view is just real awful. For those reasons, Vortex Optics decided to do away with the 2x magnifier so currently, the SPARC II has no option for magnification.
The SPARC II has been tested to withstand temperatures as low as -4 °F and as high as 158 °F, making it excellent for any combat or hunting situation. Because of the rugged shock-proof housing, when mounted correctly, the red dot will stay on target no matter what.
Battery
As mentioned earlier, the SPARC II uses a single CR2032 3-volt battery, which is very common and easy to come by. This is one huge improvement compared to the SPARC I which used a rather obscure CR2354 3-volt battery.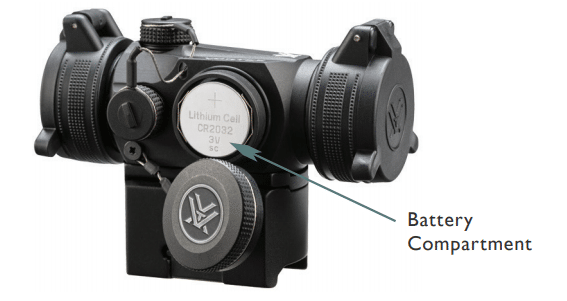 One advantage of the SPARC II is it's easy to get to the battery, the battery cap can easily be turned by hand (unlike the one on the original SPARC I and a lot of other red dot sights on the market that require a tool to open). The tether on the SPARC II's battery cap rides on the inside of the groove, retaining the cap.
The SPARC II boasts of a 300-hour battery life on the highest brightness level setting and a 5,000-hour battery life on the lowest brightness setting. If not turned off for 12 continuous hours, the circuit will automatically shut itself off to save battery life.
Pricing and Warranty — the differentiating factors
Currently on Vortex Optics' website, a Vortex SPARC II is selling for $259.99 brand new, which oddly enough is priced exactly the same as the original (and rather inferior of a product) SPARC I. But from online firearms, hunting and accessory stores like 3RiversPrecision, these could be purchased for just $200.00.
What sets the SPARC II (or any Vortex Optics product for that matter) apart from the competition is it comes with Vortex Optics' consumer-friendly VIP Warranty.

On their website, Vortex Optics state that they will repair or replace any of their product in the event it becomes damaged or defective at no charge to the owner. If the product can't be repaired for some reason, they will replace it with the same model in perfect working order of equal or better physical condition.
This is a no-questions-asked type of warranty — it doesn't matter how or why it broke, where it was purchased and who purchased it (which means the warranty is fully transferable). As long as it's a Vortex Optics product, their VIP Warranty covers it for life. Vortex Optics requires no warranty card to fill out and no receipt.
Of course if your SPARC II was lost or stolen or if it only has cosmetic damage that doesn't affect how it performs, the VIP Warranty won't cover it.
Pros and Cons
In case you're looking to make a purchase but want more info besides the technical specs detailed above, I came up with a list of the SPARC II's pros and cons to help you make an informed decision.
Pros:
Value for money: the SPARC II includes two mounts and an optional riser. Scope caps are also included. For the price, it just can't be beat.
Rugged and reliable: the SPARC II is shock-proof, water-proof, nitrogen-purged and will work in any combat or hunting condition.
Unlike its predecessor, it uses a common, easy-to-find battery: a single CR2032 3-volt.
The control layout is simplified and very intuitive.
Like other higher end red dot sights, the SPARC II has unlimited eye relief and is parallax-free.
You can't lose the caps because they're tethered.
Its windage and elevation turret caps have an adjustment tool built in to them — you won't need a screwdriver or a quarter to operate the turrets.
The lens is multicoated and gives a very clear and crisp sight picture.
The red dot is plenty bright enough. A few users claims that even when pointing the red dot to the sun, it could still be clearly seen. Vortex Optics wasn't joking when they labeled this product the SPARC II Bright Red Dot Sight.
The red dot is easy to pick up being a 2 MOA dot, a feature only the relatively more expensive red dot sight products should have.
It maintains its zero. To reset its zero it only needs to be dismounted and re-installed.
It's compatible with Aimpoint T1 quick-detach mounts and other similarly-modeled mounts.
The Vortex Optics VIP Warranty is just unrivaled. And their aftermarket customer support is top-notch being an American-owned and operated company.
Cons:
These optics are made in China. If that doesn't sit well with you for whatever reason, feel free to look for other red dot sights.
The brightness level up and down control buttons are kind of stiff and not as responsive as some people would like them to be. But these same people also acknowledged that the choice to use stiffer rubber might actually be a good thing as far as durability.
Some users report that the tethers tends to bind at times. Taking the caps off and putting them back on can be difficult because of this. Sure, you won't worry about losing the caps, but it might come at a price.
If you prefer a dial to adjust the brightness intensity (like that of the Trijicon MRO), the two digital control rear-facing buttons might not appeal to you.
Some users complain that the dot can be either too dim or too bright. I personally think it's a matter of preference.
In the dark, when the SPARC II is pointed at someone, they will see the red dot. This shouldn't not be too bothersome to you if you're not the mall ninja type, or if you are purchasing it for your hunting rig.
Some people complain about the appearance of the red dot and say refresh rate might be too slow. It was reported that users noticed a trail of the red dot when transitioning their aim quickly from one target to another.
Another one on the rumor mill, when focusing on the red dot, instead of appearing like a solid red dot, it tends to look like a series of small fiber optic lights but as soon as the user focuses on the target, the red dot reportedly becomes solid again.
Red dot sights in general are not good for people with astigmatism. The red dot won't appear as clear or crisp.
The SPARC II is reported to give the "starburst effect". There is an ongoing debate as to whether the this effect is caused by astigmatism or by the product itself. Some people claiming they don't have astigmatism complain that they do experience the starburst effect. I would personally have to dismiss this claim as another matter of preference.
---
Conclusion
Just looking at the list of pros and cons, we see 13 real advantages and only one real disadvantage — the caps' tethers could (and sometimes do) bind.
I can't care less about which country a product was manufactured in or where it came from so long as the value is there. I also don't have astigmatism.
And I'm not a taticool guy — I've always carried a commander-size all-steel 1911 without a rail. Outside of the pros and cons list, there is one thing about the SPARC II that no person who want more bang for their hard-earned buck can deny: VALUE.
It screams value in every direction: ruggedness, durability, reliability, price and warranty. I can talk all day about the law of supply and demand and how it affects all but the richest people on the planet but at the end of the day, the Vortex SPARC II gets my vote for all the reasons mentioned above.
If you're in the market for a no-frills workhorse of a red dot sight that you can mount on your home defense or hunting AR-15 rig and budget is a primary concern, the SPARC II should be on top of your list.
Related Reads: