We spent over 20 hours at the gun range testing out Blackhawk SERPA holsters to see  how quickly we could react with them and which one felt the most comfortable. Our top choice is the Blackhawk Serpa CQC Carbon Fiber Appliqué Finish Concealment Holster.
It is easy to release your weapon, fits comfortably on your belt and gives an audible click upon re entry so you will know that your gun is safely locked into place. If you plan on carrying your weapon, then it is important to have a holster that you can rely on, that you can wear comfortably and that is easy to conceal.
We are big fans of Blackhawk SERPA holsters, and there are two different kinds that you can choose from which will fit your needs best. Before you choose your holster, it's important to know the difference between their CQC and Sportster models.
Get Great Guns and Ammo Deals!
---
About Blackhawk SERPA Holsters
Blackhawk offers two different styles of gun holster: the CQC and the Sportster. They are both considered Level II retention holsters that have a special button to activate the release of your weapon.
The CQC is made for everyday wear--including for police work and those who conceal daily. The Sportster is more targeted towards lesser use or occasional/recreational wear.
The main difference between the two is the material, available attachments and color. The CQC is made of a strong and durable carbon fiber while the Sportster is made of a polymer material which makes it slightly more affordable.
To see all our holsters reviews, visit this page.
CQC Holsters
Made of a strong carbon fiber material that can withstand daily use. This holster is ideal for those who plan on carrying daily or who need to conceal their weapon for work.
Comes with a paddle attachment that will fit into your belt or pants. It also has a belt loop that will give extra hold to your body. This ensures that you won't accidentally knock your holster to the ground and lose your weapon. If you expect to carry while you're performing a lot of movement, then this could be a great choice for you.
Is offered in a variety of colors so you can choose which one you prefer. You can choose from: Black, Coyote Tan, Foliage Green or OD Green.
Comes with either a matte or basketweave finish, so if style is important to you, then you can choose which look you prefer.
Sportster Holsters
Made of a polymer material that is lightweight and slightly less expensive than the CQC. It is intended for carriers who wish to occasionally conceal their weapon or who shoot for sport instead of for everyday use.
Comes with a paddle attachment that will fit securely into your pants. This will keep your weapon close to your body and will keep it from sliding around or falling to the ground.
Is offered in an off-black matte (gun metal) color. While this does limit your choices, it is still a good looking color and will not clash with your style.
How to choose your holster
Use – Do you intend to use your holster daily or for work or just for recreational use? Do you have your weapon on you when you are going through unusual or fast movements like running or rolling on the ground? Or will you mostly likely just be walking or standing with little risk of your holster knocking out of place? Knowing how you intend to use your holster and what you plan to do with it will determine which style is best for you.
Type of gun – Before you purchase any holster you should make sure that it is compatible with your handgun. If you have a gun that does not fit into the SERPA holster, then you should probably look somewhere else. It is easy to find this information by checking here to make sure that you are buying a product that you will actually be able to use.
Light rails – Only Beretta, SIG and Colt handguns will fit into both the CQC and Sportster holster if they have a light rail, so if your gun is equipped with a light rail then you need to make sure that it will be compatible with the holster.
Dominant Hand – Not every one of Blackhawk's CQC or Sportster models are compatible for both left and right handedness. It's important that you buy a holster that you can actually use, so be very sure that you are buying a model that works with your dominant hand. You do not want to reach across your body to grab your gun and clumsily put it in a position where you can use it.
Advantages of the SERPA Holsters
Adjustable attachments and cant – Both the CQC and the Sportster have adjustable paddle attachments that can easily be removed in just a few minutes with a phillips head screwdriver. This is beneficial in transportation of your holster if you need it to be smaller and also to adjust it to you personally. You can also adjust the cant so your gun will sit at your preferred angle. If you want a holster that you can personalize, then you might really enjoy SERPA.
Accessories – Both the CQC and Sportster have accessories that can be bought afterwards and added to the holster. These include: a shoulder strap, leg strap, belt loop crossdraw and vest compatible platforms. These accessories are made for the CQC but will work with both variations.
---
Our Top Choice Blackhawk SERPA Holsters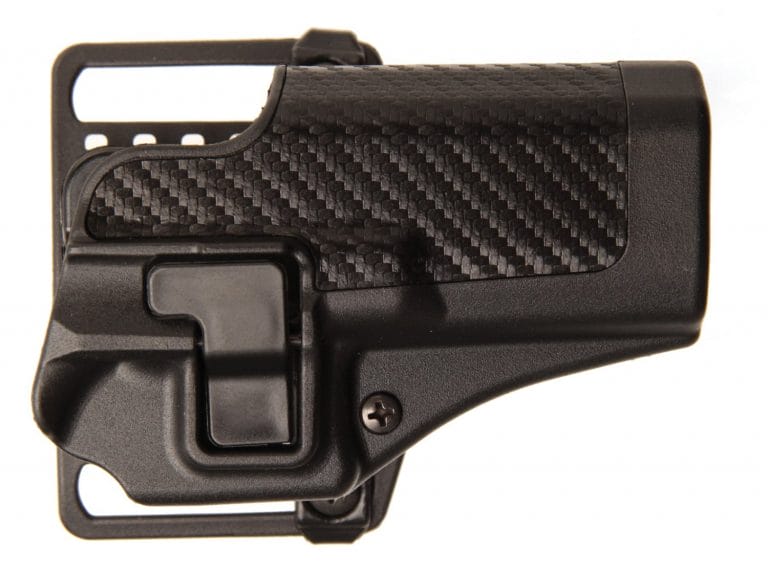 This Blackhawk Serpa CQC holster is lightweight, easy and comfortable to wear, and comes with both the paddle and belt loop adjustment. It is made with a speed cut design which gives you a smooth and quick draw. It also has the patented SERPA auto-lock feature which keeps your weapon secure when you're not using it.
Main Features:
Serpa Auto Lock and Release- keeps your weapon in place when you are not using it. This keeps you safe and ensures that your gun will remain in its holster until you need it.
Immediate Retention and Audible Click – when you put your gun back in place. This helps you know that your weapon is secure.
Positioned for Correct Drawing – allows for you to grab your weapon quickly and safely when you need it.
Pros:
Fits Many Guns- Glock users especially seem to find this holster ideal, but it fits many different types of guns. When purchasing this holster, you will choose your own gun from a list that Blackhawk provides to make sure that it is going to be a model that fits.
Works for both hands – You can buy this holster to fit you whether you are right-handed or left-handed. Just make sure you buy the right one, because they are different.
Comfortable – It comes with a belt loop and paddle that make it secure and comfortable, so you can wear it daily. We found it to be less bulky than other holsters we tried.
Cons:
Some adjustment may be needed- Smith & Wesson users have found that the holster does not hold the gun as well as it does with other brands, and they have needed to make adjustments.
This Blackhawk Serpa Sportster is developed to be used for civilian wear, which means that even the average user can use it comfortably and without concern. If you plan on taking it to a gun range or while shooting for fun, then you might really enjoy this particular holster. It is made of a polymer material which makes it lightweight, affordable and still durable.
Main Features:
Clicks into Place- so you will know when your weapon is holstered properly. You will be able to hear it click when you place it in.
Paddle Attachment – both hooks into your belt or pants and also lays flat on a table or other flat surface with the weapon inside. This is great if you need to take it off and set it down, so you don't have to worry about the gun sitting at an awkward angle.
Made of Polymer – which makes it affordable and perfect for occasional wear.
Pros:
Sturdy – any gun that is compatible with this SERPA Sportster holster will fit in nice and tightly, so you don't have to worry about your gun moving out of place or falling.
Easy but secure draw – This holster will not allow you to remove your gun without properly releasing it by pushing the button which keeps you safe, but it is very easy to do so once you familiarize yourself with it.
Cons:
Right hand use only- This model is not available for those who are left-handed.
Can be uncomfortable- if you are a smaller person. The paddle attachment might dig a bit into your skin, so it could be necessary to pad your waist or get used to the feel a bit.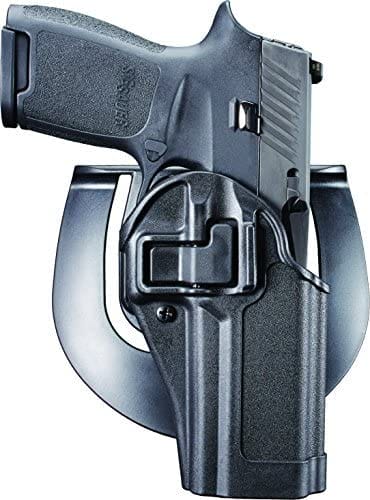 This holster has a reputation for having a smooth and fast draw, which is important for anyone who needs their gun daily and possibly at a quick notice. If you're looking for a way to holster your weapon that won't slowyou down whether you're drawing or re-holstering, then this could be a great choice for you.
Main Features:
Unique speed-cut design – allows for you to draw and holster your gun quickly.
Comes with both paddle and belt loop – to keep your holster in place whether you are running, crawling or simply walking. It is made to stay put no matter how you move.
Pros:
Made to fit a variety of guns – so even if you have a more obscure weapon, you can still use this holster.
Automatically positioned – for optimal drawing.
Cons:
Is more expensive if buying for the left hand- so if you are left handed, prepare to pay a little bit more for this product.
This Blackhawk Serpa Sportster holster is designed for everyday use, but can be used for civilian concealed carry or occasional wear. It is made from Serpa's traditional polymer material which makes it a bit more affordable for the civilian user. If you're looking to carry daily and want a holster that will fit nicely and be easy to wear, then you'll likely be pleased with this product.
Main Features:
Passive retention detend adjustment screw – so you can personalize the angle of your holster to make it fit most comfortably for you.
Developed for civilian use – if you do not need a gun for your job, you can still have a great holster that is designed for your needs.
Pros:
Great patented SERPA design- so you can rest assured that it will hold your weapon in place when being used.
Will only release when button is pressed – there is little chance of you accidentally pulling the trigger and shooting yourself in the leg.
Cons:
Only comes with paddle attachment- if you plan on moving or are worried about the holster coming loose, then you might want to choose a different product.
---
Conclusion
We have tried out a few different SERPA holsters with several of our guns, and we stand by our choice of the Blackhawk Serpa CQC Carbon Fiber Appliqué Finish Concealment Holster being the best one out there for its value. It is designed for professional use, but it can be easily used by the average civilian who wants to carry daily.
Our Pick
It is safe with patented technology to make sure that your gun will not fall out of place and won't shoot while it is attached to your body. The design is made to keep close to your body and hold tight even when you are moving around.
Whether you are a professional who needs a solid holster or an everyday average American who wants to keep their weapon close to their body safely, we think you'll be most pleased with this Serpa CQC holster.
Related Reads: