In today's world, gun safes are more popular than ever because an increased number of individuals are purchasing firearms. However, gun cabinets are also a decent option. If you want to know what is better for you, read the gun cabinet vs gun safe comparison.
Unfortunately, because of this increase in gun sales, it seems inevitable to not discover that another death or tragedy has occurred as a result of a carelessly placed firearm.
Therefore, it's extremely important to ensure that security and safety are prioritized when dealing with firearms. It's also vital to do your research before you purchase a quality gun safe.
Get Great Guns and Ammo Deals!
---
Better Safe Than Sorry
To a novice, a gun safe may seem nothing more than just a large, expensive piece of unnecessary furniture that really doesn't serve a purpose, other than taking up space you could probably use for something else.
But, various studies over the years have found that each year accidents and deaths in the home as a result of poorly stored guns could have been prevented. If you own a firearm, you should definitely own a gun safe. You owe it to yourself, your family and your society. It's not just a wise choice, it's the right thing to do.
We here at Gun News Daily certainly hope that every responsible gun owner knows it's not safe (or smart) to keep your firearm in a closet or simply lying around for a toddler to pick up and shoot someone.
But sadly, some gun owners choose to do the aforementioned and face the devastating consequences. Even if your firearm collection consists of one handgun for home security, you still need somewhere safe to store it — for example, a nightstand gun safe is a wise investment.
However, if you own many guns or have an extensive collection, you will certainly need a larger safe.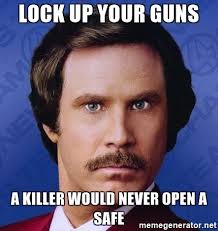 With that being said, if you want to keep your children, thieves and other unaccessed persons from your firearms and avoid a fatality, you need to purchase a resilient gun safe according to the size of your firearms.
And if you're still debating whether or not to buy a gun safe, take a look at this review on large gun safes as well as a handgun safe made by Sports Afield — hopefully your decision will be made.
---
Sports Afield History/Background/Corporate
For over 100 years, Sports Afield has been a well-known name to outdoor enthusiasts and shooters alike. In 1889, the company released their Sports Afield magazine and it's still published today. Since 2002, the Sports Afield magazine has been owned by Field Sports Publishing in Huntington Beach, California.
The new owners decided to amend Sports Afield as a magazine for serious hunters who also like to read about and experience real adventure. In addition, the magazine focuses mainly on the most popular destinations for big-game hunters.
Besides the magazine, Sports Afield Consumer Products, Inc. develops and markets ingenious products including a complete line of gun safes, home and office safes, lightning handgun vaults and security cases and cabinets. Their products are packed with industry best features and the industry best warranty.
The company stands behind their products by proudly providing an extremely comprehensive warranty. And their customer service provides today's gun owner with supreme satisfaction and peace of mind.
---
Sports Afield Gun Safe Series
Quality made and stylish, Sports Afield Safes not only boast impressive features for your home or office, they also keep your guns and valuables safely secured from unwanted users. Ranging in price from just under $1,000 USD to almost $1,500 USD, there are three sizes in this series to choose from, with only a few subtle differences between them.
Programmable Locks and Adjustable Shelves
Featuring an electronic programmable lock system for private password entry, access to the Sports Afield Gun Safe is highly controlled through the electronic lock system incorporated within each make's structure.
Your guns and other weapons stored in the safe are tightly secured once the lock system is activated — and the safe comes with override keys in case you cannot open the door with the code.
The Sports Afield Gun Safes offer adjustable shelves, a fire-resistant structure and steel doors that even the most persistent thief will not be able to open. These safes guarantee the utmost in flexibility and each shelf is large enough to accommodate weapons in all sizes, as well as provide extra room for your gear and ammunition.
In addition, the interior of the gun safe door offers extra storage options, such as easy access pouches for handguns and zippered pouches for necessary items.
Three Sizes
It's true that most gun safe owners need a good deal of storage capacity. If you choose a gun safe from the Sports Afield Gun Safe Series, you're ensured that your storage and space issues will be addressed.
As stated earlier, there are three available sizes in this series: 60 x 33-inch, 60 x 40-inch, and 72 x 40-inch — with each increase in price, comes a bigger gun vault for more storage capacity.
The smallest gun safe is the least expensive and the middle one (60 x 40) is the most expensive. In addition, the largest gun safe is offered for less than $1460 USD. The Sports Afield Gun Safes feature basic black exterior and silver accents — a nice addition to accentuate your firearm collection
Fire Resistant/Steel Door Construction
The 60 x 33-inch Sports Afield Gun Safe is constructed of hard steel material that can withstand up to 1200 degrees Fahrenheit for up to 40 minutes. The 60 x 40-inch, and 72 x 40-inch also have a fire resistance of 1200 degrees Fahrenheit for up to 40 minutes.
As all safe owners know, the door is the access route to your safe. You'll definitely want to purchase a gun safe with a door made of quality steel material as well as one that no potential intruder can pry open.
Besides the rugged stainless steel, each Sports Afield Gun Safe is fitted with durable locks and hinges. Take a look below at some of Sports Afield Gun Safe Series features …
Chrome handles for easy and quick opening and locking
Smoke seal ensures better protection
Steel bolts firmly hold the gun safe structure in place
Internal AC power
External cord and USB ports
Carpeted inner walls
---

Fire rated 40 minutes at 1200 degrees Fahrenheit
Door organization
Adjustable shelves
Power outlet with USB ports
Exterior dimensions: 59 x 33 x 20
Exterior capacity: 22.53 cubic feet
Gun capacity: 33 plus 6
Constructed of 14 gauge steel walls
E-Lock (programmable electronic lock)
Theft alert audio alarm
Color: black
Security rating: California DOJ
Weight: 465 pounds
Check latest price on Amazon
---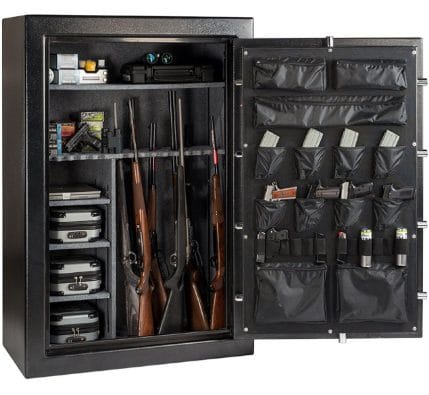 Fire rated up to 40 minutes at 1200 degrees Fahrenheit
Door organization
Adjustable shelves
Power outlet with USB ports
Exterior dimensions: 59 x 40 x 22
Exterior capacity: 30.05 cubic feet
Gun capacity: 40 plus 8
Constructed of 14 + 12 gauge steel walls
E-Lock (programmable electronic lock)
Theft alert audio alarm
Color: black
Security rating: California DOJ
Weight: 606 pounds
Check latest price on Amazon
---
Fire rated up to 40 minutes at 1200 degrees Fahrenheit
Door organization
Adjustable shelves
Power outlet with USB ports
Exterior dimensions: 72 x 40 x 25
External capacity: 41.67 cubic feet feet
Gun capacity: 60 plus 8
Constructed of 12 gauge steel walls
E-Lock (programmable electronic lock)
Theft alert audio alarm
Color: black
Security rating: California DOJ
Weight: 739 pounds
Check latest price on Amazon
Pros
Adjustable shelves to store both small and medium size ammunition
Fire and smoke seal ensure the safe is free from damage
Various sizes and choices
The electronic lock system boasts privacy and high security for your gun ammunition
Solid steel doors are extremely tough to pry open
Classy outer finish accentuates your surroundings
Interior walls are perfectly carpeted to give the interior a neat appearance
Cons
---
With the Sports Afield Lightning Handgun Vault, you can secure your handguns, ammunition, extra necessities and valuables. This vault allows quick front access with a programmable electric lock and spring loaded door for safe and secure storage for your smallest of items very convenient locations.
Fully illuminated with backlit buttons both inside and out, the contents are easily accessed in the darkest and the most time sensitive situations. Additionally, a tamper indicator lets you know if someone tried to break into your safe.
All Sports Afield products are backed by the company's no hassle, lifetime warranty.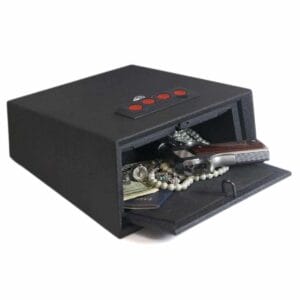 Features
Electronic lock with red illuminated keypad and programmable 3-8 digit codes
Key access with two back up keys provided
Red LED interior illumination for easier access in the dark
Spring loaded door
Low battery warning
Tamper indicator and mute button
Full foam interior surface protection
Accommodates one side access single handgun
Exterior dimensions: 5.3 x 10.6 x 12
Exterior capacity: 0.39 cubic feet
Textured black exterior finish
Bolt down kit included
Battery size: 9V
Color: black
Backed by Sports Afield three-year hassle free warranty
Check latest price on Amazon
---
Final Thoughts
As we've said before in many of our product reviews, if you own a gun, you need to lock it up! Hopefully by now, we can all agree that gun ownership requires responsibility. A good safe provides a barrier you can easily put between your weapons and anyone who should not be near them.
When it comes to determining if any of the Sports Afield Gun Safes listed above are for you, it really depends on your needs, financial situation and goals. From standard gun safes to single handgun safes, every one of Sports Afield Gun Safes are sturdy, strong, reliable and durable. They're also extremely pry-resistant so even the savviest of criminals will have a hard time cracking them open.
The Sports Afield Gun Safes in three different sizes come fully equipped with rather hefty price tags, but they also supply you with storage for a large number of weapons or valuables. And these safes will protect all of your precious items from fire, flood, and individuals who do not have access to them.
With gun security and stricter gun laws at an all-time high, you owe it to yourself as well as your society to invest in a gun safe. But above all, you owe it to your family, because no price is too high for their well-being and safety.
On a final note, before you purchase any type of gun safe, don't forget that internal dimensions are very important. Always make sure you take measurements to ensure your firearms will fit safe and secure.
Related Reads: