With so many gun safes on the market today, knowing which brand you should invest in can be difficult. If you have a collection of long guns that need to be stored safely, which company should you choose? It's a valid point that a responsible gun owner needs to find a gun safe that provides security and as well, is a smart economical investment. Purchasing a well-made firearm is serious business, just as serious as owning a quality-made gun safe.
Even the most insightful gun owner may not have the right information about gun safes. If you already own a gun safe, then that means you're protecting your firearms from unauthorized access and from harmful elements like fire and theft. But did you know that your guns have a silent killer? Moisture can wreak havoc on your firearms as well as other valuables in your safe.
If you live in a moist climate or keep your safe near a bathroom, you run the risk of your guns rusting — if you don't take the proper measures. For these reasons and more, I will review a few gun safes from an excellent brand by the name of Steelwater. Besides being an all-around respectable brand, they provide a free humidifier with each safe you purchase.
Get Great Guns and Ammo Deals!
---
Steelwater Safes Background
The Steelwater company is located in South Carolina and they are committed to offering you quality-made gun safes with multiple features, all at a reasonable price. The owner of Steelwater has five years of experience in law enforcement and he then went on to study the locksmith trade.
He later opened his own lock and safe company where he learned how to service, repair and open safes. With this experience over a span of 22 years, he created a gun safe that is fireproof, drill proof, secure and reliable.
Steelwater stands behind their products and uses only the best quality materials. All of their safes come with a lifetime fire and theft protection warranty and the company will completely replace the safe in the event that it is damaged as the result of a break-in or even if your safe gets damaged in a fire.
Fire Resistant in Extreme Heat
By choosing Steelwater, you're gaining a reliable safe for your long guns even in the extremest of heat. For many gun owners, this is proof enough that this safe will protect them better than other brands.
Steelwater safes are all rated to resist fire for at least 45 minutes when subjected to heat up to 1550 degrees Fahrenheit– all without letting the internal temperature of the safe exceed 350 degrees Fahrenheit. A heat responsive foam lines the area around the door and this same foam will expand up to eight times its original capacity when it comes in contact with a blaze.
And if you purchase an even heavier-duty safe by Steelwater, the fire protection will last up to 2 hours.
Security First
Steelwater safes look intimidating in themselves, and it is unlikely that anyone would try to test their security system. But, you always need to be prepared in case of a potential break-in, and investing in a quality gun safe with a solid lock is of highest importance.
Steelwater safes, just like many other on the market today, come in both digital and combination locks. So which one will you choose? There are a few items you should be aware of if you decide to purchase a digital lock:
A non-volatile memory is what you need — or there's a chance that a thief will remove the battery and reset the keypad to factory settings
Make sure the safe is electro magnetic pulse (EMP) shielded — or the burglar can access the safe by using a tool that emits a magnetic force to short the keypad and revert it back to factory settings
Ensure there is a drill resistant plate behind the keypad — if not, the thief can drill into the safe and override the circuit board
High-security backup key!
It's true that no one safe is perfect for everyone. Steelwater gun safes are made of the highest quality materials and are available in regular (standard), heavy duty or extreme duty. With that being said, let's check out Steelwater's Heavy Duty 16 Long Gun Safe…
---
The Heavy Duty 16 Long Gun Safe by Steelwater is quality-made, durable and attractive. This ruggedly strong safe offers some of the best protection for your guns that can store a moderate amount of guns. Tough and fire resistant up to 45 minutes of protection, the door expands to tightly seal the contents of the safe.
With interior shelves both removable and adjustable, you can comfortably station eight long guns. But not to worry, without the shelving, you can fit up to 16 guns, just as its name states. The drill resistant door is secure and the 14 gauge steel allows the safe to look unbreakably tough.
Accessed by a combination lock, the Steelwater Heavy Duty 16 Long Gun Safe includes a double bitted key which can be used to bypass the keypad for backup. And once the handle is turned, the safe releases six bolts to lock the door into place. These bolts are extremely strong and the door is drill resistant to offer the best protection.
Although this safe is heavy (305 pounds), it's not the heaviest one on the market. And it's definitely not portable, but you know it's going to stay put. The company absolutely recommends to lock this safe into position using the bolt holes. At 305 pounds, you don't want this safe to fall and damage its contents or you! This may be on the expensive side, but it's worth it.
Features and Specifications
Up to 45 minutes of fire protection at 1550 degrees Fahrenheit
14 gauge steel construction
Composite constructed 5-inch thick door that includes two layers of fireboard
Drill resistant hard plate to protect the lock from being drilled or manipulated
Three-way direct drive lock and bolt system
Internal spring loaded re-locking bolt to secure the safe in case the lock is manipulated during a burglary attack
Pre-drilled 1/2-inch diameter hole for the installation of a dehumidifier
Pre-drilled 1/2-inch diameter anchor holes to safely secure the safe to the floor
Double bitted emergency bypass key included
Two reprogrammable (3-8) digit user codes
Exterior dimensions: 59 inches H x 22 inches W x 16 inches D
Interior Dimensions: 55 1/4 inches H x 19 1/2 inches W x 9 3/4 inches D
Weight: 305 pounds
Check latest price on Amazon
---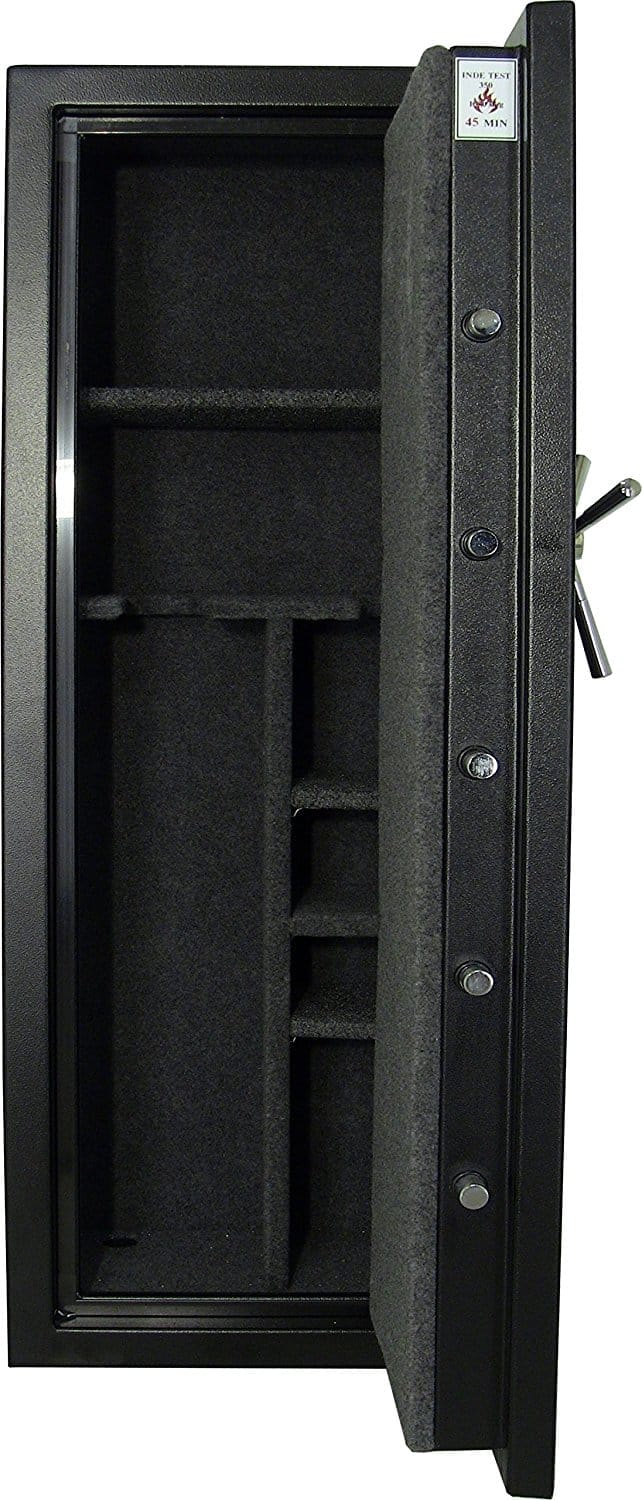 If you appreciate quality and have been searching for a quality-made safe for your guns, the Steelwater Heavy Duty 20 long gun fire-protection safe is for you. This gun safe from Steelwater will provide you with 45 minutes of fire protection for temperatures up to 1550 degrees Fahrenheit.
The Steelwater Heavy Duty 20 Long Gun Safe is is built to last and solid enough even if it is fighting against fire or an attempted burglary. These safes provide you with everything you need to keep your most worthy valuables and firearms protected.
Although this heavy-duty safe is massive in size at 59 inches in height, 28 inches wide, has a depth of 18 inches and weighs 425 pounds — at 4 3/4 inches thick, no one can get inside of this safe without your permission. In addition, this gun safe has a composite door constructed of 14 gauge steeland the interior is completely upholstered.
In addition, this gun safe features a chrome-plated digital keypad — reprogrammable as you can set your user code between 3-8 digits. If you are a victim of an attempted burglary and the hinges become damaged, you're still ok, because there are nine pins in place to hold the door closed, even if the hinges are completely removed.
The heavy duty Steelwater 20 Long Gun Safe provides total protection from fires as well as theft. But, where it outshines others is the fact that it gives you protection in high humidity areas. This is truly a gem of a safe.
Features and Specifications
Eight times larger drill/ballistic resistant hard plate
Re-programmable digital keypad
Adjustable shelves
Solid steel construction
Maximum long gun capacity: 20 (12-16 realistically)
45 minutes of fire protection at 1550°F
14 gauge steel construction
Three way direct drive lock & bolt system
Double bitted emergency bypass keys included
Dehumidifier included
Outside dimensions: 59 inches H x 28 inches W x 18 inches D
Interior dimensions: 55 1/4 inches H x 25 1/8 inches W x 11 inches D
Weight for heavy duty: 425 pounds
Weight for standard: 373 pounds
Two reprogrammable (3-8) digit user codes
Check latest price on Amazon
---
This heavier and upgraded version of the above Steelwater gun safes weighs an astounding 772 pounds. It offers 120 minutes of fire protection at 1875 degrees Fahrenheit, which is somewhat close to the melting point of steel.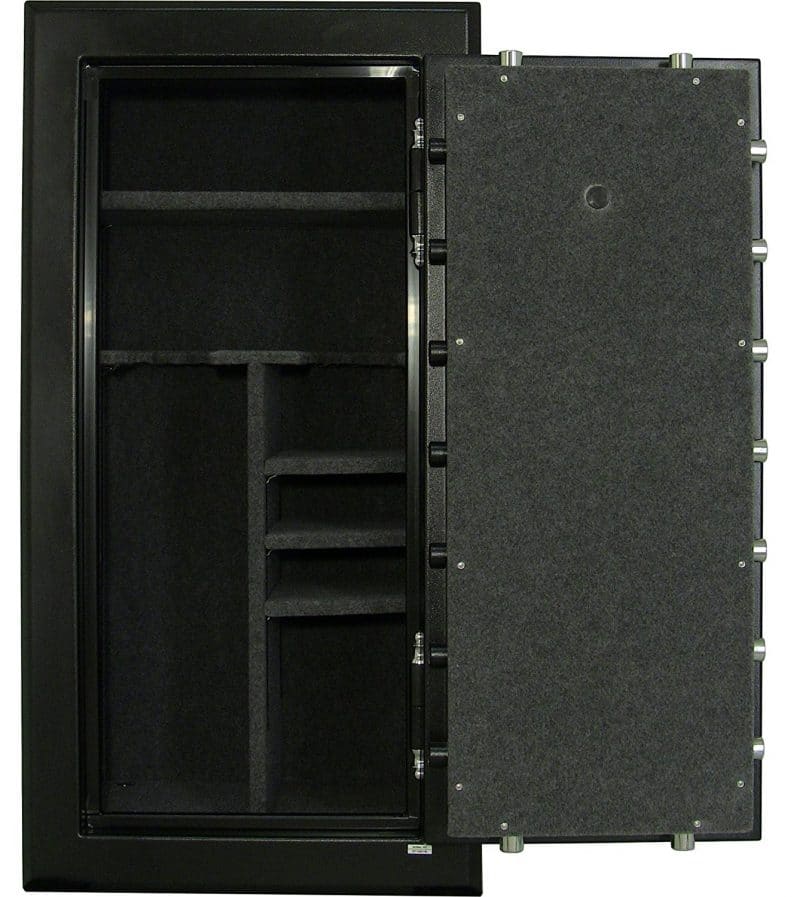 As far as construction, this safe is made of reinforced steel. The top long shelf has steel clips created to prevent warping and breaking, plus there's an extra steel plate welded in the front door that makes this safe even more secure. The Extreme Duty 22 Long Gun Safe can hold 22 guns at its maximum capacity and 14-18 guns on average.
In addition, this safe features removable shelves to store handguns and small weapons inside the safe. The Extreme Duty 22 Long Gun Safe also exceeds the testing standards of California Department of Justice and the manufacturer also includes a free dehumidifier to take care of any moisture in the safe.
Features and Specifications
Maximum Long Gun Capacity: 22 (14-18 realistically)
120 minutes of fire protection at 1875 degrees Fahrenheit
9 gauge steel construction
Composite constructed 5 1/8- inch thick door that includes a total of four layers of fireboard
Drill/ballistic resistant hard plate that is eight times larger and protects the combination dial, gear drive and linkages
Total of 18 1 1/2- inch diameter solid steel locking bolts
Gear driven lock and bolt system for added strength against prying, punching and drilling
Exceeds California Department of Justice regulatory standards for residential security containers
Exterior dimensions: 59 inches H x 30 inches W x 24 inches D
Interior dimensions: 55 1/2  inches H x 27 inches W x 17 3/4 inches D
Weight: 772 pounds
Check latest price on Amazon

Suggestions/Advice
If you are a new safe owner or a veteran, it's important to avoid any gun safe issues. For Steelwater safes and other brands, you can perform regular maintenance to add to the life of your gun safe. It's true that safes are very durable, but improper storage and reckless use can damage it.
By cleaning your Steelwater gun safe regularly, you can eliminate rust build-up. Next, you should oil the door hinges once a month for smooth opening and closing. Lastly, always close and lock the door solidly, not harshly. By adhering to some simple maintenance on your gun safe, you'll be able to use it and enjoy it for 100 years and more.
---
Final Thoughts
Steelwater is a reputable brand, known for high-quality, attractive and very affordable gun safes ranging in size from 16 gun and 22 gun safes to 45 gun safes. The three gun safes reviewed in this article are all fireproof with removable shelves for extra storage, that will prove to be an advantage to you, should you decide to purchase a Steelwater safe.
These gun safes are also designed to resist drill and pry attacks. It will be very tough indeed for any burglar to open one of these safes. However, the number of firearms that you can store in these safes varies. Some are spacious enough to house more than 30 long guns while some can only be for storing less than 20 rifles.
The fact that the company gives you a free dehumidifier with every safe is a great bonus. And as far as pricing, these safes are reasonable and are comparable with more expensive safes in terms of quality and features. By choosing Steelwater, you'll have nothing to lose — only a quality, tough and durable gun safe to gain.
Related Reads: