Anyone who goes big game hunting with a rifle or a bow or crossbow will need to know the distance from their position to their spotted prey in order to make an accurate show. The tool that hunters use for this purpose is the range finder.
There are two kinds of rangefinders made in the world: there are those that are made for hunting, and then there are those that are made for other kinds of recreational purposes such as golfing. This article focuses on the rangefinders used for hunting, and measures them against each other based on their customization, power and precision, display, and optical clarity.
But before we get into what the best makes and models of rangefinders are based on those above factors, we will first talk about the individual components that make up a rangefinder to begin with.
Get Great Guns and Ammo Deals!
---
The Components and Qualities of a Rangefinder
Here is a list of the individual components and qualities of a rangefinder and a description for each one:
Accuracy
First and foremost, your rangefinder needs to be accurate, meaning that it gives you a precise measurement from your current position to your target out in the distance.
Ballistic Settings
The ballistic settings of a rangefinder allow you to modify a variety of different variables, including altitude, wind, or bullet drop. This will allow you to create a more accurate result when it comes to actually firing your weapon.
Clarity
The clarity, or glass clarity, of a rangefinder is equally as important as having clear glass on your rifle scope. The clearer the glass, the easier it will be to transmit light and give you an enhanced image when you look through the device.
Magnification Power
The magnification power of a rangefinder determines how far you will be able to see it and how much you can enlarge the image by.
Shock Resistance
Shock resistance refers to how well (or how poorly) a rangefinder can withstand being dropped over a tough surface. Even though you should treat your rangefinder carefully, accidents do happen and dropping it on the ground or bumping it against a tree or a rock or something is a real possibility when you're out in the woods. It's important to choose a rangefinder that can withstand basic abuse.
---
The Best Makes and Models of Rangefinders
Here are the top four best makes and models of rangefinders on the market and their respective pros and cons. This list is presented in alphabetical order:
Bushnell is a brand name that you probably expected to see on this list, because they have been in the business of manufacturing high quality scopes and optics for hunting and tactical purposes for a long time now.
It's safe to say that the Scout DX 1000 ARC doesn't disappoint. This is a true laser rangefinder with a great level of accuracy.
This accuracy is a result of its Advanced Digital Microprocessor and ASIC (Applications Specific Integrated Circuit) that provides you with a very accurate and immediate reading whenever you use the device out to 1,000 yards (though its greatest accuracy comes within the 600 yard range).
The Scout DX 1000 ARC is also designed to be used in lowlight conditions such as dawn and dusk, both of which are very opportune hunting times because those are the times when wild game tends to be the most active. The 6x magnification and 21mm objective multi-coated lens with optimal light transmission are what allow you to accurately see even when the sun is not fully out.
Furthermore, you can even adjust the sharpness of your image with the diopter adjustment knob on the side. This will also allow you to create an advanced display, with an active laser, aiming circle, battery life indicator, and even the ability to change between bow mode or rifle mode. The targeting symbols vary between brush mode, bullseye mode, and line of sight mode.
The Bushnell Scout DX 1000 ARC is waterproof, with a rubberized black finish to ensure that you can get a secure grip over the rangefinder even when it is wet and rainy outside. Total weight is only eight ounces with a length of four inches, which makes it one of the more smaller sized (but also more portable) rangefinders on the market.
It utilizes a CR2-3V lithium battery for power, with a tripod mount that has been molded into the bottom to ensure a more accurate reading over uneven ground.
Leupold is another huge name in the scopes and optics world, even more than Bushnell. Leupold is well known not only for making scopes that are of excellent quality, but also scopes that can withstand the test of time even in bad conditions. The same amount of effort that goes into making a Leupold scope goes into making their rangefinders as well.
The Leupold RX-650 rangefinder in particular is equipped with a 6x magnification, which means it is suitable for out to six hundred and fifty yards at least. While this is a little lower than some other rangefinders, including other models that are also made by Leupold, the trade off is that you will pay less for this rangefinder than you would for those with a slightly higher magnification. This makes the Leupold RX-650 a good choice for you if you are on a budget.
The glass on the Leupold RX-650 is fully multicoated with excellent light transmission and clarity. The glass is also combined with a very high contrast LCD viewing display, which means that it is easy to view through even in poor or dim-light conditions. It may not be quite as nice as a higher priced rangefinder, but for the price there's no question that it works very well.
Another major plus to this rangefinder is how user friendly each of the controls are. The grip material is rubberized, which not only means it is easy to grip onto when it's raining outside but also help with shock absorption. The RX-650 is also fog proof and waterproof as well, with a total weight of less than half a pound.
The biggest con or negative to the Leupold RX-650 is that it is limited to under around six hundred and fifty yards, so it's not the best choice for distances longer than that. But as was noted above, you're paying an overall lesser price point for this rangefinder in comparison to nicer models, and you are still buying from a hugely reputable company.
SIG Sauer is a company that is most well known for their firearms, but they make many other firearms related accessories as well, including rangefinders.
The Kilo 2000 Rangefinder has been on the market for a few years now, but has already proven itself to be one of the best on the market. For one thing, it can provide accurate and precise measurements out to 2000 yards, in comparison to the 650 yard range of the Leupold RX-650 rangefinder that we just went over.
Another major plus to the Kilo 2000 is its refreshing rate, which will refresh four times for every second when it is in scan mode. This means that you will literally get a real time reading on moving targets, which is awesome.
The Kilo 2000 Rangefinder also utilizes an OLED display over the more common LCD display, but the benefit to this is that you get to save on battery life while simultaneously viewing a cleaner definition over LCD. It will also adjust accordingly to the natural levels of light, so you can be rest assured knowing that it will work in virtually any lighting conditions.
As would be expected the Kilo 2000 is also waterproof and fog proof. It is powered with a CR2 battery. The finish is available in either camouflage or matte gray. The rubberized grips aid in making the rangefinder more shockproof while also giving you a secure grip over wet conditions.
The SIG Sauer Kilo 2000 Rangefinder is simply one of the highest quality rangefinders on the market, but as you may have suspected, this high level of quality doesn't come without a price. As a result, the Kilo 2000 is one of the most highly priced rangefinders on the market and will cost you as much as an equally quality scope.
The last rangefinder that we will discuss here is the Vortex Optics Ranger 1,000. This is a very user friendly range finder that works for rifle hunter and bow hunters alike.
As the name suggests, this range finder is designed to be used out to 1,000 yards on reflective surfaces, but 500 yards on softer targets such as deer or elk. It will provide you with the needed measurements immediately after you press the power button.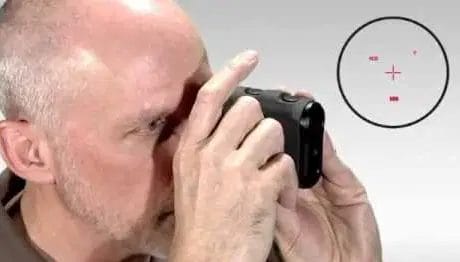 The eyepiece is 6x magnification with a 22mm diameter objective lens, which is fully multi-coated. What this means in plain English is you get a very bright and crystal clear image when you peer through the lens. The sharpness level of the viewfinder is also fully adjustable thanks to a diopter knob on the side.
There are two other buttons on the side of the device, a laser button and a menu button. All you need to do is to press and then release the laser button is to take your measurements and aim with your crosshair.
There are three different modes with the Vortex Optics Ranger 1000: Line of Sight mode, Horizontal Component Distance mode, and Scan mode. Horizontal Component Distance is the primary mode and the best choice for both archery hunters and rifle hunters.
The Vortex Optics Ranger 1000 is also highly durable and rugged thanks to its rubberized on the surface that makes it easy to hold in the hand and helps make it more shockproof. It weighs just under eight ounces with a length of five inches, so it is easily portable.
All in all, the Vortex Optics Ranger 1000 is a very user friendly, compact, lightweight, rugged, accurate, and high quality rangefinder, and one that is also relatively affordable.
---
Conclusion
A rangefinder is not something that you want to make an uninformed decision about when it comes to buy one. It is one of the most important items to bring with you on a hunt, besides your actual rifle, proper clothing, and adequate survival equipment.
Having a good rangefinder will greatly increase your chances of bringing home a trophy on your next hunt.
Related Reads: