Each year, hundreds of thousands of firearms are stolen from the homes and vehicles of legal gun owners. There are many careless gun owners who leave their firearms in car glove boxes, under a mattress or in a kitchen drawer — not in a proper gun safe. As a result, these guns wind up in the possession of unauthorized users, leading to countless injuries and death.
As soon as you decide to purchase any type of firearm, you should find a place to keep it secure, locked up, and out of the hands of those who are unauthorized users. And by keeping your guns locked up, you are protecting your loved ones. Investing in a quality-made gun safe is one of the smartest choices you can make as a responsible gun owner.
SAFEST NEWSLETTER - WE WILL NEVER SELL YOUR EMAIL
GET GREAT

GUNS AND AMMO

DEALS!
SENT ONCE A WEEK - NO SPAM - NO SELLING YOUR EMAIL
---
Gun Safe Checklist
If you're buying your first safe or your fifth, you still need to follow some basic criteria as it will greatly affect your decision. To begin with, size is very important. Does the safe fit where you want to keep it? A sure way for a proper fit is to measure the dimensions: width, depth and height.
How about the weight? You know that a burglar isn't going to sneak off with your safe if it weighs over 500 pounds. Next, check the lock type. By choosing an electronic lock or a biometric lock versus a manual lock, there's fewer chances an intruder will get access to your firearms.
In addition, it's always a good idea to bolt down your safe. Whether it's a home safe, jewelry safe, gun safe or any other kind of safe, bolting it down gives you added security. Lastly, you should have enough compartments so that you can store more firearms and additional items.
Now that we've gone over some gun safe basics, it's time to select a brand. I will now present to you the Liberty safe company…
---
Liberty Safe and Security Products
Founded in 1988 and headquartered in Utah, the Liberty safe company first started out building safes in rental storage units. Today, they produce more than 320 safes per day. Employing approximately  500 employees, Liberty is considered by critics as one of the best brands in its category.
Safe owners have come to choose Liberty because of their reputation to render quality products backed by superior customer service. Liberty safes are offered at great prices and unprecedented value, with each one delivering top-notch reliability and security.
Liberty Safe and Security Products is the number one seller of full-size residential safes in the United States. They create large gun safes (can hold 64 guns), as well as economy-sized safes (can hold 24 guns). The company's products are offered under three popular brands: Liberty, National and Centurion.
In addition, Liberty sells the broadest line of home, gun, office, and commercial safes by one successful company. With brilliant marketing based on high quality, innovation and technologically advanced security, you can also find their products at full-service dealers and mass retail outlets.
Backed by Liberty's lifetime warranty which protects the consumer against manufacturers defects, fire damage and break-in attempts, the company will also replace or repair your safe for free. The warranty is also transferable and includes a five-year warranty on the lock and finish.
For this review, I will take a look at two of Liberty's top handgun safes and a bonus look at one of their gun safe door panel kits …
Liberty 9G HDX-250 Biometric Smart Vault
Liberty HD-100 Quick Vault
Liberty Safe and Security Prod 24 Gun Safe Door Panel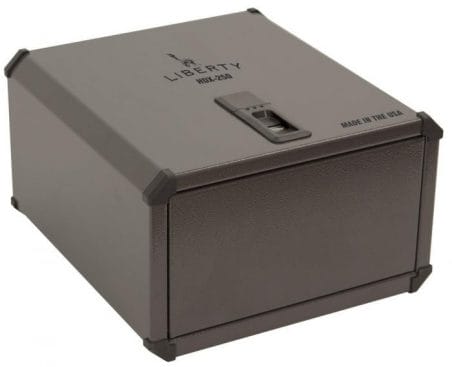 Nothing is more important than keeping your family and home protected from a potential intruder. If you want to ensure your handgun is in a place that is easily accessible, as well as in a place only you can access, then a biometric safe is the one for you.
The Liberty 9G HDX-250 Smart Vault Biometric Safe is a great value. Like all handgun vaults, the Liberty 9G HDX-250 is designed to be compact and easy to access. You can easily hide your handgun in your nightstand, under the bed or anywhere else that is within reach and out of site from thieves.
With the biometric fingerprint scanner, you can be confident that no one will be entering the safe other than you. The Liberty 9G HDX-250's biometric scanner can store up to 15 fingerprints and is one of the most advanced systems to recognize your fingerprint. In addition, this safe features an auto opening door, an AC power backup in case of failure, and a key which can be used to access the safe.
The capacity of the liberty safe is not large, but it can surely meet your needs. It can easily store a single handgun along with a couple of items or two small pistols, as the total interior cubic feet is 0.22. Another fantastic feature of this biometric smart vault is its capability to remember up to 15 fingerprints.
For some people the limited storage may be a disadvantage. If the biometric scanner fails to recognize your fingerprint, you'll have to wait 10 to 15 seconds before attempting again. But fortunately, the scanner is high quality and unlikely to fail.
Smart, Safe and Secure
The Liberty HDX-250 is constructed of a tamper-resistant design from solid 14-gauge steel that will help prevent your vault from being pried open. Thieves will surely have a difficult time if they attempt to break into this safe.
If you decide to secure your safe to a surface, you will not have a problem — Liberty provides mounting holes making it pretty much impossible to remove without a large prying device.
This safe also features a composite door with an interior plate and 4-inch military locking bars on two sides of the door to keep it in place, should a pry attempt occur. An upgraded quick access low profile electronic lock is used on this vault instead of a manual combination and key type lock.
The Liberty HDX-250 comes in a textured black with a handsome gray fabric interior. Because this vault is made to be hidden out of site, there's no color or finish options. But, there is a host of accessories to add to your safe such as dehumidifiers, outlet kits, gun shelves, and organizers.
Most gun owners want a reliable safe to store their handgun and to keep it within reach. The Liberty HDX-250 is known as one of the most reliable gun safes you can find. The biometric scanner on this Liberty safe should make you feel exceptionally secure and confident knowing that your possessions, as well as your firearms are safe.
And even if there's an instance when you can't access the safe by the biometric scanner, you can use the handy backup key, which comes included in this safe.
Features and Specifications
Quick and secure access
The most reliable biometric system available
15 fingerprint memory
Lighted Interior
Fits most handguns
Tamper-resistant design
Key backup
Five-year warranty
Includes AC adapter
Exterior: 7 inches x 11 inches x 12 inches
Interior: 4.25 inches x 9 inches  x 10 inches
Weight: 17 pounds
Check latest price on Amazon
---
The Liberty Handgun Vault HD-100 Quick Combo Vault is a perfect option for a portable safe. It's a foolproof blend of security and quick access all in a nicely-compressed size. The Liberty HD-100 is great little safe to keep in your drawers, suitcases, on your nightstands or closet shelves.
Designed to protect handguns as well as cell phones, passports and other important documents, this home safe provides secure access with the simplicity of an electronic combination. Other features include a piston-assisted door, lighted interior and a key backup in the event something should happen to the lock.
Private gun owners have a responsibility to ensure their firearms are locked up. The included security cable will help secure this gun safe in your home or vehicle so your handguns will not be stolen. In addition, the Liberty HD-100 Quick Combo is not only California Department of Justice (DOJ)  approved, it is TSA compatible for airline use as well.
Liberty stands behind their product and this is why they offer a 2-year replacement warranty on any defects on the HD-100. Stow a personal handgun or other small items within this 16-gauge steel safe and easily store it or bring it along for a trip, thanks to the compact design.
This Quick Combo Safe by Liberty offers a unique notebook design and can easily fit into a backpack or most travel bags, while still being able to hold a regular sized handgun. The user-friendly, programmable electronic lock provides quick access.
Once the lock is inputted, the auto-open door lifts up with the gas strut attached and the interior light will make it easy to see the contents inside, especially at nighttime.
Not to worry … the key back-up override will let you into your safe even if you forget the combination! Lastly, the Liberty company truly believes in and stands behind the quality of their products by offering a two-year replacement warranty on any defects to the HD-100 Quick Combo Safe.
Features and Specifications
16-gauge sturdy steel construction
Piston-assisted opening
1000+ quick and secure combination options
Lighted interior
Tamper-resistant design
Security cable and 9V battery included
Weight: 6.25 pounds
Two-year replacement warranty
California Department of Justice approved
Check latest price on Amazon
---
We all know the purpose of any home or gun safe: to keep valuables, important documents and other keepsakes hidden from thieves and intruders. Generally, safes come in different categories, such as one that can be secured to a floor or wall, as well as one that is compact and portable.
The Liberty Safe and Security Prod is a gun safe door panel kit that can be used to store firearms as well as precious valuables. The ingenious design of this door panel can be attached inside of a safe and can be easily installed using clips which can be fastened on the inside of the door of the safe.
Deep Pockets and Ample Storage
The team who designed this safe successfully accomplished the task of providing plenty of storage space. There are more than enough pockets that provide ample storage of important items in addition to the space reserved for the firearms.
The four pockets in the safe have been designed exclusively for pistols and ensure fast access to your weapons when you need them. Also, mesh storage pockets are available for storing valuables such as jewelry or other loose items.
A remarkable feature of this door panel is the fire protection offered by way of separate cool pocket document protectors which keep documents and valuables up to 50 degrees cooler in the event of a fire.
Installation of the included hardware is simple, and can be done in minutes by sealing the clips to the inside of the safe walls. This user-friendly product is a very popular and durable option for your next gun safe door panel unit.
Features and Specifications
Easy installation
Spacious interior and compartments
Zippered pockets keep valuables in place
Cool pocket technology
Comes with fire protection
Mounting brackets included
Weight 2.7 pounds
Dimensions: 20 inches x 16 inches x 12 inches
Black nylon material
Check latest price on Amazon
---
Final Thoughts
As previously stated, a safe made by Liberty is one of the best you can buy on the market today. All of their products are made with rugged and resilient steel and come with an impressive warranty.
Offered at prices that won't bend your wallet, Liberty safes are just what you need to secure your firearms from theft and protect your loved ones from harm. Although Liberty safes come with excellent features and the utmost security, it's always best to keep your safe well hidden and out of site from any burglar.
For more information on gun safes, please click here.
Related Reads: