Some gun owners may not not find it necessary to buy a safe for their firearms. Some may think that a gun safe doesn't seem to help other than keeping your guns in a designated area. This couldn't be further from the truth. Keeping your guns in a condensed area is fine, but locking them up is better.
Various studies over the years have found that each year accidents and deaths in the home as a result of poorly stored guns could have been prevented. If you own a gun, you should definitely own a safe. You owe it to yourself, your family and your society. It's not just a wise choice, it's the right thing to do.
With that being said, responsible gun owners should know that it's just not safe to keep your firearm in a kitchen cabinet, closet or under your bed. But unfortunately, some gun owners choose to do the aforementioned. If you want to keep your children, thieves and other unaccessed persons from your firearms, and avoid a preventable fatality, you need to purchase a quality-made gun safe.
Get Great Guns and Ammo Deals!
---
Safe, Smart and Secure
Investing in a gun safe and using it properly is a smart way to know exactly where your firearms are at all times. And in the event that  someone breaks into your home, you need to be absolutely certain where that firearm is so you can retrieve it quickly. There's an abundance of gun safes in all shapes and sizes available on the market and there are plenty of options when it comes to quickly accessible safes.
Today, more and more gun owners are searching for fast access to their firearms. Quick access safes or bed safes, are offered to gun owners for peace of mind. Knowing that you'll be able to have your pistol in your hand at that split second is more reassurance than you would get from a traditional in the wall safe.
The amount of time you save in actually getting to your weapon in case of a break-in or stopping an unauthorized user from access, could mean the difference between life and death. Hopefully by now you're committed to purchasing a gun safe if you don't already own one.
Please keep reading and take a look at the Heritage safe company and two of their Fortress pistol safes …
---
The Heritage Safe Company
The Heritage safe company created the Fortress brand over 20 years ago and their concept was to produce a more affordable alternative to their higher-end safes. This private and local security company is known for their quality customer service and user-friendly reputable brands.
Headquartered in Idaho, the family-owned company offers top-notch products for home security, pistol security and heavy-duty gun cabinets.
The Fortress brand is a popular option for anyone looking for a safe on the light-duty side and less in price than many of the other well-known brands. By concentrating on the functionality of every safe and making sure it meets user demands and needs, the company is able to be extremely creative in the design of their secure and theft deterrent products. In addition, they will launch new products occasionally.
The Fortress Design
If you want to protect your pistols and firearms in a high quality and durable safe and not break your wallet, consider one from Fortress. The company takes great pride in producing their reputable safes to its wide customer network. Whether you need a large long weapon gun safe, a small biometric safes or a pistol box, you won't be disappointed with one made by Fortress.
Their gun safes come fully equipped with a recessed door, notched-bolt and steel bolts to secure your guns from anyone who should not be near them. A known innovator in the safe business, Fortress also developed the first home security safe that allows the user to program alarm settings and features a built-in interior light.
Another benefit that Fortress boasts is fire-resistant materials in their long gun safes to keep your firearms and valuables safe for up 1200 degrees Fahrenheit. But perhaps the top benefit to a Fortress safe is their simplicity in design. Fortress safes also come supplied with electronic programmable locks and a door organizer.
By owning a Fortress safe, you'll discover a great product with simply amazing value. You can use a Fortress safe for a variety of places — home, office, vehicle and even more. From small electronically locked home safes, to mobile safes and heavy duty gun cabinets to pistol lock boxes, each one is backed by a Fortress guarantee.
Please read on for my review on two of their pistol boxes …
---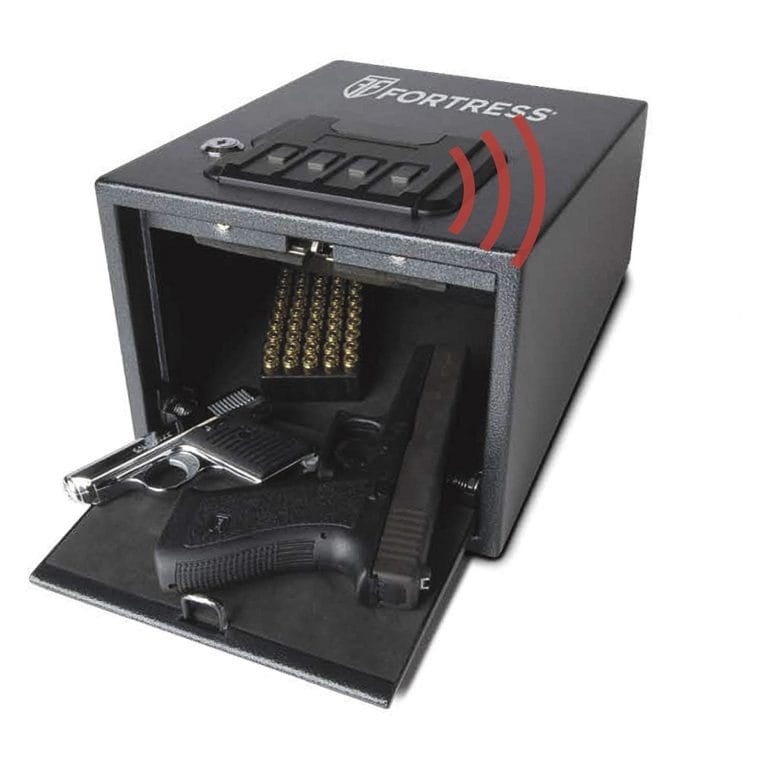 The Fortress Alarming Quick Access Pistol Safe, or the P2EA, features Alarm-U. This is a tamper and motion sensitive alarm that discourages theft and keeps your family safe.  The super quiet and speedy button keypad provides easy access to the safe's contents, which makes it simple and quick to retrieve your weapon in emergencies.
This Fortress safe features a sleek design and a programmable four-digit lock. With a spring-loaded drop down door, this bedside gun safe  is easy to use, easily accessible and extremely secure. Constructed of steel and able to hold two pistols, this quick access pistol safe is also DOJ approved. The only drawback is that the steel is not as thick as other brands, but the alarm is certainly loud enough to alert you if tampered with.
In addition, it offers a manageable e-lock and four-digit combination to be used. Measuring 9.1 inches x 7.3 inches x 12 inches and weighing in at ten pounds, it requires eight AA batteries that last around two years, depending on which batteries you use and how often you open the safe.
The alarm part can be easily turned off and this safe fits up to two pistols, leaving some place for other valuable belongings. In addition to the already mentioned features, the Fortress Quick Access Pistol Safe carries a 10-year product warranty and lifetime attack warranty.
Features/Specifications
Alarm-U
Tamper and motion sensitive programmable alarm
Theft alert
Super silent and fast keypad
Programmable electronic lock
Spring loaded drop down door for quiet access
Removable shelf
Two gun capacity
Heavy steel construction
California Department of Justice approved for gun safety
Dimensions: 7.3 inches H x 12 inches W x 9.1 inches D
Weight: 10 pounds
Color: Standard black
Lifetime attack warranty
Optimum pistol security
One-year satisfaction guarantee
10-year manufacturer's warranty
Check latest price on Amazon
The Fortress Alarming Quick Access Pistol Safe stays true to its name. It's smart, affordable and secure and offers quick and easy access to make it a credible choice for your most precious and valuable items.
It has enough room for two guns and is ideal for safe storage at home or office settings. And with the removable shelf, you have even more space for other items.
---
If you're not keen on having an extra large container that may weigh over 150 pounds, then this pistol box is the one for you. The Heritage Fortress Pistol Box is intelligently designed to keep your pistol secure and your family safe.
This pistol box is unique in that it's mobile — it offers versatile security on the go. Its compact size enables it to fit perfectly in a car for items other than a pistol, such as money and small belongings. And it can just as easily be kept in a drawer.
The Fortress Pistol Box is constructed of a solid steel body and a padded interior to protect against bumps and thumps. And there's no need to worry about someone walking off with your safe because it's fully equipped with a thick, Lock-it-Down cable system that can be attached to an immovable object.
This Fortress Pistol Box is a great choice if you're looking to keep your tablets, smartphones, wallets, jewelry and pistol, safe. Weighing just two pounds and offering a user-friendly combination lock, it also comes at a very affordable price. This no-frills, handy little pistol box gets the job done.
Features/Specifications
Foolproof fit for a standard pistol
Take it with you and keep it secure with the Lock-It-Down cable system
Reinforced cable is two times thicker than other cabled boxes
Quik-Lok Technology
Programmable dial lock
No keys required
Weight: Two pounds
Lifetime Attack Warranty
10-year warranty
One-year satisfaction guarantee
Check latest price on Amazon
---
Final Thoughts
For exceptional safety and security, the Heritage Safe Company continues to improve in bringing innovative designs and quality products to their customers. Never missing on functionality, user-friendly and space saving features, a Fortress brand safe is a wise choice.
This company prides themselves on customer satisfaction and by knowing that every gun safe and home safe they produce and sell, is made with quality materials. Whether you're safeguarding pistols or heirlooms, jewelry or keepsakes, the Heritage company has an affordable model for you.
A member of the National Gun Safe Coalition, the company is committed to public safety, public policy that protects children, and legislation that benefits the gun owner.
Related Reads: