Can you imagine how different human history could have been if we had never learned how to build and maintain a fire? It would be safe to say that at the very least, things would be different.
It would also be safe to say that in a survival situation, your chances of making it out alive go down dramatically if you are not able to get a fire started. Fire is everything when you're stranded out in the wilderness with little gear.
This is because fire represents warmth, safety, security, light, and even food and water. That's right, you may need fire in order to cook food or boil water to make it safe to consume.
All this is why having a reliable and dependable fire starting device is absolutely essential. One of the most reliable, and certainly the most convenient, ways to carry a fire starter is to carry a lighter. A lighter is something that you can carry in your pocket at all times as part of your daily EDC, so that even when you find yourself in an unexpected survival situation without any access to your survival kit, you still have the ability to get a fire going.
Let's talk about what you need in a survival lighter, and then the best survival lighters on the market to help you get started.
Get Great Guns and Ammo Deals!
---
What You Need In A Survival Lighter
When we use the term 'survival lighter,' we are not necessarily referring to cheap disposable lighters like the BIC lighters you can buy in the grocery store.
The reason why is because those kinds of cheap lighters only work most of the time, and you need a lighter that will work all of the time. There's a big difference there. Sure, cheap and disposable lighters do work.
But they may not work when you need them to most. You should hold the survival gear you purchase to a high standard if you value your life and want to stay alive during a true life-or-death survival situation.
Sure, BIC lighters and similar cheap disposable lighters may be economical, but you get what you pay for with a true survival lighter. In other words, treat it like an investment.
Reusable
First and foremost, your survival lighter should not be disposable. It should be refillable, meaning you can add more fuel to it after you run out. The idea here is that you only have to buy the lighter once and then you can use it for several years onward.
Durability
You should never use cheaply made products in a survival situation. Even though you will save money up front, you'll pay for it later when those items fail you. This doesn't just hold true for lighters, but for all other kinds of survival items as well.
It is extremely easy to break cheaply made lighters by dropping them or through general wear and tear. A durable lighter that can take abuse and continue to work is a huge advantage that could possibly safe your life.
Water Resistant and Wind Resistant
What is the main enemy of fire? That's right, water. For this reason alone, you should never accept a survival fire starter that is anything less than water resistant. This means that if you drop your lighter in a puddle or in the snow, or if you use it while it's raining outside, it must continue to work. Waterproof lighters or water resistant lighters are your friend.
In addition, you need a lighter that is wind resistant as well, meaning that it will create a flame that will continue to work even when it is windy outside. The best way to ensure that you get a lighter that is wind resistant is to purchase one that uses a direct flame, in contrast to cheap BIC lighters that will use an indirect flame.
Quality Fuel
There are many different fuel types that different kinds of lighters use, including the following:
Lighter Fluid: this is the type of fluid that is found in most cheap lighters such as BIC lighters. The downside to this type of fuel is it is rarely totally windproof and it is often wasteful, needing to be refueled often. But on the bright side, it is cost effective and highly available, meaning you can find it just about anywhere.
Butane: butane is superior to lighter fluid in that it is windproof. It also burns very hot and is, generally speaking, more reliable. Overall, it is a superior choice to normal lighter fluid.
Electric: electric lighters do not require any kind of combustible fuel, as they run on batteries. Some batteries are disposable, while others can be recharged by being plugged in. Between the two, the rechargeable types are definitely the superior option so long as they do not need to be charged a lot.
In summary, your survival lighter of choice needs to meet these criteria:
It must be reusable
It must be durable
It must be water resistant
It must be wind resistant
It must utilize quality fuel
You're probably wondering, what are some specific makes and models of lighters that meet this criteria? That's exactly what we're going to be talking about next.
---
The Best Quality Survival Lighters On The Market
Here are the best survival lighters on the market, presented in alphabetical order: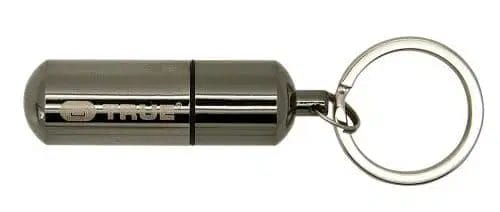 The True Utility Firestash Lighter is a miniature-sized lighter that is fully waterproof and easily portable. If you're looking for a lighter that you can easily carry on your person (such as in your pocket) everyday as part of your EDC, then this is definitely a good option. It can just as easily be thrown inside or strapped to the outside of a pocket as well.
This lighter is built out of a zinc alloy material with a dark chrome finish. Both of these qualities ensure that the lighter is highly durable and able to withstand abuse.
This lighter is also installed with a 20mm key ring that allows it to be easily attached to your keys (which makes it even easier to carry as part of your EDC) or by attaching to the hook on your backpack.
This lighter is waterproof because of the neoprene O-Ring seal that keeps the water outside of the canister. The O-Ring seal will also keep out air and moisture in the air in addition to water, while simultaneously preventing any fuel from seeping out.
This lighter is refillable, but no additional fuel is shipped with the product so you will have to buy it separately. Refilling the lighter is easy: you just need to pull out the lower part of the lighter, and then pour in more fuel before pushing it back in.
Advantages:
Extremely compact and easy for carrying as an EDC item
Comes with a key ring
Neoprene O-Ring keeps moisture and air out
Refillable and easy to refill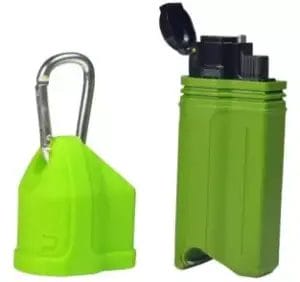 Despite weighing less than three and a half ounces, the UCO Stormproof Torch Lighter is very durable thanks to its silicon and ABS build. It also ships with an aluminum constructed carabiner that allows you to quickly and easily attach it to your backpack or belt.
But the real reason why this lighter is being included on this list is because it checks off all of the criteria that we set above. It is fully windproof, waterproof, and it is refillable. It uses butane as its primary source of fuel, though as with most other kinds of lighters, you will need to purchase the fluid separately.
The canister contains enough fuel for up to seven hundred ignitions. You can also adjustable the flame for height, so if you need more light or heat, you can adjust it accordingly so.
The adjusting would also come in handy for the wind where you may need a larger flame to keep it alive longer. The silicon lid ensures that this lighter is fully waterproof and protected from the outside elements.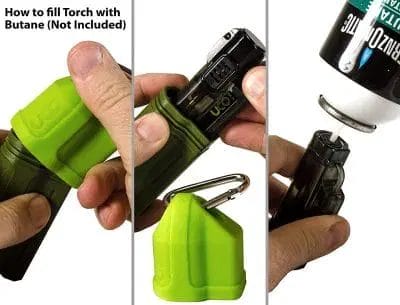 To refill this lighter, you just need to push in the fuel nozzle in order to release pressure, following by emptying out the fuel tank and then pouring more fluid in.
Advantages:
Silicon and ABS construction ensures durability and waterproof quality
Adjustable flame high
Flame is windproof
Easy to refill
Compact and lightweight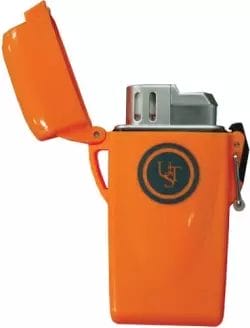 The first thing you will notice with this lighter, visually speaking, is the black or bright orange finish depending on the color that you choose. But of course, you shouldn't just choose a lighter based on its color alone. You need to choose a lighter based on its quality. Does the Ultimate Survival Technologies Floating Lighter deliver?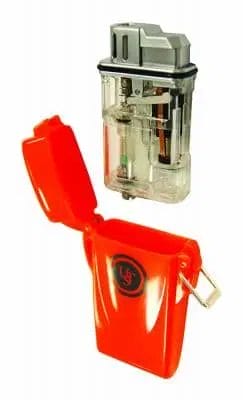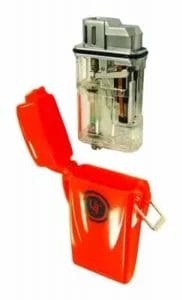 Well, this is a butane lighter that also comes installed with a Piezo electric ignition system as a back-up option. The electric system will last for over 30,000 ignitions and in virtually any weather conditions. The O-ring seal also ensures that outside air, wind, and moisture are all kept out. The locking clasp further ensures that this lighter is fully waterproof.
But as the name suggests, this lighter is also capable of actually floating on water, which is not something that most other lighters can boast of. This will be a major plus especially if you do a lot of kayaking, boating, canoeing, or other outdoor water sports and accidentally drop the lighter into the water.
The flame is also capable of resisting winds up to eighty miles per hour, which is simply incredible. Sure, chances may be low that you find yourself in wind speeds to that degree, but the fact that this flame will continue to work that well is definitely a major reassurance
Advantages:
Locking clasp and O-Ring ensures that this lighter is fully waterproof
Uses a butane fuel with a Piezo electric ignition back-up
Floats on water
The Zippo Matte Lighter is among the most popular lighters available on the market. The matte coloring on the outside is actually a bigger plus than you may realize, because it ensures that the texture is lighter in comparison to other materials on the market. Furthermore, the matte finish resists fingerprints and scratches easier as well.
This lighter comes in a very classic looking case with a flat bottom and rounded corners that makes it easy to hold and very portable to carry. The construction is entirely metal, and refillable.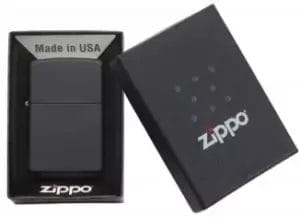 NOTE: it's imperative that you use Zippo branded flints, fluid, and wicks in order for this lighter to work.
The fuel will need to be purchased separately with this lighter, but the wicks and flints are shipped with it. The flame is also windproof, and the canister is very easy to refill with more liquid.
Advantages:
Matte finish
Flame is windproof
Canister is windproof
Compact build (great for EDC)
---
Conclusion
There is no question that a lighter of any kind is easily the most convenient fire starting tool there is. It's also important that you invest your money in a high quality lighter that you know is durable, reliable, waterproof, windproof, and easy to carry on you.
Any one of the four lighters that we have gone over in this article meets this criteria and will therefore be an excellent option for you.
Related Reads: