Tactical vests are an invaluable piece of gear to have in your personal protection setup. But beware, not all tactical vests are created equal.
There are several kinds of vests on the market, but today, we are going to be looking at, and reviewing our favorite kind of tactical vests; plate carriers.
Plate carrier vests provide you the most protection possible thanks to their ability to hold bulletproof metal or ceramic ballistics plates. As an added bonus, the majority of them also double as modular vests, allowing you to expand your load carrying capabilities.
Whether you are looking for your next plate carrier or this is going to be your first piece of body armor, we hope we can help make your decision just a little easier.
---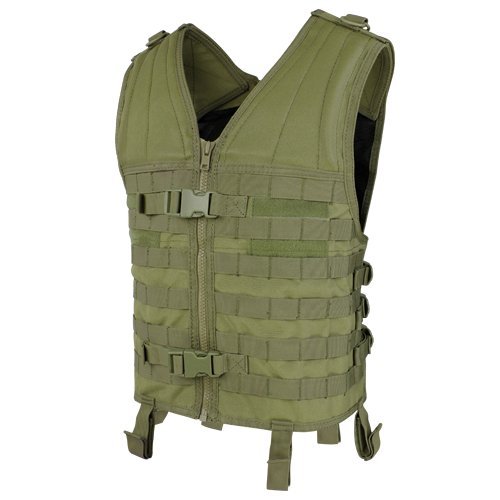 The Condor outdoor modular vest is a tactical vest that is all about keeping you safe while also helping you keep your best equipment at the ready thanks to its MOLLE-compatible design. The heavyweight MOLLE webbing covers the entire front side of the vest, giving you plenty of places to attach your gear.
The shock stop shoulder pads are padded and rubberized to keep you comfortable, while the mesh back pad provides you the ultimate in ventilation. Along the bottom of the vest, you will find hanging guides for your firearm or a duty belt.
The Condor Outdoor Modular Vest zippers along the front side and is further secured by two heavy-duty quick release buckles.
The Condor Outdoor Modular Vest accepts up to 10.25" x 13.25" plates on both the front and back pads and can hold  6" x 8" plates on either side.
Pros:
Lots of MOLLE webbing for all your additional gear
Hanging guides for a duty belt
Heavy-duty quick release buckles
Cons:
Mesh back pad is not the most comfortable
Is really small on most averaged sized men
---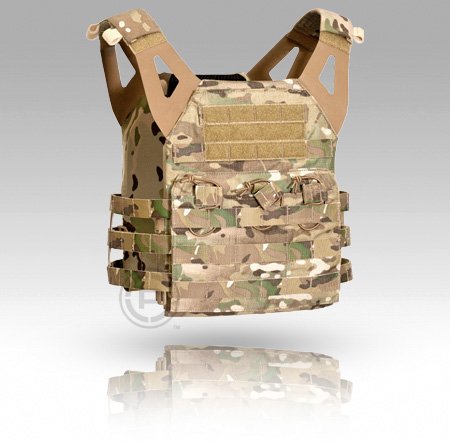 The Jumpable Plate Carrier (JPC) from Crye is a lightweight plate carrying vest that is designed to give you the maximum level of mobility, packability, and comfort you will find in any tactical vest on the market. And weighing in at just over one pound, the JPC vest adds hardly any weight to your total load.
One of our favorite features of the JPC vest is the Skeletal cummerbund system. This is a patented integrated attachment system designed to let you mount your pouches on both the inside and outside of the cummerbund. This system allows you to get rid of some of your total load weight and bulky profile, while also improving ventilation.
With the fully integrated administrator and magazine pouches found on the front of the carrier all of your ammunition and your sidearm are always easily accessible. No more fumbling around trying to get your pouch open. They are velcro secured and easy to get into when you are in a hurry.
In addition to all these great features, the carrier is completely MOLLE compatible and has a velcro chest pad.
The Crye Precision JPC plate carrier can hold up to 10⅛" x 13¼" ballistic plates.
Pros:
Revolutionary cummerbund system for carrying more gear
Fully integrated admin and magazine pouches
Velcro chest pad
Very lightweight
Cons:
Adding more items to inside of vest can make it very bulky
Shoulder pads are uncomfortable
Side torso MOLLE webbing is poorly integrated
---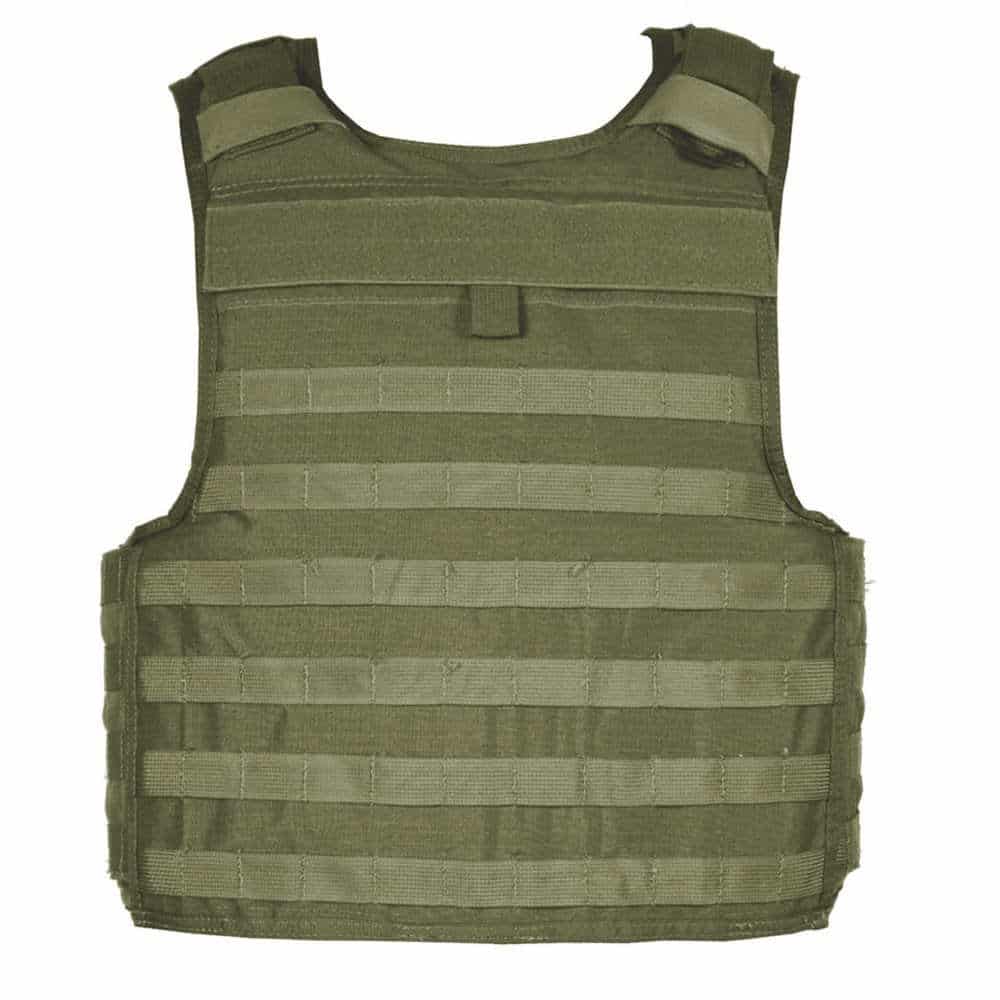 The S.T.R.I.K.E. Non-Cutaway Tactical Armor Carrier has more MOLLE webbing than you will probably ever need. With all of that webbing, you should have absolutely no problem packing on all of your modular pouches or other accessories.
It is constructed from 500D CORDURA nylon if you choose the MultiCam version, or from 500D ripstop, if you decide to go with a solid color version. We prefer the 500D ripstop nylon material as it is not only scratch and abrasion resistant, but also fairly water repellant as well.
If you need to slim down your profile just a bit or want the vest to sit tighter on your torso, there are adjustable waist and shoulder system for a more tailored girth and torso fit experience.
The Blackhawk S.T.R.I.K.E. accommodates up to 10″ x 12″ ballistic plates on both the front and back pads, with the option to expand to include side plates.
Pros:
Tons of MOLLE webbing
500D Nylon construction
Cons:
Does not include a quick-release cutaway system
Stitching could be more uniform and sturdy across the MOLLE webbing
---
How To Choose The Best Plate Carrier
When deciding on which plate carrier vest you should invest in, there are a few things you should probably consider first. Don't worry though, we have done most of the legwork for you already.
Below, we have rounded up just a handful of our suggestions to help you narrow down your search. Of course, there are a lot more things you may want to think about before making an investment in a vest, but these are the most important.
What Material Is It Made From?
Your gear is only as good as the materials that it is made from. And when it comes to a piece of gear that is designed to protect you from a possibly otherwise lethal gunshot, do you really want to skimp on quality?
Most tactical vests are made from a number of materials, most of which is a heavy-duty nylon. This is usually CORDURA or ripstop.
Apart from the main material that your vest is made from, you also need to pay attention to the stitching and the types of closures used. The stitching should be tight enough that it isn't going to come undone with a little rough handling, but not so tight that it is going to affect maneuverability.
To test out the stitching of vest, simply tug on the seams a bit. If the stitching looks or feels like it may be coming undone or loosening up a lot, it's time to look at a different vest. A little slack in the stitching is ideal but too much can spell disaster in the field.
As for the closures, such as zippers and buckles, they should be quick to release but hold sturdy at all other times. For zippers, look for YKK printed on them as this is the most trusted zipper used in tactical gear, and is of high quality.
How Many Plates Does It Hold?
Most plate carrier vests have more than one slot for your ballistics plates. They usually have one for the front as well as the back.
If you need a little more protection than what two full-size ballistics plates can provide, we don't blame you. You want the most protection possible, and for that, you need a plate carrier that has slots for plates along the sides of your torso.
Keep in mind, however, the more plates you add, the more you may be affecting your mobility. And that's not to mention the added weight to your load and increase in overall profile.
How Heavy is it?
Any body armor that is going to be carrying ballistics plates, whether they be metal or ceramic, are going to have a little weight to them. This is normal and it should be expected. But with all that weight to your total load, it is also bound to slow you down.
While there isn't really much that you can do about this added weight, you can certainly try to keep it minimal. If you don't need those extra side torso plates, don't get them.
You could also try to buy thinner ballistics plates if you think they will work okay for your personal protection needs. Still too heavy for ya? Try ceramic plates instead of metal.
Any small adjustments that can be made to decrease the load without disrupting the overall durability of the vest should be considered. Less weight equals more mobility.
How Well Does It Fit?
It stands to reason that if you are a larger person, you are going to need a larger plate carrier. If you are smaller, you need a smaller vest. And while this may sound very remedial and simple, it is also probably one of the most important aspects of your vest.
Your plate carrier should sit on your body firmly and remain snug. A little slack is fine but keeps in mind that the more room it has to slide around your body, the likelier it is that it will fail to provide you the maximum level of protection.
When you buy a plate carrier vest, you do so because you need an extreme level of body armor. So much so that it should be able to take the kick from a bullet, and leave you alive.
What happens when your vest doesn't fit snug is an entirely different story because you risk the plates being shifted from a gunshot which can leave you vulnerable.
Make sure your vest fits snug, with enough room for comfort, and you will be 10 steps ahead of the game.
---
Final Thoughts
In this review, we took an in-depth look at some of our top picks for best plate carrier vests and what we believe you should look for when picking out your vest.
In the end, we feel it's safe to say that it all comes down to personal preference, quality, and most importantly, functionality.
If we have left out a plate carrier vest that you believe should have made it on this list, feel free to leave us a comment below. We'd love to hear your feedback, and who knows, maybe we'll even find a few new toys to review in the future.
Related Reads: