When it comes to buying spotting scopes, the type of magnification or magnifiers, you need for hunting or shooting is of the utmost importance. While it may seem intimidating, it's certainly not impossible.
Most notably, red dot sight magnifiers are some of the most popular on the market today. By definition, they are tactical optics developed to increase the range of use of the popular red dot sights. In fact, there are dozens of models of red dot sight magnifiers available, most notably — the Vortex Magnifier VMX-3T.
Let's take a look at our top pick: Vortex Optics is a widely renowned manufacturer of sports and tactical optics, and their VMX-3T model is considered by many consumers the best Vortex magnifier on the market. With that said, have a look at our review at one of today's best-in-class magnifiers …
Get Great Guns and Ammo Deals!
---
Vortex has an undeniable reputation in the optics world with their high quality, affordable red dot optics. Their powerful VMX is a three power magnifier designed for a variety of various red dot optics. In addition, this particular model works in sync with Vortex red dots. The VMX-3T is user-friendly and easy to mount.
Featuring a design with a versatile length for eye relief and a 38-foot field of view at 100 yards, The VMX-3T is sleek, extremely simple and very functional. Offering a lightweight design at a mere 1.9 ounces, this optic won't weigh your rifle down. The VMX is fully waterproof and sealed with O-rings to prevent water and other debris from entering the optic.
In addition, the VMX magnifier is nitrogen purged to prevent fog from building up internally and the optic features multiple anti-reflective coatings on all air to glass lenses. The VMX-3T model can very well be considered the top Vortex magnifier on the market. Weighing only 11.9 ounces, this magnifier will not add much weight to your gear.
In addition, the VMX-3T is fairly compact, measures 4.3 inches in length, and has a diameter of 1.36 inches. To guarantee the optimal light flow, the lens system is fully multicoated.
This feature also increases the light transmission and greatly improves the condition of the image. The VMX-3T will not let you down, as Vortex optics are incredibly famous for their reliable lens systems.
Vortex Magnifier VMX-3T Features
On-Demand Magnification
Fully equipped with a flip mount
High-Quality Lens
3X magnification power
O-Ring Sealed
To make this instrument waterproof, Vortex built the magnifier with O-ring seals that prevent dust, moisture, and debris from getting into the tube. Because of this feature, the instrument provides the same performance in all types of environments.
Nitrogen Purged
Along with waterproof, dust and debris characteristics, the VMX-3T is also fogproof. Because of this, Vortex supplied the tube with nitrogen — so the gas can provide reliability to the lens system.
VMX-3T Specifications
An extremely important feature is the optical performance of this instrument.
VMX-3T boasts a 30mm objective lens to ensure ensures a wide field of view and great eye relief
Eye relief is 2.2 inches — field of view is 38.2 feet at 100 yards
Multi-Height Mount System
Vortex equipped this magnifier with a spacer shim designed to allow the use of the instrument at several different heights. You have the option to choose between a 1/3 co-witness height (40mm) and an absolute co-witness height of 37mm.
Pros
Bright light transmission
Easy to use flip mount
Multi-height system
Perfect for use with Vortex red dot sights
Durable construction
Cons
QD mount not available for this model
Here's some of the best 3X magnifiers on the market today …
---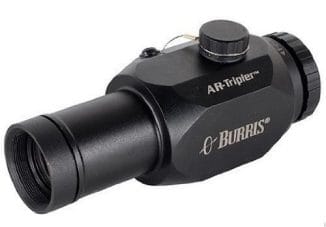 Burris Optics makes some of the most innovative optics in the world, such as …
Can add 3x magnification to any 1x or non-magnified optic
Pivot ring lets it easily flip to the side with the push of a button
Windage and elevation adjustments allow complete use of reticle images on partner optics
Available combo includes AR-Tripler and AR-Pivot Ring with Quick Detach
The Burris AR Tripler can work well on any weapon and it can also work with almost any one power optic. The Burris AR-Tripler is fitted to a ring as it allows the user to instantly pivot the magnifier in front of or away from an optic. And, the pivot ring ascends to the actual scope mount and will advance to a quick detach rail adapter.
Made from high quality construction, the Burris AR-Tripler also includes aircraft grade aluminum and perfect lenses. The 80 MOA of adjustment for both windage and elevation will enable you to easily dial in the magnifier for individual optics as well.
In addition, the complete combo system weighs a total of 12 very light ounces. Although the Burris AR-Tripler is pricey, it's an extremely premium product. If you're looking for an incredibly quality magnifier, this is one of the best 3x magnifiers for the money.
Additional Features
Mounts behind CQB optic
Field of view: 44 feet at 100 yards
Eye relief: 2.5 inches
Black matte finish
Check latest price on Amazon
Please keep reading for our reviews of some more of the best magnifiers on the market …
---
The EOTech G33 is the company's very own entry into the magnifier market. They have designed the optic to work in conjunction with a variety of different optics. This magnifier is a military grade optic that supplies a multitude of police and military forces around the world.
The G33 has some distinct improvements over the earlier Eotech G23 magnifier, as it's shorter and lighter, while at the same time it maintains the 3x magnification. The enhanced magnifier provides a wider field of view as well as an adjustable diopter for focusing adjustments.
Like all Eotech quality optics, the magnifier is remarkably clear and provides a consistent vision frame in a variety of light conditions. The G33's lenses are fully multi coated, fogproof and waterproof. Complete with an improved mount and quick detach lever to allow users to detach the optic with almost no effort, the G33 locks in a snap and features a slap to side mount.
In addition, the EoTech G33 can be adjusted for height by using modest and removable riser under the magnifier. This magnifier provides a clear sight picture and diopter to allow for instant adjustment to achieve the most precise sight picture possible. If you want the very best 3x magnifier, you may need to pay a little extra money, but you will not be disappointed.
Features
Holographic sight
Split-second transitioning from CQB to medium range targeting
Quick lock and easy detach lever for removal of optic and mount
Windage and elevation adjustments can be positioned by hand
Durable slap to side mount
2.2-inch eye relief
7.3 degree field of view
Check latest price on Amazon
---
The TMS Tactical Magnifier is one of the most affordable 3x magnifiers available today. And although it comes at a great price, it is certainly not cheap or flimsy. The TMS Tactical features elevation and windage adjustments to re-center the dot after adding a magnifier. This TMS Tactical Magnifier works extremely well with any standard AR red dot.
Featuring a 30mm objective lens, the TMS Tactical magnifier offers a rubberized coating to protect the optic from bumps, falls and accidental drops. With fully multi-coated lenses for an enhanced level of light transmission and pristine optical clarity. The TMS magnifier lenses also reduce glare.
A solid performer in low light conditions, the TMS also excels in daylight. As mentioned above, the TMS Tactical 3x Magnifier is available for a terrific price. It can also work in sync with other affordable optics such as Vortex, or the more expensive optics like Aimpoint. The TMS is undeniably versatile, affordable, and it absolutely delivers a terrific performance.
Features
Adjustable windage and elevation to center red dot without changing zero
Instantly converts a CQB red dot sight into a 3x long range sniping scope
30mm mounting tube
Fully coated lenses for supreme optical performance
Includes 90 degree FTS quick flip to side mount of 42mm center height
Check latest price on Amazon
---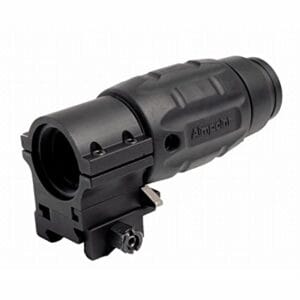 Aimpoint is a Swedish company who create and manufacture sighting technologies to allow  shooters to acquire their target quickly. In addition, these magnifiers were constructed to hit moving targets in all weather conditions — consistently and accurately.
Designed with the Aimpoint line of red dots in mind as well as a solid 3 power magnifier, the Aimpoint 3x features a tough waterproof body plus fully coated optics and a compact design. Combined with a flip to side mount, the Aimpoint 3x Magnifying Module is the perfect setup for hunting, competition shooting, or any type of tactical carbine.
It's no wonder there are more than 2 million hunters, sports shooting enthusiasts, and military personnel who use Aimpoint magnifiers worldwide! This one is a solid choice indeed.
Features
Tactical magnifying module
Specifically designed in conjunction with Aimpoint sights
Quickly changes from non-magnifying to magnifying
Can be used as handheld magnifying glass monocular
Measures: 1.7 inches x 1.6 inches x 4.3 inches
Weight: 7.1 ounces
20-millimeter objective diameter
Includes limited two-year manufacturer warranty for professional or competitive use
Ten year manufacturer warranty for personal or recreational use
Check latest price on Amazon
---
The Mako Group is a leader in manufacturing, marketing and distributing weapons accessories. Their 7x Magnifier is a unique one in the world of red dot magnifiers. Typically, many red dot magnifiers run about 3-4 power, but this 7x magnifier is intense.
In addition, each of Mako's pro-grade magnifiers are instantly compatible with EOTech, Aimpoint and other red dot and reflex sighting systems. They are precisely made to offer you the tools you need to significantly increase your accuracy.
Constructed with a 30mm optic tube for maximum light transmission and fully coated optics, the Mako is also waterproof and fogproof, and finished with a durable matte black finish. If you're looking for an exceptional magnifier with an incredible price and undeniable performance, the Mako 7x Magnifier is the one for you.
Features
Multi-coated lenses
Rubber armored
Nitrogen purged
Shockproof, waterproof, and fogproof
Heavy duty construction
Check latest price on Amazon
---
The NcSTAR company was founded in Southern California in 1997. Their mission is to consistently provide outstanding quality optics and sporting accessories at affordable prices. Dedicated to providing excellent customer service and performance of the highest standard in the industry, the company also offers a warranty that is sure to please.
NcStar also provides innovative and cutting edge optics and accessories, always stays on top of the latest industry trends and puts their customer's needs first. The NcStar 3x magnifier is constructed of rugged simplicity and is absolutely one of the best red dot magnifiers on the market today.
All you need to do is simply mount the magnifier behind your red dot and adjust eye relief to suit your needs. Like any high quality scope, this system features fully coated optics, three power magnification and is built to provide long lasting, rugged service.
If you've been searching for a budget magnifier, or just want a good solid magnifier at an affordable price, consider the NcStar 3x Magnifier because you won't be disappointed.
Features
Prismatic lens for a clear high definition image quality
Fully adjustable for elevation and windage to get your primary optics reticle centered in magnifier
Quick focus ring to get your primary optics reticle in focus
Prismatic lens for a clear high definition image quality
Fully adjustable for elevation and windage
Quick focus ring to get your primary optic reticle in focus
RB24 places the center of the 3x magnifier above the rail
30mm magnifier body diameter for compatibility with other mounting options
---
Final Thoughts
The magnifiers listed above provide a clear sight picture, but they shouldn't limit the clarity of your actual optic. A good magnifier should be easy to install and uninstall with ease. Why? You may need to quickly detach or attach the magnifier as situations and weather conditions change.
Likewise, the magnifiers should also remain lightweight and compact, because you don't want to weigh down your weapon when you start to add your attachments. Additionally, the magnifier also needs to be compact and lightweight because you may have limited rail space for mounting the optic and the magnifier.
Finally a magnifier with 3x should not affect your optic's zero — one also needs to remain the same with or without the magnifier. The best 3x magnifiers are an excellent addition to any weapon running a red dot optic and a 3x magnifier will provide a consistent and versatile amount of magnification for most ranges.
For tactical and law enforcement, the same ideas apply — a carbine with a red dot gives you the ability to quickly engage a target. And for ideal short range use, simply flip your magnifier over and you can take a more accurate or long-range shot. So, in conclusion you always want to carefully consider all of your magnifier options, read online reviews and make sure you choose one that suits your needs.
Related Reads: