Over the years, spotting scopes have been used for all sorts of recreational activities and events. Have you ever noticed that many of these activities such as hunting, general nature observation or birdwatching require you to locate very specific faraway objects?
In addition to nature observation and other specifics, target shooting and spectator (stadium) viewing also depend upon these requirements. And recently, birders have experienced a surge in snowy owls as a result of the falling mercury. In any case, if you're serious about your observations, you're going to need a serious optic, such as a spotting scope.
Spotting scopes deliver larger magnification capabilities than most powerful binoculars. In addition, many spotting scope eyepieces can produce magnifications of up to 60 times or higher. As such, the optical quality of a spotting scope can be the difference between a truly enjoyable outdoor adventure outing versus a tiresome and frustrating experience.
But not worry — whether you're delving into extreme long-range shooting or simply want to step up your game for observing birds and wildlife, a spotting scope can truly be a wise investment. As always with any optic purchase, be aware that you should avoid buying the first spotting scope you may find that comes with an attractive price tag.
Get Great Guns and Ammo Deals!
---
Research, Research and More Research
Before you spend your hard-earned money on a spotting scope or any other optic for that matter, you need to make sure you carefully research what's out there — check prices and read online reviews to find out the latest and greatest trends on the market. And lucky for you that you've discovered this review where we cover all the fine details of various models of spotting scopes available.
Furthermore, for this review, you'll not only learn what to look for in a spotting scope, you'll also discover some of the best spotting scopes for the money. And in addition, if your budget is a major concern and you'd rather not spend too much money on your spotting scope, we have quite of few for you to check out.
So, let's get right to it and offer you some very handy tips for when you decide to shop for that perfect spotting scope for your needs.
---
How to Choose a Spotting Scope
If you're like most of us, questions will begin to run through your mind. How do you know what the right scope is for you? How much money should you spend? While some outdoor enthusiasts may narrow it down to their budget, others go straight for the features, such as glass, magnification or angled body versus straight body.
If you tend to stray from the norm, you may prefer to choose a spotting scope strictly by its weight and size, as well as for its recommended use. If you fall into this category, look no further. With this buying guide — chock-full of information and suggestions, you'll know exactly how to answer these questions by the time you decide to buy a scope.
If you consider that some of the best spotting scopes in the nation and the world, have exuberant price tags, it might be best to narrow down a scope to one that you can afford. While everyone has a different budget to work with or whether you're limited to spending $100 or less, there is surely a spotting scope that will suit your needs and your budget.
With that being said and with much research on some of the best optics out there, have a look at a complete list of spotting scopes that we here at Gun News Daily consider some of the best in their price category. It's very true that a large part of the cost of your spotting scope is highly contingent upon the features it has, such as the power of magnification.
Magnification
When it comes to magnification, there are certain aspects to consider such as low power, high power, fixed or zoom lenses. It can be difficult to choose, but it's wise to pick one that maximizes your power settings.
With magnification, it's safe to say that not all specifications are created equal. For example, a 20-60×80 may not be as powerful or as far-reaching as one that is smaller. On the other hand, high powered spotters are very convenient for when you need a precise view on that far away object.
Aperture/Objective Lens Size
As a new spotting scope consumer or a veteran, you should know that the larger the objective lens size, the more light-gathering capability your spotting scope has. But, where to start when it comes to choosing between the most common sizes, such as 50mm, 60/65mm, or up to 80/82mm?
Regardless of how long you've been using a spotting scope, you should always begin with accessing the priorities of your hunting style. Then, consider the pure size and weight that a larger objective lens may heap onto the overall spotter. For most hunters and even bird watchers, either a 60mm or an 80mm aperture are the most preferred sizes.
Best Quality Glass
Magnification power has a great deal to do with the clarity and reach of a spotting scope. The quality of glass actually plays a pivotal role in the glass more so than anything else. High powered spotters that neglect the quality optics to provide a clear and magnified image, are more or less a waste of money.
Eyepieces
When it comes to choosing an eyepiece, consider if an interchangeable eyepiece system is for you. With interchangeable eyepieces, you can change the power range from a zoom setting to a fixed.
Many high-end spotters don't include the eyepiece in the scope purchase, which means you'll have to buy it separately — this can become rather costly. If you have the funds, you might want to up your budget if you desire the versatility an interchangeable eyepiece system provides.
Angled vs Straight
Choosing between an angled or a straight body will come in first under your list of considerations when you're ready to invest in a spotting scope. Factors such as, what are the advantages of one style over the other? And, will you need to share your optic with others while in the field?
Choosing a spotting scope doesn't have to seem like you're venturing into foreign territory. With a little of the right information from the right reviews, you'll soon know exactly what you want in a spotter and specifically, how you will use one.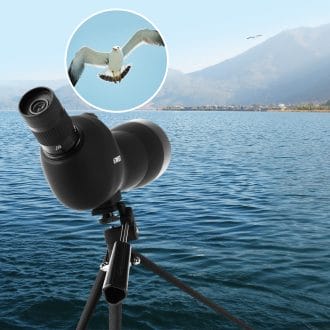 All hunters with different skill-levels can easily use a straight spotting scope. But, they're especially user-friendly and intuitive for new users to spotting scopes because it's easier and faster to spot and track moving targets.
The rule of thumb is to use a straight spotting scope for hunting and target shooting. Straight scopes will prove especially convenient if you regularly hunt and shoot from tree stands, blinds or from car mounts. In addition, they also work well for nature observing and bird watching.
Angled spotting scopes usually have the eyepiece at a 45 degree angle to the scope body. They are best used for hunting, birding and casual astronomy use. Angled spotting scopes are quite versatile for all-around, general use.
Whether angled or straight, not to fret … with our research and comparisons of different brands of scopes, you'll find everything you need to know to make the most well-informed decision. We don't want you to make the mistake of buying a lemon or the very first one you see. Read on for our best spotting scope picks for the money …
---
Which Brand to Choose?
Many companies are very well known for creating and producing affordable optics for the everyday hunter, birder or hiker. Yet still other companies are simply best-in-class when it comes to price tags that are well above the average budget of today's hunter.
Nevertheless, each of these brands do have something in common — they're some of the best in the world at manufacturing high-quality, affordable spotting scopes.
Barska
The Barska brand is one of the most reputable names in the tactical and hunting optics industry and they've been around for quite some time. With distribution in over 40 countries, Barska delivers optics for the avid hunter as well as the enthusiastic birder.
The Barska name offers a variety of in-stock and fine low budget prices — plus their name stands behind their workmanship. Let's take a look at one of their very affordable spotting scopes …
The Barska 20-60×60 Zoom sports fully coated optics, which are capable of passing visuals below the 60x zoom limit. And you can use this scope to sight bullet marks up to 300 yards for a wide range of bullet calibers, but this applies only to high-contrast targets.
Offered at a very affordable price, the Colorado's optics are housed in a robust, lightweight body with rubber armoring that can stand against bumps and drops in the field. In addition, it's fog proof and waterproof, so weather conditions will not get in the way of your sightseeing or birding.
On the other hand, this scope lacks via a restricted eye relief (13mm maximum), so it may be rather tough for those who wear eyeglasses. The FOV range of 114-50 feet is also pretty generous for the price of this scope.
The budget nature of this scope means there's some complaints about the manufacturing defects. But not to worry — Barska's limited lifetime warranty policy will have your back should something be defective with your spotting scope.
Pros
Extremely budget friendly
Lightweight construction and durable
Limited lifetime warranty
Cons
Somewhat grainy visuals at 60x zoom setting
Minimal eye relief
Features
Powerful and precise zoom
20-60x magnification range
60mm objective diameter
13-11 mm eye relief
Lightweight composite body with rubber-armored housing for durability
Includes a soft carrying case as well as a tabletop pan-head tripod for stable viewing
Imported
Check latest price on Amazon
---
Celestron
Celestron is a telescope optics giant that also caters to the hunter and nature enthusiast. For decades they have been providing entry level optics and their spotting scopes are a fine example of their reputable work.
This spotting scope may not be an exact budget scope because it's more expensive than other budget models, but the Celestron Ultima 80mm is still one of the best choices on the market. What's great about this scope is that it can also be used for popular applications.
With a rather significant 80mm objective over the typical 50mm and 60mm options available at lower prices, the Celestron 80mm manages to provide an honorable image even at the highest zoom.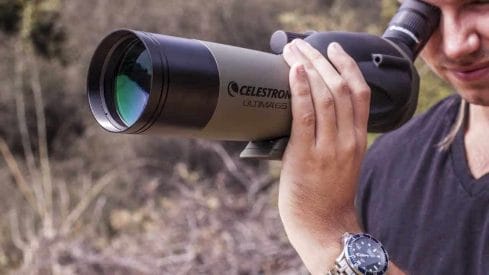 The Celestron 80mm Ultima also features waterproof controls which allow you to use it in less than favorable weather conditions, although there is a bit of a tight eye relief. Lucky for you, the limited lifetime warranty from Celestron will ensure a replacement if you end up with a product you are not happy with — but this usually doesn't happen.
Pros
Great for casual astronomical observation
Strong, waterproof construction
Limited lifetime warranty
Cons
Limited eye relief
Chromatic aberration
Features
80mm refractor spotting scope
Multi-coated optics
45 degree viewing angle
20-60x zoom eyepiece
Waterproof
Includes soft carrying case
Limited lifetime warranty
Amazon's choice!
---
The Celestron Landscout is another low-cost, lightweight spotting scope designed to be an easily portable optic for people who don't want to be bothered with taking care of an expensive spotting scope. Boasting a generous 60mm objective diameter plus multi-coated optics, this scope is able to yield bright images suitable for most bullet mark sightings up to 300 yards.
On the other hand, optical limitations with this scope are  apparent due to its low 36x magnification cap. In addition, you won't be able to use it for mainstream spotter applications such as astronomy, long range hunting or observing birds.
The construction of the Landscout is quite decent for a budget-friendly optic. With a non-slip rubber focus ring to make it simple to zero in on your subjects, this scope also features an integrated tripod mounting collar which can be rotated to modify the viewing angle to suit your needs.
The Celestron Landscout also sports a low zoom limit, which means a decent FOV (field of view) range. But the restrictive 18-14mm eye relief may create problems for those who wear eyeglasses.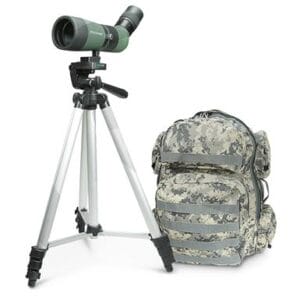 In addition, there are some consumers which have complained of less than desirable focusing and abnormal blurriness as well. But, considering the price of this product, it's really not an issue if you know this ahead of time.
Just like its sibling, the Ultima, the Landscout comes with a limited lifetime warranty. And to be clear, this scope performs with an extremely reliable core performance and is truly a great value at a price for just under $100.
Pros
Inexpensive
Lightweight, compact design
Easy focusing
Adjustable tripod collar
Cons
Restrictive eye relief
Not for long range spotting scope applications
Features
Fully coated optics
Compact, lightweight design
12-36x magnification range
60mm objective diameter
18-14mm eye relief
Rotating tripod mount
Large focus wheel with rubber grip
Limited lifetime warranty
Check latest price on Amazon
---
Featuring 20-60x60mm fully multi-coated optics, and a sturdy waterproof and fogproof design, the NcStar High Resolution Spotting Scope negates its very cheap cost. The 60mm objective diameter coupled with a multi-coated lens yields surprisingly crisp and bright visuals for a perfectly priced product even at 60 times magnification.
With a rubber-molded body, the NcStar spotting scope comes fully equipped with a soft carrying case, so you can take it with you on outdoor excursions and not be concerned about bumps and bruises it may experience along the way.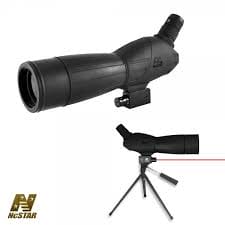 But with every budget product, you'll probably have to deal with limited FOV (field of view) and eye relief, which may prevent the scope from being used for extended periods of time, in addition to wide landscape viewing.
The NcStar High Resolution Spotting Scope manages to bypass no complaints from consumers about the scope itself. When considering the limited lifetime warranty, this is still quite impressive for such an affordable product. And with its minimal faults, this is one of the best spotting scopes under $100 that you can find.
Pros
Affordably priced
Sturdy, weatherproof construction
Limited lifetime warranty.
Cons
Restrictive FOV and eye relief
Features
20x-60x magnification
60mm objective lens
15.5-13 mm eye relief
Built-in sliding sunshade
Nitrogen filled and O-ring sealed
Fully multi-coated lens for maximum light and clarity
Black rubber armored body
Built in sunshade for decreased glare
Includes a custom soft carrying case
Check latest price on Amazon
---
Simmons is a preferred brand when you really want an affordable, practical and intuitive optic. If you're low on funds, do you seriously want to compromise on optical size and performance? If you're not and somewhere in between, don't worry, Simmons is the brand that can get the job done — all at an affordable price.
You can trust Simmons. Why? Simply because they offer low budget optics, partnered with a fine reputation on a higher level than other brands. The Simmons ProSport 20-60×60 spotting scope has BK7 glass prisms, fully coated optics and super magnification ranging from 20-60 times. It's also completely weatherproof and fully wrapped in rubber armoring.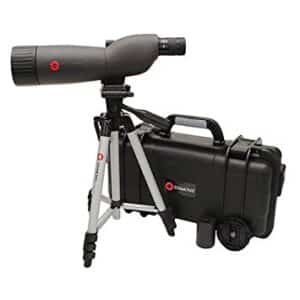 This model currently has a solid base of thumbs-up reviews online, while it boasts an above average rating. For a spotting scope under $100, this rating is well-deserved and is the reason we gave it a top choice on this list of best spotters in this affordable price range.
Simmons may not be considered a top of the list brand, but they've been making hunters and birders happy for many decades. If you're looking for an optic that checks all the boxes without being overly priced, Simmons Optic should be one of your first choices.
Pros
Affordable price
Elevated power
User-friendly
Durable and fully weatherproof
Compact design and lightweight
Cons
Not digiscope adaptable
Tripod quality could use improvement
Features
Quality optics with stunning HD clarity
100% quality materials tested extensively
Handsome design with durability built to last
20 to 60x magnification and 60mm objective lens spotting scope
High-quality BK7 prisms with fully coated optics for bright, sharp images
Rugged non-slip rubber armor to absorb shock and provides a firm grip if wet
100 percent waterproof and fogproof with built-in sunshade for glare reduction
Comes fully included with tripod, soft carrying case and premium hard-shell plastic case
Check latest price on Amazon
---
Fully multi-coated optics and an 80mm objective lens delivers excellent light transmission even when it gets a bit dark, with the Gosky Porro Prism Spotting Scope. And speaking of precise light transmission, users have reported being able to sight in and take photos of lucid shots of the moon with this scope at 60x zoom.
For the every-day user, it means that this scope is a completely reliable budget scope that can be used for hunting, bird watching, photography and even amateur astronomy. The body of the Gosky 20-60×80 Porro Prism Spotting Scope is made from durable, corrosion resistant alloy and is covered by a rubber armor. It can be used in tough outdoor conditions, especially since it's also fully sealed to make it waterproof.
A great perk about this scope is that  it comes with a digiscoping cell phone adapter that can be used by outdoor enthusiasts to create impromptu videos of wildlife and target practice or simply just roaming along the trails.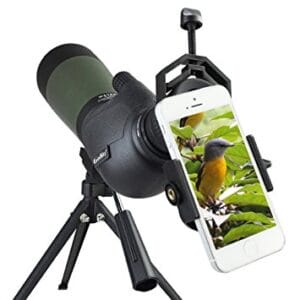 Typically, the feedback from users has been positive, with only a few complaints regarding less than par visual performance — most likely from consumers complaining about poor visual performance. In addition, the Gosky manufacturer always stand behind their products and offers no charge for defective units. The Porro Prism is an all-around solid choice.
Pros
Great price
Clear and bright long range visual output
Substantial field of view
Durable and waterproof construction
Excellent customer support
Cons
Features
Fully multi-coated 80mm objective lens
Eyepiece and quality prism included
Delivers clear, crisp images
20x to 60x magnification range
Dynamic lens focusing system for easy zoom-in on target
Designed for birdwatching, wildlife observation and scenery
Shock-absorbing rubber armor makes for maximum protection
Waterproof design
Equipped with digiscoping adapter for digiscoping and carrying case
Equipped with stretchable eyepiece and lens protection covers
Includes cleaning cloth and straps
Check latest price on Amazon
---
Final Thoughts
While the market offers a number of budget spotting scope especially for beginners, it is best that you understand your overall needs and preferences beforehand. As you have read in this article, we have reviewed some of the best spotting scopes for the money.
Most people assume that spotting scopes are expensive. While this is true of most spotting scopes, you will be glad to know that you can get a great spotting scope for the money without compromising on quality.
Before you invest in a spotting scope, your best bet is to ask yourself a list of questions and concerns. For example, if you take into account a spotter's performance in various weather conditions, coupled with the price of the spotting scope, you will be able to get the exact features you desire in an affordable spotting scope.
While all of these spotting scopes are terrific for the price, if we had to choose, our favorite would be the Gosky 20-60X 80 Porro Prism Spotting Scope. It's a very well-rounded optic and at the same time, extremely tough and durable … therefore it's our top choice for the best spotting scope for the money.
If the Gosky model isn't for you, not to worry — each of the reviewed spotting scopes are all very good picks for your money. In addition, it really comes down to how much you are willing to spend.
Nevertheless, every one of the spotting scopes we have reviewed are constructed of exceptional quality, durability and extremely affordable pricing. The choice is yours!
Related Reads: