The 1911 has been an iconic handgun platform since the dawn of the 20th century. The .45 ACP is a monster of a pistol round, designed with enough stopping power to bring down calvary and drug crazed combatants.
Now times have changed, a handguns stopping power is no longer limited to heavy pistol rounds. You can find many pistol rounds, such as the 9mm, with high velocity powder loads that have enough stopping power for a variety of situations.
Now take that same 1911 and shrink it to a subcompact weapon designed for concealed carry, the Kimber Micro 9 and the Sig P938 are two excellent options if you're comfortable with single action handguns. The only question remains, which one is better?
For the most part, it's a subjective matter, but choosing a weapon for concealed carry weapon, you have to be sure to choose the best one for you. So keeping that in mind, let's take a look at both and make the decision a little easier.
---
Kimber Pro 9
The Kimber Micro 9 is a 9 millimeter adaptation of the Kimber Micro model, a miniature 1911 chambered in .45 ACP. The advent of a micro 1911 is nothing new. In the early 1900's, officers in the US Military once carried a miniature Colt 1911 chambered in .380.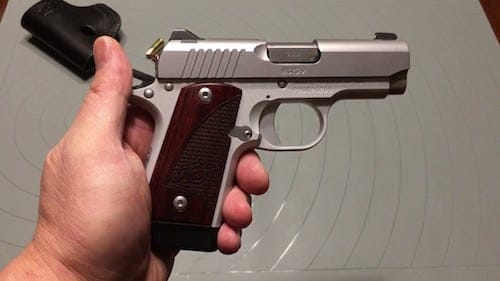 Colt never made a miniature 1911 in 9mm, but Kimber's Micro 9 is ideal for concealed carry options since the 9mm is optimized for engaging a number of threats.
Kimber Micro 9 Specifications
The Kimber Micro 9 is tiny, coming in with a 3.15" barrel, a height of 4.01", a length of 6.1" and a width of 1.06" at the thickest part of the slide.
Empty, the weapon weighs 15.6 ounces. Magazines have a standard 6 round capacity with one in the chamber and an extended model with a 7 round capacity, which also has an extended base plate that provides an inch or so of extra real estate you wouldn't usually have with the standard magazine.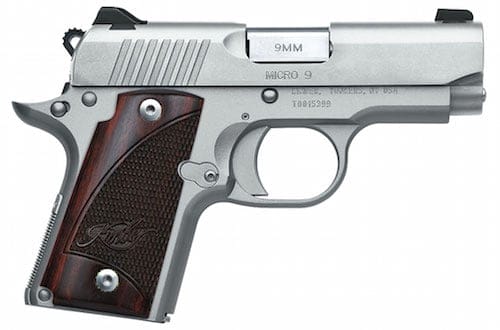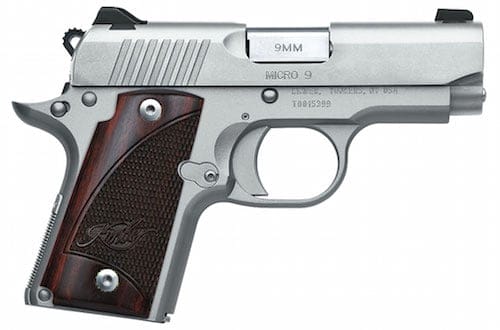 The Micro 9's safety features are what you'd expect from a typical 1911, a beavertail safety and conventional thumb safety. If you do opt to carry a 1911, make sure you take the time to learn how single action handguns operate.
Single action handguns won't fire until you chamber a round which will cock the hammer, or if you carry a round in the chamber and cock it when you prepare to fire. The thumb safety won't operate unless you cock the weapon so you have a few options with how you choose to carry a Micro 9.
The overall appearance of the gun is the typical sleek Kimber fashion. You have a variety of finishes to choose from, as well as a number of added accessories such as night sights and crimson trace laser grips that are built into the hand guard.
Pros
Designed based off of a proven model with over a century of use in environments worldwide.
Kimber is a high quality weapons manufacture.
Micro 1911 frame in 9mm.
Comes in a variety of finishes and accessories.
Cons
May have a slight learning curve due to it being single action.
Limited magazine capacity.
Expensive.
---
Sig P938
In terms of relative size, the Sig P938 doesn't fare much different from the Kimber Micro 9. Barrel length is marginally shorter coming in at 3" with a height of 5.9" and a with of 1.1" at the thickest part of the slide. The P938 weights a little more than the Micro 9, weighing in at an even 16 ounces.
Like the Micro 9, the P938 comes with a standard magazine capacity of 6 rounds with one in the chamber but there are optional 7 round capacity magazines which also feature an extended base plate which is ideal for concealed carry holders with larger hands who need a little extra grip to comfortably seat the weapon in their hands.
The safety features don't differ from the standard 1911 safety features, a beavertail safety and a thumb safety selector switch, the only difference between the Micro 9 and P938 is the fact the Micro 9's safety selector switch is ambidextrous whereas the P938's safety selector switch is right handed only.
The sights come standard with night sights, which are often an added feature and comes in a variety of finishes and with a large selection of accessories such as grips, engravings, and so on, but be prepared to spend a few hundred dollars more if you elect for any bonus features.
The trigger pull is comparable to the Kimber's pull of seven and a half pounds when the trigger breaks, just be sure the weapon is cocked beforehand of course.
Pros
Sig is also a very reputable and tested manufacturer.
Lightweight 1911 platform chambered in 9mm.
Comes stock with night sights.
Cons
Limited ammunition capacity.
Right handed safety only.
---
Kimber Micro 9 Vs. Sig P938
Apples to Apples, the Sig P938 Vs. Kimber Micro 9 are basically the same gun. From the physical specifications to the operation of the firearm, the two weapons are nearly identical.
Rather or not you are proficient in the operation of a single action handgun should be the largest determining factor before deciding between on or the other. 1911's and their micro counterparts are very different than the ever popular point and shoot striker fired polymer handguns.
Once you're comfortable with single action guns, you ought to take the thumb safety differences, the Micro 9 has a thumb safety while the P938 does only has a right handed thumb safety.
If you're a left handed shooter, you ought to opt for the latter since 1911's are fairly complex while shooting off hand.
Both pistols are excellent in terms of performance, it all comes down to personal preference and ascetics. Both are easy to conceal and each have their own accessories, it all comes down to you.