The company known as Sig Sauer has been a leader in the firearms manufacturing segment worldwide for well over one hundred years. Originally, the organization was created in 1853 in Switzerland and soon the name changed to Schweizerische Industriegesellschaft (German for Swiss Industrial Company).
To this day, Sig Sauer is one of the most distinguished competitors in the firearms industry.
Get Great Guns and Ammo Deals!
---
SIG Sauer History
In the 1970's the first handgun ever produced by the company was the SIG P220. By 1985, SIGARMS ventured into the United States and ended up in Virginia. In 1990, the company moved and headquartered in New Hampshire and changed their name to what we know today — Sig Sauer.
The company was already a well-known producer of pistols and handguns and were ready to add rifles and Hammerli target pistols and rifles. This leap allowed Sig Sauer a place in not only the military market but the consumer area as well. Furthermore, the company takes pride in various divisions, including military, commercial, law enforcement, and worldwide.
Last but not least, the SIG SAUER Academy, also located in New Hampshire, supplies firearms and tactical training for many businesses and organizations which require special training. Complete with multiple shoot houses and a public shooting range, the academy is housed on a vast area and is an accomplished establishment.
---
Sig Sauer P365 Review
The Sig P365 was unveiled at the SHOT show in 2018. As for size, the P365  is a very small gun. It's most commonly used for concealed carry and it's pretty popular to boot. In addition, this CCW is comfortable, user-friendly and a breeze to carry. In all, it holds 10 rounds plus two ten-round magazines.
Moreover, this nifty little gun includes a 12-round factory edition magazine which adds a bit more length. Nice little perk! Incidentally, you'll get two times the capacity as compared to the G43 – Glock. Not bad.
The advertising on the part of Sig Sauer is quite impressive and they boast that the P365 is a 10 plus one. While this is accurate, some users have claimed that it's quite difficult to load. The P365 has awesome sights too. For example, the first sight sports steep visibility both for daytime and nighttime use.
This front sight also includes a perfectly visible green ring over a tritium flask. In addition, the sight in the back boasts a couple of tritium flasks and features an indentation to lessen the glare in super bright surroundings. Plus, it's rated for +P 9mm Ammunition.
---
P365 Vs Competition
It's very true that the market for concealed carry weapons is growing every day. And with schools now in session, most notably universities, the debate over concealed carry continues.
Yes, the smaller guns are easy to carry and portable, provided you possess a concealed carry permit. So the question begs, which one to carry on your person? Let's take a look at some of P365's competition, specifically the 9mm. First off, we have the Glock 43.
Glock 43 / Sig Sauer P365
The Glock 43  is more or less the same size as the SIG P365. However, it carries a total of ten plus one round of 9mm. This 9mm is a single stack that sports a simple and easy design. The Glock 43 sports a six-round capacity as compared to the P365's 10-round magazine (with an optional additional 12-round capacity – slightly longer).
The main difference between the two guns is the barrel length. The Glock 43 boasts a longer sight radius, but not by much — about ⅛ of an inch. In all, the Glock 43 is square but just as comfortable in the hand as the P365. Both guns feel great.
P365

Width: 1 inch
Length: 5.8 inches
Height: 4.3 inches
Weight: 17.8 ounces
Barrel Length: 3.1 inches
Capacity: 10+1
MSRP: $599

Glock 43

Width: 1.02 inches
Length: 6.26 inches
Height: 4.25 inches
Weight: 17.95 ounces
Barrel Length: 3.39 inches
Capacity: 6+1
MSRP: $449
Walther PPS M2 / P365
The Walther Arms PPS M2 has a very modern design plus more of a traditional American magazine release, with a rounder grip and reduction of rail. It's a compact, slim profile handgun and it's housed in a versatile frame for all types of gun users.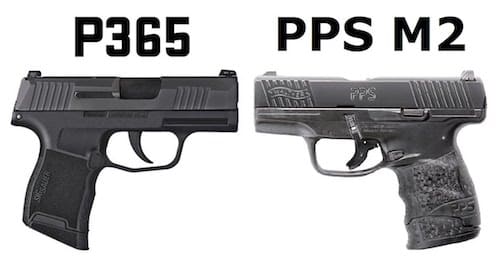 P365

Width: 1 inch
Length: 5.8 inches
Height: 4.3 inches
Weight: 17.8 ounces
Barrel Length: 3.1 inches
Capacity: 10+1
MSRP: $599

Walther PPS M2

Width: 1 inch
Length: 6.3 inches
Height: 4.4 inches to 5.3 inches
Weight: 21.1 ounces
Barrel Length: 3.18 inches
Capacity: 6 – 8+1
MSRP: $379
Smith & Wesson Shield 2.0 / P365
The Smith & Wesson Shield 2.0 is one of the best in the industry that manufactures single stack frames. Just like it's competitor, Sig P365, it's small, very affordable, and a solid choice for concealed carry. The Shield's grip is made of quite a rugged texture, which is great for enhancing your shooting control.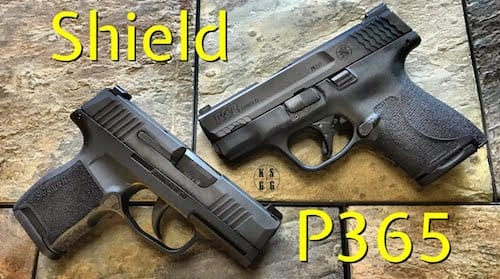 In addition, its trigger offers a lighter trigger pull with a natural aim on the grip angle for maximum accuracy. Lastly, it's housed in a hardened nitride finish to repel corrosion. There really aren't any cons associated with the Shield 2.0 — it's thin, lightweight and the ideal compact to carry on a daily basis.
P365

Width: 1 inch
Length: 5.8 inches
Height: 4.3 inches
Weight: 17.8 ounces
Barrel Length: 3.1 inches
Capacity: 10+1
MSRP: $599

Smith & Wesson Shield 2.0

Width: .99 inches
Length: 6.1 inches
Height: 4.5 inches
Weight: 20.8 ounces
Barrel Length: 3.1 inches
Capacity: 7+1, 8+1
MSRP: $399-$549
Glock 26 / P365
Compared to the P365, the Generation 4 Glock 26 is loved by shooters. It's a 9mm subcompact double stack gun. Just like the P365, it's ideal for a concealed carry weapon. Also known as the "Baby Glock," this fourth generation brings with it radical design changes.
Complete with roughly textured technology, the Glock 26 also features a dual-recoil spring assemblage that greatly increases its overall life. Finally, its large reversible magazine quite easily accommodates both right- and left-handed users.
P365

Width: 1 inch
Length: 5.8 inches
Height: 4.3 inches
Weight: 17.8 ounces
Barrel Length: 3.1 inches
Capacity: 10+1
MSRP: $599

Glock 26

Width: 1.18 inches
Length: 6.41 inches
Height: 4.17 inches
Weight: 21.17 ounces
Barrel Length: 3.1 inches
Capacity: 10 – 33+1
MSRP: $399-$549
---
P365 Function
The Sig Sauer P365 is extremely functional and boasts a really comfy grip. The nice trigger guard enables you to have the fullest grip possible. Like most small-sized guns, they can be difficult to handle. Not the case with the P365, it offers an incredible amount of control thanks to the palm swell.
Additionally, the P365 is very user-friendly, as its controls allow the user an easy reach. And because it's so comfortable to use, shooting the P365 is really fun! The magazine release features an 'under the radar design' and is also three-sided. Compared to the pistols mentioned above, the trigger on the P365 is like no other.
With its clean break and accuracy, plus its tangible reset and stock trigger, it's superb, to say the least. Plus, you're going to love the pinky extension if you have large hands.
P365 As Concealed Carry
We know by now that the P365 is a small gun. But because of the fact that it's extremely comfortable, you won't even know it's tucked in its awesome holster. As far as concealment, this one is a gem. When it comes time to draw your gun, you'll be well armed.
---
Sig P365 Ammunition
Rounding up this review is a bit on the Sig P365 Ammunition. This type of ammunition is created by design for smaller guns plus any 9mm pocket pistol. With its super light recoiling and reduced flash powder, it's a steal for $16. And, it's available in training and defensive options.
Let's take a look at the training ammunition specs: 115-grain FMJ as compared to the defensive 115-grain JHP. Except for the projectile, the rounds are the same and the cartridges are weighted on duplicate machines. Each of these rounds offers the exact recoil, point of aim, and muzzle rise.
And, the best part about the ammo is that you can effortlessly change between both ammo. The downside? The P365 ammunition is not often available on the shelf. In fact, it's harder to get than the gun itself.
---
P365 Reliability
The Sig Sauer P365 and both types of ammunition are extremely reliable, well made, and easy to use. Various users have testified to no issues as far as magazine failures, jams, or ejects.
P365 — Is It Worth The Money?
In a nutshell, the answer is yes. While the price is steep ($599) for some, you can actually get this little gun from a local dealer for around $499. Yes, the P365 itself and magazines ($35-$48) are priced higher than its competitors.
Ok, so the magazines are expensive as well, but consider the fact that they are top shelf, reliable and extremely well made. In the end, the choice is yours, but I'd rather invest in a reputable product than a cheaper copycat version.
---
Conclusion
As predicted, the Sig P365 is by far the favorite among gun enthusiasts. It's easy to carry, fun to shoot and packs nicely as a concealed carry. With no slide bite or hand-slapping recoil, this little gun never fails on the trigger.
Sig Sauer has designed the P365 with a double stack capacity in a gun which is roughly the size of a single stack! This is very good news for the concealed carry handgun industry. It comes at no surprise that Sig Sauer has knocked it out of the park with this one. But would you expect anything less?
Related Reads: