It's been a long time since the United States Army has formally used a submachine gun.
Submachine guns such as the Thompson and M3 Grease Gun were issued to American troops in World War II and Korea, but since then, the military has mostly settled on rifles and carbines (such as the M14 and later the M16 and M4) as its main service weapons.
But this Monday, the Army Contracting Command announced that they had awarded Swiss defense contractor $2.5 million for the new APC9K submachine gun. The contract is rather limited for the time being, with only 350 such weapons being officially purchased so far with the option to another thousand.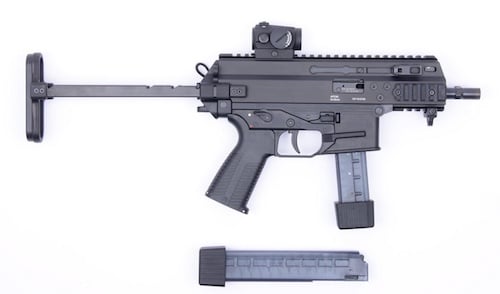 Even though the United States Army does have the Heckler & Koch MP5 submachine gun in its inventory, the military has been looking for a new subcompact 9mm carbine or submachine gun of some sort.  The justification for this is because the Army was looking to arm certain personnel with a 9mm weapon that would have greater lethality than a pistol while also being smaller and more maneuverable in tight conditions than a rifle or carbine.
Several gun manufacturers competed for the rather low profile contract, including big names such as Beretta, Colt, Heckler & Koch, and SIG Sauer, before Brugger and Thomet ultimately won out.
The APC9K is also currently being used by the EKO Cobra, a counter terrorism unit in Austria. The AP9K is a blowback select fire submachine gun that has a cyclic rate of 1,080 rounds a minute. A semi-automatic version of the weapon with a longer barrel is also available, potentially for civilian sales in the future.