The field jackets of today were inspired by the original M65 field jackets that were issued to soldiers during the Vietnam War in the 1960s and 70s.
Since then, it can be argued that no men's wardrobe is truly complete without a military style field jacket of at least some kind to handle the cool weather.
Field jackets are really designed to be as versatile as possible, which is why they have a reputation for being able to handle virtually any types of weather or climates, while also being very durable to the point that they can provide you with many years of service.
That's also not to mention that while field jackets can certainly be worn when out in the woods or in the outdoors in survival situations (as they were largely intended to be used), they can also be worn casually if you need to as well.
Field jackets became revolutionary largely for both their function and the materials used in their construction. Field jackets used synthetic fibers with a surface that was both water and wind resistant, which made them very durable for real world scenarios. As a result, they became very popular with civilians outside of the military.
Today, there are a nearly countless number of different field jackets that are available for sale. We'll outline and discuss some of the best ones here:
1. Algonquin Field Jacket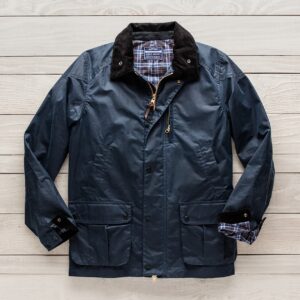 The Algonquin Field Jacket is designed to look like the old style of hunting jackets from the 1950s, which gives it a very classic and stylish look. It also comes with a navy blue color, which means that it should look well with virtually any other clothes that you wear.
But even though the Algonquin is intended to look like the more classic looking field jackets, it also has pockets that are designed specifically to hold everyday items such as your smart phone or wallet.
The corduroy lining and yarn dyed cotton canvas also provides an excellent mix of durability and flexibility, while also keeping you warm in the cold air.
2. Altimeter M65 Field Coat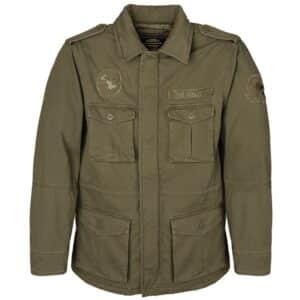 The Altimeter M65 Field Coat is designed to look like the same M65 field jacket that was issued to American soldiers in Vietnam. However, it is still not an identical replica, as there are a few key differences.
For example, the Altimeter features a cotton shell that is very soft (and also easy to clean), with a sherpa lining on the inside to trap plenty of heat and keep you warm.However, the Altimeter also sports a number of original M65 features as well, such as the drawstring waist, storm flap, snap closure, and epaulets.
It also has a green earthy color, to help keep it true to the original M65 design and to help you better blend in to your environment.
3. Anchorage M65 Field Jacket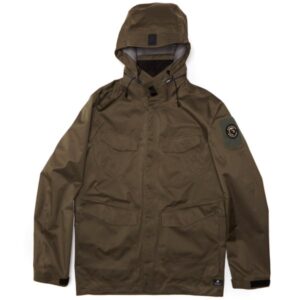 Another field jacket that is heavily influenced off of the original M65 design is the Anchorage M65 Waterproof Field Jacket. This is a heavier duty jacket that is designed to stand up to far rougher elements than the Altimeter.
Furthermore, it is moisture permeable and waterproof, so all of the rain and moisture will be kept to the outside of the jacket rather than the inside.But even though this jacket is heavier duty, it still is very breathable, which will help you avoid feeling overheated.
It's also very adjustable so it can fit you as well as it needs to, such as an adjustable bottom opening or waist. It also features a wind flap at the front, and a tab located on the front part of the collar, which makes it much easier to adjust.
4. Brandit Britannia Jacket Vintage M65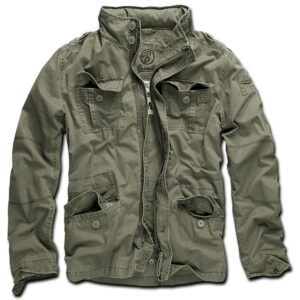 Yet another field jacket that is based off of the original M65 design is the Brand Britannia Vintage Jacket. Unlike the Anchorage M65 that we just looked at, the Brandit Britannia is much more lightweight, but nonetheless it will still do an excellent job of standing up to bbad weather conditions. This won't be the best field jacket to wear during the thick of the winter, but there's no doubt that it will be an excellent. Instead, this would be an excellent jacket to wear during the fall and the spring months.
This jacket is also only mildly water resistant and is not waterproof, so it won't be the best jacket to wear during when it's pouring rain outside either. That being said, the fact that this jacket is very lightweight means that it will be an excellent option to carry in a backpack while traveling. Furthermore, it has many large buttoned pockets, and it would be very easy to fit in a pocket holster for concealed carry.
5. Carhartt Men's Field Coat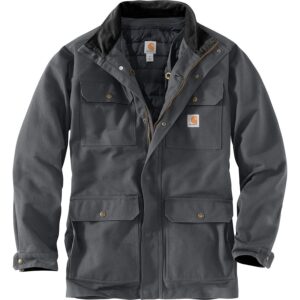 Carhartt is a big name in the outdoor apparel world, and the reason for that is because they have developed a strong reputation for consistently manufacturing high quality products.
The Carhartt's men's field coat has features such as a corduroy trimmed collar, extra insulation, and durable cotton to ensure that it remains suitable for tougher outdoor adventures.That's also not to mention that Carhartt also has a reputation for building quality products at very reasonable price points, and the Field Coat is no exception to this.
6. Cockpit USA Men's M65 Field Jacket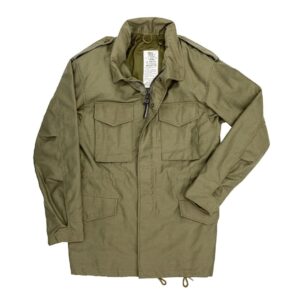 Yet another modern field jacket based off of the original M65 design is the Cockpit USA Men's M65 Field Jacket. This is a very durable and soft jacket made out of 50% cotton and 50% nylon, and is designed to repel virtually any kind of weather.
As far as features to this jacket are concerned, you'll find four very large bellow pockets with snap down closures that will be excellent for concealed carry purposes as well.
Finally, there's also a throat latch that will close via velcro on the jacket, which will prevent wind or moisture from getting inside, in addition to an extendable hood, epaulets, and so on.
7. Orvis Hawker Jacket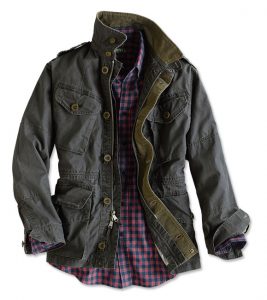 The Orvis Hawker is designed to be a field jacket that will keep you warm when you need to be warm and cool when you need to be cool. The way the jacket is able to accomplish this is because of a cotton shell that offers quilted insulation to provide you with just enough warmth in the cold but without overheating.
This jacket also features a wind flap located on the front part of the jacket, along with full zip front buttons to ensure that it will be kept securely around you.
There are also front pockets with button closures located in the front of the jacket as well. One of these pockets, located towards the top part of the jacket, features a side entry pocket that will close with a zipper. If you need to keep any particularly valuable or everyday carry items on you, this would be the place to keep them.
8. Outdoor Research Prologue Field Jacket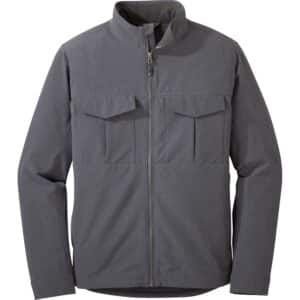 If you're looking for a field jacket that is equally as outdoor friendly as it is stylish, then the Outdoor Research Prologue Field Jacket could be just the jacket that you are looking for.
This is a very durable jacket, thanks to its nylon polyester construction and double needle stitching combined with double weave fabric, making it one of the toughest field jackets currently available on the market.
If you're looking for a jacket that will stand up well to the elements and do well in a life-or-death wilderness survival situation, the Outdoor Research Prologue jacket will be a decent way to go. This will also be a great jacket to wear for a cool day at the range.
9. Rothco Vintage M65 Jacket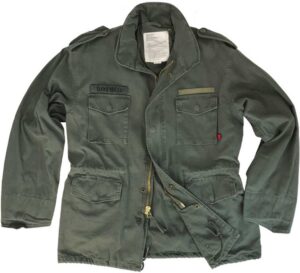 Yet another jacket that is based directly off of the original M65 design is the Rothco Vintage M65 jacket. This is a very versatile and lightweight jacket that is best worn in chilly weather in the spring and fall rather than the winter.
As you may have guessed from the 'Vintage M65' name, the Rothco is designed to look almost exactly like the original military M65 jacket.
Each of the four pockets on the front of the jacket features button closures to keep all of your belongings secured on you. That's also not to mention that this jacket is very breathable and can help keep you cool even as the weather starts to warm up in the later parts of the spring.
Conclusion
As you can see, there are many excellent options to go with for a field jacket these days. Perhaps the best aspect to field jackets is their versatility, as they can be used for everyday life when the weather gets chilly, or otherwise for outdoor adventures, such as hunting or hiking.