You might be wondering what is the best holster for your Glock 19. Well, that will depend on what you are carrying it for. The Glock 19 can be a service pistol or carried concealed, so your choice in Glock 19 holsters will reflect your needs.
For an all-around versatile and durable Glock 19 holster, our pick is hands-down the Alien Gear Cloak Tuck 3.5 IWB Holster for Concealed Carry.
This holster can be worn both inside the waistband (IWB) for concealed carry, or outside the waistband (OWB) for concealed or service carry. This Neoprene holster has an adjustable retention.
The 1 and ¾ inch metal clips are adjustable for cant and height when worn inside the pants, but can also be used on thinner belts or no belt at all.
SAFEST NEWSLETTER - WE WILL NEVER SELL YOUR EMAIL
GET GREAT

GUNS AND AMMO

DEALS!
SENT ONCE A WEEK - NO SPAM - NO SELLING YOUR EMAIL
---
What to Consider When Buying a Holster for the Glock 19
Think about how you plan to carry your Glock 19 the majority of the time. If you will carry your pistol concealed, you should consider an inside the waistband holster, ankle holster, or shoulder holster.
You can use a belt slide holster for both concealed and unconcealed carry, remembering to add a jacket or sport coat to cover the weapon and guaranteeing concealment.
Another thing to consider before you buy a holster for your Glock is your hand dominance. Many holsters, both inside and outside the waistband, are not ambidextrous and cannot be interchanged.
Of course, there are a few exceptions to this, but generally speaking, you should seek a holster that matches your handedness. Make sure to read the product descriptions carefully, and ensure you're selecting the right side if ordering online.
---
General Holster Types
There are several basic holster types you'll likely encounter. These can include:
Inside the Waistband (IWB) holsters are intended to be worn inside the pants using clips to secure them to the outside of the waistband.
Outside the Waistband (OWB) holsters will have a belt clip, slide slots, or both. This enables you to easily clip the holster to your pants or slip it onto a belt.
Shoulder holsters have a harness with a holster that puts the gun under your weak side arm.
Semi-permanent belt clips mount to your firearm's grip using a special pin, making it as easy to clip to your pants as clipping a pen to your pocket. These can be removed again.
---
What To Look For in a Holster
When searching for the right holster for your Glock 19, regardless of whether you have na older Generation 1 model or one of the new Gen 5's, there are several things you should keep in mind before you make a choice. These quidelines will help you decide which holster is best for you.
Concealed or Unconcealed?
If your primary purpose for carrying your Glock 19 is for concealment and self-defense, you'll want to choose a holster that aids in keeping your weapon secure yet out of sight. If you choose an OWB holster, you'll need to add clothing to help ensure concealment.
You also need to consider ease of draw: can you get your weapon out quickly if the need arises? If your holster has a retention strap or thumb break, you'll want to practice drawing so it becomes habitual.
How active are you? If you move around a lot in your normal day, you might want a holster with a retention strap or other securing mechanism. Keep in mind a retention strap will increase the time required to draw.
Dominant Hand
Are you left- or right-handed? If you don't plan to carry and shoot ambidextrously, you'll want to select a holster proper for your strong side. Read product descriptions carefully when selecting a holster.
Even holsters designed for cross-draw or shoulder carry are set up for left or right hand. When purchasing online, make sure you select the proper side for your dominant hand.
Handgun Weight
You should keep in mind your pistol's size and weight when purchasing a holster. Heavier handguns may not work well in belly or ankle holsters. If carried in a shoulder rig, they may need additional weight, such as spare magazines, on the opposite side to balance out the weight.
Secure Retention
As mentioned above, you may desire a holster with some form of retention. This can be either a strap or thumb break, a finger or thumb release, or the simple retention of a polymer holster.
Polymer retention holsters without a button won't slow down your draw time. But, a strap or button will slightly increase the time it takes to draw. If you want to carry a holster with retention for added security, be sure you practice with it so it won't slow you down.

---
Specific Holsters for Glock 19
Let's get right down to it. In the following section, we'll address some holster specifics, along with their pros and cons, so you can make the best choice for your situation.
This is an inside the waistband (IWB) holster made of smooth bullhide leather. It comes with a strong metal clip to secure it to your pants. This is not suede, however, and may be more uncomfortable, especially when sweating.
Each one is form-fitted to specific pistols, so make sure you order the right one. They are not ambidextrous. These holsters are backed by Relentless Tactical's lifetime warranty.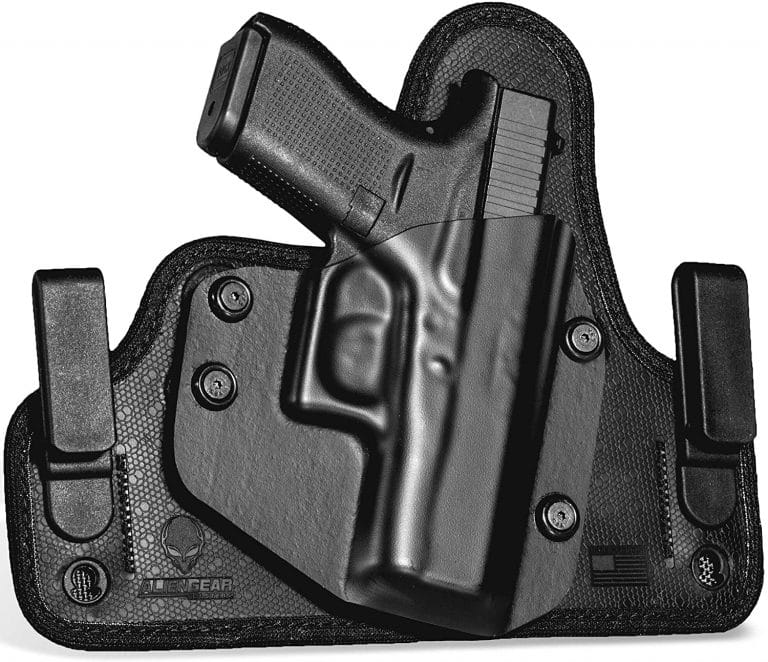 This inside the waistband (IWB) holster is a hybrid: part Kydex, part leather. The Kydex portion is molded to specific firearms, and the soft suede leather is easy on the skin. The double clip is setup well enough to enable you to tuck in a shirt.
Two metal clips allow the holster to be secured to the pants. Better than one clip, this enables the leather a bit of flex when worn. The flat profile assists in concealment. There are adjustable retention screws to insure the perfect fit.
When used inside the pants, the holster is adjustable for height and cant (carry angle). This holster also has belt slots so it can be worn outside the pants as well. However, wearing it this way doesn't allow for adjustments to the height or cant.
This is a polymer holster designed for specific handguns. The Revolution is International Defensive Pistol Association (IDPA) approved and can be worn with either the paddle attachment or on a belt.
This holster offers level 1 retention, meaning you'll hear an audible 'click' when the pistol is properly secured. This retention is user adjustable for just the right fit. The holster has a molded sight channel to protect your stock sights. If you use aftermarket sights, contact the seller to see if it will fit properly.
Cant (carry angle) is also adjustable to three positions: straight drop, FBI carry, or muzzle forward. The Defender's belt rig is adjustable to fit belts up to 2.25 inches. However, the paddle might be uncomfortable for someone who is thin with bony hips.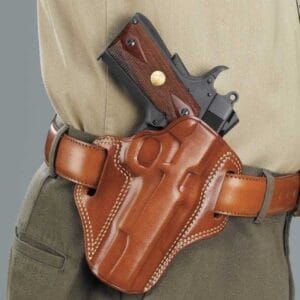 This is an outside of waistband (OWB) saddle leather holster molded to specific guns. It mounts to a belt via slide slots and its carry angle is butt-forward like an FBI carry. But, the cant is not adjustable. Being leather, it will take some time to break in for a perfect fit for your pistol.
There is no retention strap or thumb break on this holster, so no additional steps are required for drawing. The molded shape is designed with retention in mind. The sleekness of this paddle holster aids in concealment, but you'll have to wear a shirt over the holster to guarantee it's not seen.
This inside the waistband (IWB) holster is made of molded carbon fiber to fit specific pistols. It's a level 2 retention holster, combining the audible 'click' retention as well as a finger release button, so it may slow down draw time.
The SERPA can be worn using either the paddle provided or belt loops. The flat profile helps to aid concealment. This holster offers a smooth draw and re-holstering is easy.
The holster does not provide adjustments for cant (carry angle), but does offer adjustable passive retention.
---
Final Thoughts on Glock 19 Holsters
It's time to reveal the best holster for the Glock 19. We picked the Alien Gear Cloak Tuck 3.5 IWB Holster for Concealed Carry. This holster offers the best in features and comfort.
Our Pick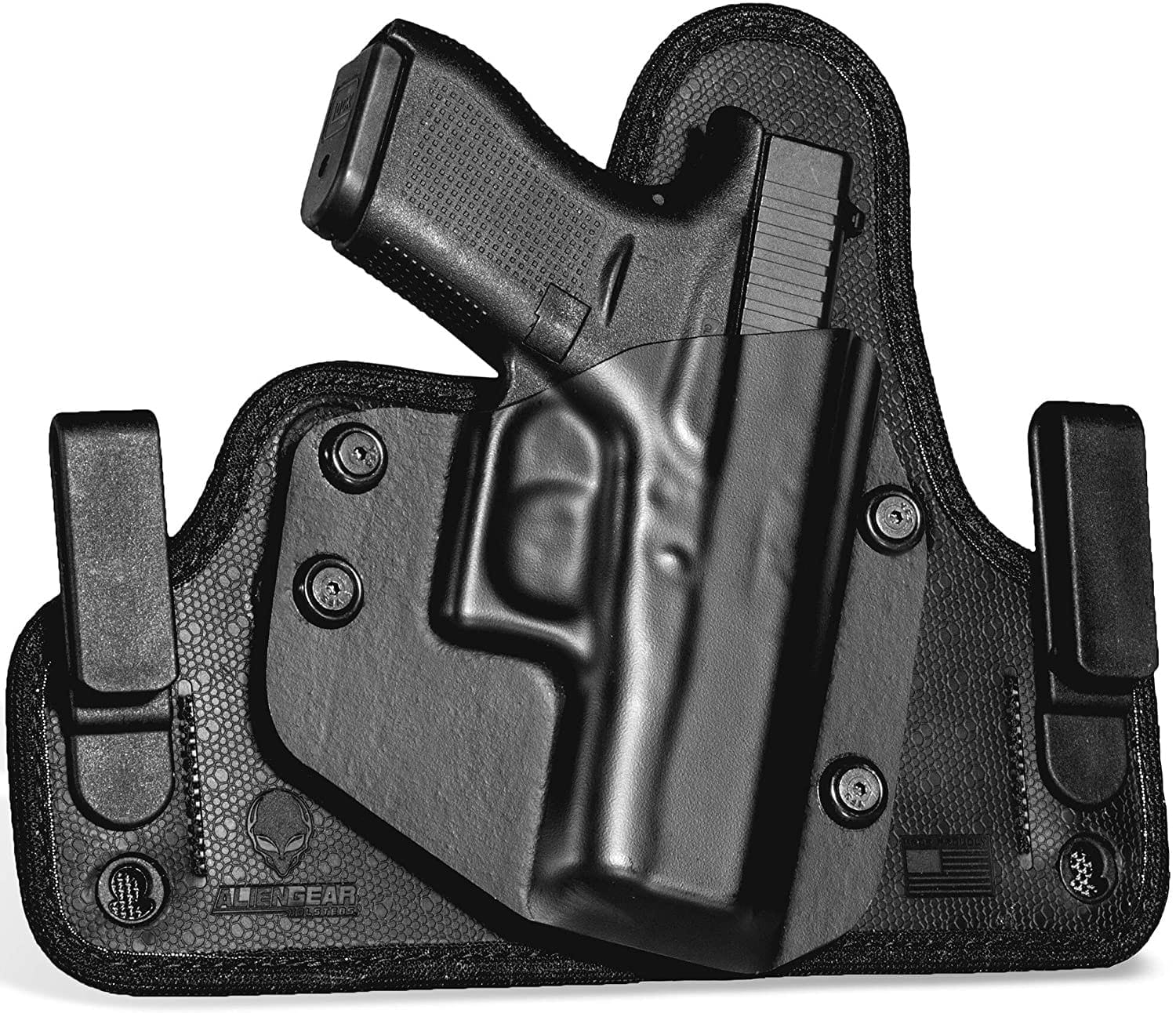 You can carry it inside the waistband (IWB) and even tuck in a shirt to ensure concealment. The Kydex holster offers excellent retention without the added step of a thumb break or release.
It allows for adjustments to cant (carry angle) and height when worn IWB, but those adjustments are not available if worn on a belt.
The holster can also be worn outside the waistband (OWB) simply by removing the metal clips and sliding it onto a belt. The flat profile helps to ensure concealment.
It's a little on the pricey side, but might just be the last holster you'll ever need for your Glock 19!
And more Glock fun, drop a comment on our Glock 17 vs 19 article and let us know which Glock you like best for everyday carry.