The Glock 27 is a popular issue with the police force, so it's probably one of the most common firearms out there. You may need an ankle holster for it if you want to conceal carry or keep your Glock 27 as a concealed backup weapon.
This article explores ankle holsters and which Glock 27 ankle holster works best.
Personally, I have chosen the Galco Ankle Glove Holster as my top pick for the Glock 27 as it's made specifically for it, has great retention, durability and allows for an efficient drawing.
Get Great Guns and Ammo Deals!
---
How To Wear An Ankle Holster?
Comfort
This is something that many people overlook, but you really should consider which leg you are more comfortable wearing the ankle holster on.
Ideally, you should wear the holster on the inside of your leg as it enables you to have a quicker draw and it will also be better concealed.
It will typically be strapped just above your ankle and you can look into getting a calf strap to secure it better if it fits a little loosely.
Some ankle holsters offer padding between the holster and your leg to provide added comfort, so you may want to consider getting one like that. With the padding, you may be able to tolerate wearing the ankle holster a lot longer.
Practice wearing your ankle holster without your gun at first, and then with your gun in it to gradually get accustomed with the feeling of wearing it. Remember that ankle holsters may be uncomfortable initially so it will take quite a while before you get used to it.
Drawing
This is very critical when choosing the right ankle holster, as it can be the make or break when it comes to your safety or even your life.
Practice drawing from your new ankle strap as the few moments it takes you to fumble for it during a critical moment may cost you. You can finally say that you're proficient in drawing when you can do it (drawing and aiming properly included) within 1.5 seconds.
Muscle memory is very important in this case as you can rely on it in critical moments even without thinking twice. Practice drawing from all sorts of positions until your body remembers how to do it.
Aim for instinct instead of thinking and action as you may not have that luxury during combat.
The quickest position you can draw from an ankle holster is kneeling down with your leg that's not wearing the holster, then using your non shooting hand to pull up your pant leg and drawing and aiming with your shooting hand.
Remember, you must be able to do all this within 1.5 seconds, which can be tough if you're used to holstering your G27 in your waistband.
---
Points To Consider When Using An Ankle Holster
Clothing
Wider pant legs mean more space to conceal the holster and gun with, so skinny jeans or leggings are out of the question. Sitting and walking are going to make your leg contract and your holster will be more visible during these moments
Ankle Size
Thinner legs will not fare well with ankle holsters as they will not have anything to wrap around on, thus becoming loose and ill-fitting. However, you can still try it before removing it from your options altogether.
Comfort
Make sure that the ankle holster is made of a comfortable material and that it can be secured onto your leg well. An ankle strap may not be enough and you will have to get a calf strap for further security.
How about watching this short Youtube video to get an overview look for your Glock 27 ankle holster?
---
Best Ankle Holster for Glock 27
This ankle holster is made for a variety of guns, the Glock 27 included. It is made from tough neoprene and nylon materials and made with quality craftsmanship.
The retention strap is adjustable so you can customize it for a better and more comfortable fit. As compared with an ankle holster made from plain elastic, this one is so much more comfortable to wear and use.
Pros:
High quality of workmanship and the Velcro strap is also very strong, retaining your Glock 27 securely in place

Most ankle holsters are uncomfortable to wear as they press the gun against your ankle bone, but this one has wool lining to keep you comfortable

Comfortable to use

Stays in place and does not move around when you wear it
Cons:
It's supposed to be worn around your ankle so you may have trouble wearing boots or high top shoes with it

It can be bulky and awkward with larger firearms, but as the Glock 27 is small and light, it should not be a problem

As with other ankle holsters, it can be quite hard to draw your weapon, but it's still good for backup guns, which is what Glock 27s are famous for
This ankle holster is made from leather and has a sheepskin padding right where the holster rests on your ankle so that you will feel comfortable and not even mind wearing the holster.
It has a wide neoprene ankle band to secure the holster to your leg and an adjustable calf strap that is sold separately.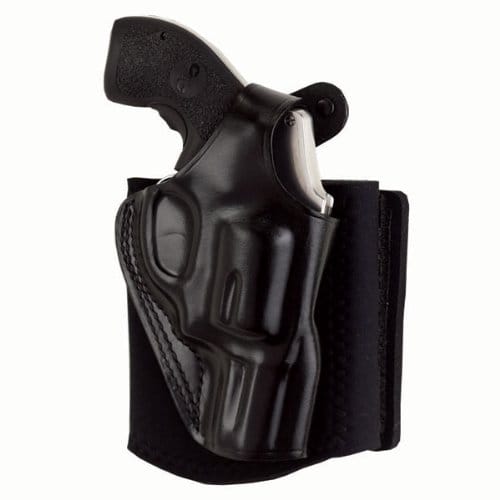 Pros:
This ankle holster is made for a Glock 26, 33, and most importantly a 27

Made for people who are right handed, as well as those who are left handed

Made using only the finest materials to ensure quality, durability and reliability

It has a detailed molding for greater retention as well as a reinforced thumb break that ensures speed of draw

Not only is it comfortable, it is also very concealable
Cons:
The calf strap is sold separately so if you're wearing low cut shoes and dress socks it may affect the security of the holster around your leg

Takes quite a while before the material of the holster loosens

If you have thick ankles, the holster may slide down on them and you would need an extra Velcro strap to keep it tight and secure
This is made from top grain saddle leather and is the latest in the DeSantis range of concealment leather. It was originally designed with Federal Law Enforcement use in mind, thus it is known for its longevity and improved performance.
The smooth leather allows for a smooth and quick draw. This holster has a thumb break and the leather is attached to a neoprene leg band like the one before it.
Pros:
This holster is made for a right hand draw so if you're a leftie, then this is not the one for you
Provides a good amount of retention and your Glock 27 will pop in and out of the holster nicely

Your trigger and trigger guard will be well covered when using this holster

Easy to wear and remove
Cons:
The interior of the holster may wear on your Glock 27's finish (although it's probably not a big deal as most guns have general wear and tear anyway)

The holster can slide and cant slightly

Your Glock 27 can cause the holster to put pressure on your ankle bone, so this holster may only be good to wear for short periods of time and not for long term wearing
This ankle holster's wide neoprene ankle band and Velcro strap ensures that your Glock 27 (with laser) is securely strapped to your leg.
You won't have to worry about comfort as it also has a sheepskin padding to reduce the pressure that the gun and holster will put on your ankle bone.
Pros:
Fits so comfortably that you almost forget that you're wearing it which is hard to find when it comes to an ankle holster

The longer you wear it, the better it fits

You can draw your gun quickly and efficiently
It's highly functional, well made with quality materials and on top of it all, looks good

No need for other reinforcements like a calf strap as it holds its own quite well, but you may need it if your ankle is on the small side
Cons:
Fits a Glock 27 with a laser so be careful in buying it if your Glock 27 does not have a laser with it

May need a calf strap for extra security (if you have thin ankles), but it's being sold separately

Putting the gun back in the holster can be a bit problematic

It's visible if you know what you're looking for, but otherwise it is hardly noticeable
---
Conclusion
Overall, I will say that the Galco Ankle Glove Holster works best as an ankle holster for your Glock 27. It has versions for right handed people as well as lefties, so no matter what hand dominance you have, you've got no problem.
Our Pick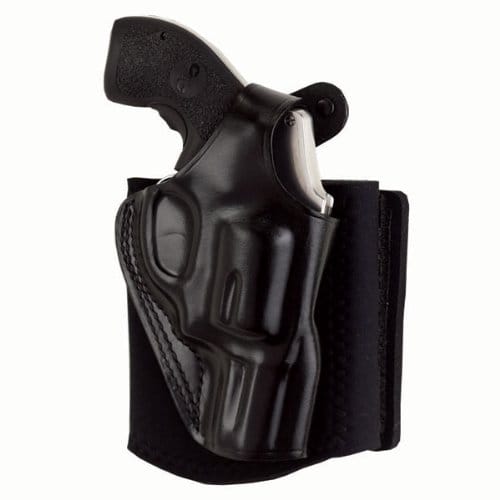 Best Glock 27 Ankle Holster
Galco Ankle Glove Holster
This ankle holster is made from leather and has a sheepskin padding right where the holster rests on your ankle so that you will feel comfortable and not even mind wearing the holster. It has a wide neoprene ankle band to secure the holster to your leg and an adjustable calf strap that is sold separately.
Check Price
It has received a lot of positive reviews for its quality and materials and it s durable, high quality holster that will serve its purpose for concealed carrying well.
Related Reads: