For an everyday concealed carry firearm, you've decided on a Kahr CT380. Good choice! It's a compact little pistol great for carrying all the time.
So, you might be wondering what's next? Well, you'll need a holster that's comfortable for you to wear that will keep your weapon securely and close at hand.
What works for others might not fit in with your lifestyle. Everyone has their own preference, and you'll eventually find what works for you.
Let's take a look at some different holster styles available for your Kahr. Men and women might have different holster needs
Get Great Guns and Ammo Deals!
---
Different types of Holsters
Inside the Waistband (IWB) Holsters
These can be made of leather, nylon, or polymer with clips made of metal or plastic.
They're designed so your pistol sits inside the waistband of your pants, aiding in concealment.
There are many different types of IWB holsters. One thing to keep in mind is this type of holster is for right- or left-hand carry only; they're not interchangable.
Also, they might be uncomfortable if your pants are tight and may not be entirely secure when worn with drawstring pants such as shorts or sweatpants.
Belt Clip/Slide Holsters
A belt clip or slide holster is designed to be worn outside your pants (OWB).
Clip holsters can be worn with or without a belt, while slides have slots intended to slide your belt through to secure the holster.
Because these are worn outside the pants, you'll have to make sure your clothing will hide the shape of your pistol so it's not visible (if carrying concealed).
Some of these come with retention straps to secure the firearm to the holster. Belt clip holsters are directional, so you'll want to make sure to get the one for your dominant side.
Shoulder Holsters
These are harness rigs designed to be worn under a coat or sport jacket. The firearm rests in the holster below your armpit.
This holster's harness will fit around both arms, and have a separate piece to hook around your belt, adding stability for ease of draw.
Shoulder harnesses are right- or left-handed, so if your dominant hand is the right, you'll wear the gun under your left arm for a right-hand draw.
Make sure you get the correct one when you order. The holster itself could be made of leather or nylon, and has an attached retaining strap. The harness is usually nylon and can be adjusted for size.
If you're interested in this kind of rig, keep in mind that you'll need to wear a coat or shirt to cover the holster, and you may need to practice to achieve a smooth draw.
Belly Bands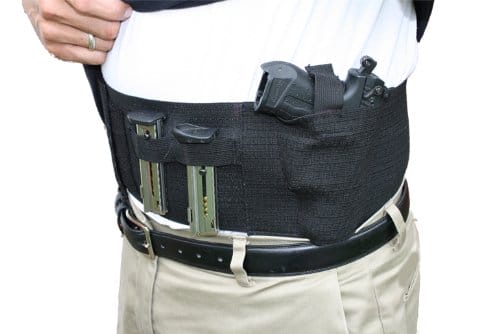 A belly band is made of neoprene similar to knee braces, with an elastic holster and often a spare magazine.
Depending on your body type, these can be worn around the belly, at the waist to become an IWB holster, or up higher placing the gun at your side similar to a shoulder holster.
The holster usually has a retaining strap to hold the firearm securely inside. Keep in mind the additional time it might take you to draw, as this rig will be under your shirt. When ordering, measure your size at the belly button, not the waist.
Ankle Holsters
These are designed to be worn around your ankle under pants. They are neoprene and nylon or leather and have velcro closures.
One advantage to ankle holsters is that it gets the pistol off your hip. However, they cannot be used with tight jeans, shorts, kapris or skirts.
These holsters are also right- or left-handed, so make sure to order the correct side for your dominant hand.
Ankle holsters will make it more difficult to draw, but might be ideal if you spend a lot of time in the car or at a desk. You may have to practice a little to achieve a smooth draw.
---
Specific choices for Kahr CT 380
Now that you've had a chance to see some of the different options available, so you might have a better idea of what will suit you.
Let's take a look at some specific branded holsters you can get for your Kahr.
These holsters are only some examples of different brands; however, there are quite a few out there to choose from.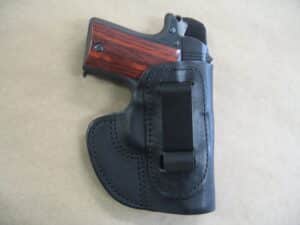 This leather holster by Azula is intended for wearing inside the waistband. It's molded to the shape of the pistol and has a strong metal clip.
The back of the holster has additional leather to protect the skin from the edge of the slide.
It also serves to protect the butt end of the slide from the oils and sweat on your skin.
This is a right- or left-hand carry holster, so use caution when ordering one.
This Kydex in the pants polymer holster is molded specifically to fit your handgun, and the durable material is tough enough for daily use.
However, Kydex has been known to scratch the pistol's finish.
The holster has a sight channel designed to protect your gun sights, and has a rise where the pistol's slide would normally rest against your skin.
It also features an adjustable cant (carry angle) from 0 to 15 degrees and has a retention screw to guarantee a tight fit. Kydex style holsters offer a feedback 'click' when the pistol is secured.
Fierce Defender offers a lifetime manufacturer's defect warranty. These holsters are right- or left-handed, so make sure when ordering you choose the right one.
On a personal note, I carried a polymer holster in the line of duty for a great many years. Mine was an OWB paddle holster that fit over my duty belt, the curved paddle either in the waistband or between the belt and my pants.
I was in and out of a car numerous times in a night, and wore the holster daily. The holster survived many years of use and (near) abuse, and I still have it, though it's been a long time since I wore it last. It's durable and long-lasting.
This is a leather holster molded for the Kahr with a sturdy metal clip.
While they are right- or left-handed for IWB carry, they can also be used OWB on the opposite side.
The holster is stitched for the firearm, ensuring proper fit. If worn inside the pants, can offer good concealment under a shirt or coat.
There's no retaining strap, so drawing should be a breeze. Make certain to order the correct side for your dominant hand.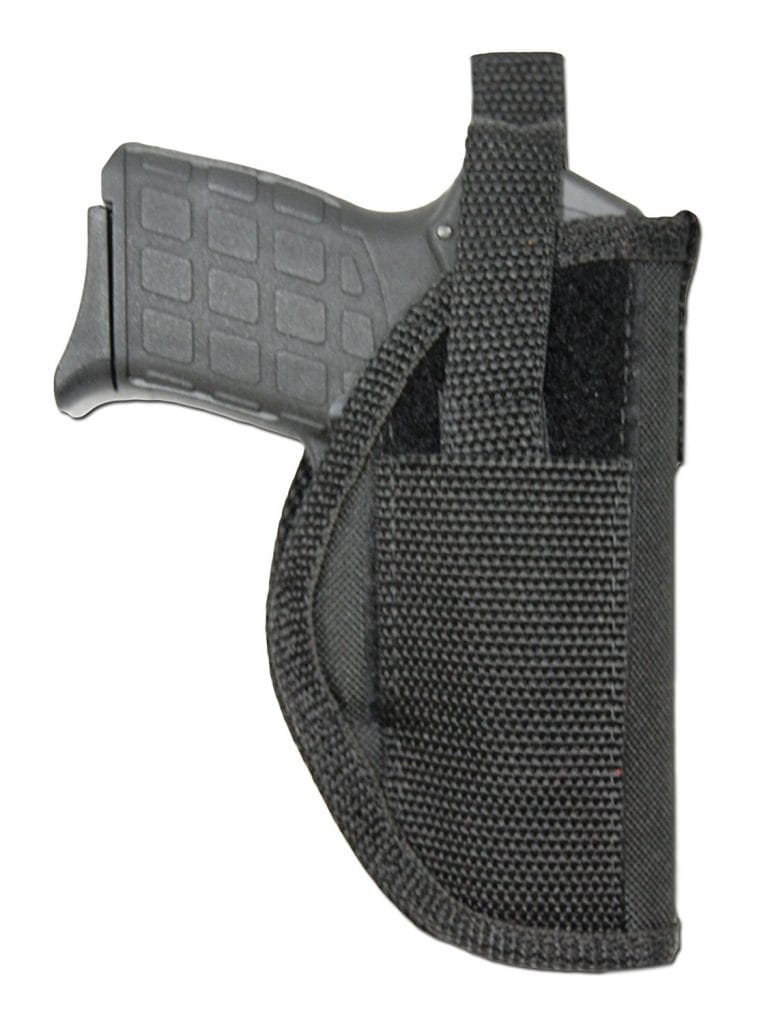 The cross draw holster is meant to be worn on your weak side, allowing for a cross draw with your dominant hand.
If you're right-handed, choose the right-hand model; you'll wear it in front of your left hip. It's made of nylon and has an adjustable thumb break and retention strap to secure the pistol in the holster.
The barrel end of the holster is fully closed, and the inside is padded to protect your finish.
This is a combination leather and neoprene holster to wear on your ankle. The leather is molded to fit the specific firearm, and has a thumb break retaining strap.
The neoprene is soft and stretchy like a knee brace, and has a heavy-duty velcro closure.
This holster has some limitations; it can't be worn with tight jeans or shorts, and may take some practice to learn a smooth draw.
Now that you've learned some features of specific holsters, you might be ready to choose one. Always keep in mind your dominant hand and daily attire when picking out a holster for concealed carry.
You'll need a sturdy and comfortable holster that fits in with what you wear everyday and your daily activities.
Consider your job or daily activities; if you're at a desk or in the car frequently, you'll want to take that into consideration.
---
Our Pick
For durability and price, my choice would be the Molded Leather IWB Holster by Azula.
The leather molding should ensure a tight fit, yet be easy to draw in an emergency. There are no retaining straps to interfere with a draw, yet the pistol should be close at hand when needed.
Molded Leather IWB Holster by Azula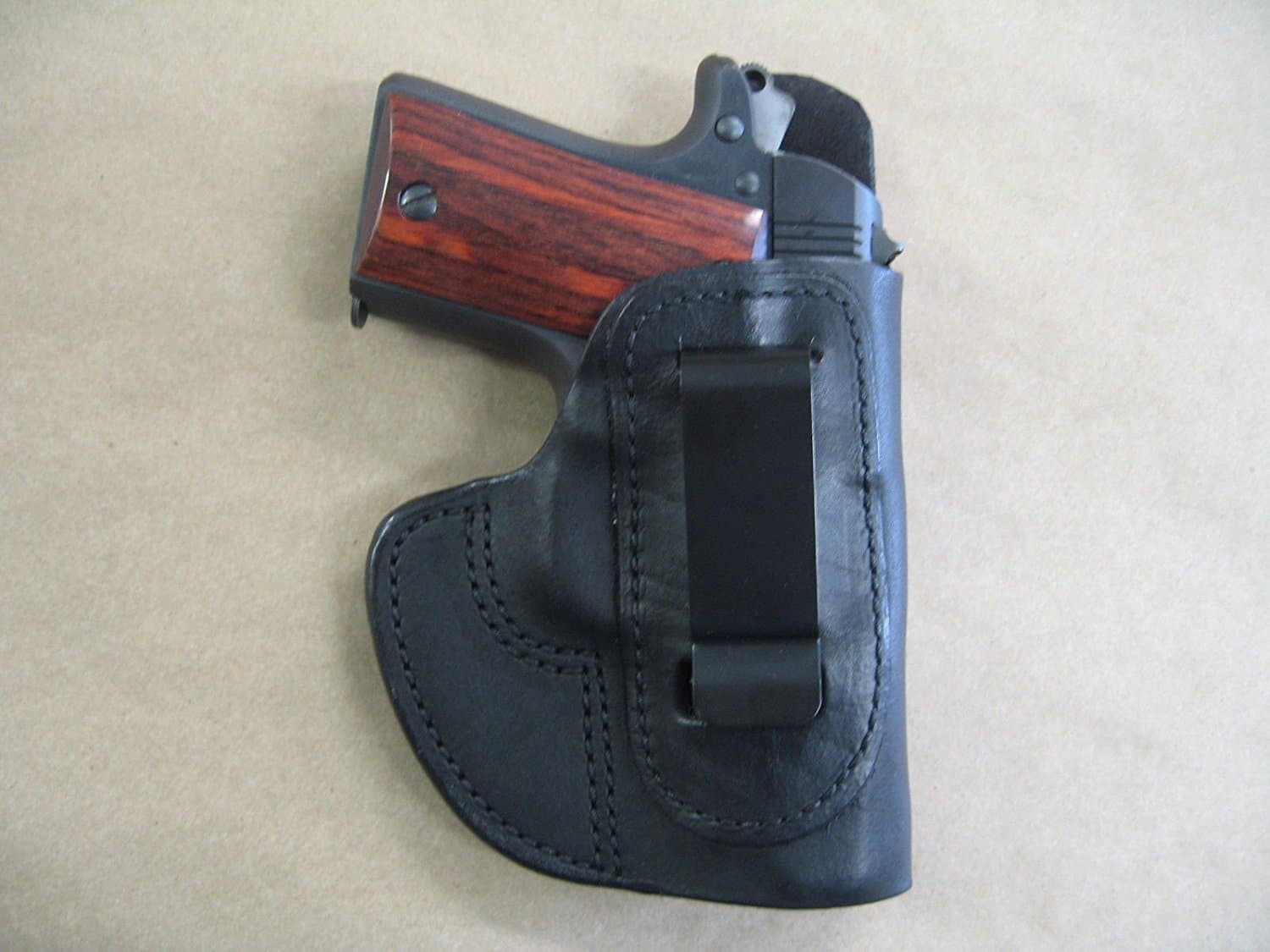 It can be worn with or without a belt; simply tuck it inside your waistband and you're good to go. The holster comes with a lifetime warranty from Azula, and it's not overly expensive for a holster made entirely of leather.
It should be strong and durable, and give you many years of use.
Related Reads: