The Kahr CW9 is a great 9mm pistol. Kahr's 9mms have been very popular for some years now, especially amongst those who like to carry their weapon in their pocket – the CM9, PM9, and MK9 variants are all small enough to be easily drawn from your pocket.
The CW9 is a bit different, having a 3-finger grip length. This gives it a little more accuracy than its smaller brothers, but also means that it is just a little too big for pocket carry. In short, you are going to need a decent Kahr CW9 holster.
That's where we come in! After reading hundreds of reviews, we think that the Kahr Arms IWB Holster is the one to go for. If you are carrying a Kahr CW9 on a regular basis, we're going to bet that you value concealment, and this holster certainly offers that. In addition, it is extremely lightweight, and the adjustable retention screws mean that you can set up this holster precisely how you want it.
---
How to Choose A Holster for your Kahr CW9
Choosing a holster for a Kahr CW9 can be a tricky business. There are loads of holsters designed specifically for this type of small 9mm pistol, each with its own features and benefits.
For our review today, we've focused on the features that we think Kahr CW9 owners really want – concealment, and comfort. One of the huge advantages of this kind of 9mm pistol is that you can carry it in deep concealment, all day every day, and hardly notice it is there. If you choose the right holster, of course.
When choosing any holster, and especially one for your Kahr CW9, you should keep in mind the following:
Weapon Security
Any holster should be able to hold your weapon securely in place, whilst still allowing you to draw it reasonably quickly. This is called weapon retention.
Various systems have been used over the years to keep pistols securely in your holster, from the shaped leather holsters of yesteryear to the high-tech ones of today. Everybody has their own preference, but ultimately the aim is the same – your weapon should only come out of the holster when you draw it.
One of the best advances of recent years has been the invention of fully adjustable retention screws. These mean that it is possible to adjust the tightness with which the holster grips your weapon. This is useful if you own several similar weapons, because you can adjust the holster for each.
Type of Holster
Whether you choose an IWB or OWB holster, or even a pocket holster, is of course dependent on your personal preference. If the Kahr CW9 is your first small 9mm, it is worth reading about the new options that are available to you in terms of concealment – the debate rages about which type of holster is best for this gun.
Ease of Access
Of course, even if your holster holds your gun tightly, and you are carrying it in deep concealment, you still want to be able to draw it quickly. One feature to look for in this are is variable cant – the angle at which your weapon sits when in the holster. Different people prefer different cants, and you can even adjust this angle depending on the situation.
Concealment
If you carry your pistol concealed, it goes without saying that you want a holster that hides your weapon well. With the Kahr CW 9, you have plenty of options in this area.
Whilst we wouldn't recommend a pocket holster for this kind of weapon – unless, of course, you continually wear a hunting jacket with huge pockets. This means that your pistol will likely be held on your waistband. This can cause printing, where your weapon's outline is visible through your clothing. Though some people worry unduly about this, it can be a problem.
Durability
Last, but of course not least, look for a holster that will provide years of reliable service. Whilst it may look like hard-case holsters, typically made from extruded plastic, will last the longest, this is not necessarily true. Soft holsters, if made from tough fabric, can last equally as long.
That said, all the holsters we recommend for the Kahr CW9 are built around rigid cases, as we think this type of holster provides the extra protection and security necessary for this type of weapon.
---
Kahr CW9 Holster Reviews
1. 

Kahr Arms IWB Holster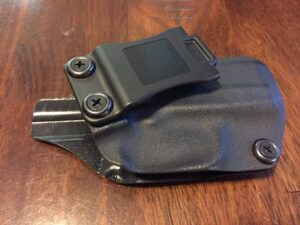 Put simply, this is a great all-round holster for a Kahr CW 9. It is an inside waist band holster that is remarkably thin and light, whilst still offering many of the advanced features of larger OWB holsters.
If you are looking for concealment, this is the holster to get, as its slim profile significantly reduces printing, and the holster is small and light enough to carry all day long.
In addition, the Kahr Arms IWB Holster comes equipped with many extra features, all of which add value to the holster:
First off, this holster offers a flexible adjustable retention system, something of a novelty on an IWB holster this small. If you are used to OWB holsters with variable retention, and want to replicate this in a concealment holster, this is a great feature.
The holster is one of the thinnest, lightest concealment holsters on the market, and when paired with the Kahr 9mm makes a really compact unit.
The material used in this holster – Kydex – is a tried an tested synthetic material that will last for many years, and provide superior protection for your weapon.
As for disadvantages, in truth this holster has very few. Some find that this kind of IWB design can be uncomfortable to carry for extended periods, especially if you are not used to this kind of holster. If you are looking for an IWB holster, though, you can't go wrong with this one.
2. 

Outlaw Holsters Kahr Black Carbon Fiber IWB Holster
This is a more simplistic design than most IWB holsters, but still offers a good level of weapon retention, concealment, and ruggedness. What makes this holster stand out is the sophisticated way that the Kydex body has been molded to fit your Kahr CW 9.
The body of this holster forms such a neat fit with your pistol that it offers superior weapon retention without the need for retention screws, and this no-nonsense design has great advantages in terms of reliability and simplicity.
In addition, this holster has several other great features:
This holster looks great. We know that many people claim not to care about aesthetics when it comes to this kind of holster, but we think it makes a difference. Having a holster that you are proud of means you are going to use it more often.
The Kydex used in this holster is thicker than most, improving the life of the holster. It also offers a but more protection to your pistol.
In terms of disadvantages – the gun barrel protrudes from the end of the holster, which some people find annoying. Especially on a cold day, it is not ideal to have a piece of icy metal against your skin. This, however, is a small price to pay for what is otherwise a great holster.
This is an OWB holster, and therefore a but different to the two above. If concealment is not your paramount concern, it is probably worth getting an OWB holster for your Kahr CW9, as these typically offer a range of extra features that can be useful.
This holster is a good example of this, offering variable cant from 0 to 15 degrees. If you are using your Kahr CW 9 on the range, this can give you a slightly quicker draw speed, which is important for some shooters.
In addition, this holster has several advantages:
The Kydex used in this holster is the .080 variety, one of our favorite materials for premium holsters. It offers a great compromise between ruggedness and flexibility, protecting your gun whilst also allowing you to draw it easily.
The variable cant on this holster is great for people who are used to a particular carrying angle. Whilst some customers found that they were not able to fully adjust the angle of the holster, most find that with a little patience they can get this holster set up just the way they want.
Of course, if you are into concealed carry, this holster is not for you. The fact that you are armed will be obvious to everyone. But in truth, for competition purposed this does not matter, and the increased draw speed of this weapon more than makes up for any lack of secrecy.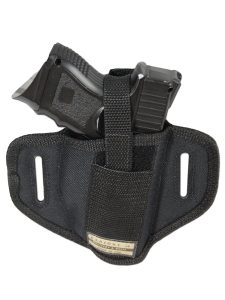 The huge advantage of this holster is its adaptability. It allows you to carry your pistol in 6 different positions, so if you are used to an unusual carrying position, or want to experiment with carrying your weapon in the small of your back, this is the holster for you.
Whilst this holster fits a wide variety of guns, the unusual shape of the Kahr CW 9, as a compact 9mm with a slightly longer barrel, means that it does not fit in this holster as neatly as in some others we tested.
In addition, this holster comes with some added features:
In certain configurations, the concealment offered by this holster is pretty good. It flattens your pistol against your side, reducing printing.
The flexibility of this holster is not limited to its variable positions. It is also ambidextrous, which is great if more than one person uses your Kahr CW9. If you or your wife are left-handed, it is nice to be able to use the same holster.
The fit of this holster around a Kahr CW 9 is, in truth, not the best. Whilst it holds the weapon pretty well, some people who we talked to for this review felt that their gun moved around a little bit too much in the holster.
---
Conclusion
What you should look for in a holster for your Kahr CW 9 depends, to a great extent, on how you use it. All of the holsters we have reviewed today offer a good compromise between safety features, comfort, and ease of use, and which one is perfect for you depends on how you use your weapon – whether just for competition, or as an everyday weapon also.
Our Pick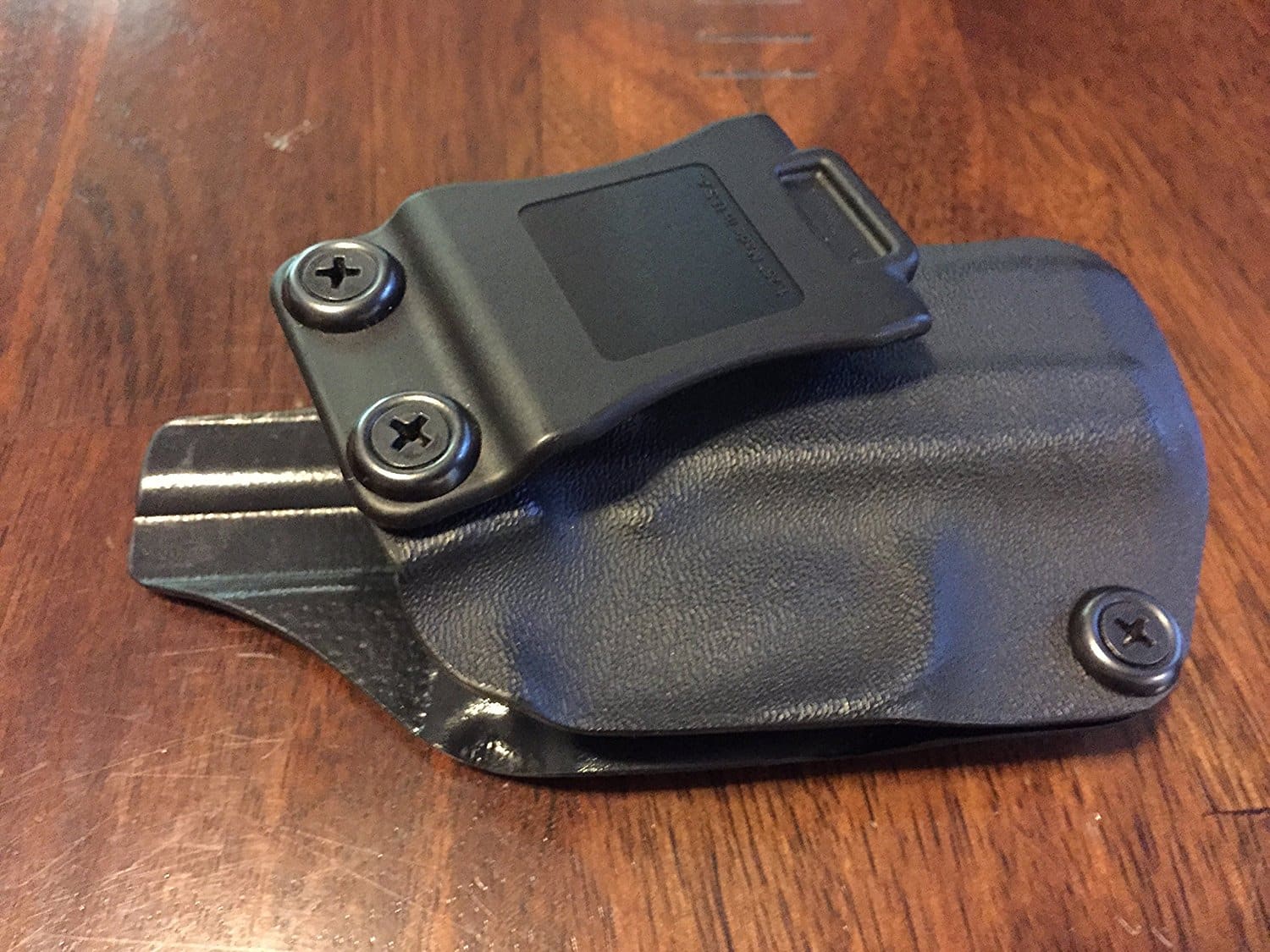 For our money, though, the Kahr Arms IWB Holster is the one to go for. If you are carrying a Kahr CW9 on a regular basis, we're going to bet that you value concealment, and this holster certainly offers that. In addition, it is extremely lightweight, and the adjustable retention screws mean that you can set up this holster precisely how you want it.