Okay, you're the proud owner of a Kahr PM9 handgun, but now you're in the market for a holster. With the dozens of types and models of holsters out there for this gun, which one would be the best for you? A lot of that depends on how you'll be using your Kahr, and whether you're going to conceal carry or open carry your weapon.
After doing online research, and testing several of the high-rated Kahr PM9 holsters, my choice as the overall winner is the Badger Concealment Kahr Arms IWB Holster. This inside the waistband holster is thin, lightweight, well-made of quality materials, has good retention and is comfortable to wear even after hours of use.
[thrive_leads id='19948′]
---
What are the Options for a Kahr PM9 Holster?
As mentioned earlier, there are a variety of options available for this particular handgun. To talk about every type of holster on the market is beyond the scope of this article, so I've chosen five of the most popular types for concealed carry and open carry. Here's a video that explains the different types of gun holsters:
One of the first things to consider is exactly how you plan to carry your Kahr. The majority of gun owners these days are choosing to conceal carry, but some are choosing to open carry as well.
Then you'll have to decide where you want to wear your holster – at your side, in your pocket, on your ankle, in the small of your back, or under your shoulder. Much of this is personal preference, and where you'd be most comfortable wearing and drawing your weapon.
If you're considering an outside the waistband (OWB) belt holster, for example, and you want to conceal carry, you may need wear a jacket or long-tailed shirt in order to hide your gun. If you spend a lot of time driving or sitting down, you might want to shoulder or small of the back (SOB) holster instead. And if you have your mind set on an ankle holster, you need to ask yourself if you'll be able to get your weapon out quickly in an emergency.
Some of the Popular Holster Options
For this article, I'm going look at the following five popular types of holsters: belt or OWB, IWB, pocket, ankle and SOB.
Inside the Belt (IWB)
If you're looking for a simple holster you can wear in the yard or around the house, a belt clip/slider or inside the waistband holder might be all you need.
These holsters are typically made from leather, nylon, or a plastic polymer, and the either clip or onto or slide over your belt. IWB holsters are worn on the side, front or back of your pants, depending on the design.
Belt or Outside the Waist Band (OWB)
For some applications, the belt or OWB holster is the best option, especially if you intend to open carry. Belt holsters are versatile, easy to draw from, and can be more comfortable to wear. These holster either clip on the belt, or have slots for the belt to slide through.
They can be worn in the front, on the side, or behind your hips. The main drawback here is if you want to keep your firearm concealed, you'll need to wear a long, untucked shirt or jacket, which may not be practical depending on the season and where you live.
As the name implies, pocket carry holsters are designed to fit in the front or back pocket of your jeans, pants, or jacket. Rather than just stuff your Kahr PM9 into your jeans, putting it into a pocket holster will keep your gun clean, secure, and properly oriented for drawing.
The holster is a good concealed carry option, and it doesn't get in the way of your other clothing. Drawing your gun can be a little tricky with a pocket holster, so you'll need to practice your draw before you take it out in public.
An ankle holster offers excellent concealment, especially if you wear boots a lot. Many law enforcement officials use ankle holsters to carry a secondary weapon as a backup to their primary gun.
Some people find ankle holsters preferable to wearing their gun around their waist, or in a shoulder holster. One drawback of an ankle holster is they can be inconvenient to draw from in an emergency. They also don't work well with skinny jeans, or shorts, for obvious reasons.
Small of Back Holsters (SOB)
The final holster I'm going to discuss is the Small of Back Holster, or SOB. These IWB conceal carry holsters clip over your belt and fit into the small of your back, which is actually a comfortable location for a holster in most situations, especially if you've put on a few pounds around the waist, or if you spend a lot of time on your feet.
Another advantage is it gets your firearm further away when your facing off with an assailant. It might not be your best option if you spend a lot of time driving, or sitting at a desk.
---
Holster Reviews for Kahr PM9
Now let's take a look at some highly-rated Kahr PM9 holsters and see how they stack up.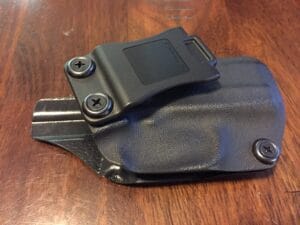 This inside the waistband holster by Badger Concealment is a great choice for conceal carry gun owners. This Kydex-style holster fits belts up to 1.75" wide, is custom made, and has adjustable retention.
Pros
Quality Kydex construction will hold up well with continual use.
Weighing in at only 3 ounces, this holster is extremely light.
One of the thinnest concealment holsters available, and it fits the Kahr PM9 like a glove.
Because the holster is so thin and lightweight, it's very comfortable to wear, and can be put on and taken off about as easily as a cell phone case.
The Belt clip his sturdy plastic, it has a convenient hook to open the clasp and attaches quite securely beneath the lower belt lip.
The retention is adjustable on this holster, keeping the weapon secure in every situation.
Cons
No cant adjustment is provided on this holster.
Because the belt clip goes down below the belt, it can sometimes catch on tee-shirts or other clothing.
This ambidextrous pocket holster from DeSantis Gunhide fits Kahr PM9/PM40/MK9/MK40. The holster is made from rubberized black cloth material
Pros
The super fly is constructed from a sticky rubberized fabric, keeping the holster in place inside your pocket.
They have also added a removable, reversible outer flap to even further disguise the firearm.
A removable, reversible outer flap is included to help disguise your firearm.
The interior of the holster is made from a slick, low friction cloth material that allows for a quick draw.
Cons
This holster was designed to accommodate a variety of firearms, and consequently the fit for your weapon may not be exact.
Additionally, since the holster is made for a variety of different firearms, it can look large and bulky in your pocket.
The flap included with the holster can sometimes make it hard to grab your gun. A good amount of practice drawing and reupholstering your gun is recommended.
This carbon fiber Kydex holster is an outside the waistband (OWB) holster. It's custom made in the USA, and works for concealed carry as long as you wear a long, untucked shirt or jacket.
Pros
Since the holster fits quite close to the body, it's relatively easy to conceal, as long as you wear a long shirt or other covering garment.
The holster has positive retention, keeping your gun in place in just about every situation, while at the same time allowing for a smooth quick draw.
Since the holster is thin and doesn't ride too low, it puts your firearm comfortably at your hip for easy access even in an emergency.
Cons
Because the holster has a fairly large curve, it can be hard to thread your belt through the belt loops. Optional leather belt loops are available for this holster.
Because the holster does not come with a slide guard, the slide of your gun will be exposed to wear and the the elements.
---
And the Winner is
Our Pick
After testing these three holsters, I chose the Badger Concealment Kahr Arms IWB Holster as the winner. I felt it had the best combination of concealment, quality construction, is thin and lightweight, has an easy draw, and is comfortable to wear even for long durations.
Related Reads: