Kimber Micro's are perfect, concealed carry, defensive weapons. Made for close range encounters, they are definitely reliable after the break in period.  Their operation, from loading and unloading to firing and function, are like miniature M1911's and they will serve you just as faithfully.
Since you are most likely looking for the best way to carry this handgun, you may be asking what is the best holster for Kimber Micro's. I have done the research and come up with my list of top picks for you to look over.
My favorite holster for the Kimber Micro is the IWB Holster by Badger Concealment.
This holster comes custom made for the Micro. It's an inside the waistband (IWB) holster that has an adjustable retention, includes a sweat guard and only weighs 3 oz.
Get Great Guns and Ammo Deals!
---
History of Pocket Pistols
Historical pocket pistols are often associated with old west gamblers, Abraham Lincoln's assassination and the California gold rush.
Henry Deringer is the father of pocket pistols. He designed a small, single shot flintlock pistol as early as the 1820's. They were referred to as palm pistols, rather than pocket pistols, back in the day.
Gunmakers imitated Deringer's small pistol and misspelled his name as Derringer. The double r spelling is used today as a generic name for the smallest made gun for any caliber.
Sadly, the most famous Deringer shooter was John Wilkes Booth, who assassinated president Abraham Lincoln. It is housed at Ford's Theatre National Historic Site.
---
Pros and Cons of Pocket Carry
As you are thinking about pocket carry you need to take into account your lifestyle, wardrobe and body type. These can all play a role in how you decide to carry.
Practicing drawing and re-holstering your gun (unloaded) is always a good idea. If and when you are ever in a real life situation where you need to draw your weapon, you will be under duress and the muscle memory you learn from practicing be very important.
Pros
Pocket carried pistols are lightweight and easily concealed. One of the simplest carry options is to get a good pocket holster and slip it into your pocket.
Pocket carry can be comfortable. There isn't any pressure points, created from the gun being up against your body, as shoulder holsters or hip holsters may have. Most proponents of pocket carry believe that you will carry more often if you are comfortable.
With pocket carry, your gun is very hidden. Most holsters are padded well so that the shape of your gun does not show through the pocket (printing). There's no worry of a jacket falling open or shirt coming up and exposing your handgun. Your gun will not be seen unless you want it to be seen.
Cons
You will need to wear pants or shorts that will bear the weight of the gun and holster without falling down. Most pocket pistols and their holster will be lightweight so this shouldn't be a huge problem. The pockets need to have a big enough opening for you to get your hand into the pocket and holster easily.
Your gun can get snagged as you draw or the holster could come out with the gun. Most higher quality pocket holsters have taken these situations into consideration and have come up with good solutions, but it is something to consider.
It is extremely difficult, if not impossible to draw your gun from a sitting or crouching position. Sometimes they are just not as quick and graceful to draw from as other holsters.
Your gun may need more frequent cleaning as the lint and extra crud in pockets may sometimes find their way into the barrel of your pocket pistol.
---
Other Ways To Carry Your Pocket Pistol
Pocket carry is not the only solution for carrying a pocket pistol. Inside the waistband (IWB), outside the waistband (OWB) and ankle holsters are other options you may want to consider.
IWB
Inside the waistband (IWB) holds the gun between your pants and your body. The holster can be worn on the hip or in front or behind it. You would even consider appendix carry and small of back carry as IWB. The only part of the gun exposed is the grip; the rest fits comfortably in your pants. This is a very popular way of carrying as most consider it comfortable and the position of the gun is at a very natural angle for quick draw,
OWB
An outside the waistband (OWB) holds the gun on your belt and everything is worn outside the pants. They can be secured by threading a belt through their belt loops or by a belt clip. OWB offers the quickest draw possible.
Ankle Holsters
Ankle holsters are good for smaller weapons. Generally, an ankle holster is a wide elastic strap with a holster pocket attached. You wrap the strap around the ankle of your support leg.
Concealment is very good with an ankle holster. Most people don't study other's ankle in order to see if they are carrying. A lot of ankle holster fans use the ankle holster for a backup weapon.
Drawing from the ankle can be difficult. You have a lot of steps to take in order to draw the gun. Bending down or lifting the leg, moving the pant leg out of the way and then drawing the gun. Two free hands are needed to draw from the ankle.
---
Top Picks
As you can see, there are different ways to carry a pocket pistol. We have samples from just about every way in our top picks.
This holster is made from kydex and is molded to the Kimber Micro. It comes standard with an adjustable retention screw and sweat guard. It will fit belts up to 1 ¾ ."
Features
Adjustable retention
Molded for your firearm
Weighs 3 oz
Veteran owned company
Pros
Comfortable
Not bulky
Conceals well
Fits gun perfectly
Cons
Can pinch skin while bending over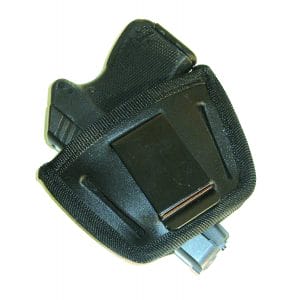 This is designed as a slide or yaqui holster. You can wear it inside or outside the waistband, right or left handed and front or small of the back. The small size securely holds micro or compact guns.
Features
Ambidextrous
IWB or OWB
Molds to the shape of the gun
Pros
Holds gun securely
Foam inner liner has good gripping power
Comfortable
lightweight
Cons
Needs a break in period
Make sure you order the small one for pocket pistols
Two slot pancake OWB holster made of leather. Comes standard with a comfort shield to keep the holster from digging into you. Covers the pistol completely so the front sights do not hang below the holster.
Features
Fits belt up to 1.5"
Handcrafted from leather
Reinforced tab for extra security
Lifetime replacement warranty
Pros
Perfect fit for the Kimber Micro
Made well
Cons
Unlined
Stiff and uncomfortable
Gun may snag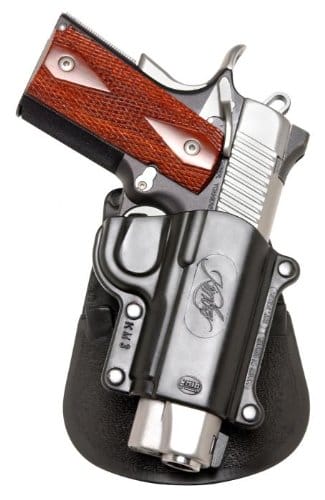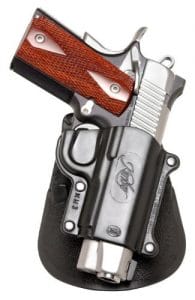 This holster doesn't sweat or breathe, is easily cleaned with soap and water and is virtually maintenance free. All Fobus products have a lifetime warranty so they stand behind their products.
Features
Paddle version
Faster draw than leather
100%, no questions asked, guarantee
Maintenance free
Pros
Comfortable
Conceals well
Easy draw
Sits close to body
Cons
Right handed only
Could snag on draw
May scratch the slide
This ankle holster is comfortable, versatile and has a spare magazine pouch. It's one size fits all and can be worn on either the right or left leg.
Features
Spare magazine pouch
One size fits all
Right or left handed draw
Foam pad prevents pressure points
Pros
Secure
Comfortable
Affordable
Cons
Takes more effort to draw
May affect your gait
---
Final Thoughts
These are some of the ways you can carry your Kimber Micro. We didn't cover everything. I wanted to cover some of the basics so you can make an informed decision about what kind of holster to buy.
At the end of the day, your holster needs to do three things for you. It needs to keep your firearm secure, it needs to cover the trigger and it needs to keep your gun in a good position for quick access.
Our Pick
I feel the top pick, Badger Concealment's IWB Holster does the three most important things a holster should do. Besides that, it's very comfortable, it's lightweight and molded for the Kimber Micro. Badger Concealment is a veteran owned company and I think supporting them is the cherry on top.
Related Reads: