Trail cameras, also known as game cameras are one of the best tools for any hunter. Besides using a trail camera to check out trails, or monitor wildlife, you can also use one for security reasons. Today's trail cameras are weatherproof and powered by you, so there's no need to worry about where your battery is.
These important features are crucial when you're in the wilderness. There may be instances where you need to leave your camera exposed to the elements for extended periods of time to capture game footage. So, do your research before you invest in a super expensive brand.
And always look for a trail camera that best suits your needs. Fortunately, today's trail cameras have many uses — even spying on Bobcats! While some trail cameras take pictures, others can shoot videos and some are capable of both tasks.
Before we dive into our review of the best trail cameras, let's review how to properly use a trail camera …
Determine the best location for placing your trail camera — ideally off the road less traveled

Install the batteries when charged, and make sure the memory card is installed

Ensure the trigger speed, trigger frequency, timer and flash settings are set

Mount your trail camera (there are many tutorials online or use a bungee)

Always keep your lens clean and clear

Mount your camera facing north or south and slightly higher than eye level

Activate your trail camera and test (better during daytime and at night)

Before you leave the area, use scent eliminator on and around the camera
Now that you've brushed up on proper set-up of a trail camera, take a look at our list of the best trail cameras out there.
SAFEST NEWSLETTER - WE WILL NEVER SELL YOUR EMAIL
GET GREAT

GUN AND AMMO

DEALS!
SENT ONCE A WEEK - NO SPAM - NO SELLING YOUR EMAIL
---
For the past 35 years, Moultrie has made products that are reliable, durable, and affordable. The company is known as the number one feeder-selling company in the industry. A perfect example of their superior craftsmanship is their A5 Low Glow Trail Camera.
To begin with, the Moultrie Trail Camera offers more than sufficient battery, perfect trigger speed, and features for security. It's also affordable and a great way to monitor your property while on vacation. The Moultrie has unlimited features including outstanding coverage for both night and day photos.
This camera's resolution can be configured to adapt to where you are shooting. The image resolution is adjustable to match your shooting environment. In addition, this camera comes with a handy place for your 32GB SD card. The A5 Low Glow boasts a direct design so it's very very user-friendly — and it certainly isn't going anywhere, thanks to the sturdy Python cable.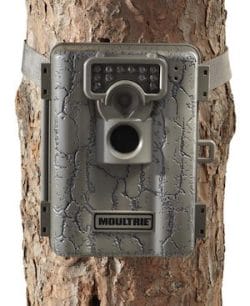 The A5 camera case is constructed of a rugged design with dull (camouflage) colors that blend well with the environment to make it difficult to notice. Overall, the Moultrie A5 is a great value for your money and a fantastic choice.
Features
5.0-megapixel low glow infrared game camera

50-foot nighttime illumination (flash) range

Long-range 850nm IR LED Infrared

Moon phase, time, date and camera ID stamp

Picture delay 10 seconds, 30 seconds, 1 minute, 5 minutes

Check the latest price on Amazon
---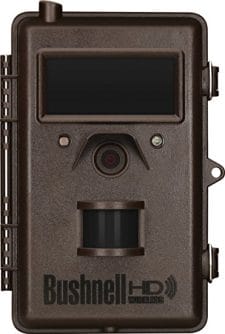 The Bushnell 8MP Trophy Trail Camera is a top-of-the-line model. But, a trail camera of this caliber is expected to be pricey. It offers 8 megapixels compared to most 5-pixel brands and also comes with a time lapse. The crystal clear quality of this trail camera is like no other. It delivers incredible brightness and if you are in surroundings with adequate sunlight, your photos will turn out better. 
The 8A trail camera also features a sturdy Python cable lock that provides extra protection during unfavorable weather conditions.
If you've been searching for a rugged trail camera with all the perks, the Bushnell 8MP is worth your consideration.
Features
Quality optics and stunning HD clarity

100% quality materials used and tested extensively

Beautiful design and durability built to last

Wireless connectivity, sim card, and data included

Camera settings can be managed via your computer or smartphone

Programmable trigger interval

8MP high-quality full color resolution

No-Glow Black LEDs with 60-foot range

Day/night auto sensor and PIR sensor

Check the latest price on Amazon
---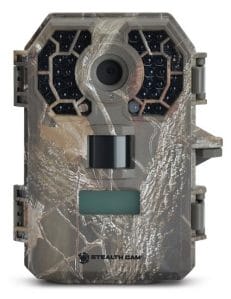 The Stealth Cam G42 No-Glo Trail Camera is formulated with a No-Glow technology that will output impressive photos even in the dimmest light. In addition, it comes at a price that won't break the bank!
If you've used a trail camera before, then you know the features you are looking for. Besides its perks, the G42 is silent as it takes photos, so you won't scare off your subjects. In addition, the Stealth G42 has plenty of options to sort through.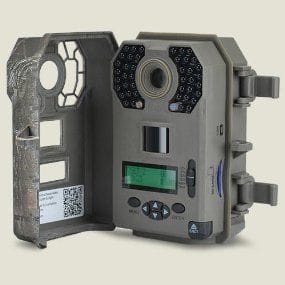 The Stealth G42 trail camera is a snap to set up thanks to its new technology menu programming. This camera also boasts a Quick Set Mode, that comes with multiple modes. If you're on a budget and need a terrific trail camera, look no further because this trail camera is the one for you!
Features
Superior low light performance for an extended nighttime range

New intuitive backlit menu programming

Retina low-light sensitivity

Burst mode 1-9 images per triggering

Manual shot capability with

Secure Lock

password protection

Built-in SD card slot up to 32 GB

Check the latest price on Amazon
---
The Browning Strike Force HD Trail Camera is a great choice for any hunter. It offers top-notch coverage with generous battery time.
The Browning Trail Camera offers a high resolution with excellent HD features. In addition, you can take photos up to 100 feet. When you're hunting, you don't want to be bothered with a camera that takes forever to set up, and the Browning Strike Force delivers.
The Browning model is user-friendly with easy setup, with a great internal view to think about your next move. It's true that these types of cameras are made to be left outside and also meant to blend in with the surroundings. 
It's also super rugged and durable, and the camera itself is easy to carry as well as conceal. So what's our verdict? Overall, the Browning Trail Camera is well-made and budget-friendly.
Features
TRIAD: 8.0 Megapixel: 8MP/4MP/2.0MP, HD video recording

30 IR emitters/80ft range with reflex trigger

New intuitive backlit menu programming

Manual shot capability

Secure Lock

password protection

SD Card slot up to 32GB

Check latest price on Amazon
---
The Apeman Hunting Game camera is compact, sturdy, and housed in a weatherproof plastic case. Its dependable longevity is able to work in tough environments like the desert or tropical rainforests. Also, the Apeman Trail Camera boasts an IP5 Spray Water protected design and short trigger speed.
In addition, you can use this trail camera for wildlife monitoring, scouting, home security, and private property surveillance. There are lots of impressive features that come with this trail camera such as quality images, videos, and a passive infrared (PIR) sensor to record each motion of objects accurately with a 2MP image sensor.
Whether taking photos during the day or night, the camera auto-adjusts itself to give you the best experience possible. For the night support, the camera has a Low Glow Infrared technology which produces just the right amount of light for black and white images. 
Like all the other cameras on our list, a good trail camera needs to adapt to the woods and various surroundings. The Apeman trail camera is no different as it's designed to blend in with the environment. As far as the case's construction, it's strong, sturdy and rugged enough to be left in the rain because of its IP54 Spray Water technology.
Even if you're a newbie to trail cameras, you really shouldn't have a difficult time setting up the Apeman. In addition, this trail camera is easy to carry and mount. Plus, the 2.4-inch screen gives you enough display to help you navigate through the camera.
The whole package includes a user manual, a mounting belt, a wall mount, a USB cable and a USB charging cord. Overall, the Apeman Hunting Game camera is simply an ideal trail camera and a perfect tool for all your hunting and security needs.
Features
Fully automatic IR filter to capture shots of wild game's natural behaviors

Infrared Flash Illumination technology equipped with 26 LEDs.

Trigger distance and IR flash range both up to 20m (65ft).

Waterproof, dust-proof, drop-proof and rain-proof

Fast trigger speed and low power consumption

Professional 24-hour after-sales services on Amazon

Check the latest price on Amazon
---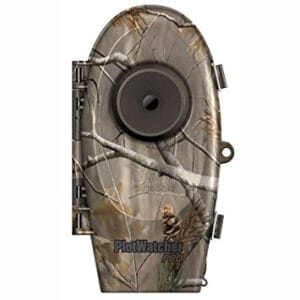 The Day 6 Plotwatcher takes photos at regular intervals and doesn't use a motion sensor for triggering the camera. The interval can range from 5 to 10 seconds. After the camera is set up and properly mounted, the Day 6 captures day-long footage and condenses the images into a 10-minute HD time-lapse video.
You can view your subject's activity in just minutes via the GameFind and MotionSearch software, which allows you to easily scroll through daily videos. Offering a larger field of view, the Day 6 camera will catch images of the game no matter how far or near.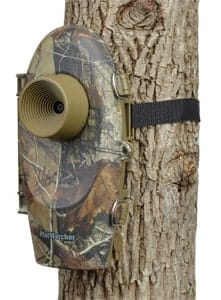 Because it's not triggered by short-range motion, the area it captures can be 30 to 300 feet! And finally, the long battery life can last up to a full month of time-lapse coverage with one single set of batteries, (or one million video images).
While the Day 6 Plotwatcher Pro trail camera is marketed towards hunters and game enthusiasts, you could also use it for anything from security monitoring to monitoring the progress of various projects. The Day 6 Plotwatcher Pro HD Game Camera has it all and is simply a fabulous choice.
Features
HD game camera — takes pictures every 5 to 10 seconds

2.5-inch LCD for onboard camera setup

Captures up to 1 million video images

GameFinder

software allows you to review files in forwarding/reverse frame by frame

Up to 32 GB of SD card storage

Supports add-on zoom lens

Check the latest price on Amazon
---
Final Thoughts
With so many trail cameras on the market today, it can be challenging to understand which features are important and which are just added for marketing reasons. As we stated at the beginning of this review, the rule of thumb is not to purchase the first trail camera you find.
To aid in your decision making, there are basic criteria to be concerned about. These include the resolution power, battery life, trigger speed, detection range, infrared technology, picture-taking modes, LCD screen, easy setup, and security features.
The six trail cameras presented above come with top-notch features that will enhance your wildlife scouting or hunting experience. They can be used for both observing wildlife moving patterns, hunting and security purposes. Plus, they offer weatherproof designs and high quality and resolution images. So, if you're looking for the best trail camera, you've come to the right place.
Related Reads: