Combat Flip Flops were started by two Army Rangers and a bass player from Montana. In 2010, the three men were in Afghanistan, working with Remote Medical International.
Matthew Griffin ('Griff'), one of the founders, toured an Afghan-owned boot manufacturing plant where he saw a factory worker wearing a makeshift pair of flip-flops using the sole of a combat boot. From that point on, an idea became a reality.
SAFEST NEWSLETTER - WE WILL NEVER SELL YOUR EMAIL
GET GREAT

GUNS AND AMMO

DEALS!
SENT ONCE A WEEK - NO SPAM - NO SELLING YOUR EMAIL
---
Company Background
Griffin is a 2001 United States Military Academy graduate who was commissioned as a Field Artillery Officer. Between 2003 and 2005, he deployed four times to Iraq and Afghanistan with 2nd Ranger Battalion as a Company Fire Support Officer. In this role, he planned and participated in over one hundred special operations direct action missions.
After departing from the military in 2006, Griff worked in the defense sector. It was here that he discovered economic stability was the solution to decreasing conflict and prompting an environment thirsty for rebuilding.
When he served as a special operations veterans, he discovered the wars went against everything he hoped for. He had a dream to find a new path forward through understanding and compassion. A change was coming.
Combat Flip Flops, a for-profit company, set forth with a very important social mission.
---
Combat Flip Flops: Description
These flip-flops are really appealing and comfortable. Plus, if you look deeper at the aesthetics, they actually tell a story with all the minute details they've got etched into them. Combat flips aren't cheap, flimsy, rubber beachwear, sold by merchants to make a dime on those who forgot to pack sandals on a vacation.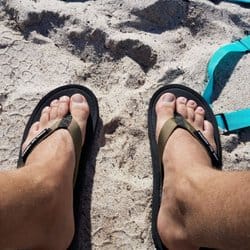 You may be wondering why we're reviewing flip flops on our site, but Combat Flip Flops look like they're up for the challenge when confronted with the enemy. It's true these flip flops are a conversation piece, but actually, a long thought out process was involved in their creation.
When you wear these flip flops, you'll certainly feel like you're in charge. Hence the tagline, "Bad for running, worse for fighting." These flip-flops aren't designed simply for the beach and bar hopping — although they look like they're made for just that.
---
Hand Craftsmanship
Each sandal is well made and the genius lies in the details. For example, the AK-47's are decorated with the butt ends of AK-47 shell casings. We'll give the details on them later, but for now, let's take a look at Combat's Tuck Tucks.
These flip-flops are bright red and symbolize the energy of every industrious Afghan citizen the sandal is associated with. These flip-flops, like all of Combat's line, have distinct features. From the poppy hood ornament and the quality stitching to the Afghan flag colors, these sandals tell quite a story. This footwear is for sure a conversation starter.
These flips have such a strong quality stitching, which is durable enough to withstand more than a regular flip-flop, but not invasive to the bottoms of your feet when walking. This pair of incredible footwear is made from real cow-leather — not plastic or thinly made rubber that diminishes easily over short periods of time.
---
Quality, Comfort, Construction
The handcrafted flip-flops have cowhide leather decks, EVA medium density midsole, and combat boot grade rubber treads that are rugged and will last for years and years. Next, they're adorned with embellishments like chrome poppies and hand grenades — the flops range from subtle to extremely noticeable.
What's great about these flip flops is that each model ties into the Afghan culture, creating a connection with the wearer. Hence, reinforcing the company's overall mission. By using non-traditional assembly methods, including old aircraft ovens, the full line of men's and women's models are assembled by hand.
In addition, they offer a superior level of craftsmanship which is pretty rare these days. The pattern on the soles allows for better grip of the ground. The grip makes it easier and safer walking down and uphill, plus it gives a bit more traction.
Comfort
These flip-flops can be a bit stiff at first, due to the fact that they're made from genuine cow leather. However, it may take a few weeks to break in. The EVA mid-layers are designed to ensure protection for the bottom of your feet — unlike most flip-flops, which is really a bonus. The fit is snug and there's really not a bit of stretching throughout the sandal.
Cushioning
Again, like most flip flops, the cushioning is minimal, but they are quite supportive. These flips are great for days at the beach or a good long trek — because they're rugged enough the long haul. As we said, break them in and the leather will become like butter.
Construction
Combat Boot Rubber Outsole
EVA mid layers
Cow Leather Deck
Cow Leather Upper
Chrome Ornament
Style
These flip-flops are so casual they can be worn with jeans, shorts, board shorts, or whatever chill outfit you own. While most brands are basic, Combat Flip Flops go the distance. They feature great lines, brilliant color, and unique details like a poppy flower.
Combat Flip Flops have a very natural look rather than appearing too sporty or manufactured. Moreover, they're not meant for trekking in the Outback, but you'll sure look great trying to do it! With a pair of Combat Flip Flops, specifically, their Tuck Tucks you're pretty solid.
Features
Size: Fits true to size — doesn't stretch
Functionality: ★★★★★
Weight: ★★★★★
Durability: ★★★★★
Cost: ★★★  $70.00 (check great sales!)
Comfort: ★★★★★
---
Each pair sold funds a day of education for an Afghan girl
Eva sole and mid layers
Perfect for the sun, sand, and water
Built to handle years of tough use
Designed by Army Rangers and Made in conflicted areas
Helps promote safety and security in developing nations
Lifetime warranty for manufacturing defects
Replaceable due to manufacturing issues
Military grade boot rubber outsoles
Made from locally sourced cow leather
Cast 7.62×39 mm bullet casings for that true AK look
Veteran owned and operated business
---
The Floperator Coyote Flip Flops are pretty cool and they don't look tactical in the least. These flips are so versatile, plus they're built to the Combat Flip Flops standard. You can sport them on the land and sea.
The Floperator's will ensure you follow the SOF (Special Operations Forces) mantra, "Slow is Smooth. Smooth is Fast." And their standard tagline … "Bad for Running. Worse for Fighting" patches. After all, these are Floperators!
Features
Each pair sold funds a day of education for an Afghan girl
Male sizes 7 through 15
Combat Boot Rubber outer sole
EVA Mid-layer and Deck
Nylon Strap
3/4″ x 2 3/4″ Hook and Loop Insignia
Check the best price on Amazon!
---
Final Thoughts
When you buy your next pair of flip flops, consider Combat Flip Flops. They're comfortable, durable, and made for a very special reason. Please see below with a message from "Griff" that you can find on www.combatflipflops.com
"Each day brings tragic events. Decades of radicalism fueled by ignorance create indifference and helplessness. The cycle of violence and injustice continues. As humans, we should have figured this out by now. Can it change?
We felt the same way too. Asked the same question. As business leaders, we listened to the rhetoric and saw the hypocrisy. As special operations veterans, we "defended our freedom," and discovered the wars went against everything we hoped for. Through understanding and compassion, we found a new path forward — a mechanism of change."
What Can You Do?
Grow entrepreneurs in conflict areas
Build communities
Fund women's education
Buy a product made in a conflict zone
Join The Unarmed Forces
"Be a part of a community built on hope, passion, and strength. Rebuild nations. Create change. Or keep doing the same thing and expect a different result." BE THE CHANGE.
Related Reads: