The 1911 single-action, semi-auto pistol is one of the most popular US government, competition, survival, and self defense/concealed carry weapon. It has a storied US (war) service history.
Military and law enforcement choose it for its reliable performance and accuracy. The additional pistol laser sight enhances its personal defense capabilities and nighttime tactical advantages.
Although there are numerous 1911 holsters on the market, only a few successfully accommodate a light. Our top Condor VT Holster pick is a soft-sided, nylon, "one-size-fits-most," wrap-around holster designed to perfectly fit the 1911 holster with light or laser. It permits vertical mount on nearly any MOLLE (modular lightweight load-carrying equipment) platform.
The vertical belt-mounted Condor VT Holster is lightweight, durable, and completely adjustable with adequate Velcro straps for secure closure. It is well-padded and a solid holster with a smooth draw contributing to maximum functionality and comfort.
Get Great Guns and Ammo Deals!
---
1911 Holsters w/Light
Holster Attributes
Specifically-designed 1911 holsters include IWB and OWB concealed carry, Cross Draw, Tactical/Drop Leg, Duty (law enforcement and military) and Paddle. Our immediate focus are holsters that accommodate 1911 pistols with attached flashlight and laser mounts and qualify as MOLLE (modular lightweight load-carrying equipment).
A 1911 IWB (inside waistband) holster offers all-day carry comfort, safety, smooth draw, and concealment. OWB (outside waistband) styles provide good accessibility and easy re-holstering without the bulk. The gun can be positioned anywhere around the waist, but typically on the strong side of the body to be drawn by the strong hand.
Tactical 1911 retention holsters are about easy access. The gun is secured until it is needed. The holster itself is attached in its entirety at points to your body. Paddle, Drop Leg, Hip/Belt, and Small of Back designs provide varying degrees of carry and concealment.

Holster Benefits and Drawbacks
Belt/clip on holsters are quite popular. But they should closely and comfortably fit the wearer's natural body contours, regardless if they are worn inside (IWB) or outside (OWB) the waistband. The downside is that belt holders do not allow as much freedom of movement as other holster styles do.
Chest holsters can be attached to MOLLE compatible vests and chest carriers. Like shoulder holsters, chest holsters are often easier to draw from than belt holsters from a sitting or crouching position. Any system that utilizes modular attachment methods and is usable with U.S. general issue MOLLE components is often considered "MOLLE-compatible." Sport/recreation outdoor equipment is increasingly incorporating MOLLE technology.
Shoulder holsters offer versatility, concealment, and quick draw. They allow good weight balance, magazine pouch, and more freedom of movement for the wearer. These holsters can also be used as a belt holster (by detaching the harness) or for typical horizontal carry (with additional straps).
Hip holsters have good retention and easy draw, and are recommended for duty use. They ride high, at your waist-hollow, and remain out of reach of others that might try to take it. They are not, however, very effective in a vehicle or when body armor is worn.
Drop leg holsters strap to the leg/thigh and provide secure, fixed, concealment without the waistband bulk. It allows quick access, easy draw, and is an ideal choice when heavy body armor is worn. Because of their leg/thigh placement, these holsters may get caught on objects and become more easily accessible to others trying to relieve you of your weapon.

How to Choose the Best Holster
Choosing the right holster means you can be certain it will protect your weapon, as well as you, in a self-defense situation. This holster should be sturdy, safe, retentive, and durable; nylon or quality-crafted, lightweight leather; be waterproof, fit the wearer as well as the gun and be readily accessible and easy draw. The best holster materials are made for functionality, wear, comfort, and long-lasting durability.
The nylon holster is lightweight and offers extended wear, comfort, and quick weapon removal. Ballistic or Cordura nylon holsters are constructed with a two-layer polymer fabric and textile membrane that permits air flow, allowing the holster to breathe. Nylon holsters are lightweight, sweat-resistant, and perfectly suited to hot/humid environments. Cordura nylon holsters are a combined nylon and other fabrics, which makes it higher quality as well as highly retentive.
Leather holsters are typically constructed from premium grade quality material that is custom made for durability and long life. However, they do require more maintenance than comparable nylon holsters. Leather holsters are typically made to perfectly fit the specific type/brand of weapon. They are also designed to provide safe carry, smooth draw, and all-day comfort.
Kydex holsters are more difficult to adjust to than nylon or leather. Kydex resembles plastic and does not generally flow with your body contours. However, Kydex holsters retain their shape, are durable and longer-lasting, strong and functional.
---
Our Top 1911 Holster w/Light Picks
Top pick Condor VT Holster is a 1911 nylon-material field and concealment holster that also accommodates aftermarket a light or laser attachment. The Condor VT fits most pistol models.
This vertical carry holster provides comfortable carry on hip/leg or at the small of the back. It is lightweight, provides full functionality, and has long lasting durability. It is a quality, well-padded, wrap-around, "one size fits most" holster design that adjusts to, and snugly fits, varying sized pistols with flashlight or laser mounts.
Although Condor VT holsters are open muzzle, they have adequate adjustable Velcro straps that ensure a snug fit around the pistol and flashlight or laser mount. On the back of the holster are two 7-inch (17.8cm) MOD straps, UTX press studs, and 3" x 2" MOLLE.
This allows the holster to be secured vertically along the hip/leg or at the small of your back. Nylon lock stitching ensures durability and long life. The holster is affords a smooth draw.
The 1911 Condor VT holster has additional Velcro straps to secure the thumb snap, as well as secure the weapon, cover the trigger, and adjust to cover muzzle
Pros:
• Great price/value
• Thick, durable material
• Maximum adjustability
• Fits well; well-padded
• Significantly smooth draw
• Holster remains open for easy holstering
• Fully opens for easy cleaning
Cons:
• Retaining strap has Velcro on both sides (slightly difficult to adjust)
• Snap may be tight (hampers one-handed draws)
• Right hand only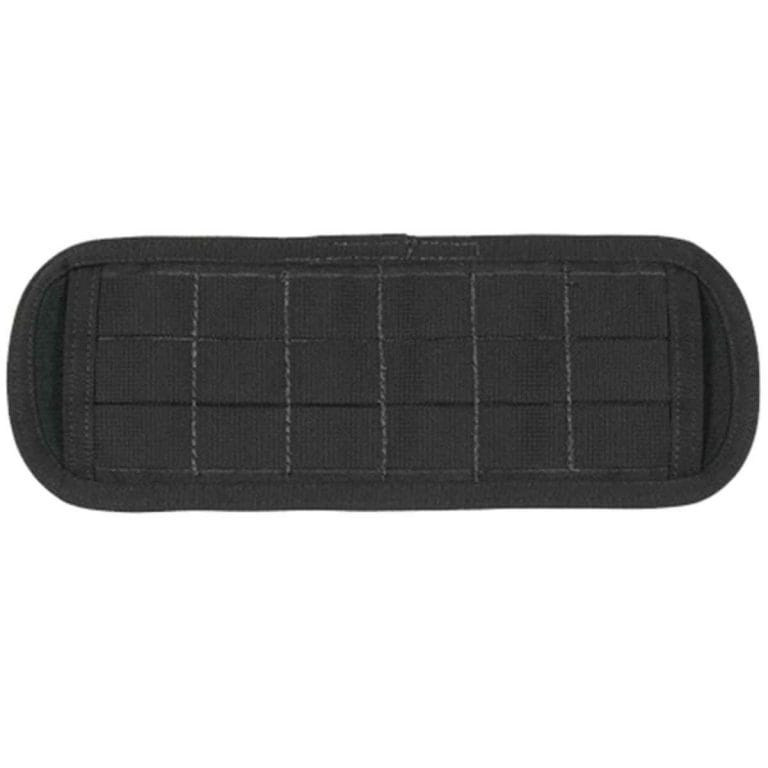 The Blackhawk S.T.R.I.K.E. (Soldier Tactical Retro Integrated Kit Enhanced), produced by ATK, is an all-around, versatile, universal, belt panel (holster pouch) that fits many sizes of guns, from compact to full-length weapons.
It is MOLLE-compatible, providing maximum load-bearing capacity for (elite) military units and law enforcement operations. This panel/holster pouch allows immediate access to your weapon.
The S.T.R.I.K.E. modular panel/pouch is available in (4) sizes of 12″, 18″, 24″, and 30″. These holster pouches attach to belts up to 2-1/2 inches wide. They are made of high-density polymer for ultra comfort and flexibility. Each pouch is reversible having vertical mounting webbing for horizontal attachment and horizontal mounting webbing for vertical attachment.
Pros:
• Great price/value
• Universal fit; modular
• Good quality
• Durable
• Well-padded
• Vertical or horizontal mount
• Easy/quick access
Cons:
• Makes some belts sag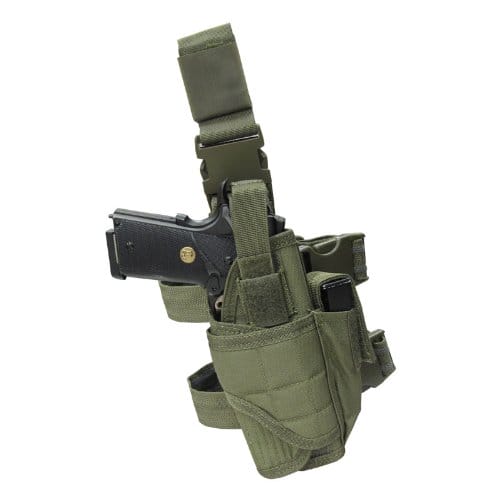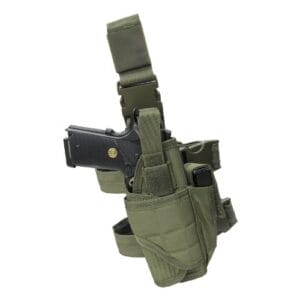 The Condor Tornado Tactical Leg Holster is a fully-adjustable retention system suitable for fixed concealment, field, sitting/walking, and outdoor (hiking, trail) use. Condor Outdoor Products, Inc. has led the outdoor/tactical gear industry for more than 20 years.
They specialize in affordable tactical vests, modular pouches, plate carriers, and other tactical equipment that excel in performance and reliability.
The Condor Tornado tactical leg holster is constructed from thick, heavy-duty, durable, nylon and padding that accommodate a variety of pistols (medium and larger sizes) that have laser or flashlight mount and accessories. The holster is closed muzzle, and has a highly-customizable fit and wrap-around design.
The holster's leg straps are lined with non-slip rubber to prevent slipping. An internal Velcro strap adjusts to fit the length of the weapon. The upper straps attach (to secure the gun). This retention closure can be switched from Velcro to a push snap.
The retention closure secures the weapon while allowing quick-motion easy-release. An additional Velcro strap covers the trigger guard. The holster has one magazine pouch, which also has an adjustable Velcro strap to secure it.
Pros
• Great price/value
• Fully adjustable
• Sturdy construction
• Conditions and weather-resistant (rain, saturation, mud, etc.)
• Extra front magazine
Cons
• Somewhat bulky; heavy
• Right hand only configuration
This Pro-Tech ("Intimidator") holster is a universal, ambidextrous, belt/clip on holster that fits numerous models (compact, sub-compact, full-size), including the Sig Sauer 1911 Carry Nitron w/laser. It is designed for either concealed or open carry. It also includes a built-in magazine pouch and adjustable safety strap.
This holster easily clips onto pants or belt with a metal clip that can be adjusted (side to side) to accommodate specific needs. All Velcro is protected by webbing to prevent debris and damage.
Pro-Tech's holster's outer layer is constructed from durable, premium, high-quality Cordura Ballistic nylon material. The holster also has a vinyl vapor barrier lining that protects the weapon from moisture.
The lining is constructed from nylon material and has protective foam padding. The edges are turned to prevent fraying and the overall holster is stitched with sturdy bonded nylon, including double stitching at stress points.
The holster has a soft flexible nylon-plastic adjustable spring action thumb break, which is designed to be comfortable when the gun is worn for concealment inside the waistband.
Pros
• Good price/good value
• Good quality
• Fits right or left hand
• 30-day money-back guarantee
Cons
• No recent reviewer complaints (within the last year)
---
Conclusion
The top holster pick is the Condor VT Holster.
Our Pick
Condor Outdoor Products, Inc. has been an outdoor/tactical leader in the industry for more than 20 years. The Condor VT model is available in either right hand or left hand styles. It is desired by many for its ease of operation, smooth draw, comfort, and safe carry.
This open muzzle, vertical carry, concealment holster is a lightweight, higher-end, durable, smooth, well-padded, "one size fits most" product. It is considered a great value for a great price. Two 7-inch (17.8cm) MOD straps, UTX press studs, and 3" x 2" MOLLE allow the holster to be secured vertically along the hip/leg or at the small of the back.
The Condor VT Velcro straps make the holster fully adjustable and customizable to provide a snug fit for varying sized (1911) pistols having flashlights or laser mounts. This quality-stitched lightweight nylon concealment model is designed to comfortably fit the wearer's natural back body contour. It is also designed and constructed for maximum functionality, durability, and comfort.
Related Reads: