The Glock 42 is a popular weapon for military personnel and police, but it's also great for everyday gun owners. It is especially ideal because of how small it is, making it easily concealable and perfect for heavy training.
You'll need a good Glock 42 pocket holster though, with the top pick being the Sticky Holster Small-Medium Barrel. It'll keep your gun safe while allowing you to draw it with ease.
Get Great Guns and Ammo Deals!
---
Advantages of Pocket Holsters: Why They Work For the G42
Maybe a shoulder holster is too uncomfortable, and an ankle holster is too slow of a draw. Either way, carrying in your pocket has some great advantages, such as:
Ease of Carry
Few Restrictions
Good Concealment
Easy Access
Ease of Carry
It's easy to just slip your Glock 42 into a pocket holster. Even with something else inside your pocket, it's not uncomfortable. You won't have anything catching on your arms, jabbing into your sides or back, or making sitting uncomfortable.
Few Restrictions
It won't matter if you've got a coat on or if your shirt is tucked in or not. Your pocket holster won't be in the way.
Good Concealment
Pocket holsters don't make it obvious that you're carrying a gun, since printing is minimal and bulging pockets aren't suspicious. Your gun won't flash and the shape isn't easy to see either.
Easy Access
With a pocket holster, you can draw your weapon easily. It's not the fastest draw, but you can draw it without being threatening while still having a full firing grip.
---
Disadvantages of Pocket Holsters
Even with the clear advantages of carrying with pocket holsters, there are nonetheless, few drawbacks to still consider before you commit yourself to one. There are list of some disadvantages:
Draw Speed
Gun Size
Access Limitation
Draw Speed
A pocket holster can slow your draw speed and isn't the fastest method. Your hand does have to enter your pocket for a good grip and you've got to be careful to remove the gun properly so that the gun separates from the holster.
Draw time isn't necessarily slow however with the right practice, and is probably better than some other alternate methods still. If because of this you're more interested in some of the other types of holsters, check out the best Glock 42 holster available.
Gun Size
For a Glock 42, you shouldn't have many problems with this point. Just bear in though that there are general practical limitations when it comes to pocket sizes. Pockets are only so large after all.
Some full sized guns can't be concealed, although many Glocks and other available guns do fit fine. The Glock 42 is the smallest glock out there, so you'll essentially have no issue with this.
Access Limitation
With front pocket carry, it's hard to grab your gun with your non-dominant hand. It's still difficult when you're using the back pocket, and may feel awkward.
---
Additional Tips For Pocket Carrying Your Glock
Here are some additional tips that you should know to help you carry your Glock 42 in your pocket more comfortably, effectively and safely.
Carry Safe: Always use a good quality holster with the trigger covered. A good holster will keep the gun upright and everything out of the trigger guard. Also, don't keep anything else in the same pocket. This prevents contact with the trigger and ensures a smooth draw if you need it.
Carry Consistently: Be prepared for a quick reaction by keeping your Glock 42 in the same place every time. Pick a pocket that works best for you then, and always reserve it for your gun for quick access.
Carry a Reload: Carrying in your pocket does usually mean you've got to use a smaller gun, but that doesn't mean you've got to sacrifice your reload. Certain pocket holsters include a holder for that extra magazine, or you can purchase a separate case. Your reload should be on the same side as your Glock 42.
Keep it Clean: When you put your gun in your pocket, it'll have a tendency to collect lint. Try and clean your gun regularly, once a month at least. Fieldstrip, clean out the lint, check for barrel obstructions and rotate your ammo.
---
Best Pocket Holsters For Glock 42
Sticky Holster uses both compression and friction to stick that holster to your body or waistband for easy draw. On top of that, your Glock 42 won't be falling out either.
You can definitely fit your Glock 42 well and can use it from either side, thanks to its ambidextrous design.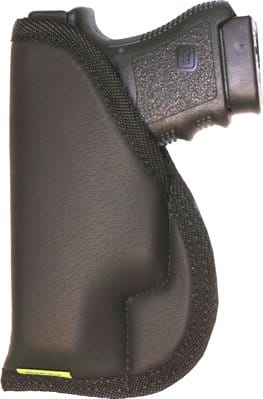 Pros
Grips more tightly to your clothing than other brands
Stays in place for prolonged concealed carry
Works with sweat pants, shorts, with a belt, and with sweat shorts
Much less bulky than other brands, while being comfortable and light to wear
It covers the trigger with ease
Doesn't add too much weight to your waist
The sticky quality keeps the holster in your pocket when you draw
Cons
No sticky material inside the holster to keep the gun from falling out
The holster may come out if you draw the glock too quickly
It's a little bulky and thick for some pockets
The Glock 42 has a tendency to fall out when you're in a seated position
Lacking a little in terms of a snug and secure fit
This imported holster is perfect for carrying since it breaks up the outline of your gun to prevent printing.
It fits your Glock 42 with ease too, and can even be put in either pocket for ambidextrous use. The material is viscous and slick so there's low friction, but your gun won't fall out.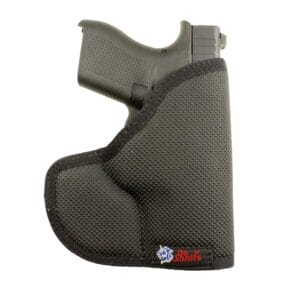 Pros
The quality is excellent and your Glock 42 will fit well in the holster
The texture both inside and outside is meant to keep the gun secured inside the holster
Easy to carry in a variety of different pants and shorts
Perfect for beginners to carrying or to glocks
Very good price point
The retention feature keeps the gun in the pocket when you pull
There's no print at all
Cons
It's a little large for a Glock 42; although you may be able to use it for other Glock models as well
Unless you have fairly big pockets in your jeans, it can be a pretty tight fit
People have problems with the holster coming out as well whenever they pull the gun out
At times, you might need both hands to pull your glock without the holster coming with it
Desantis makes great holsters right in the US. The sticky rubberized material used will ensure that your pocket holster will not move out of position, and it's meant specifically to fit the Glock 42. Use it in any pocket since it's made for ambidextrous use.
Pros
The gun stays securely in place
The holster will stay in the pocket when you draw your glock
The outer outline looks great and isn't obvious
With it on, this holster looks just like a large wallet
Great for all pockets or purse carry
Fits well even in women's pants, and does not print on dress pants or jeans
The price point is great for buyers
The outer cover prevents printing
Cons
The actual holster is fairly large, so you do need larger pockets or clothing
Printing does not seem to be eliminated completely
It can be a little bulky when the flap is also attached
You can still see the gun in the top of the back pocket
Some people might find that it's a tight fit if they have smaller pants pockets
The innovative design of the Borall allows you to actually load your weapon safely while still keeping your Glock 42 holstered.
It easily mimics the shape of a wallet or tablet while holding the glock in the same upright position every time. Unholster your gun in one swift movement.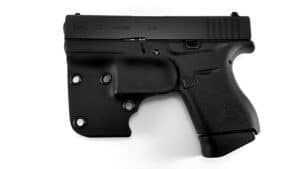 Pros
Fits the Glock 42 perfectly
Conceals the gun without much of a problem due to its thin size
You can easily trip down the flap if needed to keep it in the pocket
Shaped well to stay in the pocket
Great retention, so it stays in the pocket and the gun stays in your holster
Cons
It is missing a muzzle/front sight protection
The flap can be a little bulky but you can trim it down easily
This imported, ambidextrous holster can be put in the front or back pocket, with non slip bands to keep the holster in your pocket whenever you draw your gun quickly.
It fits a Glock 42 with ease without taking up too much space or being too obvious.
Pros
Retains the Glock 42 enough that it doesn't move without making it difficult to pull the gun out
The holster doesn't follow the gun when you remove the gun
 You can fit rounds in your pocket with ease
The price point is great for buyers
There's no obvious printing
Great for dress pants or tighter pants
Feels comfortable in the pocket
Cons
The holster does make a bigger bulge than some
It is fairly big and bulky for smaller pockets
Sometimes the Glock 42 and other smaller guns can slide around more than others
There's no spare place for the magazine.
The material is quite soft; some notice more printing
---
Final Thoughts
There are so many pocket holders you can choose one, but mytop pick is the Sticky Holster Small-Medium Barrel. It holds onto your gun without any problems and stays in your pocket with ease.
If you're looking for the right holster that doesn't restrict your movements, gives good concealment and ease of draw, you will be happy with this one.
Related Reads: