As a woman who spent much of my working life in law enforcement (private security), I carried a gun as part of my job. I started with a Taurus Millennium in 9mm, but despite carrying comfortably inside the waistband, it was a bit on the small side.
Eventually, my go-to pistol for daily carry was the Taurus 24/7 in 9mm. In my opinion, this firearm was extremely accurate, and the grip wasn't over-sized, so it fit my hands better than other weapons like it.
The hardest part of carrying this gun on duty was finding a decent holster to fit both my duty belt and my body, which is not shaped like a man's! I ended up trying out a Fobus-style hard shell paddle holster, like the IMI Z1200 paddle holster.
While not specifically designed for a duty belt, this holster's features meant it worked well while in full duty gear, or while wearing just the basics of a standard trouser belt.
Get Great Guns and Ammo Deals!
---
Things To Consider Before Buying
Before purchasing any of these polymer holsters, one should consider your firearm and make certain one is available for your specific model and caliber. This model holster fits the Taurus 24/7 as well as .45 ACP, PT809 9mm, the PT840 .40 S&W, and the PT845.
Also, think about what garments or clothing the holster is meant to be worn with most of the time. This will determine if you need to order additional accessories for the holster, or if the stock components will do fine for your individual case.
The stock version comes with a large, contoured paddle meant to slip easily into the waistband; however, there are other options available, such as a belt clip or belt attachment (for sliding a belt through).
Finally, you'll need to use care when ordering; if you're left-handed, you'll want to make sure to order the correct one, as the right-handed holster is what's generally set as default. Also, you might consider ordering the single magazine pouch that goes along with the holster, guaranteeing you'll always have extra ammunition close at hand.
Features and Benefits
Pros
Molded from high-quality polymer.
Sight guard slot to help protect your sights, whether stock or custom.
Comes with a built-in safety retainer.
Removable single magazine pouch clip.
Full 360° cant adjustment.
Interchangeable attachments for belt clip.
Can be used for concealment with jackets or long-tailed shirts.
Limited warranty for defective units.
Available in three colors.
Cons
Can only be used for the firearm and caliber it was designed for; no swapping different weapons.
Requires a little bit of practice.
Can't be used for deep concealment.
May not fit everyone's body type.
May print (show through) if worn with light-colored clothing.
---
The IMI Z1200 paddle holster is made in Israel to be the best in polymer holsters in the entire industry. The IMI Defense brand combines years of military experience with tough, long-lasting materials at a great price. These may be some of the best holsters available to civilians, and you can't get any better battle-tried and -proven holsters suitable for both law enforcement and civilians alike.
This holster fits the following firearms in addition to the Taurus 24/7:
.45 ACP
PT809 9mm
The PT840 .40 S&W
The PT845.
For more detailed info on this particular holster please check out.
Safety and the IMI Z1200 Hard Shell Paddle Holster
This Fobus-style IMI Z1200 paddle holster's durable polymer is lighter than a leather holster, and tougher than one made of nylon. It's almost impervious to scratches or cuts. The holster is molded to the specifications of the firearm, and it features a molded protective sight channel to avoid damaging gun sights.
This will protect either stock or aftermarket sights, and keep your investment of potentially expensive sights safe.
The paddle itself is a little bigger than the size of a man's palm and curved to fit the hip. The wide paddle allows for better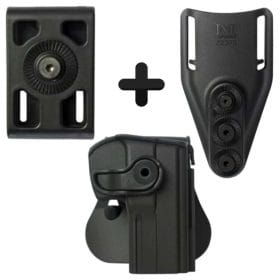 weight distribution and gives the holster a secure grip, preventing flopping or movement of the gun even while in a full run.
The high purchase and the cant adjustment combine to allow for easy drawing of the firearm, even in the sitting position. Once released from the holster, there is no catching or hanging up on a thumb retention strap as might be possible on other holsters.
It also comes with the added feature of a safety mechanism; the safety trigger is located at the "ready point" of the trigger finger, allowing for ease of draw and zero retention, but making it difficult for an assailant to draw. A simple push is all that's needed to free the firearm from the holster.
The safety operates by a large sturdy clip which captures the trigger guard on the firearm. Pushing the nickel-sized lever on the outside of the holster with the finger releases the gun, allowing it to slide free easily.
Another feature of this model holster is a removable single magazine pouch rail. You can add a single magazine pouch with paddle by inserting it in the waistband in front of the firearm, then slipping the protruding pouch rail clip into the top edge of the magazine pouch. This allows you to securely keep a spare magazine close at hand, ensuring you always have extra ammunition.
Holster Adjustment Capabilities
The IMI Z1200 has a full 360° adjustment for cant, requiring a simple allen key inserted through a hole in the safety, making it ideal for even small-of-back carry or cross draw. This key does not come with the holster, so you'll need to find one that fits; however, it's a standard 5/32 alley key, or in a pinch, a 4mm metric will work also.
Once you loosen the bolt with the allen key, you can adjust the cant. The assembly has a cog-like movement; the teeth ensure a good grip in the desired position.
Find the right spot, tighten the bolt again, and you're good to go!
The paddle holster is rather flat, keeping it closer to the wearer's body, perfect for both civilians and police alike, on- or off-duty. It is also available in both right- and left-hand draw.
One can wear this holster one of several ways. Its contoured paddle easily slips inside the waistband, but also has a groove to lock it on a belt.
The rounded edges make it a comfortable fit, even for women who have more defined hips than men. This can even make for a concealed carry option with the addition of a mid-length coat or shirt with a longer fit. There are even optional accessories you can order directly from the IMI Defense website (see additional accessories).
Colors Available
The IMI Z1200 is available in black, desert tan, and OD green, all of which have a flat (not shiny) finish.
Additional Accessories
IMI Defense also offers two additional accessories to go with the holster. One can remove the paddle and apply either a belt attachment (for stringing a belt through) or a belt clip.
History and Production of the IMI Z1200 Holster
This IMI Z1200 paddle holster was developed in Israel for their elite military and police forces. They are currently in use by the Israeli Army and police defense units.
IMI Defense was founded by Nisim Zusman to manufacture the highest-quality, ergonomic tactical accessories. Their line of polymer holsters is highly-acclaimed and can be found in use among police, military, and Special Operations Forces across the globe.
This is an excellent, all-around holster that will pretty much work for any type of use. But, there are some alternatives out there. Priced similarly, one is a leather IWB concealment holster. For a cheaper alternative, you can pick up a nylon holster with attached magazine holder.
---
Our Final Thoughts on the IMI Hard Shell Paddle Holster for Taurus 24/7
This IMI Z1200 holster by IMI Defense is an excellent value when you compare price to quality. The flexible polymer does not scratch and is impervious to shock fracture. The holster is nearly indestructible.
It offers safety features and several additional accessories to customize it to whatever is comfortable for you. The holster offers a 360° adjustable cant with a secure bolt and teeth-like locking system.
You can get this holster in black, desert tan, or OD green, and for either a right- or left-hand draw, and there are many ways you can customize it to fit you.
Related Reads: