The Sig P238 is a popular .380 pocket pistol with a wide selection of holsters available for it.
As a smaller gun, the P238 is very much suited to pocket carry. This review will show you four of the best holsters for carrying in a pocket. If you're considering another holster type for your P238, check out this list.
My top pocket holster for the Sig P238 would have to be the Desantis Nemesis. However, any of the holsters in this review will work well with the P238.
Get Great Guns and Ammo Deals!
---
Why choose a pocket holster?
If you've already started shopping for a pocket holster, you've probably noticed the sheer amount of them there are to choose from. With more and more people getting concealed carry licenses, compact handguns are becoming equally as popular. Many people are finding that pocket holsters offer the best way to carry this kind of weapon.
Pocket holsters generally come in nylon, kydex, or leather. Most commonly they are worn in the front pocket of a pair of pants, but they could also be placed in a rear pocket, jacket pocket, side pockets on cargo pants, or even in a purse.
Advantages
There are several advantages to using a pocket holster:
Concealment
One of the most immediately obvious advantages of pocket carry is the level of concealment that is possible. Provided you wear pants with deep enough pockets, it's very hard to tell what exactly is in a person's pocket. Besides, very rarely will anyone give a slightly bulging pocket a second glance.
A good pocket holster will be designed specifically to break up the outline of your gun; this is often achieved either by padding or a thick "panel" on one side of the holster to make it look like a wallet.
Convenience
One of my favorite things about pocket holsters is how easy they are to use: you can just pick them up, place them in a pocket, and get out the house. If I'm feeling particularly lazy, I'll often make use of a pocket holster. And if I'm in a hurry, a pocket holster will beat looping a holster on to a belt any day.
Wardrobe options
Pocket holsters open up a whole bunch of wardrobe options. Because both the weight of the gun and pocket holster can be pretty low, you can get away with leaving the heavy gun belt at home.
That means shorts and t-shirt become an option in summer months. Of course, you should look into this and make sure it works for you – after all, you don't want your pants falling down on you!
Affordability
Another thing you'll notice about pocket holsters is that they usually retail for a fairly reasonable price. That way you can justify having a few of them to keep things interesting!
Disadvantages
However, it's not all roses, there are a few stumbling blocks to carrying with a pocket holster:
Draw speed
Some people find they struggle to get a fast draw with a pocket holster. A lot of holsters require some technique to ensure you don't pull the holster out of your pants with your gun. They're also tricky getting to when seated, which is an issue when driving.
Gun size
There are practical limitations to using a pocket holster – some guns are way too big to fit in any kind of pocket. Of course, the Sig P238 won't present any difficulty in this regard.
Pocket Carry Tips
Before we get on to specific brands of pocket holster, there are a few tips to keep in mind if you decide on buying one:
Decent holsters of any style, should cover the trigger guard. Despite the range of safety features incorporated into the P238, it's still a good idea not to leave the trigger of your pistol exposed.
It's strongly recommend that you have a dedicated carry pocket to put your holster in. Avoid putting keys, loose change, and other junk in with your gun.
Pocket holsters allow you to get a good grip on your holstered weapon with your hand placed casually in your pocket. However, you should avoid the temptation to handle your pistol too much – it's more of a giveaway than some people realize!
It seems no matter what you do, pockets will end up housing lint and other debris. A good holster should shield your gun from pocket fluff as much as possible, but it's still a good idea to keep up regular maintenance of your weapon if you choose to pocket carry.
---
Top Pocket Holsters for Sig Sauer P238
For me, the Desantis Nemesis is one of the first holsters that comes to mind when discussing pocket holsters. It's almost a classic in the pocket holster line up by now, and not without good reason!
The Nemesis has a straightforward yet effective design: it's made from a bumpy outside material that sticks to the lining of your pocket and ensures you don't pull the holster out with your gun.
Pros
On top of the clingy exterior of the holster, the inside is a slick pack cloth that allows for a smooth and easy draw.
The holster is filled with just the right amount of foam to break up the 'print' of your handgun and keep it stable in your pocket.
It's also ambidextrous, making it a good option for both right-handed and left-handed shooters.
Cons
Not really a drawback per se, but you will have to spend some time practicing your draw when you get this holster. That being said, it's important to have a fast, clean draw nailed down with whatever holster you're using!
This holster is similar in a lot of ways to the Desantis Nemesis, and not just in terms of its popularity.
Like the Nemesis, Sticky holsters have a 'sticky' outer texture that clings to the inside of your pocket (or lining of your pants if you choose to carry IWB).
Make sure to get the SM-2 model, which is a perfect fit for the P238.
Pros
It's an extremely lightweight holster, weighing in at under 3 oz.
You don't need to worry about which hand is your strongest, as it's also ambidextrous.
The smooth lining on the holster's interior makes for a frictionless draw.
Cons
Again, some practice is required with this holster. Make sure you get the hang of drawing without pulling the holster out of your pocket at the same time.
As with all pocket holsters, make sure you have pants with deep enough pockets.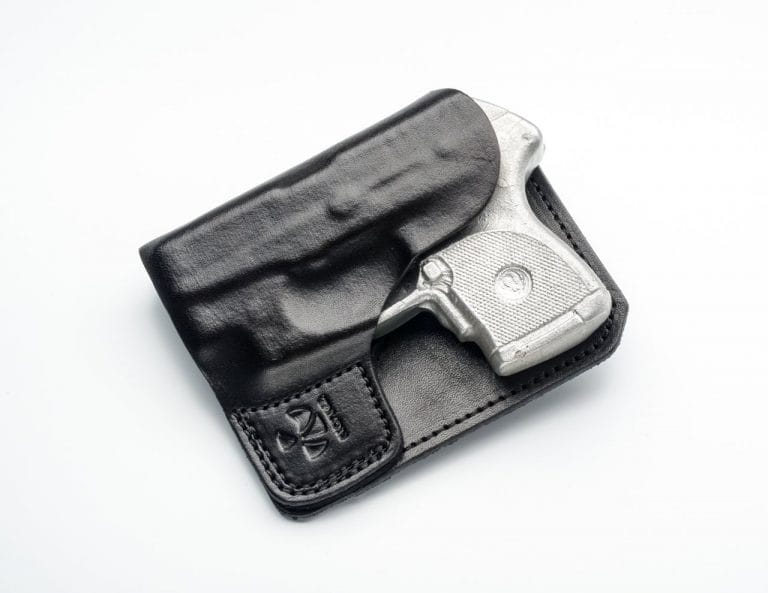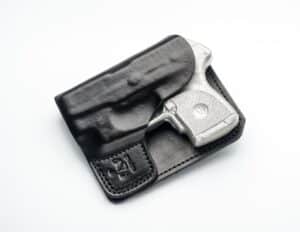 This holster has a unique design which is a little different to the other pocket holsters we've seen so far. It's made with a sturdy leather panel on one side, which softens the outline of your gun and makes it appear as though you have a wallet stashed in your pocket.
It fits nicely in cargo pants pockets, but can also work in the rear pockets on a regular pair of pants.
Pros
This holster is custom molded for whichever gun you intend to use it with. That combined with the fact that it's made of leather ensure for a nice fit which will only improve with age.
Talon have a money-back guarantee – if you don't like the product, ask for your money back!
It's available for both left-handers and right-handers, so make sure you click on the correct one when ordering online.
Cons
When carrying with this holster in a rear pocket, get someone to make sure your weapon isn't exposed when bending over. Some people have pointed out this being a bit of an issue with shallower pockets.
This is a US-made pocket holster that, despite its low-price, proves to be a good match for the P238.
Make sure you get the right size: 2, or 2L if your P238 has a laser.
Pros
Similar to the other pocket holsters already discussed, it has a "non-slip" outer material to make sure it stays in place in your pocket.
The inner material is made from nylon for a smooth and easy draw.
There is a good amount of padding that serves both to hide the silhouette of your pistol and to make it a comfortable carry choice.
Cons
Some people find this holster a bit too bulky. If you're in the habit of wearing smaller jeans, you might not get along with this holster.
Also, the opening on the barrel end is a little large and can present a problem with lint.
---
Final Word
After checking out some of what the P238 pocket holster world has to offer, I hope you're closer to an idea of what you like the look of.
It's a tough choice, but if I had to choose, I would go for the Desantis Nemesis. It's very low-cost, and is backed up by countless satisfied users and positive reviews across the web.
Our Pick
It has a simple and functional design, doing exactly what you want a pocket holster to do: it conceals well, it fits nicely in all manner of pockets, and is a nice draw once you get the technique down.
So, by all means shop around and get a feel for what's on offer, but you can't really go wrong with any of the holsters in this review!
Related Reads: