If you are looking for a good self-defense pocket .380, the Sig Sauer P238 has as many fans as it has detractors.
So, what is it about this pistol that some people absolutely love (and others hate)?
Get Great Guns and Ammo Deals!
---
The Sig Sauer P238: a Classic Pocket Carry Handgun
The inspiration for the Sig Sauer P238 is a gun everyone is familiar with, the Colt 1911. With the ability to shoot .45 caliber bullets, the Colt was a favorite for over 100 years and then a company called Sig Sauer came along and decided to design a scaled down version of the 1911.
After buying the rights to the Colt Mustang, they made a few changes and then released it as the Sig P238 to the world. Similar to the 1911, it is a single action, semi-auto pistol that features a slide release level and a manual safety.
Experienced shoots will identify with the exposed hammer and the compact, single-action pistol from the 1911. Operating similarly to other single-action autoloaders, the P238 also features a single-stack, 6-round magazine and a manual slide lock that is located above the magazine release button on the left side. The trigger features a serrated design that has a single-stage release.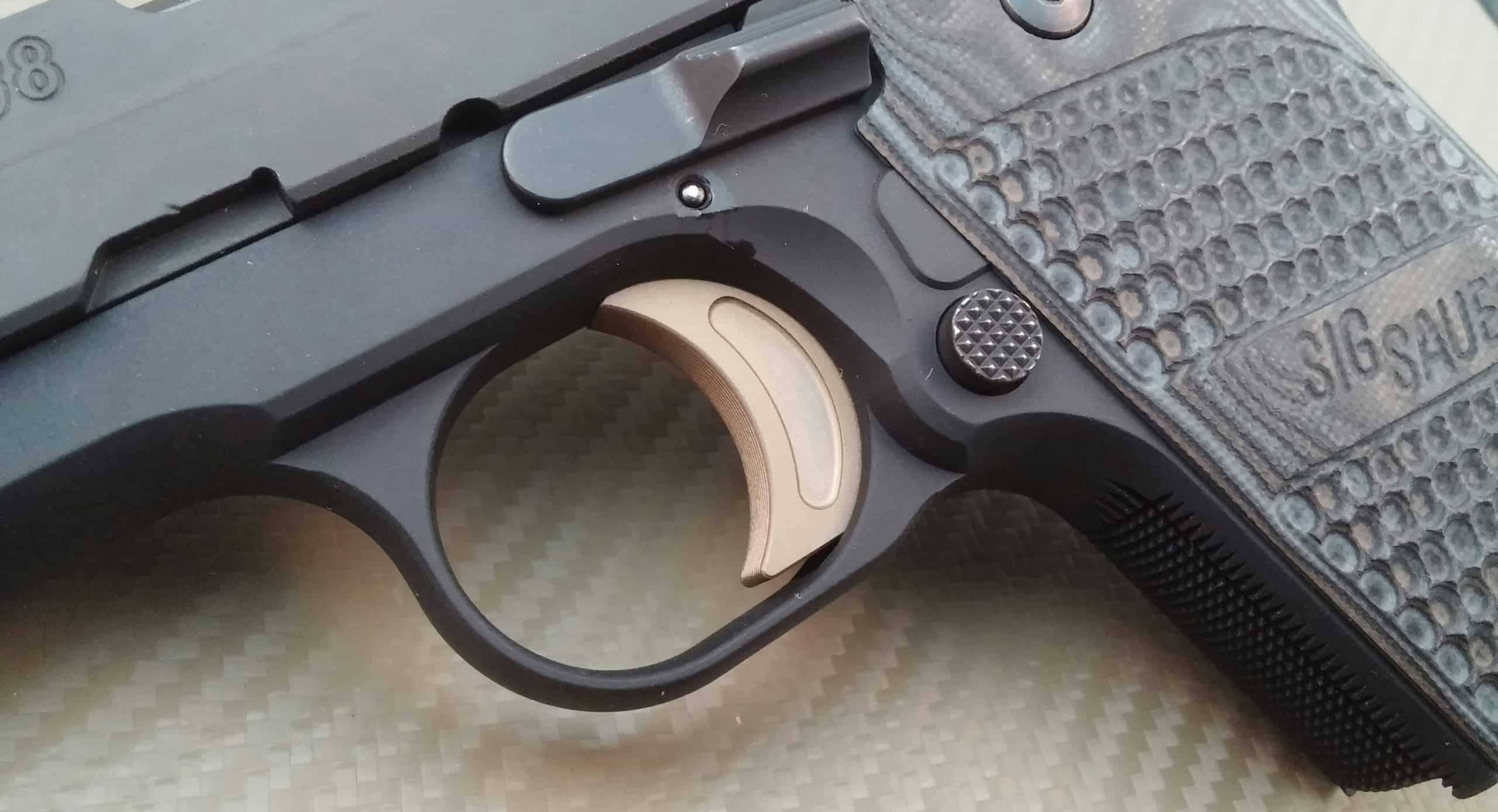 There are several types of P238s that are offered by Sig Sauer with varying metal finishes, sight set-ups, and grips materials. It also comes equipped with fixed sights that have the SIGLite luminous design. The front sight features a combinations green fiber optic and Tritium blend while the rear sight has a drift-adjustable, two-dot Tritium is necessary.
Easily fitting into your pocket, the P238 is made of all metal, giving it a sturdier feel than many of its polymer competitors. Despite all its metal, you won't feel any more weight on it than a polymer pocket pistol. Plus, it has a thumb safety that is a little still but will easily disengage when you need to take it off.
---
Breakdown
The P238 has a similar break down to the 1911. After you move the slide back a few of the indentations will line up, you can then pull out the lever for the slide release and then push the slide forward to pull out the spring and the barrel.
As you reassemble the P238, make sure to push the ejector down so you can get the slide back onto the frame. If you aren't careful with the ejector, it can be damaged.
4 out 5 for Ease-of-Assembly.
---
Maintenance
After you get through the break down process, you will find that it doesn't have a lot to clean. With such a small barrel, there just isn't a lot of area to clean up. Which also means it doesn't take long to clean this gun.
Also, keep an eye on the hammer area if you pocket carry, you can clean this area out with compressed air to get any lint that might build up in that area.
5 out 5 for Maintenance.
---
Reliability
With many pocket pistols, you have to be very careful as they can have a tendency to be finicky. You often see manuals with warnings to only use a very specific type of ammo. The P238 doesn't have that issue. It is a solid gun that won't malfunction with cheaper ammo.
5 out of 5 for Reliability.
---
Comfort
Everyone knows that we come in different sizes and shapes, especially our hands.
So, a pistol that might work for one person may be too small or large for someone else. That is not a problem with the Sig P238 as it can work for many sized hands.
The P238 is pretty small when you compare it to other large caliber gun and even to some .22 pistols.
It's size, however, makes it one of the best choices for concealed carry on the market today, but that still means that some can find it hard to hold because their fingers will dangle off of the bottom.
I should mention, that "It's too small!" is a complaint I frequently hear from guys who carry the P238. Women, on the other hand, seem to love the gun. Hence why the P238 and its cousin, the Sig Sauer P250, are some of the best handguns for women available today.
The extended magazine can help to increase our grip length and its capacity by one round. Even with small hands, having the extended magazine helps with holding it better.
The grip on the P238 does not have finger grooves. For some people, not being able to fit your fingers and grip the grooves properly means that this will be unable to hold the gun correctly.
4 out 5 for Comfort.
---
Durability
P238s, while overall quite durable, have a common issue with grip screws coming loose and falling out. This is due to the clash between the aluminum frame and the steel screws, which are used to attach the grip panels. The threads can stripped when the screws are overtightened.
The stainless-steel frame P238's don't seem to have the same problem though. Also, replacing the recoil spring should after a few thousand rounds is inexpensive and helps to increase the service life of your handgun.
3.5 out of 5 for Durability.
---
Caliber vs. Accuracy
There have been critics that have been concerned with a .380's ability to provide enough self-protection because it does not have a high enough caliber.
Several other smaller pistols have small magazine capacities which is why it is important to improve your own proficiency and accuracy with a smaller pistol.
Since the P238 only has a barrel length of only 2.7 inches, it is consider by many shooters as a "close range" pistol, or with 7 yards or closer.
The P238 is more than adequate for hitting targets out to 25 yards.
5 out of 5 for Accuracy.
---
Safety
When you are considering safety, remember that this is a small 1911. Some people may not feel comfortable keeping it in a cocked and locked position, but don't worry the SIG Sauger P238 has a bunch of safety features.
Included on the P238 is a manual safety. Some people are not fond of the manual safety on a carry pistol, but it only requires that you are properly trained to disengage the safety on the draw so it won't be a problem.
It also features a hammer safety, a firing pin safety block, and a disconnector that keep the pistol from being able to fire if you don't have the slide locked into the right position.
5 out 5 for Safety
---
Technique
Many pocket pistols are not only temperamental, they are also unforgiving with a tight tolerance and not a lot of room for mistakes. The P238 does not have the same issue as it is not easy to get the gun to malfunction.
Some smaller pistols with a really petite barrel can have a surprising muzzle flip even more so than a large caliber gun.
The P238 is equipped with a very light recoil which makes it aim easily as well as getting your shots on target easily.
5 out of 5 for Technique
---
Starter Kit
Don't expect a lot from the starter kit that comes with the P238. It only comes with a decent quality case made of plastic and a single six round magazine although some modes also come with a laser sight.
2.5 out of 5 for the Starter Kit
---
Accessories
When it comes to smaller pistols, you don't have a lot of room for upgrades or accessories. There are some laser sights that you can purchase just for this gun made by several manufacturers. You can also purchase extra magazines, but keep in mind that they are a little pricey.
The one area that has a lot of great options is the grips. Since they are removable, you have some versatility in that area. With the ability to add and change grips at your leisure, this adds to the P238's comfort — and, it opens the possibility for using some colorful grip designs.
You can also purchase different sights for beyond the laser sights, although the sights that it comes with work very well, so you may not have any interest in upgrading them.
4 out of 5 for Accessories
---
Final Word
Serving a purpose in the pocket pistol category, the Sig Sauer P238 is a gun you won't mind taking to the range a lot, especially since it is always a good idea to practice with the gun you carry.
Due to its size, you can't expect to have fast reloads and the safety does require you to readjust your hold to disengage. It does work well with any type of ammunition which is a great feature since other pocket pistols tend to be picky.
The SIG Sauer P238 is a great gun to carry and to shoot. If you want a gun that is small and concealable, the P239 is a good choice.
SIG Sauer's P238 pistol gets a solid 4.5 out of 5. Click here to check the current sale price.
Related Reads: