You're in the market for a holster for your Ruger LC9, and you might be wondering, what's the best holster for this pistol? That depends on if you want to carry concealed or in the open. There are so many holsters on the market that it might seem like an arduous task to choose one.
Our choice for the best holster for the Ruger LC9 is the Cloak Tuck 3.0 IWB Holster by Alien Gear. This holster offers the best features for the price, such as adjustable cant (carry angle), height, and retention. It also comes with a lifetime warranty from Alien Gear. And, if you change guns, Alien Gear will swap out the shell free of charge.
Check out this video review about an Uncle Mike holster for the Ruger LC9.
Get Deals on Guns and Tactical Gear
Join 70,000 Readers For Our Weekly Discounts
---
What to Consider Before You Buy
There are a number of things to keep in mind when you're shopping for a holster for your LC9. The following tips apply to most, but not all, holsters on the market.
Concealed, or Not?
If you're going to carry your firearm concealed, you'll need to look at holsters that aid in keeping your pistol covered when you go out. In this case, you will probably want an inside the waistband (IWB) holster that fits between your hip and your pants.
For carrying in the open, an outside the waistband holster will work well for you. These come with belt clips or slots, or both, and let you carry your pistol outside the pants.
Your Shooting Hand
Most holsters are not ambidextrous, so when you order one, use caution. Make sure you order the correct side for your dominant hand. Even shoulder or cross draw holsters come in right- or left-hand models.
Handgun Retention
If you're an active person, you might consider a holster with more than passive retention. These come with a strap or button mechanism to guarantee your firearm stays securely in the holster. Many shoulder, ankle, or belly band holsters come with retention straps. Polymer holsters generally have an adjustable passive retention screw.
Durability
You'll want to find a holster that will work well, but also be tough enough to stand up to daily use. Holsters come in a variety of materials, from nylon to leather and polymer (plastic). Each material has its pros and cons. Nylon, for instance, is cheaper, but not as durable as leather or polymer.
---
Holsters 101
Let's talk a little about holster basics. This will give you an understanding of the types of holsters available for your Ruger LC9.
Outside the Waistband (OWB): these holsters come with a belt clip, slide slots, or both. This lets the user carry the firearm outside the clothing. Some are even suitable for concealed carry.
Inside the Waistband (IWB): this type of holster is designed to be worn inside the pants. Some models even allow for tucking in a shirt while keeping the holster concealed.
Shoulder Harness: you've probably seen detectives in cop shows wearing a harness. It keeps the firearm under your weak side arm. They usually have spare magazine pouches on the opposite side. These holsters have retention straps.
Belly Band: these are made of neoprene or elastic and are designed to be worn around the belly. An elastic holster stitched to the band secures your pistol. They usually have retention straps.
Ankle Holster: designed to fit around the ankle, these holsters are ideal for carrying a small backup weapon. They have retention straps to secure the pistol.
Pocket Holster: these allow you to slip your handgun into your pocket, without worrying about belt clips or slide slots. They use friction to keep them in place and some can be used as inside the waistband (IWB) holsters as well.
---
Holster Reviews For Ruger LC9
Now that you've learned about some of the basic holster types, let's look in more detail at specific models. There are some unfamiliar terms you might come across when shopping for a holster.
OWB: stands for outside the waistband.
IWB: stands for inside the waistband.
Cant: refers to carry angle, or the degree of the holster. This can be adjusted on some models.
Ride Height or Ride: this means the position of the holster, whether it's higher or lower than your waistband. Some models allow for adjustment.
Kydex: a patented polymer (plastic) blend forming a hard shell molded to the firearm.
Passive retention: in polymer holsters, you should get an audible 'click' when the pistol is properly holstered. This is passive retention and can be adjusted on some models.
Active retention: this refers to a thumb break or strap or a button on the side of the holster. This adds another level of handgun security.
This is a pocket holster that allows you to put your firearm inside your pocket. There's no need for a belt or a clip to secure the holster. It relies on friction to keep the holster upright in your pocket. The design provides a fast, smooth draw and gives you easy reholstering.
The pocket holster is probably the lightest holster on the market. It does not have additional retention features and it can be used by both right- and left-handed shooters. It's the ultimate concealed carry holster, designed to obscure the shape of a pistol in your pocket.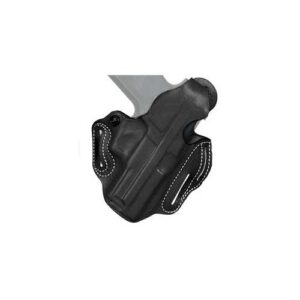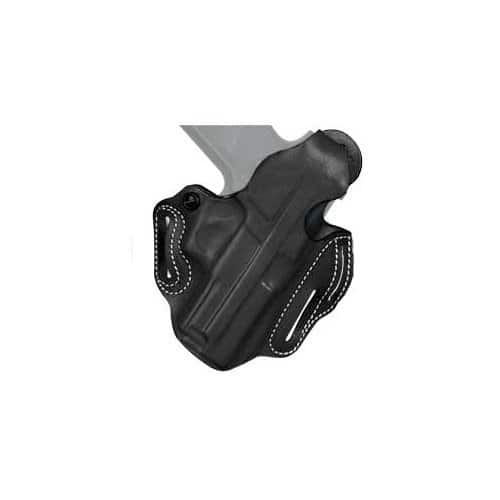 The Scabbard Holster is molded of leather and designed with belt slide slots, enabling you to easy attach it to any belt up to 1 ¾ inches wide. It has a high rise on the skin side, protecting your pistol's finish from sweat and oils on the skin.
This holster has a retention strap with an easy-to-use thumb break snap. This, along with the molded shape, gives the pistol added security when carrying. It's available in black or tan, but is only for right-handed shooters.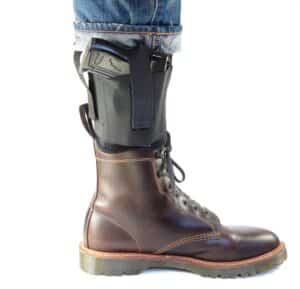 This is a neoprene and elastic holster worn around the ankle under your pant leg. The elastic holster fits a wide range of firearms and can be used on both the right or left ankle. The holster also features a foam backing to prevent rubbing on the ankle.
The Ankle Holster comes with an elastic retention strap to ensure your firearm is secure. You'll also get a spare magazine pouch at the front of the holster.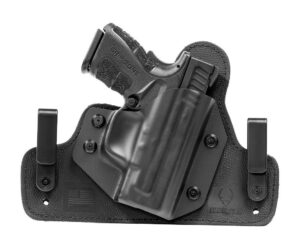 This is a hybrid holster made of a waterproof neoprene backing with a polymer holster skin. The cloak tuck is designed for inside the waistband (IWB) use and concealment.
The holster skin comes with an adjustable retention screw, so you can get the perfect fit and the best draw. The belt clips are also adjustable. You'll be able to fix the ride height of the holster so it's comfortable for you. Its clips are designed to allow you to tuck in your shirt.
The holster skins are removable, and you can use different shells on the same back. This gives you the opportunity to carry different pistols with the same holster. Keep in mind that it's not ambidextrous when you order one.
Alien Gear offers a lifetime warranty on this holster. They will also swap holster skins should you ever change to a different pistol. It also comes with a 30-day, no questions asked return policy.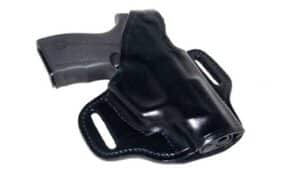 This is a molded leather outside the waistband (OWB) holster with belt slide slots. It does have a retention strap to secure the firearm in the holster. But this holster is specific for right- or left-handed shooters.
It's designed for concealed carry tight to your waist. The back side of the holster is also molded for added comfort. It features a molded sight channel to protect your pistol's sights. This holster rides high and is not adjustable for cant, ride, or retention.
This is a non-molded leather holster suitable for small-frame automatics. It will fit handguns with 2 to 3 ½ inch barrel lengths.
This holster has a retention strap to ensure a secure fit. It can be worn either strong side or cross draw, and is small enough to be worn concealed. It is not ambidextrous, so make sure you order the right side.
---
Final Thoughts
Finding the perfect holster for your Ruger LC9 may seem like a challenge. By now, you probably have a good idea of what you're looking for. Keep in mind that most holsters aren't ambidextrous, so you'll want to carefully read the product description and order the right side.
Our Pick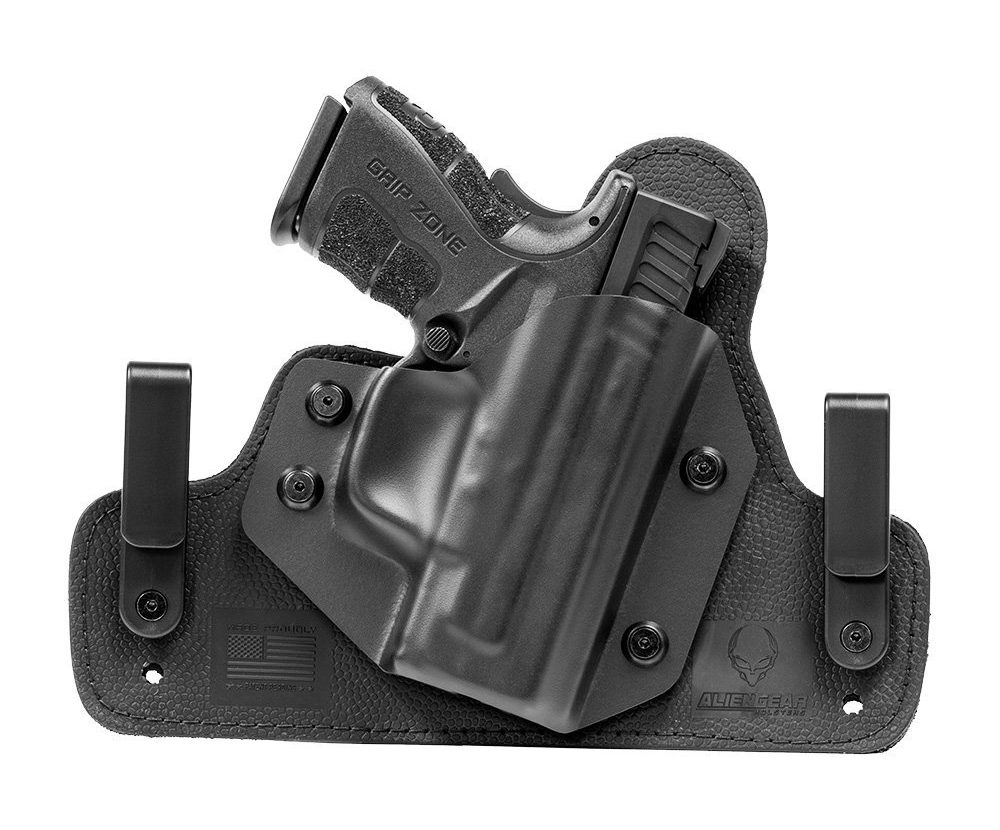 The Cloak Tuck 3.0 by Alien Gear offers the widest range of adjustments. You can customize the ride height and cant, as well as the firearm retention, guaranteeing the perfect draw. Alien Gear gives you a lifetime warranty and lifetime shell exchanges, so if you change your pistol, you can use the same holster. This is the best holster with the most features for the price.
Related Reads: