Now that you have a Ruger P90 you are in the market for a holster. You may be wondering what is the best holster for Ruger P90. The holster you choose needs to fit your lifestyle and how you want to carry.
The P90 is a steady and true workhorse. You can carry this on the job, where a firearm is required or as a concealed carry piece in a significant caliber.
Our top pick for the best holster for the Ruger P90 is the Open Top Hip Holster by Uncle Mike's Tactical.
This holster was designed for ultimate adjustment. It can be used with a paddle or the belt clip. The paddle is soft, pliable and has air vents to keep you comfortable while wearing.
Get Great Guns and Ammo Deals!
---
Things To Consider
As you are shopping for the best holster for your Ruger P90, there are some things to keep in mind. Let's go over some of those things.
Carry Style
As you think about how you are going to carry your Ruger you have to consider different things. Knowing your state laws will be one factor in deciding if you open carry or carry concealed.
The Ruger P90 is an excellent concealed carry firearm. If you decide concealing it is the way you want to carry you'll need proper attire for concealment. This may include long shirts or jackets for outside the waistband carry (OWB) and shoulder holsters. Inside the waistband holsters (IWB) may need pants about two inches bigger than you normally wear.
Body Type
Body type is also something you want to consider, especially when it comes to comfort. Most people with a bigger midsection do not like belly bands and most skinny people are not comfortable with paddle holsters.
For the most part, you need to be flexible to reach an ankle holster and if you sit for long periods you probably wouldn't like a gun shoved in your pocket.
Dominant Hand
Most holsters are not ambidextrous. Keep this in mind as you are shopping, especially online. I found right handed is the most popular, but many have a choice between a left hand version and a right hand one.
Retention and Draw Speed
Retention is how the holster holds the gun in place. Draw speed is how fast you can get the gun out of the holster. Sounds pretty basic but what you want to find is a holster that strikes the perfect balance between the two.
Concealment and ease of access are both important factors in a good holster. Generally speaking, the more concealed a gun is, the harder it will be to access it.  A gun, riding on your hip, open carry, is about as easy as it gets for access. IWB or OWB concealed is most people's top choice for balancing ease of access with concealability.
Holster Safety
A lot of accidental discharge comes from holster issues. While it is an unlikely occurrence, there are plenty of stories out there about accidental discharge from a holster. Let's look at some ways to protect against it.
Holster Design
The way the holster is designed plays an important role in safety. You want a holster designed for your firearm and you want a holster that covers the trigger guard. These are two very important features to look for in a good holster.
Aftermarket Features
If you add some aftermarket features to your firearm your holster may no longer fit that firearm. You want to find a holster that fits even after any aftermarket features has been added to your gun.
Holster Modifications
Modifying your holster beyond the recommendations of the manufacturer may change the way your gun fits in your holster. They are usually built specifically for your make and model of gun and are best when left that way.
Holster Inspection
It is always a good idea to inspect your holster regularly. Checking things like the retention mechanisms, stitching, material and the overall appearance of your holster can keep you aware of any changes that may be taking place and weakening your holster.
---
General Holster Types
There are a number of holster types so let's take a look at some of the most popular.
IWB – Inside the waistband holsters are designed to be worn between your pants and your body. The gun and holster sits inside the waistband of your pants.
OWB – Outside the waistband sit outside the pants. They are secured with a belt clip or loop that your belt threads through.
Shoulder Holster – Shoulder holster fit around both arms. The gun sits on one side and extra magazines can be on the other side to balance weight.
Ankle Holster – Ankle holsters fit on the ankle. They are best for smaller guns.
Pocket Holsters – Pocket holsters sit in your pants or jacket pocket. They usually have a rougher outside to help them "stick" in your pocket.
Belly Bands – These are usually large bands of elastic that wrap around your midsection and have a pocket to hold your gun.
Now that we've gone over the basic types of holsters, holster safety issues and the things to consider as you shop, let's move on to the top picks, in holsters, for the Ruger P90.
---
Top Picks for Ruger P90 Holster
This holster comes with a paddle and belt loop accessories.  It rides close to the body at a mid level height. It was designed to be adjustable.
Features
Features air vents
Fits belts up to 1 ¾"
Comes with paddle and belt loop accessories
Lead edge is cut down for easy draw
Pros
Very affordable
Good retention
Easy draw
Adjustable cant
Sturdy
Cons
Paddle clips are uncomfortable
May mark the gun
A little bulky
Hard to get on and off belt
This holster is rugged and stable, like a belt holster should be. It comes with a sturdy belt clip and belt loop. It's multi-layer nylon cushion fit design will mold itself to the shape of your gun.
Features
Extra Mag pouch
Clip on and belt loop combo
Reinforced thumb break strap
Ambidextrous
Resists moisture
Pros
Fits well
Thumb strap is secure
Made in the USA
Great for a day at the range
Cons
Clip isn't very secure
Snap is hard to close
Strap is awkward
The Roto Holster is lightweight, with a flexible two piece design for all day comfort and durability. It rotates 360 degrees and adjusts easily for different carry positions.
Features
2 oz lightweight design
Good retention
Roto Holster design
Contoured paddle
Pros
Very adjustable
Good retention
Comfortable
Rides nice
Good quality
Cons
May rotate too easily and not be secure
Retention is very tight
Retention is not adjustable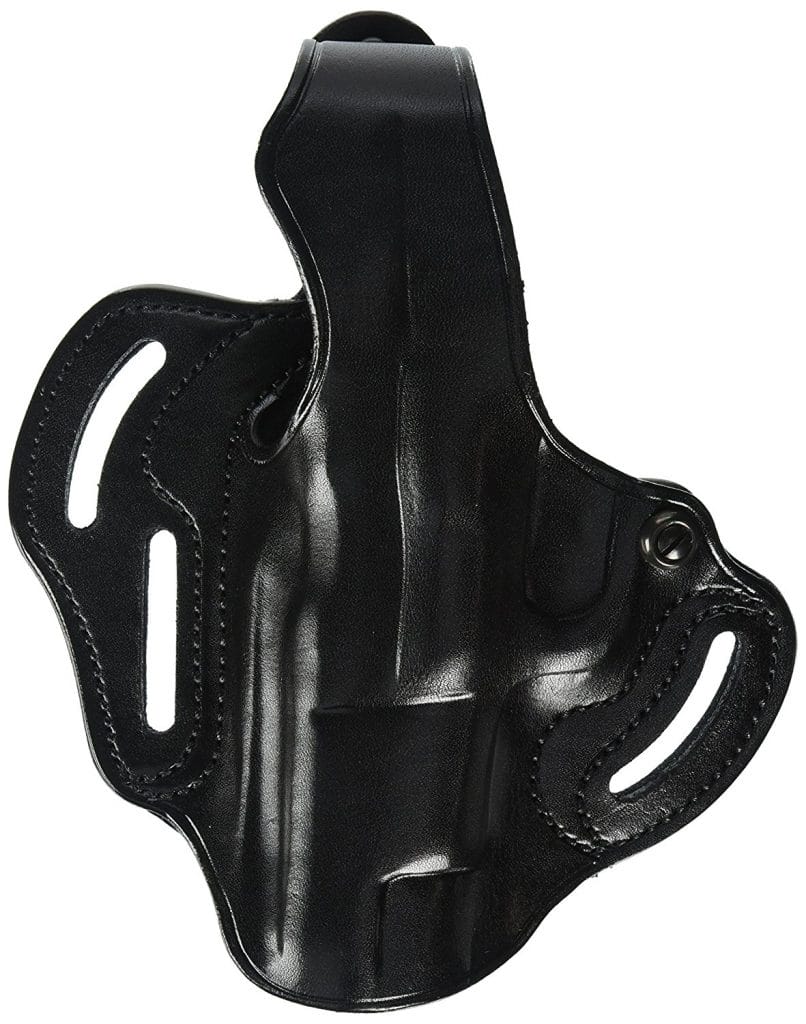 This is a serious, high performance holster. It's made of premium cowhide and fits belts up to 1 ¾" wide. This holster allows comfortable carry in both strongside and cross draw position.
Features
Precision molded
Adjustable retention
Reinforced thumb break
Low cut design
Available in right or left handed design
Pros
Well made
Rides close to body
Comfortable
Made in USA
Thumb break snaps easily
Cons
Needs a break in period
Expensive
Crossdraw is straight up and difficult
Gun belt is needed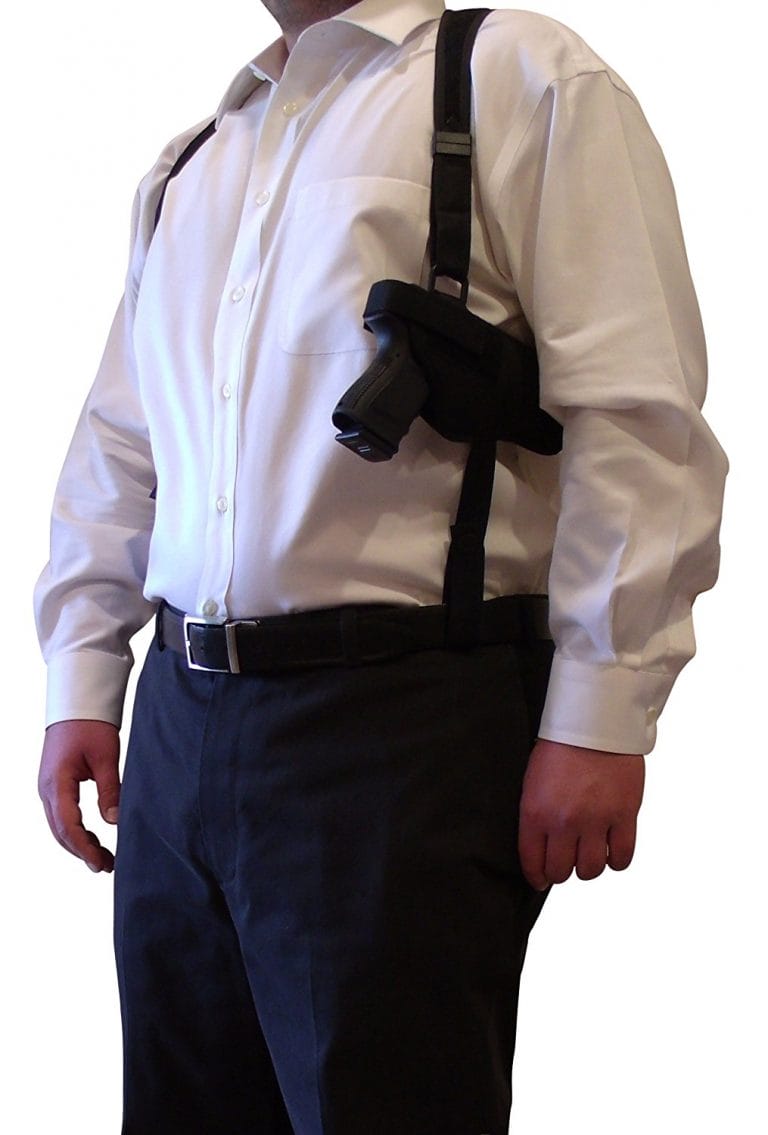 This is a universal shoulder holster that fits the Ruger P89. It is reversible so it can be worn right or left handed. Magazine pouch on one side to balance out the weight of the gun.
Features
Includes a universal holster to fit most medium or large frame pistols
Reversible for right or left handed cross draw
Double magazine pouch
Pros
Can be adjusted for large size men
Good quality
Affordable
Cons
May be uncomfortable
Heavy
---
Conclusion
As you can see there are several holsters to choose from for your Ruger P90. After much consideration, I chose Uncle Mike's Tactical Open Top Hip Holster as my top pick. I really like how adjustable it is and how they made such an easy draw by cutting down the body's lead edge.
Our Pick
At the end of the day, your holster needs to do three things:
It must be secure. Your gun needs to stay in your possession.
It must protect the trigger. You don't want accidental discharge.
Your gun must stay in position so you can draw it easily in a stressful situation.
Uncle Mike's Tactical Open Top Hip Holster performs. I think it may just be the one you're looking for.
Related Reads: