The Ruger GP 100 is a magnum revolver, also known as a .357 pistol.
They're known for their incredibly power and heavy weight. When you hold a Ruger GP you'll know it.
Compared to lighter pocket pistols like the Glock 42 and Sig P238, which are made of plastic composite materials, the Ruger GP feels like you're holding a sledgehammer.
And it also hits like one too.
Weighing in at 40 ounces the Ruger GP is a serious powerhouse.
Get Great Guns and Ammo Deals!
---
Quick History of the Ruger GP 100
We talked about the earlier history of Colt and Wesson in our bullet caliber guide, but let's get a quick refresh.
Colt and Wesson was one of the first companies to really dominate the US police market. They produced high quality pistols and had ties with police departments and suppliers throughout the country.
In 1972, a man by the name of Bill Ruger designed his "Six Series". The 6-series were specially designed for police and civilian security work.
He released a few follow up models including the Service Six and Speed Six. Each model focused on a different aspect of the gun design allowing for faster draw speed, more power or less recoil.
The biggest change in design was the use of coil wires (music wire) for greatly upgraded reliability and a specially made transfer bar to protect against accidental discharge of the weapon.
These designs eventually created the Ruger GP 100 which has stayed true to its original design principles, sorta like the 1911 pistol.
---
What I Like About the Ruger GP
It's pretty easy to sum up GP 100…
It has tons of power..
But less recoil…
And great control.
You don't need to fully disassemble it when cleaning…
Making it Extremely easy to clean.
It fires most popular rounds…
Don't have to worry too much about worn springs
Main Features of the GP 100
Patented Transfer Bar to protect against accidental ignition
Comes with quality gun case
Quality barreling
Triple Lock on the cylinder
Grip made to reduce recoil
Easy cleaning
No tools required for disassembly
6 round capacity
4 ½ inch barrel
Uses .357 cartridge
---
How to Maintain the Ruger GP 100
This is an extremely easy gun to maintain and you won't have the complicated cleaning process that you would with a semi automatic shotgun.
I suggest a routine cleaning every few weeks to keep your pistol in tip-toe shape.
Cleaning consists of basically just two simple steps:
Swing the cylinder out and use a brush to clean the chambers and barrels.
3-4 drops of gun lube into the pistol and you're done.
One thing that makes the Ruger 100 so user friendly is that it requires no additional tools for cleaning.
Safety
We already discussed the patented transfer bar that stops accidental firing. This works by stopping the hammer from hitting the firing pin unless the trigger is pulled completely.
This allows the gun to be dropped without shooting. This is a big concern with new shooters, as you don't want someone who is potentially nervous or unsure of themselves to drop their firearm.
Design
The GP100 comes with its own case that has all the basics essentials inside. You can purchase a secondary case or rugged leather holster as well if you want something fancier. The one I got came with a gun lock, brush for cleaning and an instruction manual (with a ton of safety info).
First thing you'll notice when you pick up a new Ruger 100 is that the polish is perfect. The stainless steel finish is beautiful to look at.
The entire unit looks and feels solid. It's not overly shiny like a nickel plated gun.  The top of the barrel is slightly grooved to stop any reflections.
Trigger guard fit is great. It connects well with the frame and the join line is almost impossible to see.
The standard grip is the Hogue Monogrip which you may want to change. I found the overall design of the grip to be somewhat ugly, although from a functional perspective it definitely does its job.
---
Beginner-Friendly?
In my .review of the .357 magnum, I discussed the idea that heavier guns are sometimes better for beginners. A heavier frame usually leads to less recoil. Although this is a point of contention between many gun enthusiasts I would say that it really depends on the person shooting.
If you shoot a .38 out of the Ruger 100 you'll barely notice you're shooting such a powerful gun. If you throw in a heavier round like a .357 then you definitely will. 😉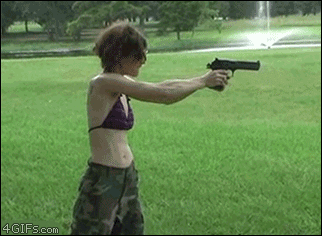 If you're looking for the perfect beginner gun it might not be the .357 or it might not be the .358.
The truth of the matter is that you'll need to test a few different guns until you find one that you are comfortable with.
I suggest heading down to your local range and trying a few that you feel work for you.
If anyone has any recommendations or thoughts on the Ruger 100 I'd love to hear them in the comments below. 🙂
Happy shooting!
Related Reads: