You have several options in today's market when it comes to selecting between top-notch Slim Holsters for a Taurus 740. But when considering all aspects, which one comes out on top? Based on a host of product features and benefits to the gun owner, the best option would appear to be the Fobus Evolution Paddle Holster.
Among the advantages this holster provides you are a quicker draw versus leather, no required maintenance and a lifetime warranty.
Get Great Guns and Ammo Deals!
---
Leading Holsters for the Taurus 740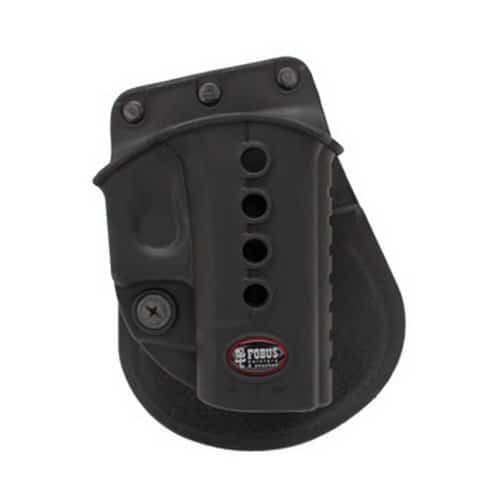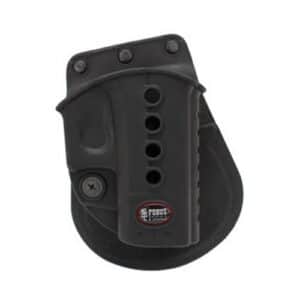 A lightweight holster that features a steel reinforced rivet attachment as well as a protective sight channel. The paddle's rubberized insert furnishes you with both comfort and stability.
A tension adjustment screw built into the holster allows for personal customization regarding ease of presentation and retention security, combining to facilitate functioning with a passive retention design.
The rubber backing does a solid hob of stabilizing the holster against the body.
The gun locks into the holster securely.
Commonly recommended for Open Carry and Range Use.
One Fobus holster user offers these comments, "Holds your Firearm tight till you need it. Comes out clean. Your Firearm also goes back into the Holster well."
Another owner adds, "The Fobus design is smart and simple, that provides a positive grip and clean draw for a OWB holster."
This inside the waistband hybrid holster does a superb job of concealing your gun and is comfortable. It features a fully changeable plastic shell and comes with either nylon or steel clips fitting belts up to 1 3/4 inches. If you're looking for added discretion there are also nylon "C" clips and "J" clips available.
Provides positive retention along with a smooth and easy draw.
User comments range from "My first conceal holster. It disappeared with only a t-shirt on and the custom adjustments make for a superior product" to "It was a little uncomfortable and a little stiff, but then-like an old baseball glove-the leather softened up and started to form to my body. After the first week, this holster was so comfortable, I didn't even know I was wearing it."
This is a heavy duty inside the waistband holster which is reinforced with double stitching at the stress points. Made of Grade A leather it provides you with a very deep concealment of your weapon.
Firm retention and the leather has a nice feel and is comfortable.
"Wears comfortably", "Nice holster, comfort, finish overall" and "This Holster fits my Slim like a glove." are some of the comments that owners are making about the Taurus PT740 Slim Cloak Tuck IWB Holster.
You may also want to be aware that many satisfied users have registered initial observations similar to this one, "Fits great but it's super tight when you first get it" along with "They are quite stiff when first received, but if you follow the manufacturer's instructions and wrap your weapon in wax paper and leave it in the holster for 24-48 hours, it will fit perfectly."
This is an inside the pants, clip-on ultra lightweight holster. The finished leather shell also has a smooth leather lining which helps make for a fast and smooth draw. Designed for comfort whether you're standing or sitting, this 100% made in the USA cowhide holster is double back stitched at the stress points for maximum durability.
One key feature of this holster is that it can be worn securely with out without a belt as it clips firmly to the top of the pants, a well.
Owners are saying the following about their Taurus 740 Slim Right Hand Pro Carry LT Gun Holsters:
"Fits very snug and not bulky. Buy a left hand if you want to carry on your back."
"Soft leather and it fits the Taurus like a glove. I am impressed it fits very comfortably in hot weather…Love it!" ()
---
Other Options on the Taurus 740 Slim Holsters Market
The Evolution is billed as "the next step in the advancement of holster development". It is lightweight and includes steel reinforced rivet attachment and a protective sight channel. User dissatisfaction points to the holster being quite bulky and that is may protrude from the body.
Features:
This product combines the rugged stability of a belt holster with the convenience of a clip-on. The composition and hand finishing contribute to a strong, good looking and long wearing holster. User feedback indicates that there is the potential for the metal belt clip to be unstable.
Features:
One of the more highly regarded nylon gun holsters on the market. The inner layer is padded and the soft nylon aids in protecting the gun's finish. This holster has been considered not suitable for a concealed weapon because it may carry too bulky.
Features:
---
Wrapping it up – Whose #1?
Bringing it all back full circle now, your most sound bet overall for the best holster in this highly competitive market is the Fobus Evolution Paddle Holster. Owners consistently beat the drum for this lightweight holster in terms of it being quicker on the draw than is leather.
Our Pick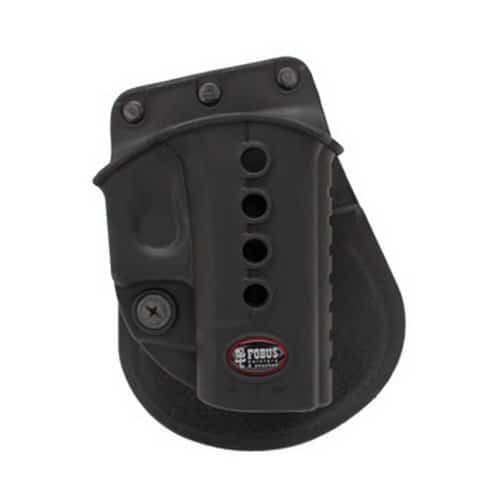 This holster features an uncommon steel reinforced rivet attachment as well as a protective sight channel. The paddle's rubberized insert provides the owner with desired comfort as well as reliable stability. The tension adjustment screw incorporated into the holster allowing you to customize presentation and retention security is a considerable advantage.
And certainly another strong suit lies in the fact that it requires no maintenance. Add in the reassuring bonus of a lifetime product warranty on the Fobus Evolution Paddle Holster and you've got yourself a gun holder that is genuinely tough to beat.
You can find more holster reviews here.
Related Reads: