1911-style pistols are some of the most popular firearms on the market.
This Taurus 1911 handgun is modeled after the Colt Model 1911, designed by John Moses Browning with the current requirements of the U.S. Army. On March 29, 1911, this pistol was selected as the official sidearm for all U.S. military personnel.
The Taurus PT1911 is a semi-automatic pistol chamber with the muscle of a .45 ACP round. It comes with awesome features, including patented Taurus Security System, a 9-round capacity, and a lifetime warranty, and has a black finish, all for an inexpensive price tag!
Get Great Guns and Ammo Deals!
---
Things to Consider Before Buying
If you're looking for a pistol that can be used not only for home defense but as a general carry weapon, check out the PT1911.
Don't worry if you have children in your household, because this firearm has special safety features to prevent accidental discharge. In addition, it comes with a grip safety and hammer drop.
All Taurus firearms are backed by their 100% Unlimited Lifetime Warranty. This warranty even transfers ownership: it's protected for the life of the firearm! And this .45 caliber pistol packs a real punch, so it's good for home or self-defense.
This is a time-tried and true handgun frame. Taurus hammer-forges all their frames, slides, and barrels, and then machines those parts to exacting standards. It's got a vented, lightened trigger and comes with Novak® front and rear sights.
[spec-single]
---
Features and Benefits
A number of fantastic feature makes the Taurus PT1911 a well-rounded firearm.
Taurus Security System (TSS) keeps the gun safely locked
Novak® Sights
Grip Safety
Manual Safety
Transferrable lifetime warranty
Built on the standard 1911 frame
NRA Membership included
Taurus Security System (TSS)
Taurus offers its patented security system on all its firearms. This is a locking mechanism built into the hammer of the firearm that is activated by a special key.
The Taurus Security System is so secure, there is no way to discharge the firearm without destroying it; unless you have the special key, of course.
Each firearm comes with two keys, and the same key will unlock Taurus' semi-automatics, revolvers, and rifles. This is an excellent way to lock your firearm, especially if you have children in your home. When this lock is engaged, the slide and the grip safety will not function.
NOVAK® SIGHTS
Novak® is well-known for producing superior sights. Their sights are used by military and law enforcement personnel across the country as well as competition shooters.
One of their innovations is the LoMount sight. It's a dovetail-shaped sight with ease of use. And if you want to customize your Taurus PT1911 even more, you can purchase either fiber optic or tritium sights from Novak® directly. They'll also install them for you.
GRIP SAFETY
Grip safeties on firearms may take a little getting used to. They're in the grip in the fleshy part of your hand between your thumb and first finger and require a good strong grip to activate properly. The grip safety prevents the trigger from moving unless it's pressed hard.
If you grasp the firearm properly in a tight grip, the grip safety should deactivate smoothly.
MANUAL SAFETY
The Taurus PT1911 also has a manual safety which is ambidextrous, meaning it is on both sides of the slide. When the manual safety is engaged, a hammer sear and firing pin block activate, preventing the hammer from contact with the firing pin.
1911-style handguns are often carried "cocked and locked" by law enforcement personnel because the manual safety combined with the grip safety is so effective.
WARRANTY
Taurus offers an unlimited and transferrable lifetime warranty on all its firearms. It's registered to the firearm, not the owner. This means that even if you buy a second-hand pistol, you can transfer the warranty into your name.
This warranty covers all the standard parts of your firearm, but doesn't include extra accessories like grips, sights, accessories, or cosmetic defects after one year. And, of course, it doesn't cover damage due to abuse of the weapon.
I myself had a warranty claim with Taurus about 18 years ago. The rubberized grip on my PT24/7 started to peel off. I contacted Taurus and the wheels were set in motion.
I returned the 24/7 to Taurus via a licensed gun dealer, and they replaced my rubber grip frame with a textured combat grip frame.
It took a while, but I eventually got the firearm back from the gun dealer. I still own this pistol and it's been operating flawlessly all this time. I've heard recently that their customer service isn't up to par, but my experience was pleasant enough.
PRICING
The Taurus PT1911 is one of the least expensive 1911-style handgun available on the market today. This could make the Taurus PT1911 an excellent choice for a new shooter, or one who is living on a strict budget.
NATIONAL RIFLE ASSOCIATION MEMBERSHIP
When you purchase a Taurus firearm, you'll be eligible to receive a free 1-year membership to the National Rifle Association (NRA). This group is proactive in gun education and politics and are proponents in gun rights. There are many benefits of NRA membership.
BREAKDOWN EASE
To breakdown this gun, use a bushing wrench to twist the barrel bushing counterclockwise. You then hold your hand over the end to keep the spring from launching. Remove the spring and then twist the bushing in the opposite direction and remove. Pull the slide of the gun back until the notches line up with the slide release lever. You can then remove the lever, remove the slide, and pull out the guide rod and barrel.
To reassemble, you follow the same steps in reverse order and make sure everything is lined up properly when you reinsert the lever. It isn't the easiest breakdown process because the full-length guide makes it a bit more difficult.
MAINTENANCE OF THE TAURUS PT1911
Some found that cleaning the slide area after a day of shooting can be difficult because of the grooves that trap the barrel. You will also find that have a few rounds, the gun will become dirty, so you will have to get used to cleaning the gun regularly.
RELIABILITY
This gun ranks highly when it comes to its reliability. At one point in time, the 1911 was a pistol that showed that a semi-automatic gun could be just as reliable as a revolver.
ACCURACY
Some say that the Taurus PT 1911 is a real tack driver. This means it should be able to shoot two-inch groups at 25 yards. IT has been shown to perform just as well as other guns when it comes to accuracy and reaching targets. This gun also weighs just over two pounds before it is loaded and can really absorb the recoil.
---
Alternate Choices for a 1911
There are too many alternatives to the Taurus PT1911, but I've found a few that might interest you.
Of course, we can't talk about 1911s without thinking of Colt, the original manufacturer of the 1911.
Their newest model is the .45ACP chambered 1991, which features white dot sights and a reduced ejection port for increased reliability. Colt's 1991 is almost double the price of the PT1911.
If you'd like a 1911-style handgun but prefer a choice of caliber, you might look at the Springfield EMP Lightweight Champion, which is available chambered in 9mm or .40 S&W.
It comes with white dot rear sights and fiber-optic front sight. But beware, this pistol comes at a price!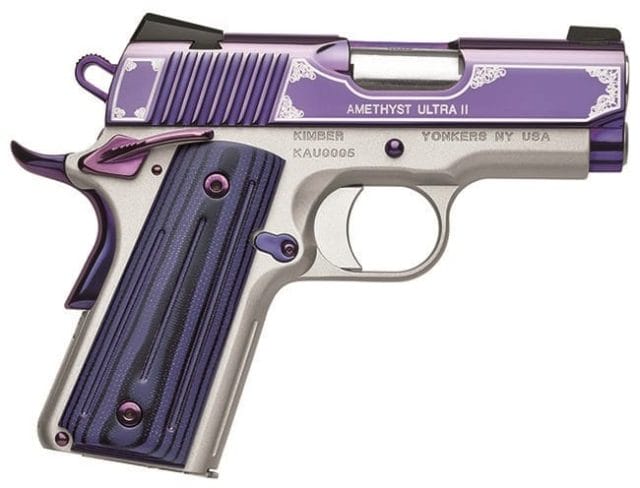 Just for fun, click the link and take a look at this beautiful and unique 1911 from Kimber. It's available in both 9mm and .45ACP.
It is a special edition ultra from Kimber and features an amethyst purple slide, stainless steel barrel, and tactical night sights.
Its uniqueness comes in the form of the amethyst PVD coloring of the pistol. Just don't take a peek at the price tag!
---
Final Thoughts About the PT1911
Taurus firearms are among the least expensive of handguns.
For anyone wanting to try out a 1911-style pistol, whether new to shooting or an old hand, the PT1911 might be a good choice.
It's built on the historic 1911-style frame, offers reliability and safety.
Do you own the Taurus PT1911 (or one of its alternatives)? Let us know your thoughts about the gun in the comments below!
Taurus PT 1911 Gun FAQ
Is the Taurus PT 1911 a mil-spec?
The official name for this gun is Taurus Model PT 1911 and is said to be a true testament to the Grand Old 1911. Some would consider it a basic mil-spec model pistol. The new Taurus PT1911 comes standard with a full-length solid guide rod and skeletonized match-type trigger.
Are 1911 pistols reliable?
Yes. 1911 pistols are reliable. People also love them because of their accuracy and safety as well. People describe the trigger of 1911s as being crisp or light. When you fire, it is clean and immediate and there is minimal excess movement and no over-travel.
Are Taurus guns good quality?
Every Taurus gun manufactured is backed by a warranty and lifetime quality guarantee through the manufacturer. Taurus guns are also known for being slightly less expensive than a Ruger and may also be a bit bulkier in comparison.
How much is a Taurus PT 1911?
On average, you can find a Taurus PT 1911 around the $500 price range.
Related Reads: