Smith & Wesson's new M&P 45 Shield is a new compact, single-stack pistol chambered in .45 ACP (Automatic Colt Pistol). This new addition is almost identical to the original Shield in 9mm and .40. However, the only difference is that it's a bit larger.
The M&P Shield is one of the most popular pistols. In addition, it has potential to be one of the most popular single-stack pistols for concealed carry. In fact, it may be one of Smith and Wesson's major contenders.
We've done some research on the new M&P 45 Shield, as well as comparisons to other brands. Our review is as follows …
---
M&P 45 Shield Review
The M&P Shield was not made to replace double stacks or pocket pistols. It actually belongs to a specific category of carrying pistols. The 45 Shield is a single stack, compact firearm made for when you want to carry a significantly concealable .45 (while firing in self-defense).
This pistol boasts a slim frame and slide which conceals easily. In addition, the grip, even with the flush magazine, is significant enough to give you good purchase while firing .45 ACP slugs.
The M&P 45 Shield is definitely worth your consideration.
M&P 45 Shield Performance
As far as performance, the 230 grain .45 ACP round certainly makes a statement. This is because of its small, thin, and light frame. Many shooters find that the 45 Shield is far more comfortable to shoot than they ever expected.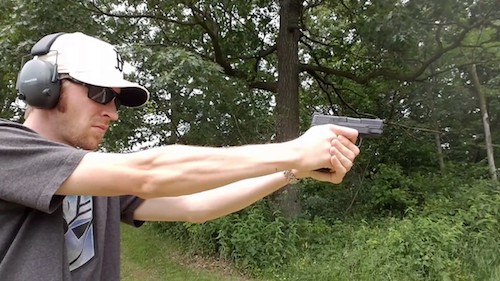 In fact, some shooters compare this model to a 9mm Glock 43 and they found it to be a bit less harsh. Plus, with the bigger kick, there is more to hold onto with the 45 Shield. Shooters also reported that the grip texture was very comfortable and possessed extreme control.
For this review, one of our team members shot a few hundred rounds. Half of this was a Winchester brown box and a half was 230 gr. Armscor International. In the end, the Armscor was a bit warmer than the Winchester. The 45 Shield ran well and produced zero malfunctions.
Supreme Comfort and Control
The M&P 45 Shield comes with two magazines. The first one is a flush magazine that holds 6 six rounds and an extended seven round magazine. The extended magazine makes a good backup, however, it does make the grip too long for recommended concealed carry. The six rounds in the flush magazine and one in the chamber is decent for a single-stack .45 compact pistol.
As we mentioned before, the grip texture is quite good. It's more threatening and covers more surface area than standard M&P Shield grip texture. It makes it quite easy to maintain a good grip when firing strings of several rounds. However, absent is the same texturing on the forward thumb position of the frame.
This 45 Shield frame is slightly larger and thicker than the standard model — but it's far more comfortable and handles the .45 round pretty well. Moreover, our shooter was comfortable shooting more than 100 rounds with it in short order during each shooting assessment session.
Features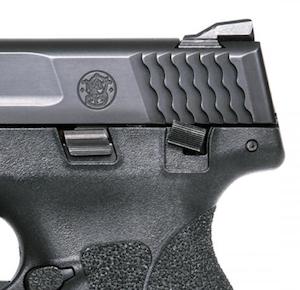 The particular model that was used for evaluation came equipped with the external thumb safety — but, the M&P website indicates it's available without an external safety. Moreover, the slide lock was found to be easy to manipulate when our tester wanted to lock the action open. In the end, it didn't get in the way when shooting.
In addition, it's positioned quite well for someone with medium-sized hands, and the takedown lever is pretty subdued. The M&P 45 Shield is smooth, nicely rounded, and very low-profile on the frame. It's pretty amazing.
And, just as the other M&P Shield models, the 45 Shield has the hinged trigger, plus trigger stop on the bottom of the trigger well. For some shooters, the trigger reset could be a bit too long. But, the magazine release, as with all Shield models, is just about average.
Lastly, like the other M&P Shield models, the 45 has white 3-dot sights that seem to work pretty well for someone with average vision. However, you may want to replace them with night sights.
Similarities
Our designated shooter spent 100 rounds shooting the 45 Shield side-by-side, as well as back-and-forth with the Springfield XDS 45 3.3 inch. It was determined that the M&P 45 Shield was more comfortable and just a bit more manageable in the firing strings. After 60 plus rounds, the shooters' hits were a bit lower than the intended point of aim.
Moreover, there were no significant issues shooting the 45 Shield. The M&P 45 Shield was pretty accurate in our testee's hands, as he shot 5-round strings in 4 seconds, with <4-inch groups at 15 yards. It was concluded, that for your money, this is sufficient for defensive-engagement utility.
Positives
The 45 Shield is a remarkable shootable and concealable, big-bore single stack. The external controls are precisely designed and unobtrusive, and the capacity is as good as one might anticipate — given the small size.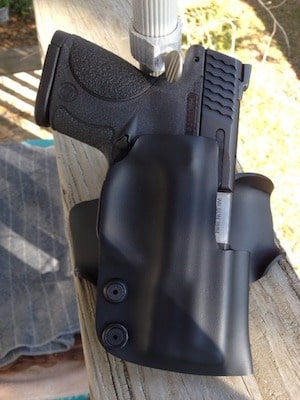 So, if you are a fan of the M&P Shield, as many shooters do, and enjoy .45 ACP, you will love the 45 Shield. In addition, shooters will enjoy the grip texture and controllability of this small pistol.
Negatives
Besides the lack of texturing on the forward frame, plus the purpose and category of this particular pistol, there are not many cons associated with the 45 Shield. It has a small capacity, which makes it ideally concealable.
But, it doesn't hide the thud of the .45 ACP round, although it's less snappy than at a few competitors — because of its small and concealable frame. Now, to really be picky, there's a bit of serration in the small area on the bottom of the front of the slide. Unfortunately, these are completely useless and pretty unattractive.
---
Summary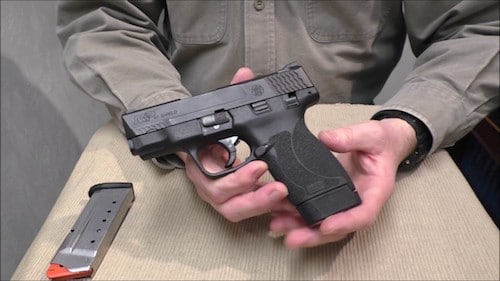 Overall, the M&P 45 Shield feels comfortable in the hand and exceeds than the 9mm model. The controls are perfectly placed and inconspicuous. Also, the rear slide serrations are outstanding.
This is a highly shootable pistol, although it's a bit more crazy in the hand than a 9mm compact. However, the grip texture performs well.
The M&P 45 Shield is very accurate, but, the 3.3-inch barrel isn't really suited for extreme distances. Furthermore, for defensive use, we found no complaints. If you master the trigger, this gun will be your perfect companion.
The 45 Shield has a thin frame that is only .04 inches wider and only .28 inches taller than the Shield 9mm. As such, this is a big-bore pistol that can go anywhere with you in any season. As long as you're right-handed, this gun hides well, is easy to manipulate, and carries all day long in comfort.
One failure was reported to lock back on an empty magazine in 500 rounds.
Not much customization for a left-handed shooter. You can try for more customization online.
Overall
If you prefer to carry a small .45 gun, this one is a great value for your money.
M&P 45 Shield Specifications
Caliber: .45 ACP
Width: .99 inches
Length: 6.45 inches
Height: 4.88 inches — with flush magazine
Barrel: 3.3-inch stainless steel Armornite finish
Trigger: give or take 5.5 pounds
Sights: 3-Dot steel
Safety: RH-side thumb safety
Weight: 22.7 ounces (with empty magazine)
Slide: Black, stainless steel Armornite finish
Capacity: 6+1 and 7+1 (extended magazine)
Check the best price online! (MSRP $479.00)
---
Final Thoughts
The M&P 45 Shield is an ingenious and flat out great example of a thin-framed compact in .45 ACP. In fact, this particular model is a proven performer and results in huge success stories among users.
But honestly, what else would you expect from a name like Smith & Wesson? Their M&P line is just like their brand — it's one to be trusted. And, the M&P 45 Shield is one that may be unbeatable, if not a competitor for other types on the market. In addition, what's really cool about this is the fact that it's easy to conceal, thin and compact .45.
With a price tag only $30 above the Shield 9mm price, this one is a no-brainer. It's user-friendly and when you use it on the range, it acts like a full-size handgun. Finally, it can make hits fairly easily. A word of advice — with any carry gun, it's important that you're able to shoot it well and practice!