When you are looking for a holster for your Walther PK380, you need to remember to do your research and take your time. Finding just the right holster for your PK380 is as crucial decision as finding just the right handgun.
You shouldn't base your decision on the price, but on the function and features of the holster and how easy it allows you to access your gun when you need it. Different holsters are good for specific situations, so you need to make sure the holster your choose fits how you plan to use it and your handgun.
Our top pick is the Walther PK380 IWB Hybrid Holster that is made to order just for your handgun. With features like ride height, cant, and adjustable retention, this custom made holster is comfortable to wear and also includes SHFT Gear's patented "Custom Curve" technology for a secure fit.
This is a nicely balanced and durable holster with high-quality features that is easy to use for long periods of time.
Get Great Guns and Ammo Deals!
---
Walther PK380
Walther has been in the handgun game for quite a while and prides themselves on their dependability and quality as well as their handgun's comfort and shootability.
In comparison to the other Walther products, the PK380 is similar looking to the Walther PPS, but shares more heritage with the P22 as they both use an external hammer operation, a DA/SA trigger system, an ambidextrous safety, plus an ambidextrous magazine release.
The PK380 uses an 8-round single stack magazine so that its thin design fit comfortably in any size hand.
Design and Ease of Use
With its blowback design, the PK380 doesn't have to use the locked breech that is found on handguns with higher-pressure cartridges. With the use of finger grooves and mild recoil, owners have additional control and improved comfort. And if you live somewhere cold and snowy, the trigger guard is big enough if you are wearing gloves, plus the slights-three white dots are easy to use and quick to pick up.
Function
You can reach the magazine release lever on either side as it is a single piece that is inconspicuously cupping the trigger guard in the bottom front. You will find that using the trigger finger is the easiest way to drop the magazine. One nice feature of the PK380 is the little equipment rail rides underneath the frame that is great if you want to use it as a hoe defense weapon.
Choosing the Right Holster for Your PK380
Since the Walther PK380 is a small to medium handgun, it is a pretty popular handgun for those that like to carry concealed weapons. The most popular concealed carry holsters chosen for this handgun tend to be either an OWB or IWB.
Questions to Ask Yourself
When you choose to carry a pistol, you will need to make a few decision about carrying a holster including:
Having the decisions to these questions will help you decide how you want to carry your handgun and how you plant to use it. Once you know the answers to these questions, you can make your decision on a holster easily.
---
Type of Holsters for Your Walther PK380
Standard Belt Holster – Level with your hand, the Standard Belt Holster positions your handgun on your thigh. Since this holster is adjustable, you will always have the best position for your handgun in case you are in a fast draw situations. This is a popular choice for anyone that practices open carry as well as law enforcement and the military.
Crossdraw Shoulder Holsters – If you choose this holster design, you want to make sure you are careful as you can accidentally fire your handgun when it is directed behind when you draw. The Crossdraw Shoulder holster often has the magazine pouch opposite the firearm on the harness' side. If you choose this design, make sure to spend some time practicing with it to be successful.
Belt Worn Holsters – One of the safer and more secure holsters, the Belt Worn Holster gives you a place to slide your belt through. Your firearm is aimed downward until your gun is drawn and aimed. You have fast access to your pistol, but you may find it snagging on chairs when you sit down requiring you to take it off.
Paddle Holsters – With the advantages of a belt worn holster, the Paddle Holster can be removed without having to take off part of your belt. With a Paddle Holster, it is important to make sure your belt is work tightly enough so that you don't pull both your holster and your gun together when you draw. Wearing a good belt that is also wide should help this problem.
Inside the Pants Holsters – Used to conceal your handgun, the Inside the Pants Holster uses your jacket or untucked shirt to cover it. This type of holster does not need belt loop positions to hold it so you can choose where you want to wear it.
---
Top Holsters for Walther PK 380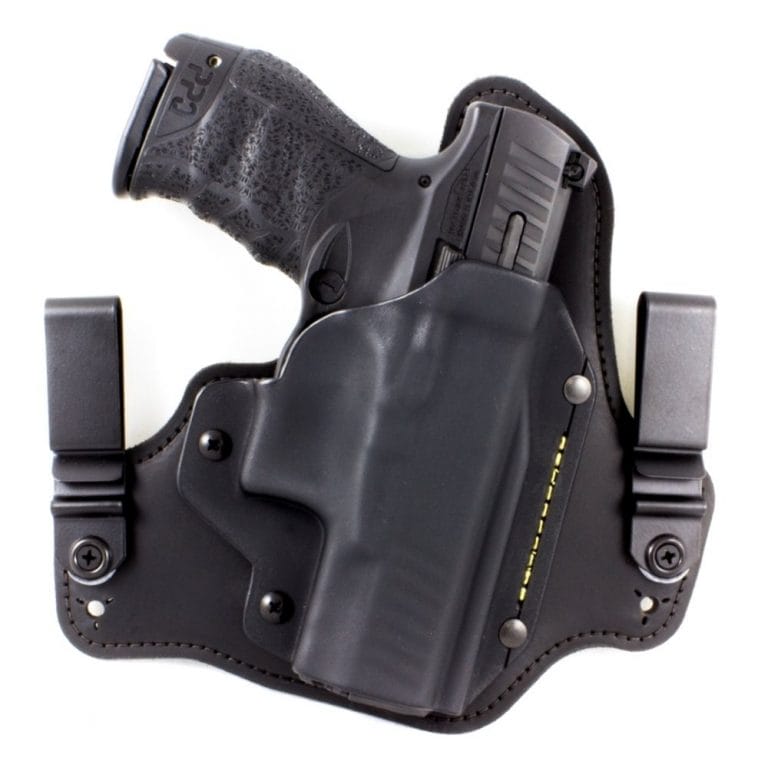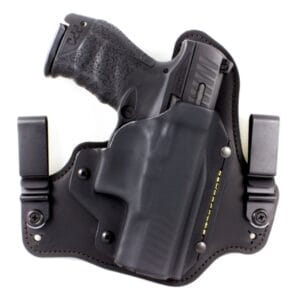 For a little higher end holster, the SHFT Gear makes a holster specifically for the Walther PK380 that is made to order just for your handgun.
It includes features like ride height, cant, and adjustable retention. It also comes with SHFT Gear's patented "Custom Curve" technology that makes it very comfortable to wear.
This easy to use holster has a higher price point than the other holsters on our list, but for a made to order holster that should be expected. With its high-quality and features, this is a durable and nicely balanced holster that you can use for both extended and more active wear.
Pros:
Very comfortable, nicely balanced
Feels really secure, never feels loose
Easy to use and carry all day long
Cons:
Takes a while to get on and off
A little on the expensive side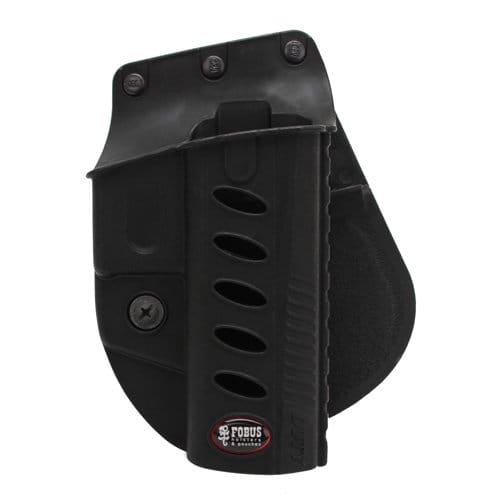 Fobus has created as a basic holster that can accommodate quite a few types of handguns, including some of the Glock models as well as the Walther PK380. This is actually a really nice holster for your Walther PK380 since it really has no required maintenance.
It only needs a simple cleaning with soap and water, and it doesn't require oiling and it doesn't sweat or breathe.
The Fobus Standard Holster wears well in bad weather including extreme temperatures and weather. It is constructed with a steel reinforced rivet attachment system, and it attaches with a rubberized paddle that is not easy for someone to break off and steal.
Even if you aren't very attentive, it would take some effort to pull this gun out of the holster away from its owner.
Priced under thirty dollars, the Fobus Standard Holster is affordable and a good value for its casual use. Keep in mind this is a holster for those that are right handed. Otherwise, it is easy to use, is great for range visits, and it also has a great warranty with a no questions asked philosophy.
Pros:
Holster stays in place well even when you are drawing from it
Easy to take off and guns feels secure in it
Paddle is comfortable, great value for the price
Cons:
Does not have a locking mechanism
Easy for someone to remove it from you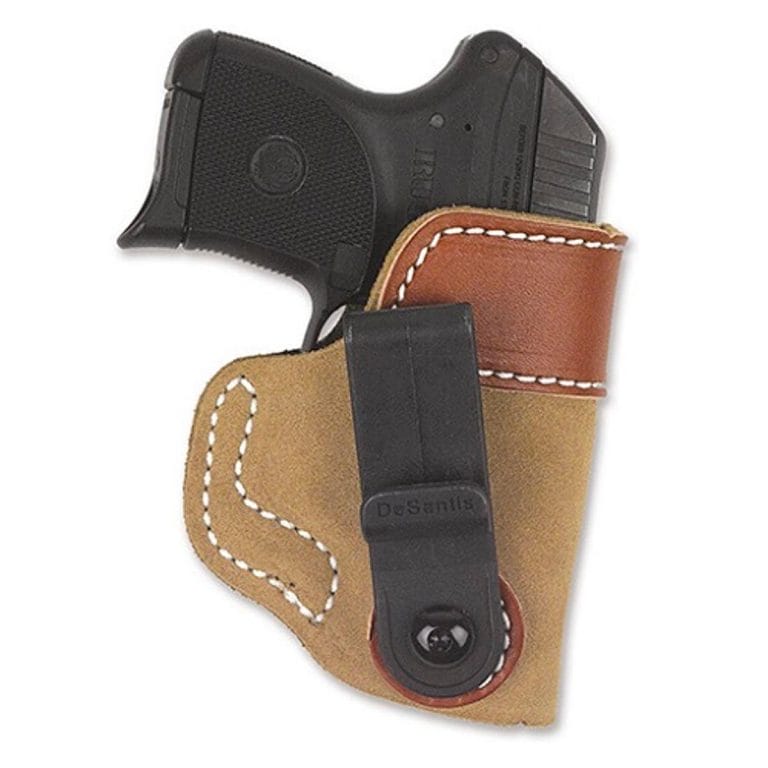 The DsSantis Softuck Glock PK380 is another holster that is good both Glock models and as a Walther PK380 holster.
With a straightforward, no-frills design, the Desantis Softuck is made just for right handed users and clip onto your pant just below the belt.
Once you have placed your handgun in the holster, it stays in place until you remove it. With minimal maintenance, this is a holster that will last you a while.
You may find that there is a break in period with this holster, but many owners have found it a comfortable holster to use with no experience on it riding up.
Pros:
Good grade leather, won't fall apart quickly
High-quality workmanship and materials
Comfortable to wear either standing or sitting
Cons:
Leather has a generic mold
Metal clip takes some getting used to
Unlike the previous two holsters, the Walther PK380 Lightweight Inside the Waistband Holster was made especially for the Walther PK380.
Made by the Holster Store, this is an attractive looking holster that is sturdy, has a snug fit, and is made with high-quality leather work.
It is for right handed use only, and it is a very comfortable holster to wear. It has a comparable price to the Fobus Standard Holster and many owners actually buy the two to wear in combination with each other.
Some owners have found that the snug leather fit makes it a little difficult to remove their firearms quickly and it can be seen if you are wearing it with business clothes.
Pros:
Nice quality leather and it fits your gun snugly
Good stitching, guns stays in place
Affordable price and it holds your gun well
Cons:
Gun doesn't seat that deeply for some users
Holster will pull out of pants with the gun if you aren't careful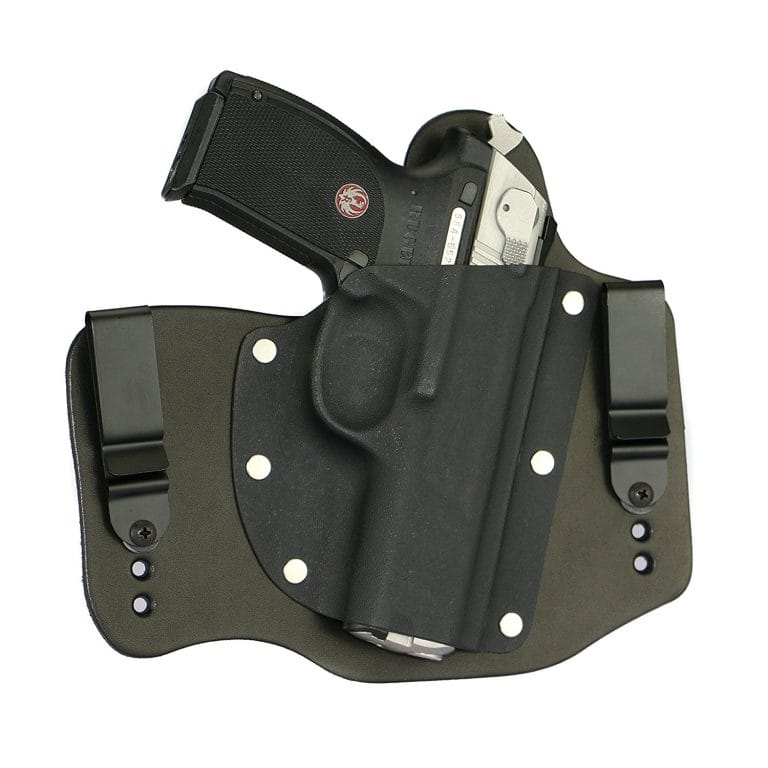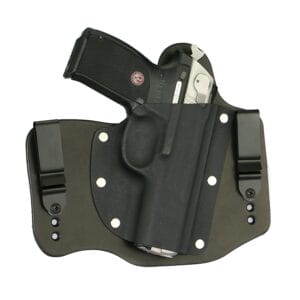 For a little something different, check out the hybrid holster by FoxX Holsters. This has become a very popular Walther PK380 holster choice for those that like to wear a concealed weapon at hip level.
It is similar to an IWB holster and includes consideration of the holster's ride and cant. You may have a little breaking-in period, but it is comfortable enough to wear with most people making their adjustments to it in a couple of days.
The Hybrid Holster is used best as a concealed weapon work on your hip so that you can have quick access to your firearm. It is constructed of good quality materials including Kydex and premium leather with black steel spring belt clips. This is an affordable holster that is a good value for the price.
Pros:
Great holster for the price
Extremely comfortable, not at all bulky like some holsters
Stays in place and works great on your hip
Cons:
Larger than some users expected
Reach is a little tough
---
Conclusion
Our Pick
It is very important to find the right holster because you not only want a holster that your handgun fits into well, but you also want a holster that gives you easy access for when you need it most. Always do your research to make sure the holster you decide on meets all your needs.
Related Reads: