The answers to these questions will help you determine how you want to carry your Walther PPQ and give you a good idea of what holster you will prefer to wear.
Walther PPQ Holster Quick Pick
Our top pick is the Azula Walther PPQ Molded Pancake Belt Holster. This is an outside the waistband holster that has a custom leather look. It is handcrafted with top quality leather that is durable and will last you a long time. We dive deep into this one and a couple other options below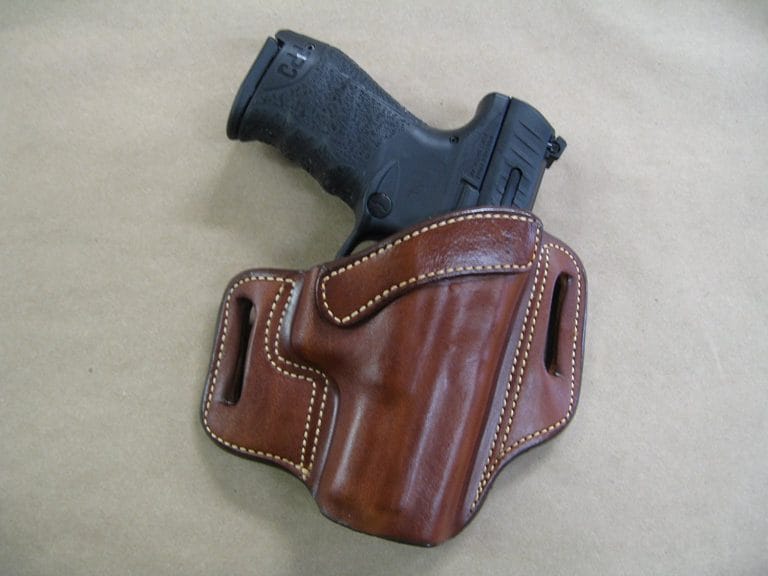 The Azula Two Slot Pancake Gun Holster includes a full comfort shield on the back of the holster that gives you added comfort and keeps it from digging into your body.
Get Great Guns and Ammo Deals!
---
The Walther PPQ
The Walther PPQ is a semi-automatic pistol made by Walther Arms. It was originally designed for security forces, law enforcement, and civilians who carry firearms and the designers saw it as a possible replacement for their P99. You will find the PPQ chambered in 9mm, .40 S&W, and .45 ACP.
Ergonomics
With a breakthrough in ergonomics for the handgun market, the PPQ features a sculpted grip that fits smoothly in your hand with a trigger that is one of the best found on a polymer, striker-fired handgun. It also has elegant styling, and it has been updated with a reversible mag release button making it one of the leading handguns on the market.
Function
With the striker fire action, the PPQ has a light trigger pull with short travel and a fast audible reset. For a custom fit, it features three back straps that are interchangeable plus a sculpted grip. The PPQ also comes equipped with a Picatinny-style equipment rail, three automatic safeties, and a loaded-chamber indicator.
Control and Handling
The PPQ also features greater control and handling with front and rear slide serrations, plus an extended ambidextrous slide stop. This handgun works for either left or right handed shooters, and it includes a traditional reversible magazine release button. The PPQ also comes equipped with two magazines and a thumb loader.
---
Choosing the Right Holster for Walther PPQ 
The PPQ is a pretty popular weapon to carry concealed due to its small size. Most often, the type of concealed carry holster that is chosen for this size handgun is an over the waistband or inside the waist band.
Questions to Think About
There are several questions you should think about after you have decided to carry a handgun. The answers to these questions will help you determine how you will be using and wearing your weapon and ultimately what type of holster you should own.
Will I need quick access to my handgun?

Do I want to practice concealed carry?

Will I be carrying my firearm all day?

Will I often be in a situation where I will need to protect myself?
Type of Holsters for Your Walther PPQ
One of the more secure holsters types on the market is the belt worn holster that features a place that you can slide your belt through. With quick access to your pistol, your weapon will be aimed safely down until you draw it from its holster. Keep in mind you can snag this type of holster on a chair when you sit down and there may be instances where you will want to take it off.
The paddle holster has the similar benefit of a belt worn holster in that it allows you to take it off without having to remove your belt. When you wear a paddle holster, you need to wear your belt tightly so your holster and your gun do not pull out together when you draw. One tip to wearing a paddle holster is to use a wide enough belt with it to avoid that drawing issue.
Pocket holsters have become more popular along with the increase in sales of compact handguns. Worn in a jacket pocket or the front of your pants, pocket holsters are a convenient method of carrying your handgun, as long as you remember to holster your gun securely and not allow it to bounce around unsecured inside your pocket.
Standard Belt Holster –
The standard belt holster gives you the best position to wear your weapon in case you are placed in a quick draw situation. The standard belt holster is adjustable, and it can sit level with your hand for easy access on your thigh. This is a popular choice for law enforcement and military officials as well as those that choose to practice open carry.
Crossdraw shoulder holsters are a good choice for those that are careful when they draw so they do not fire their handgun accidentally as they pull it out. There is some practice necessary to being successful at drawing from a crossdraw shoulder holster, and that is something to keep in mind when you are considering purchasing it.
The inside the pants holsters are commonly used for concealed carry, and it can be worn under a jacket or an untucked shirt. The inside the pants holster does not require belt loop positions, so how you decide to wear it is completely up to you.
---
Best Walther PPQ Holster Options
Now that you've asked yourself the right questions about what you need out of your holster for a Walther PPQ, we present you a some of our favorite picks.