The Glock 40 Gen4 MOS is a great gun, used extensively by both military personnel and the police.  The full 6-inch barrel improves muzzle velocity, and it is designed to be the perfect weapon for the hunter, outdoors person, or sport shooter.
If you have invested in such a high-tech piece of weaponry, it is worth really thinking about the holster you are going to use to carry it. Too often, people see their holsters as an accessory rather than an important part of their shooting kit, leading to decreased performance and sometimes damage to their weapon.
But with so many holsters available for this gun, how do you know which to choose? That's where we come in.
After reading hundreds of reviews and talking to a number of experts, we can recommend the Black Arch IWB Hybrid Holster.
Well, in our opinion the Black Arch IWB Hybrid Holster is the one to go for. If you are taking your Glock 40 out hunting, the comfort offered by this holster is a huge advantage. In addition, the combination of leather and Kydex used on this holster means that it will last a lifetime.
SAFEST NEWSLETTER - WE WILL NEVER SELL YOUR EMAIL
GET GREAT

GUNS AND AMMO

DEALS!
SENT ONCE A WEEK - NO SPAM - NO SELLING YOUR EMAIL
---
How to Choose a Holster for your Glock 40 Gen4 MOS
First, we're assuming that if you are reading this review, you already have a Glock 40 MOS. If you don't, but want a pistol that is great for hunting, it is really worth checking out.
Whilst the slightly longer barrel of the Glock 40 MOS is one of the major advantages of the weapon itself, it can make finding a suitable holster difficult. You really shouldn't compromise, however, on getting a holster which fits your weapon perfectly. An ill-fitting holster, especially if it doesn't grip your weapon tightly enough, can easily lead to you losing your gun, or even accidental discharge.
There are many things to look for when choosing a holster, and the priority you give to each factor will depend on how you use your weapon. A holster for competitions, for instance, is quite a different item to one designed for long periods of concealed carry. However, no matter what your purposes, the basic features to look for in a holster for your Glock 40 MOS stay the same:
Weapon Security
First and foremost, you need to be sure that your gun will be held securely in the holster you choose, and that it will protect against the possibility of accidental discharge.
Nowadays, all of the best holsters for the Glock 40 MOS feature fully adjustable retention screws. This means that even if your Glock 40 MOS features aftermarket adaptations, you can easily adjust the holster to firmly hold your gun. The advantage of this is obvious – unless your holster holds your gun securely, you run the risk of it falling out, and potentially losing it at a critical moment.
In addition, look for a holster with a solid trigger guard. Even if you are are an experienced weapon handler, the risk of accidental discharge cannot be ignored, but with a trigger guard that totally encloses the trigger of your gun will be greatly reduced.
Ease of Access
The flip-side of weapon security is ease of access. Of course, you want your gun to be securely held in place, but if you cannot draw it quickly than your holster is almost useless.
The way in which you carry and draw your weapon is unique to you, so look for a holster that matches your preference. Look for a holster which offers variable cant – the angle at which your gun is held. For competition, where quick draws are a necessity, this is especially important.
Equally, whether you prefer a dropped offset holster, or a belt holster, is a matter of personal choice. For the Glock 40 MOS, with its slightly longer barrel, a dropped offset set up is perfect, as carrying this gun on your belt can be awkward.
Reloads
Most of the best holsters available at the moment for the Glock 40 are able to carry an extra magazine, and some allow you to carry two. The advantage of designs like this is obvious – you do not need to ferret around in your bag or pocket for more ammo.
Concealment
Again, whether you need a holster which is able to conceal your Glock 40 MOS is a matter of how you use your gun. For most owners, we're going to assume that having a holster which protects your gun whilst you are out hunting, and allows you to draw it quickly, is the most important thing.
Accordingly, we've not prioritized concealment in this review – if you want a gun you can hide, it might be worth getting a smaller one.
Durability
Last, but of course not least, look for a holster that will provide years of reliable service. Whilst it may look like hard-case holsters, typically made from extruded plastic, will last the longest, this is not necessarily true. Soft holsters, if made from tough fabric, can last equally as long.
That said, if the way you use your gun means that it is likely to get knocked about, go for a hard-case holster. This will protect your weapon from accidental damage, and prolong its life.
---
Glock 40 Gen4 MOS Holster Reviews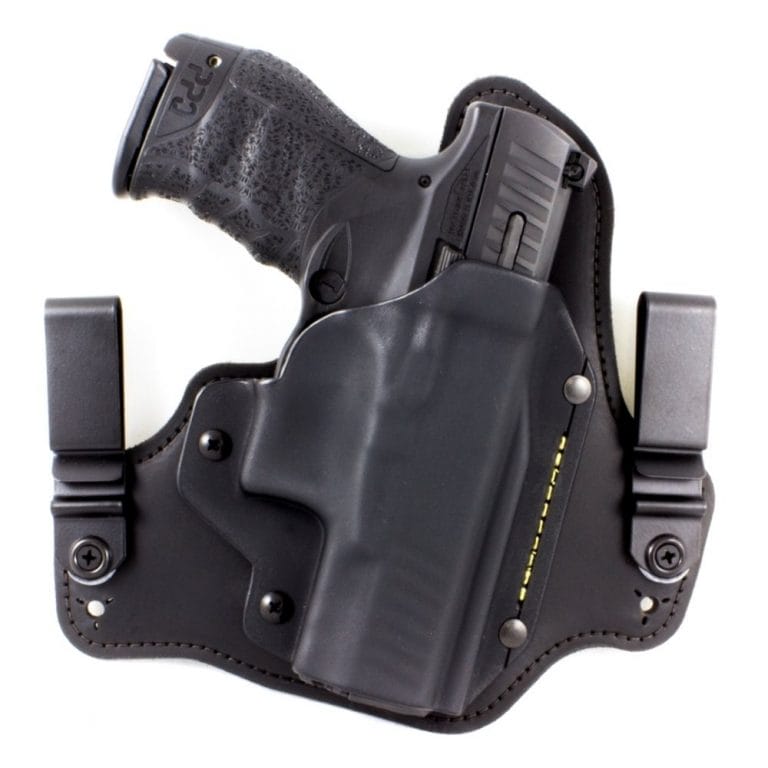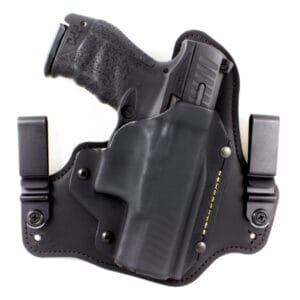 Simply a great holster in almost every respect, and one that is perfectly suited to the Glock 40 MOS.
Quite apart from all the other features which makes this holster a great choice, first and foremost it is the most comfortable holster for long days spent hunting.
Especially in the summer, and especially when carrying a weapon as bulky as the Glock 40 MOS, you need a holster that is not going to become uncomfortable, and therefore affect your hunting performance. This is that holster.
In addition, it offers the following features:
The adjustability of this holster is amazing. Almost anything you can think of can be adjusted, from ride height, cant, to retention. This is amazing for professional huntsmen or competition shooters.
The materials used in this holster are of similarly high quality. It is composed of a mixture of Kydex and suede, and the two materials are joined together with super strong stitching, ensuring that this holster will last forever.
We know that many people prefer to carry a Glock 40 OWB, but the comfort afforded by this holster actually makes IWB a genuine alternative. In addition, if you are in the field carrying your weapon IWB means you are less likely to snag it.

The only slight disadvantage of this holster is that it can feel a little bulky, but this is a small price to pay for all the other advantages it offers.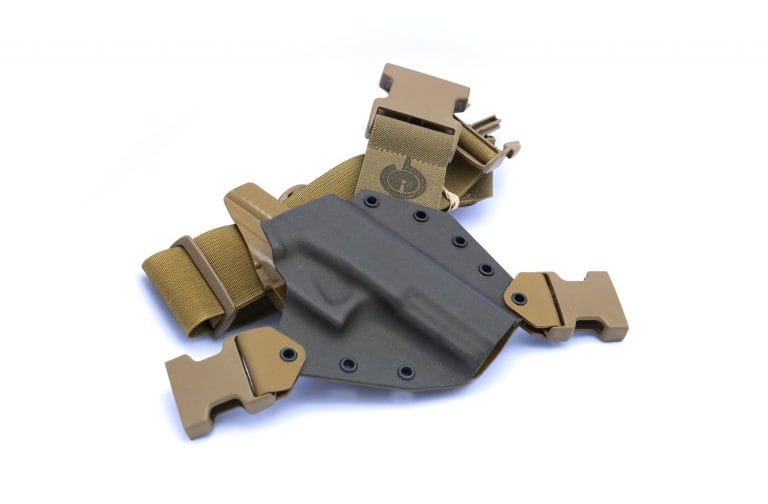 Yes, we know this is a chest holster. And yes, we know that many of you really don't like carrying your Glock 40 in a chest configuration. But hear us out.
The reason why this holster is so high up our list today is that carrying your Glock 40 MOS on your chest whilst out hunting is actually pretty useful. Especially when you are carrying a load of other kit, having your gun out of the way can really improve your efficacy.
If you're looking for a chest holster for your Glock 40 MOS, this is the one to go for. It also has some other advantages:
The buckles on this holster are designed to stay out of the way of your backpack and other equipment, reducing the possibility that you will get your holster caught up in your other equipment.

The holster can be used with all configurations of the

MOS system

, meaning that any sighting system which is compatible with your gun will also fit in this holster.

The only disadvantage that we can see is that this holster is a chest holster. If you really don't like chest holsters, this one is obviously not for you, but we urge you to give it a try.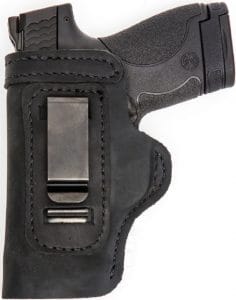 This is a soft-body holster which is extremely light, and so if you are going to be carrying your Glock 40 MOS around all day, you can do so without it getting tiresome.
Being soft-body, this holster might not last as long as the Kydex holsters it is in competition with. However, in our experience, if you look after holsters like this they can last for a very long time.
In addition, this holster has a range of additional features:
The fit around the Glock 40 MOS is really good, considering the slightly unusual shape of the gun. Even with the sighting attachments fitted, this holster holds the weapon very securely.

The soft leather used here is a joy to feel and look at, and less bulky than some of the rigid holsters we tested.

The lifetime guarantee that comes with this holster gives great piece of mind, though with such a solid construction we are not sure it will be needed!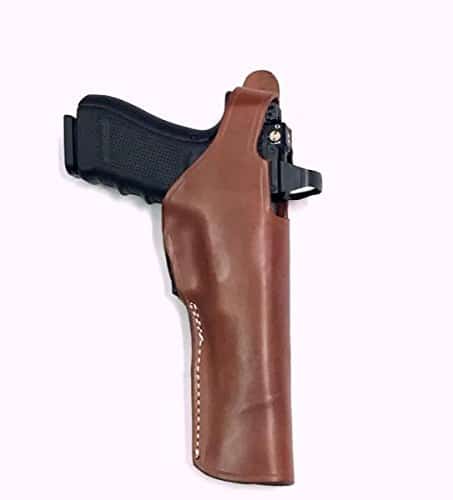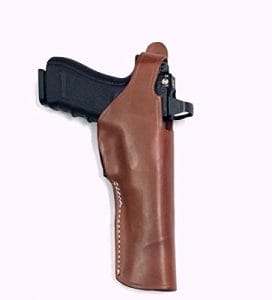 Last but not least, we have a vintage-style holster. Whilst this holster might not be the most technically advanced holster on the market, it looks and feels great, and if you are used to this style of holster it is nice to be able to combine it with your Glock 40 MOS.
In addition, it comes with some added features:
The security thumb break holds the weapon securely, and actually offers a good level of security for a leather holster.
The high ride on this holster means that it stays close to your body, giving you an extra few milliseconds in your draw. In those situations where you need to be really fast, this is a real advantage.
The holster fits the Glock tightly, but allows you to draw it out relatively easily. This is a good reminder of why leather was the material of choice for so long for gun holsters!
---
Final thoughts
What you should look for in a holster for your Glock 40 MOS depends, to a great extent, on how you use it. All of the holsters we have reviewed today offer a good compromise between safety features, comfort, and ease of use, and which one is perfect for you depends on whether you primarily shoot in competitions or go out hunting.
Our Pick
In our opinion, though, the Black Arch IWB Hybrid Holster is the one to go for. If you are taking your Glock 40 out hunting, the comfort offered by this holster is a huge advantage. In addition, the combination of leather and Kydex used on this holster means that it will last a lifetime.
We are calling all Glock lovers to help us decide the winner between the Glock 19 vs Glock 17 – tell us what you think!