This year we have seen new gun control laws to varying degrees being enacted all over the country, with several notable examples being in California, Maryland, and Florida.
For 2019, we may see a new state add a host of new gun control laws: Minnesota.
The reason for this isn't just because of a changed balance of power that has occurred in the state legislature in terms of political parties, but because of dramatically increased interest in the issue as well.
This year, control of the Minnesota House of Representatives shifted from Republican to Democratic control.  The Minnesota Senate remains under Republican control, but only by a single vote.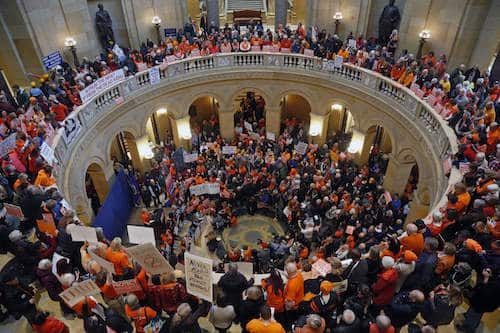 And the governor's office remained in Democratic hands this year as Congressman Tim Walz was elected by over ten points over Republican nominee Jeff Johnson.
Now the fact that the Democrats have gained power alone isn't why gun control laws may be on the horizon for Minnesotans.  Rather, it's because that many of the Democrats who were elected to office explicitly campaigned on a theme of gun safety laws as part of their top priorities.  Many of those Democrats were also supported by major gun control organizations such as Moms Demand Action, Protect Minnesota, and Everytown For Gun Safety.
Needless to say, it's going to be a top priority as it is in several other states when the legislature meets again, with Minnesota State Senator Ron Latz noting that he expects to see bills that will institute mandatory universal background checks on all gun purchases and red flag laws the allow families and police to get court orders to have firearms temporarily confiscated from those who are deemed to be a threat to themselves or to others.
While one may argue that the Republican Minnesota Senate will block any and all gun control bills that the House passes, the truth is this may not be true.  As was noted previously, the GOP maintains just a one vote edge in the Senate, and the Senate Majority Leader Paul Gazelka has indicated that he could support some measures, without specifying which exact ones.
Further adding to the likelihood of new gun laws, Governor-elect Tim Walz has also reversed many of this positions on gun control.  Despite previously being a pro-gun Democrat with an A-rating from the NRA and taking heat for that in the Democratic gubernatorial primary earlier, Walz announced that he would no longer be accepting any contributions from the NRA.
Furthermore, Walz announced that he supports measures such as an assault weapons ban on guns such as the AR-15, universal background checks, and firearms restraining orders, while opposing concealed carry reciprocity and Stand Your Ground bills.
Obviously, we don't know if any new gun control bills will become law in Minnesota, but there's no denying that it's a top priority for the new legislature and Governor-elect, which means that new laws could at least be considered likely.